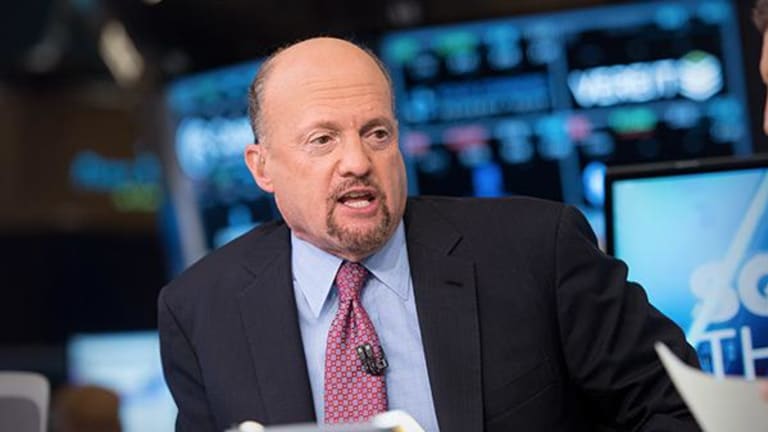 TheStreet'sAction Alerts PLUS Portfolio Manager Jim Cramer breaks down the day's trending stocks on our daily Facebook Live show, which airs weekdays at 10 a.m. EST.
Last week, first-quarter earnings took center stage. The week began with upbeat results from Morgan Stanley (MS) - Get Morgan Stanley (MS) Reportand Bank of America (BAC) - Get Bank of America Corp Report and disappointing results from Goldman Sachs (GS) - Get Goldman Sachs Group, Inc. (GS) Reportand IBM (IBM) - Get International Business Machines (IBM) Report . Plus, former Arconic (ARNC) - Get Arconic, Inc. Report CEO Klaus Kleinfeld came under scrutiny over a controversial letter he sent to activist investor Paul Singer.
Toward the end of the week, industrials giant General Electric (GE) - Get General Electric Company (GE) Report reported lackluster results, and investors geared up for the first round of the closely watched elections in France.
TheStreet compiled 10 things we learned from this week's shows with Jim Cramer. 
1. GE Has Cash Flow Issues
Cramer said General Electric (GE) - Get General Electric Company (GE) Report had bad operating cash flow in its most recent quarter. "That's what I look for," he said. "Really great companies don't miss on operating cash flow."
The company topped Wall Street estimates on the top and bottom lines and is a holding of Cramer's charitable trust.
2. Honeywell Has Cash Flow Growth
On the flip side, Cramer was fond of the growth in cash flow forHoneywell (HON) - Get Honeywell International Inc. (HON) Report, which reported quarterly earnings on Friday. 
Earnings of $1.66 a share topped forecasts of $1.62. Revenue of $9.49 billion eclipsed forecasts of $9.33 billion. 
3. Schlumberger: Time to Buy?
Schlumberger (SLB) - Get Schlumberger NV Reportreported lackluster quarterly results on Friday. Cramer, whose charitable trust Action Alerts PLUS owns the stock, said his trust will be buying more shares next week.
4. Valeant Has a Lot of Debt 
Cramer saidValeant Pharmaceuticals' (VRX) debt load is humongous--and now stands at some $30 billion. 
The stock slumped on Friday as Wells Fargo analysts lowered Valeant's price target range to $7-$9 from $10-$13. The stock trades at roughly $8.40 a share. 
5. Buy Visa If ...
Cramer was impressed with Visa's (V) - Get Visa Inc. Class A Reportlatest quarterly results. "If it comes in, you have to buy it," Cramer said. The stock rose 0.3% on Friday afternoon, trading at $91.46 a share. 
Visa released earnings for its latest quarter on Friday of $0.86 per share, compared to estimates of $0.79.
6. Be Careful With Facebook 
Facebook (FB) - Get Facebook, Inc. Class A Reportshares have been up quite a bit, according to Cramer, who pointed to a note from MKM Partners, which expects Facebook's first-quarter earnings to top estimates.
"When it is up this much, it sells off so just be careful," Cramer said. The stock is a holding of his charitable trust. Facebook shares are up roughly 4% over the past month.
7. Verizon Had a Rough Quarter
Cramer was disappointed with Verizon's (VZ) - Get Verizon Communications Inc. Reportlatest quarterly earnings, released on Thursday, but said the company is "fine" thanks to its dividend yield. The company reported weaker-than-expected first-quarter results on both the top and bottom lines. 
8. Unilever Is a Buy 
Cramer thinksUnilever (UN) - Get Unilever NV ADR Reportis still a buy. "I was impressed by emerging markets--they were quite good," Cramer said, referring to its latest earnings report, released on Thursday. The stock is up 24% since the start of the year. 
9. Morgan Stanley's Solid Quarter 
Morgan Stanley posted better-than-expected first-quarter earnings on Wednesday. 
"It was just a very clean quarter," Cramer said, pointing out solid performance in fixed-income trading during the quarter. "They executed really well."
10. Goldman Sachs' Missed Estimates 
 Cramer said Goldman Sachs' (GS) - Get Goldman Sachs Group, Inc. (GS) Reportlower-than-expected quarterly results, released Tuesday, were mystifying and pointed to the lack of volatility in the stock market as one reason why quarterly performance suffered. 
Watch more of Jim Cramer's latest videos:
Action Alerts PLUS, which Cramer manages as a charitable trust, is long GE, ARNC, SLB and FB.