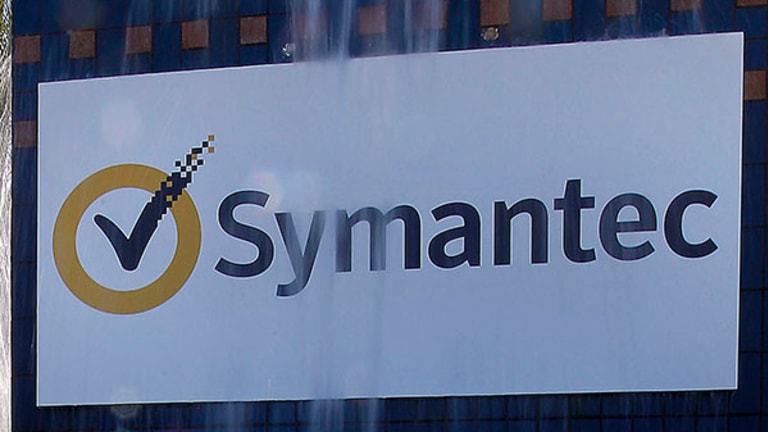 10 Tech Companies With the Highest Paying Sales Jobs
The tech industry is a lucrative area to be a salesperson. Here are 10 tech companies that pay the most to corporate sales employees.
NEW YORK (TheStreet) -- Looking to find a job in the tech industry, but being a software engineer or programmer doesn't fit with your skills? How about sales?
The tech industry is a lucrative area to become a salesperson. Plenty of tech companies need help selling their software, applications and programs to corporations and organizations around the world -- and they're willing to pay handsomely for it.
While the median total pay among tech companies is $80,000 for corporate sales jobs, successful corporate salespeople can earn in the six figures if they're good at what they do, according to Glassdoor, a jobs and recruiting platform.
There were more than 126,000 account and corporate sales jobs open across industries as of July 8, 2015, according to a report issued Friday by Glassdoor. In San Francisco and San Jose alone -- two big hubs for tech companies -- there are more than 5,000 corporate sales jobs openings. The list below identifies tech companies with the highest median total compensation for corporate and account sales jobs.
For a company to be considered in the ranking, it must have had at least 50 salary reports for account and corporate sales jobs shared by U.S. employees as of June 26, 2015. Glassdoor measures total pay to include base salary and cash bonuses as well as additional forms of compensation such as stock bonuses and profit sharing.
So which tech companies pay the most to their sales division? Here are the 10 tech companies where corporate sales employees can make big bucks.
10. IBM (IBM) - Get International Business Machines Corporation Report
Base Salary: $100,000
Commission: $45,000
Total Pay: $150,000
IBM is in the midst of a turnaround and has been moving away from slower-growth businesses and pushing clients into key areas, including cloud computing, a high-growth business. IBM has announced an annual revenue target of $40 billion from its five strategic areas -- cloud, mobility, data analytics, security and social -- by 2019, up from $25 billion in 2014. The Armonk, N.Y.-based company reports June-quarter earnings results on Monday.

9. Avaya
Base Salary: $95,000
Commission: $60,000
Total Pay: $160,000
Avaya, headquartered in Santa Clara, Calif., provides communication equipment and voice and data services for corporations, government agencies and small businesses. The company in May acquired Esna Technologies, which provides communications software for enterprise and middle market companies.

8. Adobe Systems (ADBE) - Get Adobe Inc. Report
Base Salary: $90,000
Commission: $50,000
Total Pay: $162,500
Adobe Systems, headquartered in San Jose, Calif., is also in the midst of a turnaround. The company is also looking to bring in more revenue from delivering its software via the cloud.
Most recently, the tech industry reacted to security concerns for one of its key programs, Flash Player. Last month, Adobe released an emergency security update for Flash after it was determined that hackers could take over user systems. On Monday, Facebook's (FB) - Get Meta Platforms Inc. Class A Report security chief tweeted that Adobe should "announce the end-of-life date for Flash." It was followed by Mozilla's Firefox Web browser blocking the app from use on its browsers. Apple (AAPL) - Get Apple Inc. Report , the maker of iPhones and iPads, has long refused to allow Flash to operate on its operating system.
7. Salesforce.com (CRM) - Get salesforce.com, inc. Report
Base Salary: $90,000
Commission: $68,000
Total Pay: $173,500
Salesforce.com is a cloud-based software company that provides "customer relationship management" software to businesses and industries. The software enables companies to store data, access accurate customer and prospect information, track leads and progress, forecast opportunities, and collaborate around any sale on desktop and mobile devices, among other things. It sells and markets its services primarily through its direct sales force, as well as through global consulting firms, systems integrators and regional partners.
Fortune recently recognized the San Francisco-based company as one of the 100 best workplaces for millennials.

6. Microsoft (MSFT) - Get Microsoft Corporation Report
Base Salary: $118,000
Commission: $50,000
Total Pay: $191,000
Once a key player in the PC market, Microsoft has been lessening its reliance on PC sales as the market continues to lose share against Apple Macs, Google Chromebook and tablets. The Redmond, Wash.-based tech giant, co-founded by billionaire Bill Gates, is hoping the upcoming launch of Windows 10 operation systems later this month will redeem the tech giant after a poor reception of Windows 8. Microsoft generates roughly 25% of its quarterly revenue from Windows.

5. Symantec Corp. (SYMC) - Get Symantec Corporation Report
Base Salary: $102,500
Commission: $76,250
Total Pay: $197,500
Cybersecurity company Symantec announced in October 2014 that it would split its cybersecurity and Veritas information-management businesses into two companies.
The Mountain View, Calif.-based company has transitioned from a computer security company (it is the maker of the Norton antivirus software) to addressing today's critical cybersecurity issues. While the company counts some 99% of the Fortune 500 companies as it clients, according to The Wall Street Journal, Symantec is up against newer, smaller rivals in cybersecurity like FireEye (FEYE) - Get FireEye, Inc. Report and Palo Alto Networks (PANW) - Get Palo Alto Networks, Inc. Report .

4. EMC Corp. (EMC)
Base Salary: $100,000
Commission: $100,000
Total Pay: $200,000
EMC Corp., headquartered in Hopkinton, Mass., provides businesses and corporations large-scale data storage systems and software as well as backup applications for enterprise. The company has been struggling with "weak demand for some of its older storage hardware," according to The Wall Street Journal.
Last week EMC agreed to sell a controlling stake in its Syncplicity business to investment firm Skyview Capital. Syncplicity competes with Dropbox and Box (BOX) - Get Box, Inc. Class A Report by helping companies "sync and share data files both on their premises and in external cloud data centers," The Journal said.

3. CA Inc. (CA) - Get CA, Inc. Report
Base Salary: $110,000
Commission: $100,000
Total Pay: $210,000
CA Technologies (previously known as Computer Associates International), headquartered in New York City, information technology management software and solutions that help organizations plan, develop, manage, and secure applications and IT infrastructure in the United States and internationally.
It operates in the steadily declining mainframe business, where it has a leadership position, yet it also participates in "rapidly growing software markets," such as Cloud Management, DevOps, IT Business Management, and Security.
Must Read: 10 Housing Markets Where It's Better to Buy Than to Rent

2. Cisco Systems Inc. (CSCO) - Get Cisco Systems, Inc. Report
Base Salary: $93,000
Commission: $100,000
Total Pay: $211,000
Tech giant Cisco designs, manufacture and sells networking equipment. As the San Jose, Calif.-based company looks to "navigate several fundamental technology transitions, including cloud computing, mobility and the internet of everything," it is generally moving away from being a hardware provider toward higher growth areas such as cloud computing and offering software defined networking.

1. SAP SE
Base Salary: $110,000
Commission: $100,000
Total Pay: $235,000
SAP SE is a leader in enterprise application software, which means it helps businesses and organizations process large amounts of data. Headquartered in Germany, SAP's North American headquarters are in Newtown Square, Pa.