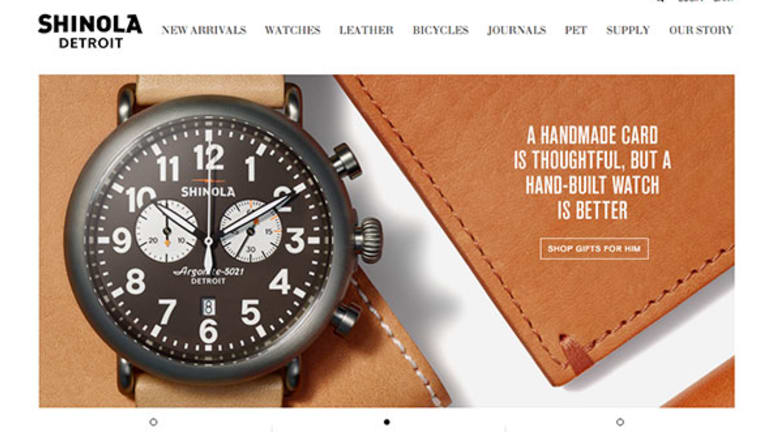 10 Small Sites for Big Holiday Shopping
Get great steals from the Internet's less-traveled corners of cool.
If you're looking to nab some unique items this holiday season, don't go to the conventional corners of the Internet. You've got to think outside the box and gravitate toward the quirky and hip.
This holiday season is set to be a bonanza for retailers, even with some shoppers behind schedule. Market research firm ComScore predicts that the amount spent online this holiday season will grow 14% from 2014 to $70.1 billion. That includes a 9% gain for desktop and laptop shopping and a 47% gain for mobile shopping -- which now accounts for 17% of all online shopping.
Despite a whole lot of people starting their holiday shopping early, online spending from Black Friday through Cyber Monday eclipsed $7.2 billion. That's up 10% from last year and was helped a great deal by shoppers who increased their online Thanksgiving spending from $766 million to nearly $1.1 billion since 2011. Black Friday shopping, meanwhile, boosted online spending 10% from $1.5 billion in 2014 to $1.66 billion this year.
However, even those two holidays combined .paled in comparison to Cyber Monday. ComScore notes that spending on that day sales jumped 12%, to $2.28 billion. However, throw mobile shopping into the mix and that spending number jumps to above $3 billion.
Those still looking for that perfect gift need to be strategic about their online and mobile shopping.
Sure, according to the National Retail Federation's holiday consumer survey, 53% of shoppers plan to do at least some of their holiday shopping online. That still trails the percentages that will shop in department stores such as Macy's or Nordstrom (55.6%) or discount stores including Wal-Mart and Target (55.9%), but the demographics aren't working the discounters' favor. Roughly 55% of shoppers age 18 to 24 will shop online, as opposed to 48% who'll hit a discount store. A whopping 57% of those 25 to 34 will go online, compared with 53% hitting discount aisles for deals.
Also, consider how the pattern of online shopping has changed. In 2006, when the NRF first started surveying consumers about how much shopping they planned to do online, roughly two-thirds answered between 1% and 25%, with the largest percentage (23.5%) saying they planned to skip online shopping altogether. Flash to this year, and suddenly 25% of shoppers plan to do 26% to half of their shopping online. Almost 20% plan to do half to three-quarters of their shopping from their PC or mobile device, while only 11% plan to do no online shopping at all.
That creates a huge opportunity for small online shops. We've looked at small, unique, obscure,far-flung sites around the holidays for several years now, but the following ten online shops are a continuation of one of our favorite holiday traditions:

Though Nielsen Soundscan is still trying to figure out how to equate streaming to sales, digital music sales are still on the slide. During the first half of 2015, total album sales dropped 4%. While physical album sales are down by nearly 5 million during that span, and CD sales continued their slide with a 10% drop, vinyl sales grew 38.4% to 5.6 million.
Granted, that isn't a whole lot of albums (CDs lost almost that many sales and still sold 56.6 million units), but it's the only upward momentum for albums that fans will actually own. Vintage Vinyl owner Rob Roth has seen vinyl sales plummet and rebound since opening his first Vintage Vinyl location in 1979, but online sales, a whole lot of annual in-store appearances that have found a home (and fans) on YouTube and a rebirth of music's most lucrative format have made this ever-popular Fords, N.J., music outpost live up to its name.
While you can get the new Bruce Springsteen The River box set and the new Christmas album by the Hoboken-headquartered Db's, we really can't recommend the vinyl section enough, for both the rarities and the free shipping for items over $50.

While working at TheStreet's Boston bureau a few years back, we lived right up the street from one of the company's four locations. Our two cats and our family's dogs feasted on their homemade pig's-ear jerky and duck treats ($5.99) from Polka Dog's South Boston bakery, but the stream of pet holiday merriment ended when we moved away a few years back.
We were delighted to find that they've not only expanded to two more locations since we left, but also began producing dehydrated cod skin ($10.99) and haddock skin ($10.99) treats as well. While just about everything Polka Dog makes can be purchased in bulk, picky pet owners can start off with holiday samples ranging from $4 mitten treats to $40 surf-and-turf samplers. Granted, your dog likely can't tell Christmas from any other day he or she has to take a walk in the cold, but a little token of appreciation for braving the elements might just keep your friend occupied enough not to chew the ribbons off every present under the tree.

We can't exactly call a company that dates back to 1830 and built a company town -- Woolrich, Pa. -- a "find." However, if you're looking for woolen garments that are going to last for a good long time and hate the trial-and-error approach, it's worth finding.
While it bills itself as an outdoor company and certainly has roots in that tradition, its Buffalo Check shirts ($59 to $119) and railroad vest ($79 to $295) seem a bit upmarket for roughing it. Then again, the company's wool hunting and fishing gear comes at a premium as well.
However, that premium is attached to a whole lot of faith in the product. Not only is there no deadline on returns, but Woolrich's quality guarantee comes down to a few words: "If for any reason, you are not satisfied with your purchase, we will gladly replace it or refund your money." No asterisk, no footnotes, just a straight-up exchange or refund. It's a cold-weather pitch that may be worth warming up to.

Tender Loving Empire
Calling this Portland, Ore., business a record label (though it is) understates things a bit. With three shops in its hometown, a stable of artists and artisans pitching their wares in each of them and an entire segment of its online business dedicated to handmade goods, Tender Loving Empire is like the Portland Saturday Market with a better soundtrack.
Their online shop lets you name your price (to a degree) on little crank-powered sculptures (+/- $38), owl-shaped teething rings ($17 +/-) and cheese-making kits. It's all a bit frivolous, but the 5% of your purchase that goes to a charity that you select at checkout certainly isn't.

Diet Coke so offended the masculinity of some soda buyers that Coke Zero came into being. Hard cider was deemed so unmanly that ciders named Smith & Forge and Johnny Appleseed were offered by MillerCoors and Anheuser-Busch InBev as Man Ciders. Ron Swanson, a character performed by Nick Offerman on the now-dead NBC sitcome Parks and Recreation, has become enough of a cult of male archetypal personality that Offerman has basically turned him into an author (several times over) and work of performance art.
This, and a few too many viewings of Fight Club, have birthed a new category of gift recipient. This person demanded a groom's cake at his wedding. He owns several mugs, ties and T-shirts that, in some way, reference bacon. He buys only clearly marked "men's" deodorants, soaps and shampoos. He equates the smell of pine, lemon or just about any fruit with a feminist agenda. He's exactly the kind of person who'd take one of Archer's $14 bottles of distillery, European sports car and hunting lodge-scented air fresheners and use them. Oh, and he'd totally wash his hands and dishes with a $16 bottle of soap that smells like whiskey, because Dawn and Joy aren't soaps, but girls' names.
If you have the tremendous misfortune of buying for this particular individual, go ahead and spring for the $54 pack that includes all the products mentioned above, plus a $4 discount. We can't promise that they'll make his home smell like anything other than loneliness, but we can promise that you won't have to pay full price for the effort.

We don't like repeating holiday suggestions, and we know we referred to this site a few years back. That said, it's a Star Wars year, and you wouldn't just let the Death Star keep blowing planets to smithereens if you had a clear shot at an exhaust port and a limitless supply of photon torpedos.
You people can have your English language the rest of the year: we're speaking geek for the next few paragraphs. Sure, ThinkGeek has a ton of Star Trek, Dr. Who, DC Comics, Marvel and video game merchandise, but the force is frickin' awakening, man. That means Star Wars planetary glassware ($50), R2-D2 car chargers ($40), illuinated lightsaber chopsticks ($15), a Han Solo-in-carbonite refrigerator ($150) or a BB-8 desk lamp ($40). Quite frankly we're taken with the portable gaming system that plays Nintendo Entertainment System and Super NES games ($100) or the Back To The Futureflux capacitor USB charger ($20), but in keeping with the Star Wars spirit of the season, neither a Wampa rug ($130) nor Tautaun sleeping bag ($150) would be unwelcome under the tree.

Goldbely
Sure, family's a big part of coming home for the holidays, but if you're coming home from a long distance, there's probably a lot more you've been missing in your absence.
If you're from Pittsburgh and haven't been home in a while, a french-fry stuffed Primanti Brothers sandwich might sound fine right about now. If you called Chicagoland home, maybe you're missing some Lou Malnati's pizza right about now. Whether it's Cafe du Monde beignets in New Orleans or a Langer's pastrami sandwich from L.A., there's a strong chance that there's a local delicacy from back home that you aren't getting wherever you're calling home now.
Offering a mapful of selections from across the U.S. -- many with free shipping -- Goldbely's stated mission is to remove the barriers to regional cuisine and make them available anywhere. Granted, that means New York offerings -- including sandwiches from Katz's Deli, steaks from Peter Luger's, slices from Joe's Pizza, hot dogs from Papaya King, bagels and lox from Zabar's and cupcakes from Magnolia Bakery -- can be shipped St. Louis, Sarasota and Seattle safely. However, if you're from Jersey and haven't had Taylor Ham (only slackjawed pineys call it "pork roll") since you left for Boise, this may be your best bet.


No, this isn't yet another joke T-shirt company appearing in a banner ad alongside some story you're reading about this weekend's box office numbers. Nobody is trying to sell you a shirt that further degrades Britain's wartime "Keep Calm" ethos by imploring you do do yoga, start drinking, carry guns or go offroading.
Nope, this is very much a haven for cinephiles who not only get the reference, but also want to literally wear their code on their sleeve. They want you to know that Gremlins is a Christmas movie and worthy of holiday sweaters ($75 to $85). They want fewer gritty film reboots and more twee movie poster reboots ($40 to $65). They want to put the Army of Darkness soundtrack and Back To The Future original score on the turntable at their holiday party. They want a replica of the bolt from The Iron Giant ($65).
Honestly, if you had a friend who went to film school or even know someone who still has a Laserdisc collection and would like a copy of the Big Trouble In Little China comic book, why wouldn't you shop for him here?

Shinola assembles all of its watches and bicycles at its headquarters in Detroit. It sources the frames for those bicycles from Wisconsin, its journals are manufactured in Ann Arbor, its leather is made in Chicago and its watch straps are made in Largo, Fla.
It also has 12 stores in the U.S., not including another opening in Palo Alto, Calif., next year. It's investing in U.S. jobs and products, but it's also investing in its workers. No, its four-figure bicycles aren't discount-store cheap. Yes, its watches ($450 to $2,400) cost more than the Apple Watch. Yes, even its smartphone cases cost close to $100. But if you want craftsmanship and U.S. labor being paid for it -- and you don't want your cities being reduced to ruins just so you can have an endless supply of disposable everything -- Shinola is there to remind you that it all comes at a price. It costs more because you're getting more out of it, and that's a message its grown base of consumers is starting to get behind.

Again, we don't like to go back to the well, but current fashion is just meeting ModCloth where it's at. From party dresses to members-only vintage outfits, ModCloth has been embracing the Zoe Deschanel-meets-Peggy Olsen aesthetic since its inception. The rockabilly clothes, cocktail dresses and little black dresses are all great holiday-party fodder.
However, when you're done gift shopping for yourself, there is a slate of other, less hanger-ready options. A turntable decked out in vintage floral print ($118), a speckled enamel cocktail shaker ($40) or a catalog storage chest ($49) are all fine ways of capturing the zeitgeist without wearing it.
This article is commentary by an independent contributor. At the time of publication, the author held no positions in the stocks mentioned.