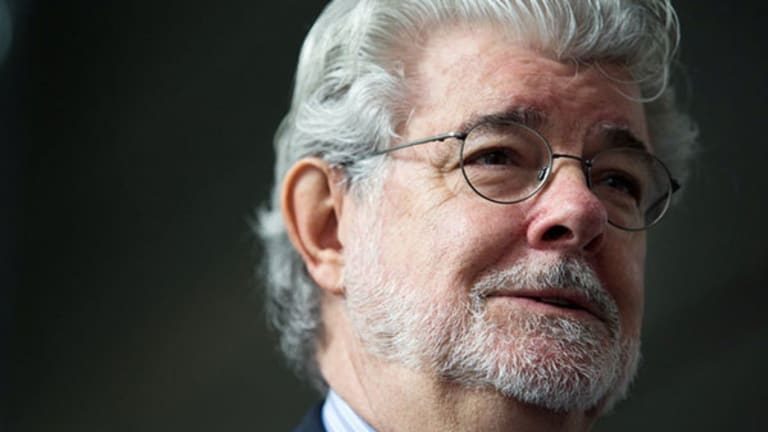 10 Richest Hollywood Movie Moguls -- and How Much They're Worth
James Cameron, George Lucas and other luminaries lead this list.
NEW YORK (TheStreet) -- Did you know that Hollywood's richest movie moguls collectively control more than $20 billion of personal wealth? That's a big bankroll no matter where you are. 
Leading up to this year's Academy Awards, set to air on Sunday, Wealth-X, the Singapore-based high-net-worth intelligence firm, put together a list of the richest producers and directors in Hollywood.
While American Sniper-director Clint Eastwood didn't make Wealth-X's list, plenty of other well-known directors did.
At the top of the list is George Lucas. The director and producer of the popular Star Wars franchise has an estimated net worth of $5.4 billion, though Wealth-X notes that the sale of LucasFilm to Walt Disney (DIS) in 2012 for $4 billion contributed to that. Wealth-X also notes that Lucas, 70, directed only six feature films during his career, four of which were Star Wars installments.
On the other hand, Steven Spielberg, who ranks No. 3 on the list, has directed more than 30 feature films, including classics such as ET, Jaws and Jurassic Park.
Check out who else made the list. And when you're done, be sure to check out how other Oscar-nominated movies fared at the box office.
10. James Cameron
Estimated Net Worth: $670 million
Notable Movies: Avatar, Titanic
9. Steve Tisch
Estimated Net Worth: $720 million
Notable Movies: Forrest Gump
8. Jerry Bruckheimer
Estimated Net Worth: $850 million
Notable Movies: Top Gun, Pirates of the Caribbean

7. Thomas Tull
Estimated Net Worth: $870 million
Notable Movies: The Hangover, 300
6. Jeffrey Katzenberg
Estimated Net Worth: $910 million
Notable Movies: The Lion King, Shrek

5. Ryan Kavanaugh
Estimated Net Worth: $1 billion
Notable Movies: The Social Network, Little Fockers
4. Austin Hearst
Estimated Net Worth: $1.9 billion
Notable Movies: The Vow

3. Steven Spielberg
Estimated Net Worth: $3.3 billion
Notable Movies: Jaws, ET

2. Arnon Milchan
Estimated Net Worth: $5.2 billion
Notable Movies: Pretty Woman, 12 Years A Slave

1. George Lucas
Estimated Net Worth: $5.4 billion
Notable Movies: Star Wars films