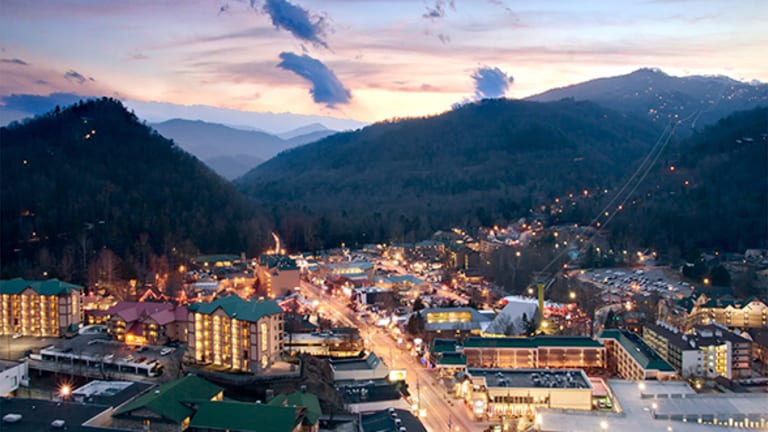 10 Places Where Homeowners Can Make a Mint from Vacation Rentals
Demand for vacation rentals still outstrips supply in some corners of the country, with popular destinations from Las Vegas to the Florida keys offering huge opportunities for property owners.
NEW YORK (MainStreet) - We realize that renting out your house or vacation home so total strangers can have a few days off isn't for everyone.
In certain cities, however, it should at least get a second look.
You likely aren't going to rake in a ton of cash by being the latest homeowner in your ski village or beachfront community to rent out your property. However, even when demand isn't so hot, the income from a vacation rental can be significant. Vacation rental site HomeAway, which has more than a little skin in the game, notes that the average homeowner on that site rents his property 18 weeks each year and grosses $28,000 annually. For a little more than half of property owners, that's enough to cover more than 75% of their mortgage each year. For HomeAway, it was enough to launch an entire service dedicated strictly to urban destinations that produced a whole lot of income for homeowners who might be attracted to services like HomeAway or competing Airbnb.
"What's interesting is a lot of these markets are cities that are either regulated or considering regulation - but that has not slowed the desire of families and groups to stay in vacation homes in metro areas," added Brian Sharples, HomeAway founder and chief executive. "It is certainly a compelling reason for governments to regulate vacation rentals fairly and embrace the millions of travelers visiting their cities."
There are definitely some considerations to keep in mind before jumping in. First off, and most obvious, you're taking a risk with one of your most significant investments. Sure, the vacation rental horror stories are the exception to the rule, but they are out there. You're going to want to consider beefing up your insurance, and you're going to want to get it through someplace other than the site that's listing your house.
"The insurance offered by vacation rental sites has significant limitations," says Christopher Elliott, consumer advocate and author of How To Be The World's Smartest Traveler (National Geographic, 2014). "It would be unwise to assume you're covered for any event. Third-party insurance might offer more or better coverage."
That said, vacation rental sites have taken the soft-sell approach to vacation rentals, largely because they aren't really hurting for inventory. At vacation rental site FlipKey, for instance, there is no set contract and no yearly fee. All rentals come with a "per booking" fee that gives property owners a quick out if they're feeling uncomfortable."
"You aren't locked in," says Matthew Moretti, spokesman for FlipKey. "Try it out for a few months, and see how many bookings you receive and how the stays go. If you don't like it or feel like it is too much work to put in, then no big deal, you can stop renting."
However, if you're in one of the areas where TripAdvisor Vacation Rentals says demand exceeds supply, there's a chance that you might be able to make more from your home than a counterpart in an area where rentals are less rare. As we discovered, there are at least ten spots -- including multiple locations in Florida and Tennessee, where the demand far outstrips supply.
"If you happen to own property in the below cities, lucky you - homes here enjoy some of the highest traveler demand on TripAdvisor Vacation Rentals," said Laurel Greatrix, TripAdvisor Vacation Rentals spokesperson. "This means when you're not home, either short-term or long-term, you shouldn't have any trouble finding paying guests."

Myrtle Beach, S.C.
Average 1 bedroom weekly rate: $662
Average 2 bedroom: $763
Average 3 bedroom: $977
Average 4 bedroom: $1,264
The motorcycles roar, the bars hum and the boardwalk hops during the peak months, but there are a whole lot of people who really love the Hard Rock Cafe-and-Harley approach to oceanfront vacationing.
Back on Labor Day weekend, Myrtle Beach made TripAdvisor Vacation Rentals' Top 15 largely, because two-bedroom properties here start at about $820 for the week -- or less than the $1,100 you'd spend for a similar property by the golf courses of Hilton Head. However, as Expedia pointed out, even inexpensive hotels in Charleston fetch nearly $200 a night. Myrtle Beach is down-home and blue collar, but unless a blue-collar family can snag a cheap hotel room for the night, there aren't a whole lot of discount options.

Las Vegas
Average 1 bedroom weekly rate: $1,133
Average 2 bedroom: $1,170
Average 3 bedroom: $1,324
Average 4 bedroom: $1,867
With the hotels both on the strip and off fighting fiercely for tourist dollars -- and discounting heavily during down stretches, vacation rentals become a bit of an afterthought here. The air-conditioned casinos, the pool parties and the bright lights in the center of it all are huge draws... for many.
TripAdvisor notes that the average summer trip to Vegas -- including a seven-night hotel stay, roundtrip airfare and three restaurant meals a day -- comes to $2,000 per person. That's $100 less than a trip to Myrtle Beach, S.C., and roughly $1,200 less than a similar trip to New York. Meanwhile, the average hotel price of $156 per night, while the average airfare during the final weeks of August is about $55 less than you'd pay in June. That said, once those temperatures drop and the hotel prices climb, bargain hunters -- especially those with families -- may want to consider a larger option with a kitchen. You'll note that most of the options above still fall beneath that summer low of $2,000 per person for the week, including airfare and meals.
A vacation rental doesn't necessarily scream "Vegas," but with rentals varying from condos on the strip to homes with their own pools, there are times when they're worthy of consideration.

Ocean City, Md.
Average 1 bedroom weekly rate: $832
Average 2 bedroom: $1,078
Average 3 bedroom: $1,441
Average 4 bedroom: $2,297
Spots in Ocean City, Md. slump to an average of $1,100 by September, but they fetch nearly $500 more a week just a month before August.
It's because summer rental season in this boardwalk town is a booming business.The 8,000-person town draws more than 300,000 visitors each weekend for rides, salt water taffy, wax museums, white marlin fishing, fireworks and free concerts.The size, crowds and bright lights of Ocean City are a put-off to some, but all of those attractions, musical acts and festivals keep generations coming back.

Gatlinburg, Tenn.
Average 1 bedroom weekly rate: $1,083
Average 2 bedroom: $1,241
Average 3 bedroom: $1,742
Average 4 bedroom: $2,470
This is no tourist trap, though Gatlinburg's ski gondola-style tramway, Ober Gatlinburg theme park and Seattle-style Space Needle might suggest otherwise.
Nearby Pigeon Forge's Branson, Mo.-style theaters, indoor skydiving and Dollywood amusement park make a similar suggestion. But Great Smoky Mountains National Park gives Gatlinburg a whole lot more heft than your average marquee-and-shirt-shop roadside mess. The park draws nearly 9.5 million visitors a year, the most of any national park and 5 million more than the second-place Grand Canyon. It accounts from nearly $720 million in local tourist spending all by itself and uses little other than natural charm and cute little corners like the Cades Cove historic cottages to keep that cash rolling in.
If you can't make the summer trip, don't get too bummed about it. The Smokies' canopy of bold bronze and auburn leaves makes it a great fall getaway as well.

Orange Beach, Ala.
Average 1 bedroom weekly rate: $767
Average 2 bedroom: $1,000
Average 3 bedroom: $1,435
Average 4 bedroom: $2,079
Located on a gorgeous stretch of Gulf Coast, Orange Beach is nobody's undiscovered country.
The condos lining it suggest that more than a few people realize that strolling the beach, walking the wharf, watching the Blue Angels and hitting the shrimp festival and oyster cookoff are a mighty fine way to spend some time. However, since these folks tend to like to keep their deep-sea fishing, trips to Fort Morgan, golf outings and concerts to themselves, anyone up for renting out a property here can make a nice little bit of cash for themselves.

Galveston, Texas
Average 1 bedroom weekly rate: $954
Average 2 bedroom: $1,408
Average 3 bedroom: $1,843
Average 4 bedroom: $2,531
We're actually stunned to see Galveston on this list.
We understand that there are a bunch of hotels, bed and breakfasts and resorts here, but if you're going to make a week of it and hit the pier, take in the flora at Moody Gardens, ride the slides at Schlitterbahn, walk the Strand, go to the Jazz& Blues festival, take in Mardi Gras or swing by for Christmas, this can be a slightly less-expensive option. Honestly, it's a tough town to do in a weekend and if you want to learn about the 1900 storm that basically destroyed the town, take in the historic architecture that's cropped up since, go on the art walk or take in any more than one aspect of it, you're going to have to stay for multiple nights. While a vacation rental isn't always a cheaper option, it can certainly help out budget-conscious folks who don't mind spending a few nights at home and cooking for themselves.

Siesta Key, Fla.
Average 1 bedroom weekly rate: $1,077
Average 2 bedroom: $1,320
Average 3 bedroom: $1,805
Average 4 bedroom: $2,856
No, it isn't one of the Southern Florida Keys, but this white-sand beauty in Sarasota County is surrounded by hotels, restaurants, condos, live music, art museums and all sorts of other accoutrements that make it one of the best beach vacations in the mainland U.S.
You don't just have to come for the sand-sculpting festival, the fishing, the seafood restaurants or the beachfront yoga, but you will have to marvel at all of the rows of condos and wonder how they can't free up just a few more for the tourists. The answer: if this was your beach, you'd be reluctant to leave, too.

Nashville, Tenn.
Average 1 bedroom weekly rate: $1,100
Average 2 bedroom: $1,668
Average 3 bedroom: $1,851
Average 4 bedroom: $3,358
The spiritual home of country music makes it onto more "hidden gem" lists than it should. With the Music City Center -- a huge convention center with a big public space for art and music -- the Country Music Hall of Fame, the 18,000-square-foot Johnny Cash Museum and Musicians Hall of Fame and Museum and other attractions, we'd just kind of figured this would be prime rental country. 
The music venues, restaurants, barbecue joints, museums, parks and 2,700 acres of walking and bike trails make it a great vacation destination, but that lack of available rentals makes the four-bedroom offerings here some of the most expensive on the list.

Key Largo, Fla.
Average 1 bedroom weekly rate: $1,985
Average 2 bedroom: $2,321
Average 3 bedroom: $3,103
Average 4 bedroom: $2,341
Now this is one of those Florida Keys, but folks expecting to come down here and find a raucous time on par with Key West should probably pack it in. Nope, since Humphrey Bogart and Lauren Bacall cleared out of town, Key Largo has been a great place to fish, dive for shipwrecks, snorkel, take a boat out or eat that day's catch. This is the active person's Flordia Key and, aside from the Humphrey Bogart film festival in late October, there aren't a whole lot of activities here that don't involve the water or some appreciation of it.
There also aren't a ton of hotels and other accommodations on the island itself, so you're picking from a very fixed selection of homes. It's an owner's market for rentals, and any dive party that comes through will pay willingly.

Marathon, Fla.
Average 1 bedroom weekly rate: $2,344
Average 2 bedroom: $1,691
Average 3 bedroom: $2,537
Average 4 bedroom: $3,668
Spread out over seven of the Florida Keys, Marathon has basically positioned itself as the family fun Key.
You're looking at a whole lot of diving, snorkeling and boating but also trips to the Dolphin Research Center and the Turtle Hospital. As a result, multi-bedroom homes are a in high demand as families look to crash after a long day of marine viewing and seafood eating. Yep, it's the entire circle of life here in Marathon... and if you can fit everyone into a two-bedroom, you're getting one of the best deals in the Keys.
This article is commentary by an independent contributor. At the time of publication, the author held TK positions in the stocks mentioned.