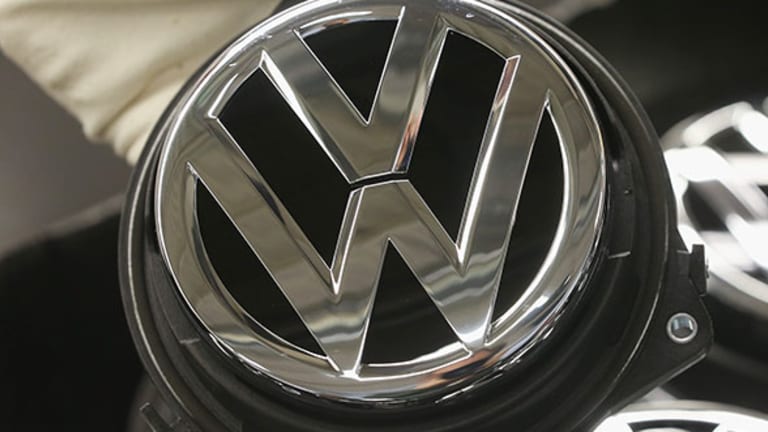 10 of the Biggest Automotive Scandals Ever
Volkswagen isn't the first carmaker to get into hot water over some less-than-noble practices or to be hit hard by scandal.
Volkswagen isn't the first carmaker to get into hot water over some less-than-noble practices or to be hit hard by scandal.
Updated from 10 a.m. to include news on CEO stepping down in the fifth paragraph.
NEW YORK (TheStreet) -- Some of the world's biggest automakers have a history of making really bad decisions.
German car manufacturer Volkswagen (VLKAY) has been engulfed in a growing scandal over cheating on emissions tests to make its diesel vehicles appear more environmentally friendly than they are.
The U.S. Environmental Protection Agency set the spark on Friday when it accused the company of installing manipulative software in about 500,000 U.S. vehicles that was able to sense when a vehicle was being tested for emissions standards compliance. The mechanism was essentially used to trick regulators and hide emissions of 10 to 40 times above EPA compliant levels.
The situation has since detonated. Volkswagen said in a statement Tuesday the issue affects 11 million vehicles worldwide. It has set aside €6.5 billion -- about $7.3 billion -- to "cover the necessary service measures and other efforts to win back the trust of our customers."
The stock plunged on Monday and Tuesday, erasing approximately a quarter of its value in just two days. Volkswagen's tenure as the world's largest automaker -- a title it achieved in July -- looks like it may be short-lived. The company's CEO, Martin Winterkorn announced he was stepping down on Wednesday.
"VW faces fines and possible criminal prosecution not only in the U.S., but across the globe, if their dual mode software that evades emissions regulations is found in vehicles in other countries," said Bruce Belzowski, managing director of the University of Michigan Transportation Institute's Automotive Futures Group.
"Their biggest markets are Germany and China, and we will see what each country does about this issue. We are in the very early days of this issue, and it will continue to be a problem for VW for quite a while. Unfortunately for diesel enthusiasts, it also paints diesel technology as environmentally unfriendly even though other diesel cars and SUVs from other manufacturers do meet emissions requirements."
Volkswagen isn't the first carmaker to get into hot water over some less-than-noble practices or to be hit hard by scandal.
Here are 10 other times the auto industry and its players have been racked by crisis.
1. The Tucker 48
After World War II, American automobile designer and entrepreneur Preston Tucker set out to bring an advanced new automobile to market -- the Tucker 48. Unfortunately, the endeavor was short-lived.
While Tucker's vision for the vehicle itself was impressive for the era, his business tactics were a bit unconventional. He tried to sell dealership rights for the car before it existed, and he was brought under investigation by the Securities and Exchange Commission for fraud.
Tucker placed much of the blame for his problems on the automotive industry, which he believed was out to get him. "My associates and myself and the Tucker Corporation have been investigated and investigated, time and again," he wrote in an open letter dated June 15, 1948. "Millions of dollars of the taxpayers money have been squandered in an utterly fruitless effort to kill the Tucker, to bar us from needed raw materials, to keep us so busy defending ourselves and our efforts that the motoring public would tire of waiting for a completely new rear-engine car."
Even though he was eventually acquitted of fraud charges in 1950, the Tucker was no more.
Only 51 cars were ever produced, two of which are owned by director Francis Ford Coppola, whose father was one of the investors who ordered a Tucker and bought its stock. "He took me to see the car when it was on exhibit and I was very excited. I remember the details very well and for months kept asking, 'When is the Tucker coming?' Finally he said it was never coming, and that the big companies didn't want it to exist, and wouldn't let Mr. Tucker buy steel or the supplies he needed," Coppola said in a 2012 interview with Smithsonian.
2. The Ford Pinto
In 1977, Mother Jones Magazinepublished an expose on the Ford Pinto. Its claim: for seven years, Ford Motor Company (F) - Get Report sold cars "in which it knew hundreds of people would needlessly burn to death."
According to the report, Ford engineers discovered in pre-production crash tests that rear-end collisions would easily rupture the car's fuel system and cause a fire. Instead of fixing the issue, the automaker decided to go ahead with production anyway instead.
Mother Jones also uncovered a memo written five years before on the Pinto's fire-related fatalities that laid out the cost-benefit scenario of the scenario. The note estimates that each Pinto-related death comes at a cost of $200,000, putting the benefits of fixing the problem at $49.5 million and the cost at $137 million.
Ford initiated a recall of the Pinto in 1978 for fuel-tank modifications.
In 1991, Gary T. Schwartz, a professor at the UCLA School of Law, wrote in a paper titled The Myth of the Ford Pinto Case that the public had several misconceptions of what happened with the Pinto, giving it a reputation of essentially mythic proportions. "The case shows how disturbed the public can be by corporate decisions that balance life and safety against monetary cost," he wrote.
3. Failure to Park
In 1980, the U.S. National Highway Traffic Safety Administration (NHTSA) made an initial determination of defect in Ford Motor vehicles related to transmissions that permitted them to slip accidentally from park to reverse. It had received 23,000 complaints about Ford transmissions.
The same year, Mother Jones Magazine published a report providing evidence that Ford had known for at least a decade about the transmission slippage problem. The magazine claimed design improvements that would have resulted in a 90% reduction in park-to-reverse repairs would have cost 3 cents per car.
All said and done, more than 20 million vehicles manufactured by Ford between 1966 and 1980 were determined to be impacted. Instead of recalling all of them and fixing the problem, the automaker struck a deal that amounted to a warning sticker alerting drivers that "unexpected and possible sudden vehicle movement may occur" if certain precautions were not taken.
In 1984, the Center for Auto Safety, an automobile safety group founded by Ralph Nader, determined the transmissions led to 77 fatalities.
4. Audi's Accidental Acceleration
In November 1986, CBS' (CBS) - Get Report news program 60 Minutesran a story on the Audi 5000, featuring interview with owners who said their cars suddenly accelerated in a segment titled "Out of Control." The report also featured images of the car apparently lurching forward on its own -- something it was later revealed television crews manipulated into happening.
Nevertheless, consumers fled and lawsuits multiplied. The NHTSA exonerated Audi in 1989 after three years of study, though 60 Minutes did not retract its piece and instead called the report "an opinion." Audi sales collapsed, falling from 74,000 units in 1984 to 12,000 in 1991.

5. Takata Seatbelts
"It could remain a quiet preliminary investigation -- or turn into one of the biggest automobile recalls of all time," Bloomberg wrote when reports of problems with seatbelts made by Japanese parts manufacturer Takata (TKTDY) began to emerge in early 1995. "At the very least, it should ensure that from now on carmakers offer a lifetime warranty on seatbelts."
Just a couple of months later, the NHTSA announced the recall of seatbelts on millions of cars sold from 1986 through 1991. The maneuver was spurred by concerns that the belts' buckles failed to latch and unlatch. More than 8 million vehicles were impacted, at the time making it the second-largest auto safety recall in 30 years.
More than 700 complaints had been received involving at least 60 injuries, but no deaths, regarding the belts jamming. About a dozen automakers were involved across the United States and Japan. The Detroit News estimated the recall could cost upwards of $1 billion.
6. Ford-Firestone Rollovers
The NHTSA opened an investigation on Ford and tire manufacturer Firestone in May 2000 after accumulating 90 complaints involving four deaths tied to the automaker's vehicles fitted with Firestone tires.
By August, the NHTSA had recorded more than 60 fatalities related to rollovers of Ford Explorer SUV caused by sudden tread separation of the tires. Firestone subsequently recalled 6.5 million tires. Eventually, it was determined that over 100 people had died, and Ford recalled another 13 million tires.
The incident led to a fair share of finger pointing between the two companies, and in its wake they cut ties.
7. Daimler's International Bribery
Daimler (DDAIF) reached a settlement with the Securities and Exchange Commission in 2010 for corruption and bribery that took place for over a decade.
The German car maker behind Mercedes Benz agreed to pay $185 million in the wake of allegations that it had made at least $56 million in improper payments through more than 200 transactions in 22 countries. The SEC determined Daimler earned $1.9 billion in revenue and $90 million in illegal profits through the dealings and paid kickbacks to Iraqi ministries in connection with the United Nations Oil for Food Program.
"It is no exaggeration to describe corruption and bribe-paying at Daimler as a standard business practice," said Robert Khuzami, the director of the SEC's enforcement division, in a statement. "The final and reputational costs incurred by Daimler as a result are a lesson that should be studied closely by all companies."
8. Toyota's Accidental Acceleration
Toyota (TM) - Get Report owners essentially staged a rebellion in 2009 following a series of accidents caused by "runaway cars." The issue first came to light in August of that year when a family of four died in a car crash and authorities released a 911 call from the vehicle's driver saying that it had begun to accelerate on its own.
It was eventually revealed that a number of Toyota models manufactured from 2004 to 2010 experienced unintended acceleration when floor mats became lodged under accelerators or, in other cases, the gas pedal would just stick.
Toyota wound up recalling more than 9 million vehicles in 2009 and 2010, but it was a bit of a scenario of too little, too late. The U.S. Attorney's Office hit the automaker with a $1.2 billion fine over the incident in 2014, largely for its efforts to initially keep the issue under wraps and lying on more than one occasion about what was going on.
"When car owners get behind the wheel, they have a right to expect that their vehicle is safe," said then-Attorney General Eric Holder in a press release announcing the charge. "Other car companies should not repeat Toyota's mistake: A recall may damage the company's reputation, but deceiving your customers makes that damage far more lasting."
9. The GM Ignition Switch
In 2001, General Motors (GM) - Get Report engineers noticed problems with ignition switches on the Saturn Ion. According to an internal report at the time, the problem was resolved and the switch was redesigned. But when in 2004 and 2005 GM began to get reports of its Chevrolet Cobalts losing power when keys were actually bumped, causing power braking, steering and airbags to stop working, the automaker decided to avoid redesign for, among other things, being too costly.
The issue would ultimately cost the company billions of dollars and cause numerous accidents and 124 deaths.
In 2014, GM began an enormous recall effort affecting millions of cars manufactured since 2004. The scandal wiped more than what Reuters estimates to be $5 billion from its profit, and in September GM was ordered by the Department of Justice to pay a $900 million fine over the matter as the dust continues to settle.
10. Takata Air Bags
More than 30 million vehicles made by 10 different automakers have been recalled in the United States to replace frontal air bags made by Takata.
The New York Times published a report in 2014 claiming that Takata and one of the car makers with its air bags installed, Honda (HMC) - Get Report , had taken their time in alerting the public of dangerous defects. The report linked two deaths and more than 30 injuries to ruptured air bags in Honda vehicles, including incidents dating back at least a decade.
In January 2015, the NHTSA handed down a $70 million fine to Honda in civil penalties for failing to report deaths, injuries and warranty claims. In February, the agency announced it would fine Takata $14,000 per day for failing to cooperate fully with its investigation. "Safety is a shared responsibility and Takata's failure to fully cooperate with our investigation is unacceptable and will not be tolerated. For each day that Takata fails fully to cooperate with our demands, we will hit them with another fine," said U.S. Transportation Secretary Anthony Foxx in a statement.
Federal regulators have reportedly widened their probe of the air bags, and a recall plan, due in October, may include other suppliers.
"This recall has not reached a definitive conclusion about the cause of the problem," Belzowski said.
This article is commentary by an independent contributor. At the time of publication, the author held no positions in the stocks mentioned.