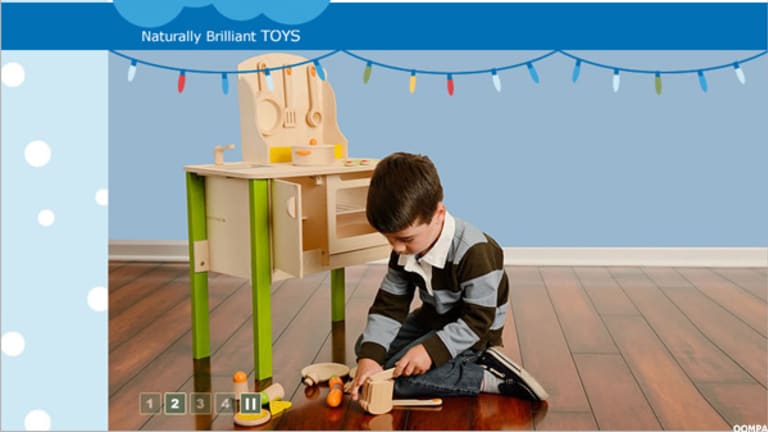 10 Obscure Sites For Great Holiday Shopping
These sites help put some thought back into holiday shopping and more memorable gifts into loved ones' hands.
These sites help put some thought back into holiday shopping and more memorable gifts into loved ones' hands.
PORTLAND, Ore. (TheStreet) -- Just as you have shoppers who'd rather hit the local holiday markets than the malls this time of year, there's a select group of online shoppers that likes to stick to their small sites and cling to their best-kept secret.
ComScore
(SCOR) - Get Report
is already predicting that the $37.2 billion spent online last holiday season will grow this year by 17%, to $43.4 billion. Shoppers have given them little reason to think otherwise by increasing their online Thanksgiving spending 32% from $479 million in 2011 to $633 million this year. Black Friday shopping put 26% more stuffing in Santa's sack this year by boosting online spending from $816 billion last year to $1.04 billion during this year's event.
Amazon
(AMZN) - Get Report
came out on top yet again, but
Wal-Mart
(WMT) - Get Report
,
Best Buy
(BBY) - Get Report
,
Target
(TGT) - Get Report
and
Apple
(AAPL) - Get Report
all rounded out the top five.
All together, the 38% of American consumers who did their holiday shopping online in 2004 has grown to more than 52% this year, according to surveys from the National Retail Federation. Meanwhile, the percentage of those shunning online shopping has dropped to 16.5% from 23.5% during that span. Free shipping offers and online coupons help, but so do mobile devices that make it easy to place an online order without being tethered to the desk or couch.
The big names still grab the largest slice of the holiday pie, but even small online retailers can find a spot in a stocking or beneath a tree if their wares are worthy enough. The following 10 sites help put some thought back into holiday shopping and give gifts more memorable than a cleaned-out online wish list:
There's a huge difference between certain childrens' toys and the toys the rest of the world plays with. You sense it as soon as you walk into a toy shop in a Bohemian Bourgeois bastion of the country. The packaging is dimmer, the toys themselves are more splintery and everything has an overall ... Scandanavian vibe to it. It was only a matter of time until that corner of the toy world leeched itself online.
Want every possible variation on
, rocking horses, trains and anything else kids played with before electricity? Done. Want
made free of pesticides and made only in the U.S. or Germany? Done. Want some
to make sure your child takes those all-important first steps toward maintaining their upper-middle-class station in life? Much like your child's acceptance to an independent school, it's in the bag. "No Batteries. No Blinking Lights. No Cartoon-Themed Toys. Period," the site's slogan says. Nothing says "well-adjusted child" quite like multiple uses of the word "no."
Rent Mother Nature
Keeping with the hippie/crusty yuppie theme for a moment, this Cambridge, Mass.-based consortium will send you fresh
maple syrup, honey
or even
seafood
for a clambake, but its greatest gifts come in the form of farm shares. Anyone who's been a member of a CSA (Community Supported Agriculture, for the uninitiated) will get the basic idea: You buy a stake in a farm for a friend or loved one, Rent Mother Nature lets you know how your share is doing and then, once harvest rolls around or goods are collected, they're shipped to your recipient's door.
We're not talking about a box full of carrots and turnips that will rot before you can use them, but shares in
sheep
that are "harvested" as a blanket, shares in
coffee trees
that yield fresh coffee beans or shares in a cow that pay dividends in
brie and cheddar
. Take that, crunchy, pedantic pseudo-hippie neighbor with the box full of decaying onions in their compost pile.
Sometimes you don't need
Tiffany
(TIF) - Get Report
or
Saks
(SKS)
when just a less gaudy trinket will do.
That's the basic reason Bauble Bar exists. A couple of friends in New York discovered fashion jewelry was in short supply in their closets, mostly because they didn't know where to start sifting through unwieldy collections and where to shop that wouldn't have either a prohibitive price tag or an air of as-seen-on-TV cheapness. As a result, Bauble Bar began introducing trending items every Monday, spotlighting a new designer each Thursday, breaking off stocking stuffers into its
holiday gift suite
and partnering with
Elle
magazine on its
holiday shop
. Not every jewelry purchase has to be an investment in precious gems and metals. Sometimes it's just about putting the right hardware with the right outfit.
ModCloth built its reputation on
retro dresses
and
, but its selection of fun little toys is a stocking stuffer's fantasy. Let aspiring
Mad Men
cast members browse the
,
and bevy of
. Your
,
and
ice cream sandwich iPhone case
will make just as big of a holiday impression for less cash.
To an entire breed of gift recipient, bumper sticker and T-shirt humor is a big deal. Really big. Key-portion-of-their-personality big. These are the folks who converse with you in
Seinfeld
quotes after it's been in reruns for more than a decade. They want to make old ladies laugh at their screen-printed
play on words
. They're a hard-core, difficult type of geek that's tough to hold a conversation with, but easy to shop for. For about $23 a pop, the shirts on this site can warn unwitting friends and coworkers that this person still takes
The Princess Bride
very seriously and that their geekdom is often used for evil and
seldom for good
.
Sure, this Portland, Ore.-based shop skews a bit close to the "Put A Bird On It" sketch in
Portlandia
, but that's giving a bit too little credit to an idea that spawned hundreds of competitors. Founded in Olympia, Wash., in 1999 to help a friends sell handmade items online, Buy Olympia was a less unwieldy version of Etsy before Etsy gave everyone who could crochet a pair of fingerless gloves a marketplace for their wares. Instead of just flinging the doors open and letting anyone sell whatever decoupaged stools they have lying around, the site keeps its ranks to a hundred artists and organizations. Contributors range from author Dave Eggers' literary journal
to pea coat/hoodie hybrid designer
. It's still unique, still inspired, but, still, sometimes
Just look at yourself: Shaving with a razor you bought at the drugstore, keeping it in the same plastic cozy it came with, shoving it unceremoniously into a medicine cabinet or, worse, a drawer when you're finished. If your ancestors were around to see this, they'd beat your patchy hide with a shaving mug.
Art of Shaving recognizes that just because shavers live in a modern, plasticized world, it doesn't mean their shaving kit needs to be reduced to another throw-away toiletry. Love the closeness of your Gillette Fusion's shave but hate the handle that looks like it was stolen from a high school locker room? Art of Shaving has
ivory, chrome and engraved handles
that will take your cartridges. Still won't give up on the Mach 3 despite Gillette's best efforts to pry it out of your hands? The website has
, too.
Not only does Art of Shaving supply the
,
,
and
you'll need to turn your loved one's shaving kit into a bathroom shelf showpiece, but it sells
and
just to get them started. Stop reducing shaving to a chore and start making it what your forebears always knew it to be: A feel-good luxury.
Imagine what
Cabela's
(CAB)
or
Bass Pro Shops
would look like if a bunch of New England boarding school kids got ahold of them, moved them to Boston and scaled them down to a boutique of high-end items for the Financial District sportsman.
That's about the size of Ball and Buck, where $310
$310 Danner boots
and a $150
are essential hunting gear and a
$1,000 turntable
and $500 headphones are key to the sporting experience. You get the feeling that the last time Ball and Buck shoppers went hunting, it was for whale belts while summering in Martha's Vineyard. But fun little accessories such as their tiny
and
P-38 can opener
make great stocking stuffers for any day-trading fan of the outdoor life.
You'd have to dig another ocean to hold tears shed by children who got pairs of socks on Christmas day.
The utilitarian sock is a child's sworn enemy on Christmas morning and the favored holiday faux pas of oblivious parents everywhere. Why not just give a kid toilet paper, water or a bag of flour? They need those too and will be just as disappointed to see you've wasted wrapping paper on those everyday needs.
Fortunately for the poor, unloved sock, the tide turns in adulthood. Suddenly, a good, wooly, fuzzy, colorful pair of socks is a welcome addition to a drawer full of black and white also-rans. It's a potential comment in the workplace, a colorful accent to a night by a cozy winter fire or screen-lit couch. It's a warm beautiful break from the soul-sucking tedium of your adulthood. Yes, socks mean that much, and Capistrano, Calif.-based Richer Poorer has them in droves --
. Stripes, trees, crosses and polka dots in myriad colors are just waiting for you to stuff a stocking with a stocking.
When the only toys you seem to get during the holidays anymore require a Wi-Fi connection and your favorite holiday treat only leaves you hungover on Christmas morning, the once-hated sock can provide the warm hug you're looking for.
To craft beer lovers, this site is Santa Claus.
There's a whole lot of great craft beer out there, but fans of it are often limited by what their store will carry or what local distributors will supply. BeerJobber took a step away from that model a few years back by partnering with craft brewers and subsidizing shipments of their beers across the country.
This works out great for beer lovers, who can ring in the holiday season with a case of spicy
from Portland, Ore.-based
Laurelwood Brewing
, the fruity Belgian-style
from Arrington, Va.-based
Blue Mountain
Barrel House or a
of holiday beers from brewers across the country. It's also a pretty good deal for folks with beer lovers on the gift lists who might enjoy
from this year's Great American Beer Festival or
from brewers across the country.
It's not the cheapest proposition, as six packs start around $20, but the $5 shipping fee stays flat regardless of the size of the order. Shipping can also be an issue, as Beerjobber says it's able to ship to 83% of the country but means it can't ship to Alaska, Arizona, Arkansas, Delaware, Hawaii, Kentucky, Maryland, Massachusetts, Mississippi, Montana, Oklahoma, Utah or Wisconsin. While a lot of craft beer's big names are missing, the inclusion of heavy hitters such as Seattle's
Elysian Brewing
; Long Island's
Blue Point
;
Philadephia Brewing
; Lexington, Va.'s
Devils Backbone
; Asheville, N.C.-based
Highland Brewing
; Albuquerque, N.M.'s
Marble Brewery
; and Novato, Calif.-based
Moylan's
make BeerJobber worth a visit from any beer-loving holiday shopper.
-- Written by Jason Notte in Portland, Ore.
>To contact the writer of this article, click here:
Jason Notte
.
>To follow the writer on Twitter, go to
.
>To submit a news tip, send an email to:
.
RELATED STORIES:
>>10 Small Web Sites For Big Holiday Shopping
>>10 Eccentric Holiday Shopping Sites
>>10 Best Holiday Beer Buys of 2012
Jason Notte is a reporter for TheStreet. His writing has appeared in The New York Times, The Huffington Post, Esquire.com, Time Out New York, the Boston Herald, the Boston Phoenix, the Metro newspaper and the Colorado Springs Independent. He previously served as the political and global affairs editor for Metro U.S., layout editor for Boston Now, assistant news editor for the Herald News of West Paterson, N.J., editor of Go Out! Magazine in Hoboken, N.J., and copy editor and lifestyle editor at the Jersey Journal in Jersey City, N.J.