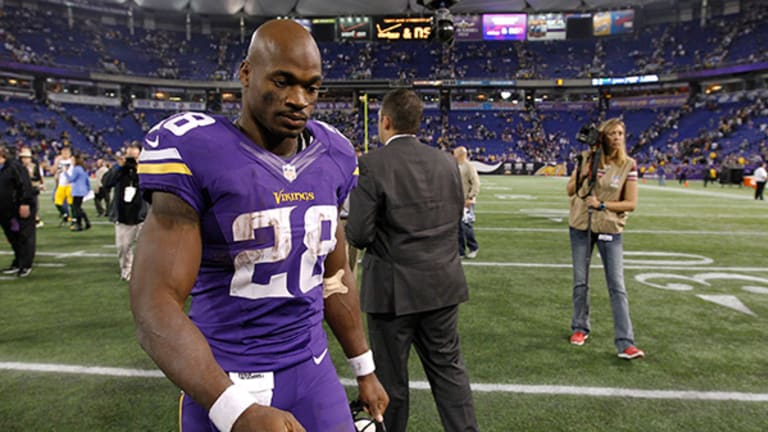 Will These 10 NFL Sponsors Quit Funding Football Over Domestic Violence?
Radisson Hotels, Nike and Procter & Gamble have pulled money from the NFL or its players. With uproar over allegations that players beat their wives and kids, will more follow?
This story has been updated from Sept. 24 with a video on the NFL.
NEW YORK (TheStreet) -- The National Football League has become embroiled in a domestic abuse scandal involving some of the league's best-known players, prompting several sponsors to suspend or re-evaluate their support.
The uproar has reached such a peak that NFL Commissioner Roger Goodell held a press conference Friday afternoon to apologize and say he's moving to correct the problem.
"I disappointed myself,  I disappointed our fans, our sponsors, and we have to do better," Goodell said Friday. 
Must Read
:
Warren Buffett's Top 10 Dividend Stocks
Allegations of spousal or child abuse have been leveled against the Baltimore Ravens' Ray Rice, the Minnesota Vikings' Adrian Peterson and most recently, the Arizona Cardinals' Jonathan Dwyer. That brings the total number of NFL players facing domestic violence or child abuse cases to six, according to CNN. The Baltimore Ravens spent "six figures" over the weekend to allow fans to exchange their Ray Rice jerseys, CNNMoney reported on Sunday.
Americans are pissed that at the NFL and more than half said in a recent poll that big brands should drop their corporate sponsorship deals with the league.
According to a Reuters/Ipsos poll, 30% thought that the league's largest sponsors should "sever their ties permanently." Approximately 24% said companies should cut off their sponsorships for the season. That said, nearly 80% of the nearly 1,250 respondents said they planned to continue watching or attending NFL football games.
Several sponsors have already pulled funding:  Radisson Hotels,Nike (NKE) and Procter & Gamble (PG) .
Here are 10 other companies that have lashed out at the NFL over the issue.
1. Anheuser-Busch InBev:
Anheuser-BuschInBev (BUD) published a statement this week saying: "We are disappointed and increasingly concerned by the recent incidents that have overshadowed this NFL season. We are not yet satisfied with the league's handling of behaviors that so clearly go against our own company culture and moral code. We have shared our concerns and expectations with the league."
The company inked a six-year sponsorship deal with the NFL on 2011 worth $1.2 billion, according to the New York Daily News. Kantar Media estimates that Anheuser-Busch spent $194 million on "purchased media" specifically, for the six months through Feb. 2, 2014. A Kantar Media spokesman said that purchased media deals differ than sponsorships because it doesn't include an additional "field brand identification," for example, he wrote in an email.
Read More:  Heading to an NFL Game? This Football Team Charges the Cheapest Beer
2. General Motors
General Motors (GM) "supports the decision to commission a comprehensive, independent investigation of the NFL's handling of domestic violence cases. We will continue to monitor future developments regarding this issue."
General Motors spent $173 million on purchased media for the six-month period ending Feb. 2, 2014, according to Kantar Media.
"We don't disclose details of our sponsorship contracts for competitive reasons," spokeswoman Ryndee Carney wrote in an email. "We would like to see the NFL do more to address the issue of domestic violence. For now, we are closely following the independent investigation and will monitor any developments."
3. Verizon
Verizon (VZ) CEO Lowell McAdam took to LinkedIn (LNKD) to address the issue, but stopped short of saying the company would pull its sponsorship.
"Because of our long-standing commitment to this issue, we believe we can be far more effective in preventing domestic violence by remaining in the arena with our partners at the NFL, rather than backing away from the controversy. The NFL reached out to us several weeks ago to assist them in formulating a long-term solution to the domestic violence issue in the league and the communities in which they operate, and we have been working behind the scenes to develop and implement programs that will address the problem at its root."
Verizon spent $167 million in purchased media in the six-month period through Feb. 2, 2014, according to Kantar Media.
"We do not release sponsorship dollar information," spokesman Bob Varettoni told TheStreet.
4. USAA
In an emailed response to TheStreet, USAA said, "We have spoken to the NFL to learn how they will address these concerning issues and to express our desire for the league to take transparent and swift steps in handling all matters related to the ongoing investigations. USAA's founding values of service, loyalty, honesty and integrity will always govern how we ultimately move forward, and we've made this clear to the NFL. Our purpose in becoming a league sponsor was to honor and appreciate the military community, and that continues to be our focus."
5. McDonald's
"Domestic violence and abuse are unacceptable behaviors and have no place in sports, or anywhere. Like many, we have questions surrounding these evolving situations and are closely monitoring as the appropriate parties investigate these matters," McDonald's (MCD) wrote in a statement on its Web site. "As McDonald's is a family brand, we've communicated our concerns to the league, and we expect it to take strong and necessary actions to address these issues."
6. Pepsi
Like Verizon's CEO, PepsiCo (PEP) Chairman and CEO Indra Nooyi issued an extended statement on her and the company's position regarding the NFL. It's worth reading in its entirety:
"I am a mother, a wife, and a passionate football fan. I am deeply disturbed that the repugnant behavior of a few players and the NFL's acknowledged mishandling of these issues, is casting a cloud over the integrity of the league and the reputations of the majority of players who've dedicated their lives to a career they love. When it comes to child abuse and domestic violence, there is no middle ground. The behaviors are disgusting, absolutely unacceptable, and completely fly in the face of the values we at PepsiCo believe in and cherish.

"Given PepsiCo's long-standing partnership with the NFL, I know Roger Goodell. We have worked together for many years. I know him to be a man of integrity, and I am confident that he will do the right thing for the league in light of the serious issues it is facing.

"Over the past several days, it is increasingly apparent that the NFL is starting to treat these issues with the seriousness they deserve. Hiring former FBI Director Robert Mueller to conduct a thorough investigation is a positive step, as is hiring three prominent women with significant, relevant expertise and assigning another, who is an NFL official, to help shape its domestic violence policies. These individuals must now be given the necessary time to review all relevant facts so that corrective actions can be taken, and well-tailored and effective policies against domestic violence and child abuse can be implemented immediately.

"The reality for Commissioner Goodell and the NFL is that they now have an opportunity to effect positive change with the situation presented to them. I urge them to seize this moment. How they handle these cases going forward can help shape how we, as a nation, as a society, and as individuals treat domestic violence and child abuse."
7. Bose
"We've shared our concerns directly with the NFL, and have been assured that they are committed to resolving the issues fully. We want and expect progress, and are monitoring the situation closely," said Carolyn Cinotti, Bose's director of public relations, wrote in an emailed statement to TheStreet.
8. FedEx
"We value our relationship with the NFL," FedEx (FDX) said in a statement, according to the New York Daily News. "We are watching developments in this matter closely and we are confident that the League will take the appropriate steps."
"FedEx continues to closely watch developments in these matters," said Patrick Fitzgerald, Senior Vice President, FedEx Marketing & Communications in an emailed response to TheStreet. "We strongly support the NFL's announcement that it will partner with two national support organizations that offer assistance to victims of domestic violence and sexual abuse nationwide. This action is a significant step toward helping victims escape the cycle of violent abuse that plagues our country."
9. Marriott
"Domestic violence is deplorable and we applaud all efforts to stop it. We will continue to follow this matter closely and await the findings of the investigations, at which time we will take the opportunity to review our sponsorship," Marriott International (MAR) said in a statement on its Web site.
Marriott did not respond to TheStreet's request for comment by press time.
10. Campbell Soup
Campbell Soup (CPB) has reportedly spoken to the NFL about the Ray Rice video investigation, according to ESPN.
"Upon completion of the investigation, we expect the NFL to take appropriate action," the company said in a statement. "We have shared our views with the NFL."
It did not return request for comment to TheStreet.
--Written by Laurie Kulikowski in New York.
Disclosure: TheStreet's editorial policy prohibits staff editors, reporters and analysts from holding positions in any individual stocks.