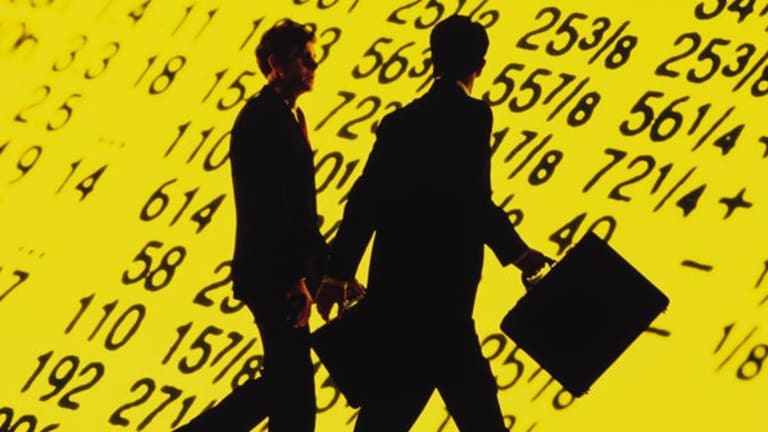 10 NFL Players Scoring Big Bucks
Despite an uncertain labor agreement, top NFL talent still pulls in sizable contracts
Tom Brady, quarterback for the New England Patriots, sets the benchmark for high-paid football players -- for now.
BOSTON (
) -- Now that the field of 32 NFL teams has been whittled to two Super Bowl contenders, there will be a lot of very well compensated players left with plenty of time to spend their fortunes in nightclubs, restaurants, car dealerships and on golf courses.
Quantifying the best-paid players, however, is not as straightforward as a no-huddle bootleg. There is the total contract package to consider, as well as guaranteed money, player incentives and year-to-year fluctuations.
As such, what follows isn't so much a simple "top 10" list of player salaries as an overview of the various ways the league's best-paid players benefit from the largess of owners (even when compelled by the expectations of the fans).
On a contractual level, Tom Brady, quarterback for the New England Patriots, sets the benchmark.
Heading into the 2010 season, football fans in New England faced the unthinkable: the possibility Brady might swap uniforms.
Publicly, he and team owner Bob Kraft assured the faithful that an extension would get done. But, as months dragged on, and talk of a possible lockout loomed, there was plenty of uneasiness. Would Brady sit out preseason workouts and games? Would bad blood start to erode the reputation of a team that owed its success to its "all for one, one for all" unity?
In September, right before the official start of the season, the deal was finally announced. The Bieber-haired Mr. Bundchen can take some solace in his team's surprising exit from the playoffs by holding onto, at least for now, the highest average salary in the NFL.
His four-year, $72 million extension averages out to $18 million per season beginning this year, a measurable boost from the relatively bargain price of $6.5 million paid out in the final year of his last contract.
The salary structure easily tops other recent contracts by gunslingers such as San Diego's Phillip Rivers (who got a six-year, $92 million extension last year), the Dallas Cowboy's Tony Romo (who netted a six-year, $67.5 million contract extension, $30 million of which is guaranteed, and an $11.5 million signing bonus back in 2007) and Carson Palmer of the Cincinnati Bengals (six years, $118.8 million). Super Bowl-bound Aaron Rodgers of the Green Bay Packers signed a six-year, $65 million contract extension in 2008; his soon-to-be-opponent, Ben Roethlisberger, is working through an eight-year, $102 million contract, with $33.2 million guaranteed .
Peyton Manning
Brady's lucrative salary may not rule the roost for much longer. Peyton Manning -- the Magic to Brady's Bird, the Frazier to his Ali -- reportedly began contract negotiations in earnest this week.
His last contract, a seven-season, $98 million deal, made him the highest-paid quarterback at the time. Given promises by Indianapolis Colts owner Jim Irsay that he would once again make Manning the highest-paid player in the league, a new contract will likely top the Patriots' deal.
In the unlikely event the Colts can't reach an agreement and hit the QB with the franchise tag, his salary this year would top $23 million. And, if next year compares to the past season, Peyton can add another $15 million to his coffers via endorsement deals.
Watching the proceedings very carefully is Drew Brees, QB for reigning Super Bowl champions the New Orleans Saints.
Brees signed a six-year, $60 million deal with a $10 million signing bonus in 2006 and, reportedly, will be seeking an extension once Manning agrees to a deal and, with Brady, sets the new salary landscape for their position.
Sam Bradford
Remember your first job out of college and how meager those early paychecks were?
Well, Sam Bradford doesn't. The QB for the Oklahoma Sooners (and Heisman Trophy winner) was the first pick overall in the offseason draft and, as part of a rebuilding effort by the St. Louis Rams, was tendered a six-year, $78 million contract. With incentives, the deal could reach $86 million.
The best part for the young man: The contract includes a record-setting $50 million in guaranteed money. Not bad for someone reaping a payday before playing even a single down of professional football.
If he hasn't already, Bradford might want to send along a "thank you" note to Detroit Lions QB Matthew Stafford.
Stafford, a standout at the University of Georgia, was the prior draft's top pick, pulling together a six-year, $72 million deal, $41.7 million of which was guaranteed. With incentives, the contract could be worth as much as $78 million.
Eli Manning
The other progeny of Hall of Famer Archie Manning, Peyton's little brother Eli, parlayed a Super Bowl MVP performance into a seven-year, $106.9 million contract that keeps him in the employ of the New York Giants through 2015.
The 2009 deal included $35 million in guaranteed money and front-loaded $41 million over the first two years of the extension.
At the time, Eli's average of $15.3 million per season was the highest in the league, edging out Peyton's average of $14.2 million since 2004 and setting the bar for Brady's new contract -- which, in turn, brings everything full circle when the Colts agree to a new deal for Peyton.
Donovan McNabb
Numbers don't always tell the full story when it comes to player contracts.
Earlier this season, QB Donovan McNabb and the Washington Redskins agreed to a five-year contract worth as much as $88.5 million if multiple incentives were met. Barring bonuses for playing every game and leading the team to a Super Bowl, the contract is at least $70 million, $40 million of which is guaranteed.
The Redskins do have a convenient, and perhaps face-saving, escape clause. If they cut him this offseason -- something that would hardly be shocking, given his lackluster season -- McNabb walks away with only $3.75 million.
Nnamdi Asomugha
When it comes to professional sports contracts, the fine print can be crucial. Case in point: Nnamdi Asomugha, the now former cornerback for the Oakland Raiders.
In 2009, Asomugha signed a three-year, $45.3 million contract with the team, which, at the time, made him the highest-paid defensive back ever. He was poised to earn $16.8 million this year.
But the oft-injured player failed to meet various incentives this past season -- his grand total of sacks, interceptions and fumble recoveries was zero. Because the contract specified that the 2011 option was tied to these benchmarks, the deal was automatically voided without any decision needed, or possible, by the player or team.
The question now, for all involved, is whether the suddenly free agent can command more or less on the open market with the looming uncertainty of the expiring collective bargaining agreement between owners and players.
Terrell Suggs
Compared with the big bucks NFL quarterbacks pull in, Baltimore Ravens linebacker Terrell Suggs' six-year, $63 million deal may not seem exorbitant.
But the 2009 deal, with $38 million in guaranteed money, made the three-time pro-bowler the highest-paid in the league for his position.
Drafted by the Ravens in the 2003 draft from Arizona State, his initial contract was a five-year deal that totaled roughly $10.1 million.
Albert Haynesworth
Nose tackle Albert Haynesworth, infamous for his violent head-stomping of helmetless Dallas center Andre Gurode as a member of the Tennessee Titans back in 2006, has prospered -- professionally and monetarily -- since that outburst.
On the first day of free agency in 2009, he was lured to the Washington Redskins by a seven-year, $100 million deal. Included was $41 million in guaranteed money ($32 million due within the first 13 months) and performance incentives that could bring the final payout to $115 million.
Julius Peppers
Defensive end Julius Peppers, a hot commodity in the past offseason, landed with "Da Bears" after Chicago offered him a six-year $91.5 million deal. The contract includes $42 million guaranteed and $40.5 million to be paid out over the first three years of the contract. With met incentives, he could earn as much as $115 million.
Peppers, drafted by the Carolina Panthers in 2002, was paid $18.2 million during his final season with the team and rejected a four-year, $54 million offer to stay.
Other well-paid defensive players include tackle Ndamukong Suh of the Detroit Lions (a five-year deal worth more than $60 million, $40 million guaranteed) and Gerald McCoy, defensive tackle for the Tampa Bay Buccaneers (five-years, $63 million, $35 million guaranteed).
Elvis Dumervil
The Denver Broncos' Pro Bowl linebacker, Elvis Dumervil, one of the league's top pass rushers, missed all of this season after sustaining a chest injury during a practice session.
For the mile-high bean counters, the injury was even tougher to bear given that it came during the first year of a lucrative contract extension that will pay Dumervil $61.5 million ($43 million of it guaranteed) through 2015.
-- Written by Joe Mont in Boston.
>To contact the writer of this article, click here:
Joe Mont
.
>To follow the writer on Twitter, go to
.
>To submit a news tip, send an email to:
.
RELATED STORIES:
>>Even Pro Athletes Worry About Retirement
>>How Consumers Win at the Super Bowl
>>4 Sure Bets For Super Bowl Spending
>>Do Early Peeks at Super Bowl Ads Pay Off?
Get more stock ideas and investing advice on our sister site,