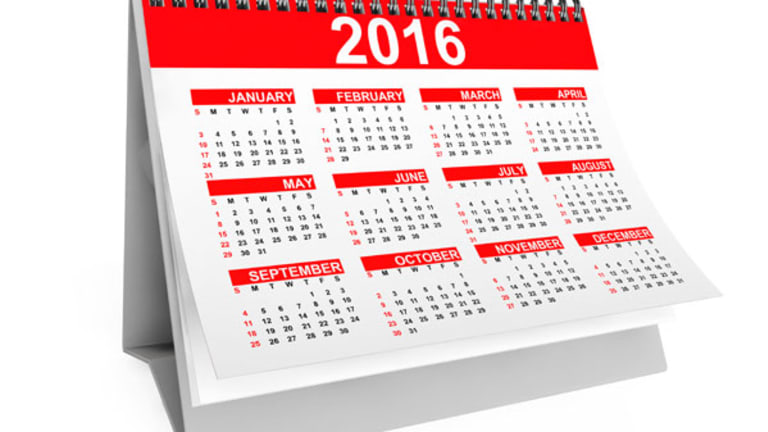 10 Must-Know Biotech Stock Events to Close Out 2016
Important clinical trial results in Alzheimer's, cancer and Crohn's disease and a big FDA decision for Sarepta are expected before the end of the year.
Now that everyone is back from summer vacation and fully re-engaged in work, here is my list of the 10 most significant biotech and pharma events through the end of 2016.
Eli Lilly (LLY) : Solanezumab
Securing approval of a drug capable of slowing, or even stopping, the destructive, memory-robbing path Alzheimer's disease takes through patients remains one of the great unclaimed prizes in pharmaceuticals.
All of the drugs developed so far targeting the elimination of beta amyloid plaques in the brain as a means of treating Alzheimer's have failed. This list of losers includes Eli Lilly's solanezumab, which came up short in two, large phase III studies.
Lilly is back for a third attempt. The latest phase III study, dubbed Expedition-3, has been narrowed and simplified to boost the odds that solanezumab can hit the primary endpoint with statistical significance. Whether or not the drug will actually benefit Alzheimer's patients in a meaningful way is going to be a hotly debated topic. Top-line results from the Expedition-3 study are expected in December.
Biogen (BIIB) is developing its own beta amyloid antibody, aducanumab, also in a large phase III study, so expect the stock to move in reaction to Lilly's solanezumab results.
Kite Pharma (KITE) : KTE-C19
After a summer of setbacks and questions about CAR-T, make-or-break clinical trial data for one of these re-engineered T-cell therapies is coming soon.
Kite Pharma, before the end of September, will announce interim results from its Zuma-1 study of KTE-C19, a CAR-T therapy for patients with advanced diffuse large B-cell lymphoma (DLBCL.)
The Zuma-1 study is crucial for Kite because the data, if positive, will form the basis of an approval filing with the U.S. Food and Drug Administration by the end of the year. Kite aims to be the first company to secure approval of a CAR-T cancer therapy, beating competitors Novartis (NVS) and Juno Therapeutics (JUNO) to the market.
But only if the KTE-C19 data are positive. ZUMA-1 results coming later this month.
Bluebird Bio (BLUE) : Lentiglobin
Bluebird Bio has been operating under a cone of silence for most of the past year while conducting concurrent clinical trials of its Lentiglobin gene therapy in beta-thalassemia and sickle cell disease.
At the American Society of Hematology (ASH) annual meeting in December, Bluebird will emerge from its quiet period to provide substantive clinical updates on all its ongoing studies. Given the mixed results and concerns about the potency of Lentiglobin raised at last December's ASH meeting, this year's update is both important and highly anticipated.
Sarepta Therapeutics (SRPT) : Eteplirsen
Dear FDA -- What Is taking you so long to render an approval decision on the Duchenne muscular dystrophy drug eteplirsen? Any day now? Heads will explode if we don't hear news by the end of the year.
Ophthotech undefined : Fovista
The use of VEGF-blocking antibody injections to treat wet, age-related macular degeneration (wet AMD) has generated billions of dollars in revenue for Regeneron Pharmaceuticals (RGEN) , Novartis and Roche.
The next blockbuster in wet AMD could come from Ophthotech and its experimental, PDGF-blocking antibody Fovista. A phase III study with results expected in the fourth quarter will determine if the combination of Fovista and Lucentis (the Roche/Novartis anti-VEGF therapy) improves visual acuity compared to Lucentis alone.
The looming Fovista study results are a big-time binary event for Ophthotech and its stock price. Regeneron and its wet AMD therapy Eylea will also be caught up in the volatility. Regeneron loses if Fovista proves to be very effective because Eylea would lose market share. The company wins if Fovista flops. Regeneron is also developing a competing PDGF-blocking antibody REGN2176-3 in a clinical trial of its own. Results are expected in the fourth quarter.
Bristol-Myers Squibb (BMY) : Opdivo
The competition among the class of cancer immunotherapies known as PD1/PDL-1 checkpoint inhibitors took a wild 180-degree turn in August when Bristol conceded its checkpoint Opdivo failed to delay tumor progression or death in a large study of newly diagnosed lung cancer patients.
Suddenly, Bristol's dominant position in cancer immunotherapy -- and billions of dollars in forecasted first-line lung cancer sales -- went POOF! The Opdivo setback allows rivals Merck (MRK) , Roche and AstraZeneca (AZN) to narrow Bristol's lead or even race ahead.
The checkpoint inhibitor competition is now inl flux but some clarity should come in October. Bristol plans to present more detailed data from the Opdivo first-line lung cancer study at the European Society of Medical Oncology (ESMO) meeting.
There, investors will see if Bristol can salvage something positive from the failed study, perhaps defining a subset of lung cancer patients who still benefit from Opdivo.
Acadia Pharmaceuticals (ACAD) : Nuplazid
It's too early in the commercial launch of Acadia's Nuplazid in Parkinson's disease psychosis to make any judgments. Add in an already robust $4 billion market value and it helps explain Acadia's flat stock performance since this spring.
Acadia is one of those biotech companies often mentioned as takeout bait because approved products to treat neuro-psychiatric illnesses are a relatively scarce commodity. The company has a chance to tart itself up even more for a possible sale when it reports results from a phase II study of Nuplazid in Alzheimer's disease psychosis -- a potentially blockbuster indication given the growing numbers of older Americans suffering from the memory-robbing disease. The Nuplazid Alzheimer's psychosis study results are expected near the end of the year.
Celgene (CELG) : GED-0301
GED-0301 is one of three drugs -- Otezla and ozanimod are the others -- that form the core of Celgene's burgeoning immunology and inflammation franchise. Today, Celgene's blood cancer drugs, mainly the multiple myeloma drug Revlimid, account for a majority of the company's revenue and profit. But in the next four to five years, Celgene is counting on "I&I" drugs like GED-0301 to diversify and extend the company's prodigious growth projections.
Investors will get an opportunity to better vet the prospects of GED-0301 as a treatment for Crohn's disease when Celgene discloses results from a study in which doctors use an endoscope to peer into patients' colons and measure the drug's ability to heal Crohn's-related lesions. These data should be announced by Celgene this month with a more formal data presentation at an medical meeting later in the fall.
Gilead Sciences (GILD) : M&A
Gilead tried to buy Medivation but dropped out of the sale process when the price tag -- $14 billion bid by Pfizer -- rose too high. Gilead executives made the rounds of investor conferences this week to spread the message the company is still very much engaged in the M&A game.
Gilead believes its internal research pipeline holds potentially valuable products and is under-appreciated by investors, but its executives also acknowledge the need to buy some stuff. The Gilead checkbook is out of the drawer and on the desk.
Who? Medivation had a PARP inhibitor, so maybe Gilead goes after Clovis Oncology or Tesaro, each with an available PARP. That's the speculation of the week. Or, Gilead could go in an entirely different direction.
Admittedly, predicting Gilead's takeover target or a timetable for a deal isn't much of bankable biotech event for the fall, but it's still something investors will be watching closely if for no other reason that it could provide a sentiment boost for the entire biotech sector.
A Cornucopia of Clinical Trials Readouts
I'll wrap with a quick checklist of clinical trial results to be announced before year's end: Intracellular Therapies (ITCI) ITI-007 in schizophrenia, Aerie Pharmaceuticals (AERI) Roclatan for glaucoma, ProQR Therapeutics (PRQR) RNA repair for cystic fibrosis, Novavax (NVAX) vaccine for RSV prevention, GW Pharma's (GWPH) epidiolex for LGS and Horizon Pharma's (HZNP) Actimmune in Friedreich's ataxia. There are many others.
Adam Feuerstein writes regularly for TheStreet. In keeping with company editorial policy, he doesn't own or short individual stocks, although he owns stock in TheStreet. He also doesn't invest in hedge funds or other private investment partnerships. Feuerstein appreciates your feedback; click here to send him an email.