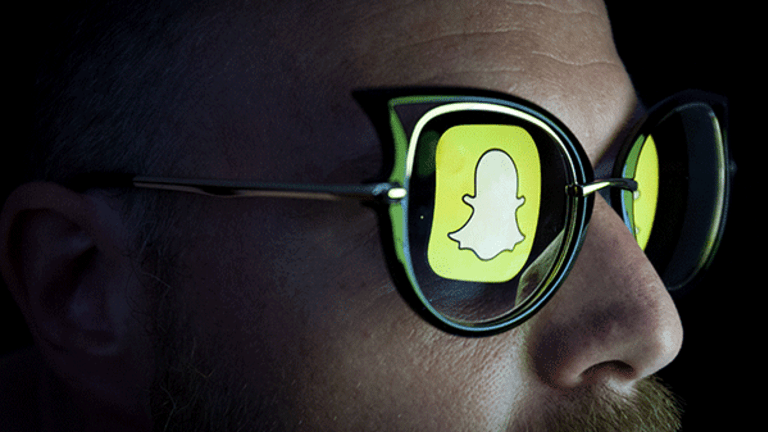 10 More Fearless Tech Stock Predictions for 2017
More mega-deals get done, Intel and Nvidia face stiffer competition, and Snapchat receives more scrutiny after a successful IPO, among other forecasts.
Updated from Dec. 22 with links to Bruce Kamich's technical analysis of stocks discussed.
Here are 10 more bold 2017 predictions for the never-boring, always-changing tech sector. The first 10 can be found here. 
1. Tech and telecom firms become more willing to test antitrust regulators.
Sprint (S) - Get Free Reportand T-Mobile (TMUS) - Get Free Report shares jumped the day after the 2016 election, thanks to hopes a Trump Administration would look more kindly on a merger between the carriers than the Obama Administration did. They aren't the only firms that might wager a new regulatory regime will be more M&A-friendly.
Chip equipment makers could be on the list: The industry has seen two big mergers unravel in recent years -- Applied Materials'  (AMAT) - Get Free Reportdeal with Tokyo Electron and Lam Research's  (LRCX) - Get Free Reportwith KLA-Tencor (KLAC) - Get Free Report -- following DOJ opposition. Cloud software, chip and Internet companies might also look to join the party. Would Alphabet (GOOGL) - Get Free Report consider a bid for Yelp (YELP) - Get Free Report? Could acquisition-hungry Broadcom (AVGO) - Get Free Report target Skyworks (SWKS) - Get Free Report or Qorvo (QRVO) - Get Free Report? Time will tell.
Bruce Kamich of Real Money, our premium site for active traders, says technical analysis shows that investors have accumulated plenty of shares of YELP, AMAT and KLAC in recent years. Could they be on to something? Click here to read Kamich's full analysis.

2. Online TV services don't live up to the hype.
Compared with traditional pay-TV offerings, packages from web TV services such as AT&T's (T) - Get Free ReportDirecTV Now and Dish Networks' (DISH) - Get Free ReportSling TV often lack channels and features that TV subscribers tend to take for granted, and can provide a sub-optimal experience for homes with three or four actively-used sets. DirecTV Now, for example, currently lacks CBS and DVR support, and doesn't provide local broadcast network feeds in situations where the parent network doesn't own the station.
Moreover, the services often aren't that much cheaper than traditional pay-TV after accounting for promotions and TV/Internet/phone bundles. And it isn't clear how many cord-cutters are ready to start paying upwards of $400 per year for TV again. Web TV will gain a following -- the arrival of rumored services from Amazon (AMZN) - Get Free Report and YouTube won't hurt -- but the subscriber numbers will disappoint those expecting the technology to take the world by storm.
What does 2017 hold for AT&T and Dish Networks in general? Technical analyst Bruce Kamich checks out their charts here.
3. SSD/flash storage adoption hits a tipping point.
Solid-state drives (SSDs) have already become standard on high-end PCs and fairly common on low-end PCs (unlike hard drives, it's not hard to profitably sell a cheap SSD for less than $50). They're also now actively used to handle demanding enterprise and cloud server workloads. Though a meaningful price delta still exists relative to hard drives at higher capacities, it's hard for either consumers or businesses to ignore the performance, reliability, power and space/weight benefits SSDs deliver.
With the help of price declines that will arrive as production of high-density 3D NAND flash chips ramps, 2017 could be the year that SSDs begin to be seen as the de facto choice for notebooks and production enterprise workloads. That is, unless the specific needs of a PC user or an enterprise application make it important to have a lot of cheap storage, an SSD will be seen as the preferred option. Even though hard drives will still be actively used many other tasks (backups, photo/video storage, etc.), this will have repercussions for hard drive giants Seagate (STX) - Get Free Report and Western Digital (WDC) - Get Free Report; the latter is cushioned by its recent acquisition of NAND giant SanDisk.
Next year should also be the year that Intel (INTC) - Get Free Reportand Micron's (MU) - Get Free Report3D XPoint next-gen memory begins to make some noise. Though costlier than NAND, 3D XPoint delivers much better performance, while remaining much cheaper and denser than DRAM and (unlike DRAM) able to retain its contents when power is lost. Look for it to be used in gaming PCs, as well as enterprise applications such as high-performance computing (HPC) and high-speed analytics databases. Bruce Kamich weighs in here on how to play Micron in 2017.
4. iOS and Android take aim at the notebook market.
Apple (AAPL) - Get Free Report refreshed its high-end MacBook Pro notebook line last month, but left its less costly MacBook Air line untouched, even though it hasn't been updated since early 2015. That together with a lot of Apple's recent iPad marketing, suggests the company now wants to sell those in the market for a sub-$1,000 portable computer on buying an iPad Pro.
This is bound to be a tough sell for those reliant on more advanced Mac OS or Windows apps, or just those who want a system supporting a mouse and USB ports. But Apple has put some effort into giving iOS more advanced multitasking features, and while iOS productivity and content-creation apps generally can't equal the feature sets of PC equivalents, they're not always pale imitations anymore, either. Thus, with the caveat that Apple still has a lot of convincing to do with both consumers and businesses, the iPad Pro could gain converts among a subset of notebook users.
Google, meanwhile, is reportedly set to launch Andromeda, a version of Android that can act as a PC operating system by baking in Chrome OS features, in 2017. As with the iPad Pro, any headway made by Andromeda in the notebook market will be gradual. But pairing the abilities of Chrome OS (already popular in the education vertical) with Android's app ecosystem could yield a real threat to Microsoft (MSFT) - Get Free Report in the sub-$300 notebook market.
Alphabet and Apple are holdings in Jim Cramer's Action Alerts PLUS Charitable Trust Portfolio. Want to be alerted before Cramer buys or sells GOOGL or AAPL? Learn more now.
5. Intel and Nvidia face stiffer competition.
From a competitive standpoint, life was very good for Intel and Nvidia (NVDA) - Get Free Report in 2016. AMD (AMD) - Get Free Report remained an also-ran in both the PC CPU and high-end GPU markets, Nvidia's Tesla GPUs dominated the server accelerator card market and ARM-based processors failed to put much of a dent into Intel's server CPU hegemony.
The story will be a little different in 2017, however, even if the sky isn't about to fall. AMD's just-revealed Ryzen processors, based on its new Zen architecture, will allow the company to challenge Intel's mid-range and high-end offerings in a way that it hasn't for at least several years. Zen processors (codenamed Naples) will also take aim at the server CPU market, as will Qualcomm's (QCOM) - Get Free ReportARM-based Centriq processors, which rely on a more advanced manufacturing process than prior ARM server offerings. IBM's (IBM) - Get Free Report attempts to get its Power server CPUs inside cloud data centers by making them available to third-party hardware makers also bear watching.
Nvidia, meanwhile, stands to face real high-end competition for the first time in years thanks to the launch of AMD's Vega GPUs. And in the data center, the arrival of Intel's Lake Crest co-processors, which are based on technology obtained from its acquisition of deep learning chip developer Nervana Systems, could provide some of the companies using Tesla cards to handle AI work a credible alternative.
What does 2017 hold for Intel and Nvidia's shares? Click here to read Bruce Kamich's take.
6. Amazon becomes a real growth headwind to Netflix overseas.
To this point, Amazon and Netflix (NFLX) - Get Free Report have coexisted pretty well in the U.S. The tremendous growth Amazon Prime, which comes with Prime Video among many other things, has seen over the last couple of years hasn't done much to stop Netflix from closing in on 50 million domestic subscribers, aided by its hit original shows.
Overseas, things will sometimes look different following Amazon's recently-announced international Prime Video expansion, which leaves the streaming service competing with Netflix in virtually every big market outside of China. By either charging $5.99 per month for Prime Video on a standalone basis or bundling it with Prime where it's available -- it should be noted here that outside of the U.K., Prime tends to be much cheaper overseas than in the U.S. -- Amazon will be easily undercutting Netflix.
That's bound to be a valuable selling point in markets with lower average incomes, or even in developed markets where consumers aren't used to paying as much each month for video services as they are in the United States (that would be nearly all of them). Amazon probably isn't going to cause large numbers of Netflix subscribers to cancel, but it could make a lot of cost-sensitive foreign consumers think twice about signing up.
Bruce Kamich checks out Amazon and Netflix's technical charts here.
7. Snapchat delivers a successful IPO, then stalls as worries about Facebook and ad scale mount.
Snapchat's user growth and revenue growth, along with the launch of its quirky Spectacles video-recording glasses, has yielded a tsunami of positive press for the once-mocked messaging app. Together with strong equity markets and investor hopes of catching "the next Facebook," this sets the stage for parent Snap Inc to deliver a strong early-2017 IPO, even at a $20 billion-plus valuation.
But the honeymoon might not last long. The real Facebook has finally gotten serious about taking on its plucky, irreverent rival, co-opting some of its most popular features in multiple apps and trying particularly hard to turn one of those apps (Instagram) into a Snapchat alternative. There are also questions about whether brand advertisers who worship scale will embrace Snapchat the way they've embraced Facebook and Google, and just how much the company can grow its reach with older and international consumers.
Calling Snap the next Twitter (TWTR) - Get Free Report is as mistaken at this point as calling it the next Facebook. But there are important issues that are being glossed over amid the pre-IPO hype. That won't last forever.
8. Markets start to appreciate Facebook's messaging and media revenue potential.
After a very strong start to the year, Facebook (FB) - Get Free Report shares have gone sideways over the last six months as markets come to terms with the fact that the growth delivered by the company's core news feed ad business is set to slow from recent sky-high levels. Though Instagram and Facebook's mobile ad network are at earlier points on their monetization path, worries about about how long Facebook will remain a high-growth company aren't hard to find.
By the end of 2017, markets should have a better feel for how Facebook Messenger and perhaps also WhatsApp -- each claims over a billion active users -- will meaningfully add to Facebook's top line in the years to come. Asian messaging apps such as Tencent's (TCEHY) WeChat and Line (LN) - Get Free Report have provided templates for producing large amounts of revenue via ads, games and payment/commerce services. While Facebook is in no rush to monetize its messaging apps, it has begun showing some Messenger ads and changed WhatsApp's terms of service to let businesses reach out to users. More such announcements will arrive in time, and they'll lead analysts to fire up their spreadsheets to estimate just how many billions in revenue Messenger/WhatsApp can eventually produce.
Meanwhile, Facebook's core app is fast on its way to becoming a genuine media hub, rather than just a place to see articles and videos that are posted by followed accounts or recommended by friends. Between Instant Articles, Facebook Live, a dedicated video tab, a mobile gaming service and improved search tools, the pieces are falling into place for Facebook to become a venue that users visit specifically access and discover different types of content. And a lot of this content can be monetized.
Click here to read Bruce Kamich's latest look at Tencent's charts.
9. A lot of offshore cash gets returned to shareholders.
Assuming Trump's plan for a one-time, 10%, offshore cash repatriation tax goes through and with Republicans in control of Congress, the odds for some kind of tax deal look good -- many companies will have the urge to hold onto a large chunk of it and/or go acquisition-hunting. But the pressure from investors to return the money via buybacks and one-time dividends will be immense. Those with sizable debt loads will also see calls to pay down some of that debt.
Generally, slower-growing companies with solid balance sheets -- think Microsoft or Cisco -- will be the ones most aggressive in making big capital returns. Faster-growing companies could be more hesitant, particularly if -- like Alphabet and Facebook -- they have dual-class share structures that leave management largely immune to activist pressure.
10. A slew of unicorns go public.
For a while, a healthy gap appeared to exist between the lofty valuations private investors were giving proverbial "unicorns" -- private tech companies sporting billion dollar-plus valuations -- and what more cautious public investors were willing to pay. That, together with a wish to avoid the hassles involved with being a public company, led the ranks of unicorns to skyrocket.
Things are a little different now. Private investors are now often taking a more measured approach to valuing late-stage private tech companies. And tech IPO demand has heated up: While some former unicorns such as Box and Hortonworks are worth less than they were during private funding rounds, the opposite holds for some recent IPOs such as Twilio (TWLO) - Get Free Report and Nutanix (NTNX) - Get Free Report.
As long as equity markets remain favorable, look for a number of unicorns to finally decide it's time time to file an S-1 and give investors/employees a chance to cash out. Snap has reportedly filed for an IPO, and Dropbox and Spotify are rumored to be weighing offerings. Other possible filers include Pinterest, data analysis/modeling software firm Palantir Technologies, electronic signature service provider DocuSign and Chinese consumer drone leader DJI.
What happens after a hot tech firm go public? Bruce Kamich checks out Twilio and Nutanix's charts here.