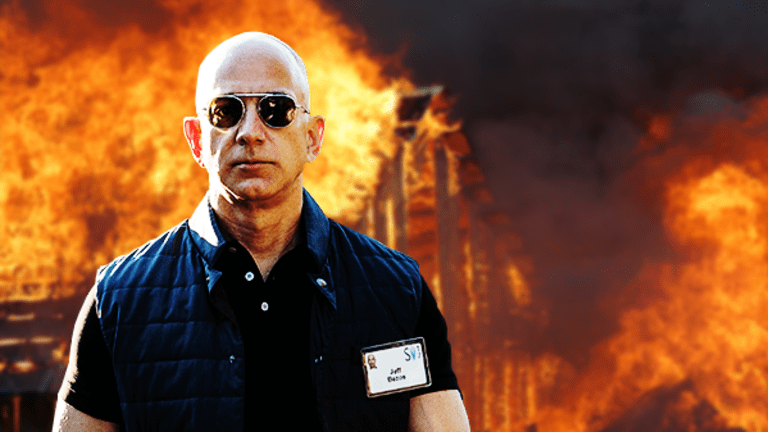 Publish date:
10 Mind-Blowing Things That Amazon Might Do to Whole Foods
Ready, set, Amazon!
Ready, set, Amazon!
Wilt no more, Whole Foods Markets (WFM) . Amazon.com Inc. (AMZN) - Get Report  is set to remake you into the superfood of merchandising.
Following a green light on Thursday, Aug. 24, from the Federal Trade Commission on Amazon's $13.7 billion deal to buy Whole Foods, and the shareholders' yes on Wednesday, Aug. 25, the upscale grocer is set for big changes.
Barclays analyst Karen Short wrote in a note on Friday that Amazon could apply its bookstore prototypes strategy to redoing the traditional grocery story, evident in Whole Foods stores. That means, she wrote, that it will be "clearly showing titles," but "not a bountiful selection" with the "goal of a higher hit selection." 
"Applying this same strategy to an AMZN-owned WFM," wrote Short, "We believe we will see meaningful reconfigurations of the WFM layout and go-to-market strategy based on Amazon's war-chest of data analytic capabilities—tied with AMZN's knowledge of customer behavior in fresh in the 20+ markets they already serve."
"Said differently," she added, "the traditional supermarket racetrack, weekly circulars and checkout process will likely be a thing of the past, once AMZN gets its sea legs through thorough testing and analysis of the current and future generation of grocery shoppers. AMZN will likely drive drastically different shopping behavior in grocery-at least for a subsector of the population."
In the note, Short also laid out Barclays' predictions for Whole Foods:
1. Traffic has now been negative for nine quarters, and is likely negative in the current (10th) quarter. Improving traffic patterns will likely prove to be much more challenging than expected, even under Amazon's watch.
2. Welcome to the new world of survival of the fittest: This has 2 implications, Broadly, it seems likely employee morale could start to deteriorate, at least temporarily, as employees come to the realization that mediocrity will not be tolerated. Said differently, life as an employee of Amazon will differ drastically when compared to life as a Whole Foods employee. Eventually, we have a hard time seeing how existing management survives. AMZN's culture could not possibly be more opposite to WFM's. We are not referring to pay and benefits, we are referring to accountability, and, in our view, accountability at WFM was never an area of strength.
3. A comprehensive analysis of productivity in each department will likely show clear evidence that apparel should be abolished entirely in every store.
4. Vitamins and minerals, while high margin, will also likely be eliminated or drastically paired down from all stores given WFM's drastically higher price positioning in these categories. In the key SKUs [items] that remain, we expect to see drastic price reductions.
5. Now vacant square footage will be redeployed to high touch, manned, dedicated areas for: a comprehensive meal kit program, although we would argue offering a meal-kit service will become mere table stakes in the next few years; an in-house click and collect and/or home delivery; and a dedicated Amazon innovation/help station. The first two may appear obvious, but the day will soon come when customers can walk in to WFM and ask an employee to set up Amazon Prime video or music on their personal device.
6. Instacart will be eliminated eventually (we believe the companies entered in to a five-year contract). Near term, the partnership will most likely be pared down.
TheStreet's Jim Cramer weighs in on the deal.
7. Similar to the Amazon Go concept, we could eventually envision the following: SKUs running through the QR code and identity on the phone, sensors tracking what customers select, the potential for hands free checkout, therefore, zero checkout friction because the app will charge customers and send them an itemized receipt including key information about the purchased items as well as time elapsed shopping.
8. 365 will be abandoned as a format.
9. Price reductions will likely be broad-based. Barclays' analyst Ross Sandler has referred to Amazon's scorch the earth policy (see AmazonFresh: The Final Frontier - and Remember - 'Every Day Is Day 1', 1 May 2017). To put this in context, if AMZN were to reduce WFM's merchandise margins to KR's (~25%), WFM would generate an operating loss in the $1.2B range annually (excluding any offset from operating expense reductions from automation etc...). We use KR for illustrative purposes only. The comparison isn't entirely relevant due to the many differences in the mix, but the example is relevant only because AMZN could choose to make price reductions of this order of magnitude.
10. The demise of mediocre conventional retailers will meaningfully accelerate, in our view, as will the demise of other higher-priced natural/organic/specialty retailers.
Amazon stock traded down 0.24% to $950.21 midday Friday.
More of What's Trending on TheStreet:
The 30 Nastiest Storms in Recent U.S. History Have Caused Mind-Blowing Damage
Editors' pick: Originally published Aug. 25.