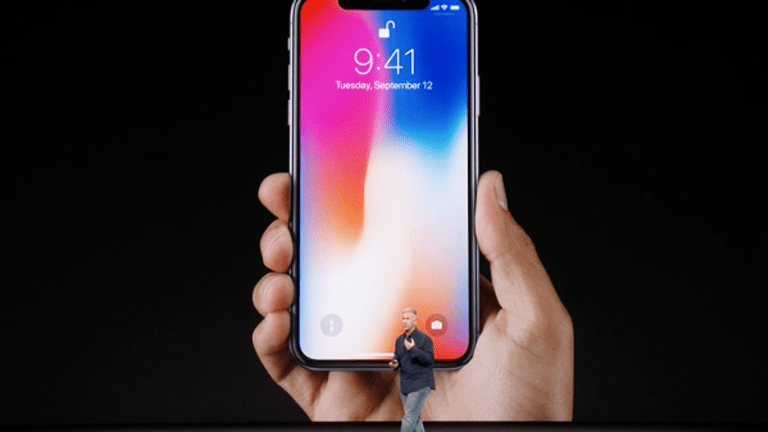 10 Biggest Takeaways from Apple's iPhone X Event
From the hype to the sticker shock and the genuine innovation, there's much to unpack from Apple's latest hardware reveals.
Though the rumor mill took some of the suspense out of Apple Inc.'s (AAPL) iPhone launch event, it still packed a few surprises and filled in some key details about what the company's latest devices do, how they're priced and when they ship. Here are some takeaways on what was announced.
The iPhone X (mostly) Lived Up to the Hype
The edge-to-edge OLED display on Apple's latest flagship phone was as good as rumored, with those getting their hands on the device raving about its image quality. With a million-to-one contrast ratio and support for Apple's True Tone display tech -- it adjusts a device's display in response to an environment's lighting -- the display should at least hold its own against the OLEDs found on high-end Android phones.
The iPhone X's polished build, with front-and-back glass panels held together by a stainless steel band, is also going over well. The same goes for its quick and accurate Face ID unlocking/authentication system, as well as its dual 12-megapixel rear cameras, which are accompanied by two optical image stabilization (OIS) modules and large-aperture lenses (good for sports and low-light shots).
One notable surprise: Apple promises a 2-hour battery life improvement relative to the iPhone 7.
The 6-core A11 Bionic processor powering the iPhone X, as well as the iPhone 8 and 8-Plus, keeps up Apple's legacy of top-notch chip engineering. With the help of new CPU cores, a proprietary GPU (a first for the company) and a performance controller, Apple promises a 25% performance gain for its high-performance CPU cores, a 70% performance gain for its low-power cores and a 30% GPU performance gain relative to the A10 Fusion processor inside last year's flagships. There's also a dedicated image processor and video encoder for photo and video recording, and (as rumored) a dual-core "Neural Engine" for handling machine learning algorithms.
One disappointment: While the front camera features a 3D sensing system -- Apple calls it TrueDepth -- that relies on an infrared camera and dot projector to help create a 3D model of a user's face that can be used by Face ID and augmented reality apps, no similar technology was built into the rear camera. That could explain why Lumentum Holdings Inc. (LITE) , believed to be supplying lasers used by TrueDepth, sold off during Apple's event.
Also, though this wasn't a surprise, Apple never said the iPhone X -- of for that matter, the iPhone 8 and 8-Plus -- will support Gigabit LTE, which is now supported by several high-end Android phones. This is reportedly a product of Apple once more using both Intel Corp. (INTC)  and Qualcomm Inc. (QCOM) modems within its flagship phones, and throttling the top speed of the Qualcomm modems to keep them from surpassing that of the Intel modems.
But overall, initial hands-on reviews and consumer reactions both look quite positive. Apple has a hit on its hands -- just as long as it can make enough of them.
The iPhone Sticker Shock Was Bigger Than Expected
As reported, the iPhone X starts at $999. Not previously reported: Apple will be charging an extra $150, rather than the usual $100, to get more storage (256GB vs. 64GB). And the company shot down hopes that something of value, such as an Apple Music subscription, AirPods or a wireless charging pad, would be bundled with the X.
The iPhone 8 and 8-Plus, meanwhile, feature starting prices ($699 and $799) that are respectively $50 and $30 higher than those the iPhone 7 and 7-Plus carried a year ago. And they, too, feature 256GB models that carry a $150 premium relative to 64GB base models.
Apple is betting installment plans, strong customer loyalty and the value high-end smartphone users attachment to their devices will prevent its pricing from denting unit sales. Pre-order data for Samsung's Galaxy Note 8, which carries $900-plus prices, bodes well for the ability of Apple's de facto price hikes to pay off.
Apple Is Banking on Good iPhone 8/8-Plus Sales Until the iPhone X Arrives
Not only won't the iPhone X ship until Nov. 3, Apple won't even take pre-orders until Oct. 27. In addition to suggesting the X's production constraints are no joke, it means that Apple will need to lean on iPhone 8 and 8-Plus -- pre-orders start on Sept. 15, and shipments on Sept. 22 -- to meet its September quarter guidance for 4% to 11% annual revenue growth.
With better cameras, a faster processor, wireless charging support and somewhat improved LCD displays, the iPhone 8 and 8-Plus are respectable upgrades relative to the iPhone 7 and 7-Plus. And of course, they're cheaper than the X. But there's a good chance that hype and anticipation surrounding the X, with its head-turning OLED display, TrueDepth front camera and superior rear cameras, will keep a lid on demand.
Also of note: iPhone X pre-orders start right around the time Apple typically delivers its September quarter report. It could make sense for the company to delay its report by a week or so to have some iPhone X sales on the books before issuing its December quarter guidance.
Taking Mid-Range Phone Share Is Now an Apple Priority
Overlooked amid the iPhone X and 8 announcements: Apple is keeping both the iPhone 7/7-Plus and 6S/6S-Plus around, while giving each $100 price cuts. The 7 and 7-Plus now respectively start at $549 and $669, and the 6S and 6S-Plus at $449 and $549. In addition, Apple has cut the price of the 4-inch iPhone SE by $50 to $349.
Confident that high-end users will still pay a premium for its latest and greatest hardware, Apple now seems more eager to battle mid-range Android phones head-on -- likely with an eye toward boosting sales in China, India and other emerging markets where both cost-sensitivity and taxes/tariffs can affect high-end demand. China, where iPhone sales have been pressured the past few quarters amid stiff competition from local OEMs, could especially be an area of focus.
Optimizing the Camera Experience Remains an Apple Priority
The iPhone X arguably provides as good of a camera experience as one can find on a smartphone. In addition to their aforementioned hardware specs, the X's cameras provide better color capture and noise-reduction, faster autofocus and better background blur relative to the iPhone 7-Plus' cameras, and can record 4K video at 60 frames per second (fps) and slow-motion 1080p video at 240 fps. In addition, both the front and rear cameras support Portrait modes that blur out backgrounds, along with a "Portrait Lighting" mode that uses machine learning to provide what Apple declares to be "studio-quality" lighting effects for portrait shots.
The iPhone 8-Plus lacks a front-camera Portrait mode (and 3D face-mapping), and has an one OIS module for only one of its cameras. But its rear cameras also support Portrait Lighting. And both the iPhone 8 and 8-Plus' cameras come with many of the enhancements the X provides courtesy of better software and image-processing.
Cameras clearly play a giant role in the buying and upgrading decisions of many consumers. And that makes the iPhone X's cameras nearly as important of a selling point as its display.
Apple Watch Series 3 Looks Solid, But What About Carriers?
As expected, the Apple Watch Series 3 includes models with built-in 4G modems. Pricing isn't exorbitant -- at $399, 4G Watches have a starting price that's $70 above that of non-4G Series 3 Watches -- and demos suggested the Watches are effective at both handling calls and receiving data (Dick Tracy says hello). In addition, their form factor nearly matches that of the Series 2, and (though more details would be nice) Apple is still promising "all-day" battery life.
But someone looking to use that 4G modem will have to pay his or her carrier extra for the privilege. AT&T Inc. (T) and Verizon Communications Inc.  (VZ) are charging $10 per month for Watch 4G plans (Sprint and T-Mobile haven't announced pricing yet). Consumers who might only be using a Watch without having an iPhone on hand a few times per month could decide such plans aren't worth their while.
And carrier support is limited in some big markets. 4G Watches are supported by only one carrier apiece in the U.K., Germany and France, and by none in Italy, Spain, Russia or India. Until more carriers support the 4G Watch and are willing to let consumers add it to existing unlimited or data-bucket plans, the device might be a niche product.
Take a long good look at the Apple Watch Series 3. 
Apple Is Willing to Rethink the iPhone's Interface
As was widely rumored, the iPhone X does away with the dedicated home button and its Touch ID fingerprint sensor. Users swipe up to bring up the home page, and swipe up halfway to review their open apps. Siri is accessed by pressing and holding a power button, and the Control Center (revamped for iOS 11) by swiping down from the top right-hand corner.
Apple has also taken a page from Android OEMs by letting users wake a phone by tapping its screen. And with the fingerprint sensor gone, biometric authentication is only possible via Face ID.
Not all iPhone users are thrilled with the changes, though if history is guide, most will make peace with them in time. Compared with Alphabet Inc./Google (GOOGL) , whose just-launched Android 8.0 (Oreo) provides a more incremental set of UI changes, Apple seems more ready to overhaul how consumers interact with its devices. This is driven home not only by the iPhone X, but by the iPad multitasking features built into iOS 11.
Jim Cramer and the AAP team hold positions in Apple and Alphabet for their Action Alerts PLUS Charitable Trust Portfolio. Want to be alerted before Cramer buys or sells AAPL or GOOGL? Learn more now.
Apple TV 4K Should Sell Well, But Is It A Blockbuster?
Apple put some work into having the Apple TV 4K set-top deliver a high-quality streaming experience. In addition to supporting 4K streams, it supports the HDR10 and Dolby Vision video standards, and is powered by the A10X Fusion processor found in the latest iPad Pros. Apple also promised that 4K iTunes content would cost the same as 1080p content and that any 1080p purchases would be upgraded to 4K if a user wishes, and showed off a revamped TV app that (among other things) makes it easy to keep on top of live sporting events.
The problem is pricing: Whereas the new Apple TV starts at $179, 4K-capable Roku set-tops start at $60 and Amazon's 4K Fire TV set-top goes for $90. And Amazon was just reported to be working a pair of 4K/HDR-capable Fire TV devices, including a set-top that doubles as an Echo speaker.
Roku and Amazon aren't as interested in turning a profit on hardware sales as they are on growing usage of various services running on top of their devices; Apple has a very different business model for its streaming hardware. And while Apple TV still has a lot of potential as a gaming platform, it will remain untapped as long as consumers have to pay extra for a controller.
The upshot: The latest Apple TV should sell reasonably well among Apple customers who value its streaming experience and support for services such as AirPlay, iTunes, Apple Music and Siri. But Roku and Amazon's unit sales lead should be safe.
Apple's Wireless Charging Vision Is Evolutionary Rather Than Revolutionary
In addition to showing off a standard wireless charging pad for the iPhone X and 8, Apple announced the devices would work with third-party charging pads supporting the popular Qi standard. It also provided a "sneak peak" of AirPower, an oversized charging pad (due sometime in 2018) that can charge multiple Apple devices at once.
What Apple didn't announce or preview, however, was a wireless charging solution that could work over the air. That's something the company has long been rumored to be working on, although more recent reports pointed to a less ambitious solution shipping with the iPhone X and 8. Over-the-air wireless charging tech developer Energous Corp. (WATT) , the subject of frequent Apple-related speculation, fell 10.9% on Tuesday to $10.91 in response to Apple's charging announcements.
ARKit Is Going to Be Big, and Could Drive iPhone and iPad Upgrades
Though developers have already provided some impressive demos for Apple's ARKit augmented reality platform for iOS 11, it was hard not to be impressed with the ones shown off during Apple's event. These included an MLB demo in which player photos and stats were overlaid on a view of a baseball field, a gaming demo in which animated warriors controlled by iPhone users did battle on a basketball court and an app that identified stars and constellations when pointed at a night sky. In addition, Apple showed off how ARKit apps can leverage the face-tracking abilities of the iPhone X's TrueDepth camera.
This is just a sign of things to come as major developers roll out ARKit-based apps in the coming weeks and months. And since ARKit requires an A9 processor or better to work, it's only supported by iPad Pros, the $329 iPad and the iPhone 6S, 7, 8 and X. Those with older devices will have to upgrade.
TheStreet's Eric Jhonsa, Annie Palmer and Chris Nolter previously covered Apple's iPhone event through a live blog.
More of What's Trending on TheStreet:
Editors' pick: Originally published Sept. 13.