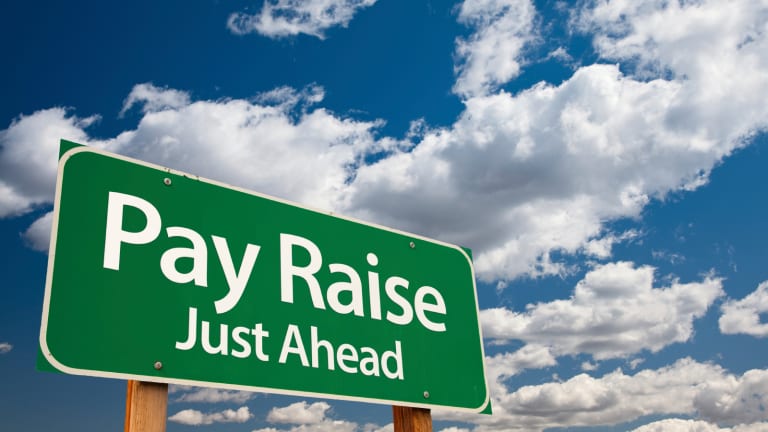 10 High-Quality Stocks That Just Raised Their Dividends
These blue-chip stocks are rewarding shareholders with higher income and have strong long-term outlooks.
Studies have shown that dividend growth stocks are historically one of the best-performing classes of equities, which are themselves the greatest long-term wealth generators you can own.
That makes intuitive sense, because companies that grow their dividends consistently over time have shareholder-friendly, conservative corporate cultures that have to focus on wise shareholder capital allocation and strong balance sheets.
Dividend Aristocrats are S&P 500 companies that have raised their dividends each year for at least 25 years in a row, and the group has outperformed the broader market over the last decade. Investors can learn more about each Dividend Aristocrat stock by clicking here.
Here are 10 high-quality dividend growth stocks, each of which is rewarding income investors with rising payouts, and is likely to generate solid long-term total returns in the years and decades to come. In other words, 10 stocks that deserve a spot in your diversified dividend portfolio.
We own several of them in our top dividend portfolios.
1. TD Ameritrade (AMTD) - Get Report
Yield: 1.9% 
Most Recent Dividend Increase: 6%
TD Ameritrade is a great way to benefit from the likely increase of U.S. interest rates. That's because 45% of its interest rate-sensitive assets are tied to short-term rates, and thus will form a strong near-term earnings tailwind as rates rise in 2017.
Better yet, TD Ameritrade benefits from its its close affiliation with Canadian banking giant Toronto Dominion Bank, which is its largest shareholder. Like other Canadian banks, Toronto Dominion has more conservative balance sheets than its American counterparts.
And with a low trailing 12-month payout ratio of just 44%, TD Ameritrade is well positioned to continue growing its dividends at a solid clip in the coming years. In fact, analysts expect TD Ameritrade to generate 12.6% average annual EPS growth over the next five years. And while such long-term forecasts must always be weighed carefully, my own research and growth models suggest that this is indeed a reasonable growth assessment, one that should allow TD Ameritrade to reward long-term dividend growth investors with very nice total returns in the coming years.
2. Crown Castle International (CCI) - Get Report
Yield: 4.5% 
Most Recent Dividend Increase: 7%
Crown Castle is America's second-largest telecom tower real estate investment trust, and like all REITs, it has been hammered by the recent slide in REIT share prices. The Dow Jones Equity All REIT Index has fallen about 14% from its early August high. That decline came because the stock market priced in a high probability of a December interest rate hike. As with most things, however, Wall Street tends to overreact, and this creates a great buying opportunity for one of the best high-growth REITs in the industry.
Specifically, Crown Castle is a great way to profit from the ongoing boom in wireless data growth. Earlier this year, Ciscopredicted that overall mobile data traffic would to grow to 30.6 exabytes in 2020, vs. 3.7 exabytes in 2015. This will require telecom companies such as AT&T and Verizon, to continue investing heavily in infrastructure such as telecom towers.
Crown Castle earns its highly stable and fast-growing cash flow from renting out telecom towers to telecom companies under long-term contracts, with annual automatic rate increases to offset inflation. The highly predictable nature of its free cash flow, (what in the REIT industry is called adjusted funds from operations, or AFFO), allows it to have a generous, but also highly secure, dividend.
Based on Crown Castle's third-quarter financial report, the company paid out 72% of its AFFO in the form of dividends. Its EPS payout ratio is 85%. If Crown Castle were a corporation, you might think those ratios are too high, but REITs are legally required to pay out 90% of taxable income as dividends, so those ratios are actually relatively low by industry standards. Better yet, besides being highly secure, Crown Castle's 4.5% yield is also set to grow quickly, with management targeting 7% annual payout increases that will double the dividend every decade.
Although that may not sound all that impressive, keep in mind that academic studies show that long-term total returns for dividend stocks can be estimated by yield + dividend growth. That means that at today's undervalued price, Crown Castle is potentially offering income investors double-digit annual total returns, far greater than the market's historical 9.1% since 1871.
Investors can read my full thesis on Crown Castle by clicking here.
3. Public Storage (PSA) - Get Report
Yield: 3.7%
Most Recent Dividend Increase: 11%
Like all REITs, Public Storage was a darling of the past few years as yield-hungry income investors piled into this fast- growing public storage giant. Thanks to the REIT correction, however, shares are down 22% from their 52-week highs, and that means right now they are an excellent long-term buying opportunity.
And don't think that just because Public Storage already owns 2,300 storage properties that its growth runway isn't long. After all, the there are about 38,300 storage facilities in the U.S., and Public Storage, though the industry leader with 6% market share, still can continue to consolidate the industry for many years to come.
Better, yet, because so many of its key markets are on the West Coast, where restrictive zoning laws make building new supply long, expensive and challenging, it has strong pricing power that lets it raise its rents every year. And because its contracts are for one year, Public Storage is less interest rate-sensitive than most other REITs, which have business models built around 10- to 20-year leases.
Factoring in Public Storage's many tailwinds, as well as the long-term consolidation potential of this industry, I consider 10% forward dividend growth a reasonable expectation. That would mean around 13% to 14% total returns for investors who take advantage of the current low share price.
4. AbbVie (ABBV) - Get Report
Yield: 4.1%
Most Recent Dividend Increase: 12%
AbbVie is a favorite biotech, thanks to its combination of a generous, but highly secure current yield, strong dividend growth and strong growth prospects for the future thanks to its excellent development pipeline.
The key to AbbVie's investment thesis is its strong free cash flows, made possible by blockbuster biologic drugs such as Humira, an anti-inflammatory drug that has the potential to revolutionize the treatment of numerous conditions such as rheumatoid arthritis, Crohn's disease, and psoriasis.
Humira is currently the world's best-selling drug, and despite going off patent in the U.S. at the end of 2016, and in Europe in 2018, management thinks that sales could grow from $14 billion to as much as $18 billion by 2020. How can an off-patent drug that is attracting so much competition from rivals such as Pfizer and Johnson & Johnson potentially maintain market share, or even grow it?
The key is in the drug's versatility. In addition, because the drug is an injectable protein, as opposed to a small-molecule drug, generic competition from biosimilars will take longer to arrive, because rival drug firms can't merely replicate the drug's chemistry, but must come up with their own biological processes for creating proteins that do the same thing. In other words, any competing biosimilar drug must run the FDA's expensive, and time-consuming approval gauntlet.
However, AbbVie isn't just a one-hit wonder. Management is also branching out into blood changer treatments such as its late stage development drug Imbruvica, which analysts think could generate $6 billion in peak sales. With a strong pipeline with several such potential blockbusters AbbVie has a strong growth runway ahead of it. In fact analysts believe it will be able to grow its dividend by 11.9% annually over the next decade, which seems reasonable, especially given its low FCF payout ratio, and the recently announced 12% payout increase.
At today's price, and yield of 4.1%, investors may be able to generate 16.3% total returns, which would make AbbVie potentially one of the strongest dividend growth stocks of the coming decade.
5. VF (VFC) - Get Report
Yield: 3.0%
Most Recent Dividend Increase: 14%
VF Corp. is the owner of some 30 apparel brands including some of the most popular lifestyle brands around today: Vans, Wrangler, Nautica, Timberland and The North Face. Putting together these strong brands, (which come with great pricing power and high margins), has been the work of current Chairman and CEO Eric Wiseman, who has led the company since 2008.
The key to VF Corp.'s long-term dominance will remain its industry leading management team, because Wiseman is retiring from the CEO position in January of 2017. However, VF has a very deep bench of executives, and new CEO Steve Rendle (currently COO), has over 30 years of experience in the industry and is likely to continue pushing the company to grow both sales and margins through its international expansion efforts (especially in the Asia Pacific region), as well as highly successful direct-to-consumer online sales efforts. As COO, Rendle was in charge of coordinating global partners and the international supply chain, so the transition of power should be a very smooth one.
Management has shown itself very good at managing its portfolio of brands, seeking to use its massive manufacturing economies of scale to continually improve margins on new brands it acquires over time. For example, Timberland, which VF bought in 2011, has seen its operating margins soar from 7.9% to 12.9% at the end of 2014, and management plans to take that to 18% by 2018.
With an exceptional track record of brand management, a strong dollar making overseas acquisitions easier, and dominant positions in some of the world's fastest-growing apparel markets, VF is likely to continue to be able to put up strong sales, earnings and free-cash-flow growth for many years to come.
From a dividend perspective, this company's trailing 12-month free-cash-flow payout ratio of 50% makes the current dividend yield of 3.0% seem extremely secure. It suggests that VF Corp. is capable of solid growth of 10% to 11% over the next decade. That would mean potential total returns of 13% to 14% from this apparel blue-chip.
6. Amphenol (APH) - Get Report
Yield: 1.0%
Most Recent Dividend Increase: 14%
Amphenol is one of those industrial companies that toils in obscurity behind the scenes of the world's growth, but that doesn't mean it can't make dividend investors rich over the long term.
The company is one of the world's largest designers and makers of electronic and fiber-optic connectors, antennas, sensors and cables. It products are used by the aerospace, telecom, mobile, transportation (mostly automotive) and factory automation industries.
Amphenol's key to success has been its excellent, conservative management team, which balances acquisitions, with smart shareholder capital returns. It also provides its factories with autonomy that allows managers to hit various management quality, production, and margin targets anyway they want.
Amphenol has been able to build up strong margins and profitability by focusing on key markets in mission-critical areas. In other words, it makes small components that can't fail or its customers will suffer massive disruptions. This gives the company stronger pricing power, and stickier customer relations, because the customers are focused more on quality, reliable products that don't fail, as opposed to just getting the lowest price.
In fact, in the industries in which it operates, Amphenol is known for its reliability, made possible by state-of- the-art process controls, and numerous quality checks at every level of production. This has given it strong brand equity and helped to retain customers over the long term without getting into margin-destroying pricing wars with rivals.
With a management team with a proven track record of combining large scale manufacturing benefits (low costs, high margins via economies of scale) with an entrepreneurial ability to adapt to changing market conditions, Amphenol is well positioned to grow quickly from the future of industrial automation, the internet of things, and the continued rise of wireless telecom mobility products.
While the 1% dividend yield isn't anything to get excited about, Amphenol has all the makings of a truly great dividend growth stock. It's current trailing 12-month free-cash-flow payout ratio of 20% means the dividend is bank-vault safe, with plenty of growth opportunity ahead. And speaking of dividend growth, few industrial dividend stocks have as impressive a record as Amphenol, which has raised its payout at a 33.3% compound annual growth rate over the past decade.
The latest dividend increase of 14% shows not just management's continued commitment to rewarding dividend lovers, but it gives me confidence that this unknown blue-chip dividend champ will be able to continue delivering double-digit dividend growth, and generating at least 11% total returns over the next decade.
7. Visa (V) - Get Report
Yield: 0.8%
Most Recent Dividend Increase: 18%
Visa is the world's largest payment processor, with a 50% market share in global credit card transactions and a 75% market share of debit card transactions. Even more impressive, the company continues to grow quickly. Payments volume (on a constant-dollar basis) increased 47% year over year to $1.9 trillion in the latest quarter.
This resulted in impressive top-line growth of 19%, and management rewarded income investors with an 18% hike in the dividend. This is in line with its track record of 20.1% CAGR in dividends over the past decade and makes Visa one of the best long-term core holdings for any dividend growth portfolio. That's especially true given that analysts expect Visa to continue growing its dividend at a blistering pace of 22% CAGR over the next decade, a growth forecast that I consider attainable.
Visa is a holding in Jim Cramer's Action Alerts PLUS Charitable Trust Portfolio. See how Cramer rates the stock here. Want to be alerted before Cramer buys or sells V? Learn more now.
That's due to three factors. First, because it's a low-expense business, Visa generates an impressive free-cash-flow margin, 33% over the past 12 months. That kind of free cash flow allows the company to buy back a steady amount of shares. And that keeps the free cash flow payout ratio low. It's only 27% for the past 12 months.
While true that the future of money, which is likely to become predominantly digital, includes the threat of numerous potentially disruptive competitors, Visa's global, sticky and deep network (made more so by recent deals with Paypal, Alphabet's Android Pay and Costco) creates a vast moat that means that it is well situated to become a dominant player in the digital cash economy of tomorrow.
Alphabet and Costco are holdings in Jim Cramer's Action Alerts PLUS Charitable Trust Portfolio. See how Cramer rates the stocks here. Want to be alerted before Cramer buys or sells COST or GOOGL? Learn more now.
8. Starbucks (SBUX) - Get Report
Yield: 1.8%
Most Recent Dividend Increase: 25%
Starbucks, to put it simply, is one of the best dividend growth stocks in the world today. The world's largest coffee purveyor just reported 16% revenue growth in its most recent quarter, U.S. same-store sales growth of 4%, record EPS. 
But that's just the nature of Starbucks, whose brand is among the most valuable on Earth resulting in 74% market share in China, where it plans to double its store count to 5,000 in the next five years. More importantly, this kind of outstanding dividend growth is the norm. In fact, over the past five years, the company has grown its payout at 30.5% CAGR, and yet the trailing 12-month free-cash-flow payout ratio of just 41% means that Starbucks is likely to keep dividend lovers very happy in the years to come.
Starbucks is a holding in Jim Cramer's Action Alerts PLUS Charitable Trust Portfolio. See how Cramer rates the stock here. Want to be alerted before Cramer buys or sells SBUX? Learn more now.
After all, besides just opening more stores around the globe, the company is diversifying its cash flow from new brands, such as Teavana, Tazo, Seattle's Best Coffee, Evolution Fresh, La Boulange and Ethos. It's also constantly working to find new ways to strengthen its brand equity and thus its pricing power, and margins, through the newly introduced superpremium coffees via its new Starbucks Reserve concept.
Add in the industry's best use of technology to create a wildly successful loyalty app program, cut in-store wait time and improve customer service, and you simply have a dividend growth engine that continues to fire on all cylinders.
9. Cintas (CTAS) - Get Report
Yield: 1.3%
Most Recent Dividend Increase: 27%
While most investors have never heard of Cintas, the company is America's largest provider of professional uniforms, with 25% market share in this highly fragmented $16 billion industry. In recent years the company has diversified successfully via acquisition into first aid and safety supplies, using its premium-priced stock as currency to create accretive EPS, and FCF growth.
And while uniforms are mostly a commodity business, Cintas has a wide moat competitive advantage owing to its industry leading scale, which allows it to beat its 350 or so market rivals, (mostly small mom-and-pop outfits) on price.
The highly fragmented market also means a long growth runway for the firm, whose 29% EPS payout ratio makes for a secure, if low-yielding, current payout. However, what Cintas' dividend lacks in size it makes up for in fast growth.
Over the last 20 years the company has rewarded investors with 14.5% CAGR payout growth.
And with margins, and returns on capital steadily rising over time (thanks to negotiating lower garment prices from manufacturers), it's fair to say that Cintas has many more years, and potentially decades, of strong 10%-plus dividend growth left in the pipeline.
10. Texas Instruments (TXN) - Get Report
Yield: 2.8%
Most Recent Dividend Increase: 32%
Texas Instruments is the world's largest provider of analog chips, which convert real world signals such as sound, temperature and electric current into digital signals that computers can recognize.
The company has a wide-moat competitive advantage due to its proprietary chip designs, and because customers design products around them. That means switching suppliers has a high cost for those customers.
As importantly, with most of its products finding their way into the fiercely competitive industrial, automotive and telecom industries, the low individual unit price of analog chips, as well as the mission-critical nature of the link between analog and digital signals means that customers generally focus on higher-quality providers like Texas Instruments over cheaper rivals peddling slightly less-expensive products that are more prone to fail.
In other words, a customer isn't likely to try to save five cents to 10 cents per chip in an auto factory robot that sells for tens or even hundreds of thousands of dollars.
In addition, Texas Instruments is able to generate industry-leading margins because of its vast economies of scale and because analog chip designs have much longer lives than digital ones. This allows the amortization of R&D costs over longer periods and is why analysts expect Texas Instrument's gross margins to rise from 52% in 2013 to 64% in 2020.
The high margins also benefit dividend-loving investors because they allow management to aggressively buy back shares, (at a 3% CAGR over the past five years) and sustain impressive dividend growth. For example, over the past 20 years Texas Instruments has raised its payout at a 
CAGR, and the most recent 32% increase should help ensure ongoing market-beating total returns for many years to come.
This article is commentary by an independent contributor. At the time of publication, the author was long VZ, JNJ, INTC, TXN, ABT and APH.