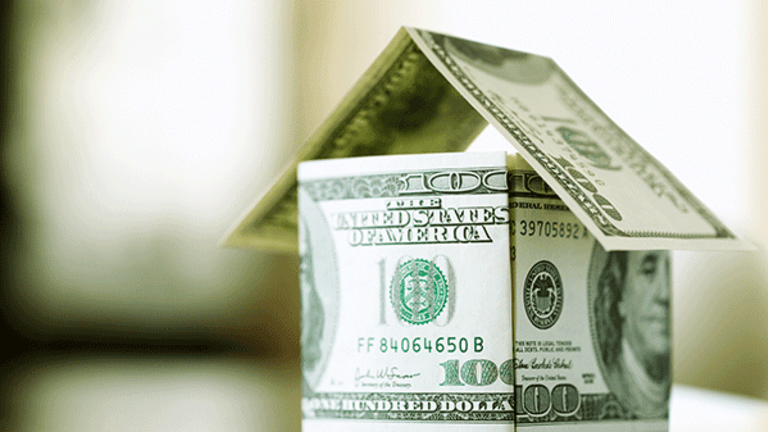 10 Grade-A Dividend Growth Stocks Worth Buying for 2017
Grow your wealth and build a safe, rising income stream with these high-quality dividend stocks.
It's no secret that a high-quality portfolio of dividend growth stocks is one of the most powerful long-term wealth compounding tools.
Of course, the hardest part of investing is identifying high-quality companies and separating them from lesser-quality ones.
One great way to do this is find companies with high returns on invested capital, or ROIC. ROIC tells us how good management is at converting capital into profits that can go toward paying secure and growing dividends over time.
Better yet, studies show that over the long term a company's total returns generally track its ROIC, which means that dividend growth companies with high ROICs are good choices for your diversified dividend portfolio.
Let's take a look at 10 high-quality, high-ROIC dividend growth names, all of which have bright futures and can be great allies in reaching your own financial goals, such as living off dividends in retirement.
We own a number of these companies in our Top 20 Dividend Stocks and Conservative Retirees dividend portfolios. 
1. Union Pacific (UNP) - Get Report
ROIC: 13.3%
Yield: 2.3%
20-Year Dividend Growth Record: 8.5%
Union Pacific operates the U.S.'s largest railroad network, which consists of 32,000 miles of track in the western two-thirds of the U.S. The company also owns about 25% of Mexican rail giant Ferromex.
The key to Union Pacific's high returns on capital are its wide moat, created by the fact that its railways are almost impossible to replicate, thanks to both the difficulty in obtaining right of way, and the prohibitive cost of duplicating its rail lines.
In addition, Union Pacific has used its large economies of scale to massively boost its overall profitability. One example is the use of automation, which makes its workers more productive over time.
And while it's true that the company's results have been hurt by the secular decline in coal shipments, Union Pacific should continue to see moderate growth in the coming decades due to its success in intermodal (shipping container) transport, which is expected to grow around 4% to 7% a year for the foreseeable future.
Combined with ongoing cost-cutting measures, this dividend growth rock star is a true buy-and-hold-forever stock.
Investors can read my full thesis on UNP here.
(All ROIC numbers in this article are trailing 12-month figures from Morningstar.)
2. Canadian National Railway (CNI) - Get Report
ROIC: 15.4%
Yield: 1.7%
10-Year Dividend Growth Record: 17.5%
Canadian National Railway is legendary in the industry for being the most efficient rail operator in North America. That's thanks to its 19,600 miles of irreplaceable tracks that run coast to coast in Canada and through the American heartland, from the Canadian border to New Orleans.
The company has made a science out of maximizing its scale and minimizing costs. It has focused on increasing fuel efficiency per ton mile and using automation to keep down the size of its workforce.
This has allowed Canadian National to generate not just the lowest operating ratios, (operating expense/revenue), but also an impressive 10-year median free cash flow margin of 15%, which allows for consistent buybacks that kept the free cash flow payout ratio a safe and relatively low 55% in 2015.
This explains the company's impressive dividend growth record, which is likely to continue as management's cost-cutting efforts in the coming years should help boost its free cash flow margins even further.
Investors can read my full thesis on CNI here.
3. Paychex (PAYX) - Get Report
ROIC: 38.5%
Yield: 3.0%
20-Year Dividend Growth Record: 20.3%
Paychex is America's second largest payroll processor (590,000 clients), and the leader among small businesses. The company has expanded into human resource services, or HRS, in recent years, helping small companies to outsource much of their back office needs including workers comp, retirement plans and health insurance.
Going forward, Paychex has two major growth tailwinds. First, the float it generates, (holding payroll cash before paying customers' employees) can be invested into low-risk Treasuries that help generate substantial profits when interest rates rise.
For example, before the financial crisis the company was averaging around 3.5% yield on its float, which declined to just 1.1% in the recent low-interest rate environment. However, each 100-basis-point increase in interest rates should boost earnings by about 3%, which could lead to substantial margin expansion in the coming years.
In addition, the HRS business has been growing at around 14% annually in the past few years, and given the sticky nature of its business relationships, (high switching costs), this allows Paychex to generate impressive margins and cash flow from its repeat business. In fact, the only reason that Paychex's retention rates are typically in the low 80% range, (lower than rival Automatic Data Processing) is because of bankruptcies and mergers.
Overall, Paychex has an enviable moat around its business that should allow it to continue generating substantial ROIC and an impressive free cash flow margin. That, combined with steady buybacks, should allow the dividend to continue growing at around 7% to 9% over the coming decade, resulting in solid, market-beating total returns of around 10% to 12%.
4. Public Storage (PSA) - Get Report
ROIC: 21.0%
Yield: 3.7%
20-Year Dividend Growth Record: 10.5%
Public Storage is America's largest public storage real estate investment trust, owning just over 2,500 properties in 38 states and seven European countries.
But don't let that large scale fool you, because with just 6% of the total U.S. market share, Public Storage has a very long growth runway that is likely to mean decades of solid dividend growth.
The key to Public Storage's success is its strong pricing power that comes as a result of its dominance in West Coast markets, especially California. Strict zoning laws and high land prices make it hard for rivals to build new competing properties. Because its revenue is derived from month-to-month rental agreements, Public Storage has some of the lowest exposure to rising interest rates or inflation of any REIT you can own today.
Combined with its large economies of scale, which allow for more efficient advertising, staffing and maintenance spending, Public Storage has impressive profitability that makes its generous and fast growing dividend also one of the most secure in its industry.
5. 3M (MMM) - Get Report
ROIC: 21.1%
Yield: 2.5%
20-Year Dividend Growth Record: 7.6%
3M is best known for Scotch tape and Post-It Notes, but the company also manufactures industrial films, personal respirators, heavy-duty adhesives, reflective sheeting, sanding wheels and filters.
Thanks to about 50% of its sales coming from fast consumable products, with the other 50% from high-spec industrial offerings, 3M has faster turnover and more recurring revenue than most industrial companies. And thanks to its wide-moat advantage in superior technology, courtesy of some of the highest and most efficient R&D spending, 3M is able to generate strong pricing power, which results in consistent organic growth.
Add to this the vast, worldwide supply sourcing and manufacturing base and you can understand why 3M has such high margins, which allow it to be such a consistent dividend grower. In fact, few companies can match its dividend record, which includes 99 straight years of quarterly payouts, and 57 consecutive annual dividend hikes. In fact, 3M is among the rarest of dividend growth stocks, a legendary dividend king.
Taken all together, 3M represents one of the best core holdings of any diversified dividend portfolio.
6. Fastenal (FAST) - Get Report
ROIC: 21.7%
Yield: 2.5%
10-Year Dividend Growth Record: 21.5%
Fastenal is one of the fastest growing suppliers of maintenance, repair and operations, or MRO, supplies to industrial and construction clients. In fact, despite selling its products through 2,700 nationwide locations, it has just 2% of the $160 billion MRO market, making it the seventh largest MRO distributor in the country. That also means there's plenty of growth left in this legendary dividend grower.
Fastenal's claim to high-profitability fame has been its laser-like focus on high-quality customer service. And while this has meant that its employee count per store has been growing at double digits in recent years, it also gives the company a stronger brand, with commensurate stronger pricing power.
In fact, thanks to double-digit same store sales growth and an increasing focus on private label products (30% better margins than generic products) in its stores, Fastenal has been able to generate strong 10% operating income growth over the past five years, while maintaining some of the industry's best returns on shareholder capital. In fact, over the past year Fastenal has maintained margins and returns on capital that are two to three times the industry averages.
That translates to strong growth in free cash flow per share, which in turn results in a secure and fast-growing dividend, as well as some of the best total returns over the past decade.
7. United Parcel Service (UPS) - Get Report
ROIC: 30.3%
Yield: 2.7%
10-Year Dividend Growth Record: 8.3%
UPS is the world's largest parcel delivery company, using a fleet of 500 planes and 100,000 trucks to deliver more than 18 million packages per day.
Yet despite the capital-intensive nature of the business, UPS has managed to generate very high margins and returns on shareholder capital. The key is the company's globe-spanning distribution system, as well as its industry-leading efficient distribution centers.
This helps to keep costs to a minimum, and UPS can pass on low costs to consumers in order to maintain its market share. Better yet, despite the high profitability, the barriers to entry are enormous since any competitor trying to steal market share from UPS would first need to partially recreate the company's vast logistics network.
Thanks to the rise of online retail, UPS is well positioned to ride the wave of strong package delivery growth in the coming decades, and this bodes very well for dividend growth lovers.
8. Starbucks (SBUX) - Get Report
ROIC: 31.0%
Yield: 1.8%
5-Year Dividend Growth Record: 30.5%
Starbucks has proven to be a master at peddling high-cost coffees, baked goods and drinks in a growing number of stores. The company has used technology (such as its award-winning mobile app) to improve the customer experience and improve the speed of service at its stores.
All of this combines to create some of the industry's best same-store sales growth, which has helped Starbucks deliver decades worth of double-digit revenue growth, as well as enviable growth in earnings per share and free cash flow per share.
Starbucks is a holding in Jim Cramer's Action Alerts PLUS Charitable Trust Portfolio. See how Cramer rates the stock here. Want to be alerted before Cramer buys or sells SBUX? Learn more now.
Management just announced a new five-year plan in which the company plans to open 12,000 new stores, move upmarket with its new super-premium Roastery concept (headed by founder Howard Schultz) and continued expansion of its channels.
Starbucks also sells its coffee and other high-end products through grocery stores, and the operating margin for these products is double that of goods sold in its stores.
Starbucks expects to continue growing sales at 10% a year, and earnings at 15% to 20% a year through 2021. Given the even faster growth in free cash flow per share that the company is known for delivering, I expect Starbucks' dividend to realistically grow at 15% or so for the next decade.
This would make Starbucks a solid core holding and one of the best dividend growth stocks in America.
9. Boeing (BA) - Get Report
ROIC: 32.3%
Yield: 3.6%
20-Year Dividend Growth Record: 10.4%
As the world's largest commercial aircraft manufacturer, and one of the largest defense contractors in America, Boeing is a quintessential blue-chip dividend growth stock.
The company's high margins are thanks to an incredibly wide moat. Its only competitor in commercial jets is Airbus, and commercial jets account for 70% of its sales.
What's really impressive about Boeing, however, is that even though it operates in a cyclical industry, management has been able to consistently deliver 20% to 22% ROIC even in the most trying economic and industry environments.
For example, 2008-2009 saw new orders collapse, and oversupply in the airline industry resulted in price wars that saw many of its largest customers go bankrupt. Adding to its troubles, development of the new 787 Dreamliner ended up going years behind schedule and over budget.
Now however, Boeing is flying high thanks to the 787 program being complete, sales ramping up, and new R&D mostly focused on much less costly newer versions of the 777 and 737.
This, plus a massive backlog of 5,600 planes (7.5 years' worth of production), means that Boeing has the opportunity to ramp up production in the coming years, (from 750 planes a year to 860 by 2019), and each plane will have higher margins, thanks to amortizing its R&D costs over more units, plus ongoing cost-cutting efforts.
That translates into impressive returns on investor capital and lots of free cash flow, which management is returning to shareholders through strong and consistent buybacks and aggressive dividend hikes. In fact, Boeing just raised its dividend for 2017 by 30%, resulting in a mouthwatering 3.6% yield despite shares being at record highs.
While there is certainly a chance that shares will pull back, especially during the inevitable market correction, you can't go wrong opening a position at today's yield. Just make sure you set aside some cash to buy more Boeing shares on potential dips.
10. Mastercard (MA) - Get Report
ROIC: 47.1%
Yield: 0.9%
5-Year Dividend Growth Record: 60.5%
It's true that Mastercard may have the lowest yield on this list, but that shouldn't necessarily dissuade long-term dividend investors from owning this high-margin cash-printing machine. That's because what Mastercard lacks in yield it more than makes up in dividend security, growth potential and profitability.
After all, the world's second largest credit card transaction processor, with 26% market share, 40 million business partners, and $4.6 trillion in transaction volumes in 2015, has an incredibly wide moat.
That's thanks to its processing system being built into banks around the world, which means that the same strict regulations that affect that industry help to insulate Mastercard from potential rivals.
Better yet, with 85% of global transactions still being done in cash, and a very trusted brand name, Mastercard has decades of growth runway ahead of it. And as for the potential for digital apps and phone based payments to disrupt it, the company is working hard with partners such as Apple, Alphabet and Samsung to include its cards in online digital wallets.
Apple and Alphabet are holdings in Jim Cramer's Action Alerts PLUS Charitable Trust Portfolio. See how Cramer rates the stocks here. Want to be alerted before Cramer buys or sells AAPL or GOOGL? Learn more now.
Combine this vast growth potential with the industry's second strongest network effect, and you get an incredible profit machine. In fact, Mastercard's profits and returns on capital are between 100% and 300% higher than its industry rivals.
And best of all for dividend lovers, management has proven to be very shareholder friendly, with a strong commitment to buybacks (2.1% CAGR share reduction over the past five years) and dividend growth that should make Mastercard one of the best income growth investments of the coming quarter decade. Note that it has a rock-bottom free cash flow payout ratio of just 20%.
This article is commentary by an independent contributor. As of the time of writing, the author was long BA, MMM, FAST, PAYX, UNP and ADP.