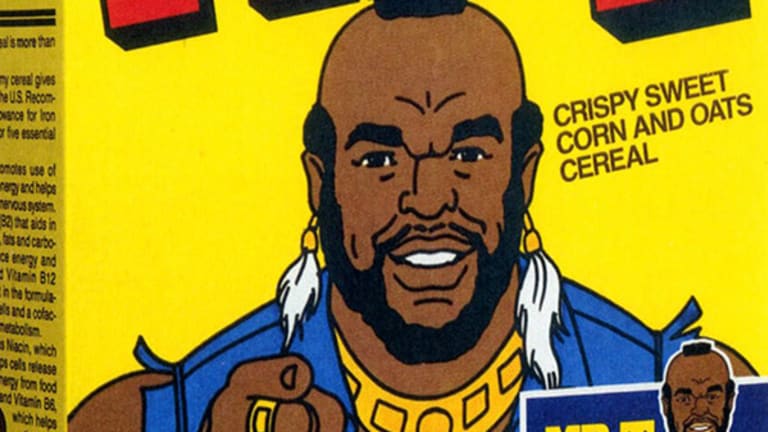 10 Favorite Cereals That Are No Longer Sold in Any Grocery Stores
Breakfast isn't just for cereal anymore, but remembering these sugary treats that fed a generation sure brings back that urge for a big bowl and a bottle of whole milk.
NEW YORK (TheStreet) -- When General Mills (GIS) announced in August that it was reviving "in-the-vault" cereals, Franken Berry, Count Chocula and Boo Berry, for the Halloween season, cereal lovers rejoiced -- and then started becoming nostalgic for other cereals that have been discontinued.
Children today probably won't remember the fantastic list of '80s pop culture-inspired cereals -- E.T., PacMan, SmurfBerry Crunch, Donkey Kong Crunch, Ghostbusters -- among other branded cereals that are no longer (Count Chocula and Franken Berry actually debuted in 1971, followed by Boo Berry a year later). Truth be told, these cereals of bygone days weren't exactly nutritious.
And today, cereal has been getting a bad rap from its sugar content and lack of nutrition as well as the fact that more consumers are opting for on-the-go breakfast options as opposed to sitting down for breakfast.
3. Sesame Street C is for Cereal
Post
2011-2014
Post and Sesame Street launched this cereal in 2011 under several popular Sesame Street characters including Big Bird, Cookie Monster and Elmo. Post positioned the cereals as packed with nutrition for growing children and absent of artificial colors and other not so healthy ingredients. Unfortunately two of the three flavors were discontinued this year and only Elmo Apple remains.


4. Mr. T
Quaker Oats
early 1980s
While Mr. T (Laurence Tureaud) is best known for his line, "I pity the fool" in Rocky III, where he played boxer Clubber Lang, he is probably best known for his role as part of the in 1980s TV show The A-Team in which he played an ex-Army commando. Unfortunately the cereal, made of "crispy sweet corn and oats," was not as popular and Quaker only produced it for one year.  


5. Cupcake Pebbles
Post
2010-2011
Perhaps taking on the cupcake craze that consumed Americans of the last few years, Post launched Cupcake Pebbles, a cake-batter flavored cereal in 2010. Unfortunately the flavor only lasted a year and was shelved in 2011. The company frequently rotates new flavors in and out seasonally, an outside spokeswoman told TheStreet.

6. FiberPlus Berry Yogurt Crunch
Kellogg's
2010-2013
Kellogg's FiberPlus Berry Yogurt Crunch was an attempt by the company to gain traction with healthier cereals. "Fiber-containing food products have flooded the market as Americans struggle to meet their daily fiber recommendations, but the need for something tasty and nutritious doesn't stop at fiber," Kellogg's said in a July 2010 press release announcing its FiberPlus Antioxidants Cereals -- the berry yogurt crunch and cinnamon oat crunch flavor. Both flavors have since been discontinued.  


7. Razzle Dazzle Rice Krispies
Kellogg's
late 1990s
Considered a party in a box (one look at the front of the box and you'll think you were in a '70s disco club), Razzle Dazzle Rice Krispies were only available for a few years after consumers actually thought the cereal was… too sweet! That said, the product did become a popular alternative to the traditional Rice Krispie Treat.


8. Smorz
Kellogg's
2003-2013
Kellogg's discontinued its popular Smorz cereal in December 2013, only to replace it (sort of) under its Krave line up. Kellogg's Krave S'Mores cereal is comprised of "a crispy graham flavored cereal with a smooth chocolate and marshmallowy filling inside," the company said on its community blog. However from the looks of consumer reaction on the blog, the original Smorz is surely missed. Note: We put the launch of Smorz as 2003, based on third-party reports, however Kellogg's did not return our request for comment.


9. Ice Cream Cones
General Mills
1986-1986
Who remembers the catchy jingle from the Ice Cream Cones cereal commercial? Man did those little cereals bits really look like ice cream!! Unfortunately, the cereal launched and exited in the same year, according to the General Mills blog. That said, General Mills briefly reintroduced the cereal in 2003 in honor of the centennial anniversary of the real ice cream cone.


10. Sprinkle Spangles
General Mills
1993-1995
Sprinkle Spangles were star-shaped bits of cereal with colored sprinkles complete with a Sprinkle Genie mascot whose tag line was "You wish it, I dish it!" Guess kids weren't wishing for Sprinkle Spangles too much, the cereal was discontinued in 1995. Fun Fact: Did you know that the Sprinkle Genie mascot was voiced by comedian Dom DeLuise?  
--Written by Laurie Kulikowski in New York.
Disclosure: TheStreet's editorial policy prohibits staff editors, reporters and analysts from holding positions in any individual stocks.