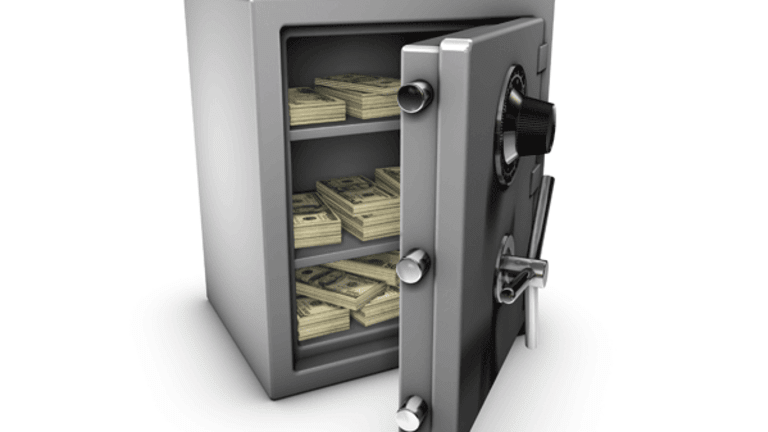 10 Dividend Stocks That Will Survive the Next Recession
These quality dividend-paying stocks can help your portfolio power through the next economic downturn.
These quality dividend-paying stocks can help your portfolio power through the next economic downturn.
No matter whether you are retired or planning for retirement, peace of mind is really the very best reward.
That means receiving a reliable stack of dividend checks no matter what else is going on. Investors can learn more about how to live off dividends in retirement here.
To help you in this process, here are 10 quality, recession-beating stocks that have delivered very reliable dividend income for many years.
Each of these stocks weathered the financial crisis well and yields more than 2%. A handful of these companies is held in our Conservative Retirees dividend portfolio for this reason.
Let's get started with a Big Mac.
1. McDonald's (MCD) - Get Report
There are now more than 36,525 restaurants worldwide displaying the iconic golden arches. Some 30,081 are franchised, which means the company owns only 18% of the total.
There are still markets such as China that McDonald's has not fully tapped, so there it still hope for growth.
In an industry known for changing and fickle consumer tastes, McDonald's mere survival is a measure of management dedication and quality.
Fast and affordable food served under high standards of cleanliness from convenient locations; this has been McDonald's formula from the beginning. When the economy is weak, these attributes attract a bigger share of customers.
During the financial crisis McDonald's sales declined 3%, but the company's strong balance sheet allowed it to increase its dividend, which has grown every year since 1977. The stock's defensive qualities also showed in its 5.6% gain in 2008. The S&P 500, by comparison, fell 38% that year.
McDonald's current dividend yield of 3.0% and expected dividend growth of 10% makes McDonald's one of the more notable Dividend Aristocrats, a group of S&P 500 companies that have raised their dividends for at least 25 straight years.
The annual payout is $3.56 per share right now. The dividend has been growing 17.8% per year over the past decade and 8.8% annually over the past five. The payout ratio, at 69% of EPS and 70% of free cash flow, could easily be increased given the balance sheet strength and nearly $4.57 billion in free cash flow.
2. General Mills (GIS) - Get Report
General Mills is one of the largest makers and marketers of foods in the U.S. The company earns its way focusing on basic affordable foods. It manages the business along lines of distribution: US Retail (60% of sales), International (28%) and Convenience Store/Foodservice (12%).
Affordable prices and enormous diversification are keys to General Mills' success since its creation in 1928. Breakfast cereal brands include: Cheerios, Wheaties, Chex, Cocoa Puffs and Fiber One. General Mills also owns Betty Crocker, Bisquick, Gold Medal, Haagen-Dazs, Yoki and Yoplait brand yogurts. This is a small fraction of the total but is still a staggering number of household names.
Demand for these brands is insulated from most economic conditions because people continue to eat. Dining in also helps save money during recessions. Inflationary cost pressures can be a risk, but that presents no problem today.
General Mills performed well during the financial crisis considering how much other businesses suffered. Its sales in fiscal 2010 (which concluded on May 30, 2010) were up 0.7%, and diluted earnings per share increased 18%. The stock's price increased 6.6% in 2008 and 16% in 2009.
The annual payout of $1.92 per share offers investors a 3.0% yield. Dividends have grown more than 10% a year over past 10 years. The payout ratio is 66% for EPS and 57% for free cash flow and is not particularly high given the steady growth of the company.
For the fiscal year ended May 29, operating cash flow was $2.63 billion. Capital spending was only $729, so GIS is well endowed with flexibility.
General Mills is a triple winner. It has a super safe dividend, growth that is far faster than most companies, and a yield that is at least in the middle of the pack. This is why General Mills is one of our top blue-chip dividend stocks.
3. Waste Management (WM) - Get Report
When you are in the trash collection business, your least worry is the strength of the economy. Generally speaking, garbage grows with the population.
Houston-based Waste Management, with about $13 billion in annual revenue, is No. 1 in the trash collection industry. Its green and yellow trucks provide everything from nonhazardous solid waste collection to recycling and disposal services. Customers serviced include commercial, industrial, municipal and residential.
Waste Management is also involved with numerous recycling services and portable restroom services and even has interests in the energy business. However, these operations account for a smaller share of the overall business.
The business of trash is highly fragmented with more than 20,000 companies, mostly local or regional in footprint. The two big guns are Waste Management and Republic Services.
Anybody with a truck can be in the business, but gaining a meaningful presence and strategically-located landfills requires capital, contracts with municipal governments and regulatory approval. This separates Waste Management from the pack.
For many years the industry has also been consolidating. This benefits the big players such as Waste Management and Republic.
The current $1.64-per-share annual payout offers investors a 2.6% yield. The free cash flow payout ratio of 56% has been pretty steady for some time, highlighting the resilience of Waste Management's business.
Operating margins have been about as consistent, and last year the operating margin was 15.8%. This means the company has good cash flow and predictability for dividend payments.
Waste Management began cranking up dividend payments a little more than a decade ago in 2004 and has raised its payout every year since.
The company's dividend has compounded by 6.8% per year over the last decade, and the rate over the past five years has slightly tapered to 4.1%.
Waste Management's dividend growth may not impress every investor, but the predictability of trash is hard to match.
4. Hasbro (HAS) - Get Report
Hasbro is all about toys and the iconic brands it can create, leverage and license.
Who hasn't played Monopoly or Scrabble? What parent of a small child doesn't know My Little Pony, NERF, PLAY-DOH and Transformers? Hasbro's brands are global in reach.
The company's business is separated into three principal business segments: U.S. and Canada (51% of sales), International and Entertainment (43%) and Licensing (6%).
Anybody can create the next Pet Rock, but very few are able to achieve mass distribution and have the capital for marketing and product promotion.
Hasbro has been around for nearly 100 years. Brands are constantly re-invented and re-ignited, lowering the high risk of trying to create new ones from scratch.
Monopoly and Scrabble provide steady predictable revenues and outsized cash flow. It also helps to level the heavy seasonality of the toy business.
Hasbro keeps abreast with technology by developing games for mobile devices. It also produces television programming based on its brands. 
Hasbro sells its products to wholesalers, distributors and traditional retailers, as well as Internet-based retailers.
The current $2.04-per-share annual payout offers investors a 2.6% yield. The free-cash-flow payout ratio of 55% means there is plenty of cushion to finance operations and grow dividends.
Hasbro has continuously paid a quarterly dividend for more than 20 years, growing it at a compound annual average rate of 14% over the last two decades. The dividend has also been increased for more than 10 consecutive years, recording annual growth of 19% during this period.
Considering the hit-or-miss nature of the toy industry, Hasbro performs well when it comes to dividend safety, growth and yield.
5. C.H. Robinson Worldwide (CHRW) - Get Report
Imagine for a moment that you have a huge amount of cargo in China and you need to distribute it to 250 different buyers in the U.S. Or imagine you grow strawberries in California with customers in New York, New Jersey and Michigan. What do you do? This is where C.H. Robinson comes in.
This company makes its money providing fee-based logistics services that include management, warehousing, small-parcel delivery and even custom-broker services to take care of those messy chores involved in product imports.
C.H. Robinson is also a wholesale distributor of fresh produce through a network of independent produce growers and suppliers to groceries, restaurants and institutions. C.H. Robinson, with its more than $13 billion in annual revenue, occupies an enviable niche in the economy.
Anybody can get into Robinson's business because the capital intensity is low. Setting up a network from scratch is no simple task, however. C.H. Robinson Worldwide has third-party contracts with 68,000 transportation companies. The moat here is pretty formidable.
Trucking is the classic economically dependent industry. But this logic can't be applied to C.H. Robinson Worldwide.
In both 2008 and 2009, the company's diluted EPS increased. C.H. Robinson stock gained 1.7% in 2008. (Remember that the S&P 500 fell 38% that year.) C.H. Robinson Worldwide's variable cost structure helps protect profits.
The current $1.72-per-share payout offers investors an above average 2.5% yield. The current free-cash-flow payout ratio of 34% is the lowest in nearly 10 years and provides plenty of cushion for the dividend.
Robinson has raised its dividend every year for the past nine years. Its dividend has compounded by 16% over the last 10 years and by 8.6% annually over the last five.
The company operates in an economically sensitive area, but its cash flow and profitability speaks otherwise. This suggests the dividend payout could continue to rise during the next recession.
6. Darden Restaurants (DRI) - Get Report
Darden Restaurant has amassed an all-star list of full-service, brand-name restaurants. The Orlando, Fla.-based company got its start back in 1968, and today it either owns or operates more than 1,500 eateries across the U.S. and Canada.
Here is the menu: Olive Garden, LongHorn Steakhouse, The Capital Grille, Yard House, Seasons 52, Bahama Breeze and Eddie V's Prime Seafood and Wildfish Seafood Grille.
Baseball legend and famous restaurateur Stan Musial once stated, the best way to make $1 million in the restaurant business is to start with $2 million. That statement says it all about risk in this cutthroat industry.
A few things have changed over time, such as American eating habits. More and more, home- cooked meals are going the way of the iPod. These days, America eats out, orders out, takes home or has delivered.
There is no substitute for having good management, an appealing menu, an attractive theme and price points that keep customers returning.
Darden brands appeal both to upscale and medium-price appetites. Olive Garden is more at the low end, but it is still two steps above mass-appeal fast food. This may insulate Darden Restaurants from sensitivity to economic cycles.
The other secret to Darden's success is its generation of lots of cash flow, which allows it to acquire brands or to simply expand through new locations.
The current $2.24-per-share annual payout offers investors a well above-average 3.6% yield.
The company has been paying quarterly dividends continuously for more than 20 years, and the EPS payout ratio has typically been between 37% and 63% over the past decade. This is very reasonable support for the dividend.
During the fiscal year that ended in May 2010, Darden Restaurants' revenue slipped just 1.4%, but EPS increased. Darden escaped from the financial crisis with no serious wounds, and the stock price increased 1.7% in 2008 while the S&P 500 lost 38%.
7. Omega Health Care Investors (OHI) - Get Report
Omega is a real estate investment trust. It provides financing capital for operators of senior and long-term care. Omega's portfolio includes more than 900 properties located in 42 states and the U.K.
The company acts as a landlord, collecting rents on each property and passing 90% or more of the profits to stockholders. In this way, the income is not taxed at the corporate level and stockholders benefit through larger dividends.
Omega is highly profitable. Operating margins have ranged from 47% to 70% over the last decade. This is above average for this industry and significantly better than most others. Long-term debt is less than 50% of capital, so Omega could leverage the balance sheet to further enhance it's revenue growth if it so desired.
The current $2.40-per-share annual payout offers a well above-average 6.6% yield.
Omega Health Care Investors has increased its dividend every year since 2010. The company's dividend has increased by 9.9% per year over the last decade and by 9.7% per year over the last five years. The stock lost only 0.5% during 2008, so Omega Health Care Investors is one for conservative investors to keep an eye on.
8. Watsco (WSO) - Get Report
Global warming is bad for the planet, but for Watsco it's been something of a good thing. This company distributes air-conditioning and refrigeration equipment. To hedge bets, it also distributes heating products and keeps a good supply of parts on hand.
Watsco opened its doors in 1945 in Miami, one of America's hazy, hot and humid spots. From there, it ships all over Latin America and the Caribbean region.
The company makes money on the markup from manufacturer cost on initial installation and typically much more on the vast catalogue of replacement parts.
Distribution is intensively price competitive. Brand names are less important to the ultimate customer than price and inventory breadth and availability.
Distributor profit margins are typically thin, placing much weight on getting customers to pay quickly.
Watsco has the formula for success. Sales have grown significantly over the past five years. The current boom in residential and commercial building is helping.
Long-term financial trends are revealing. Operating margins of 6.6% to 8.2% over the past five years are above average in the industry. Long-term debt is only 26% of total capital. This means the company is generating ample cash to run it business and does not need to borrow. This is the sign of a well-run company.
The current $3.40-per-share payout offers investors a 2.4% yield. The company has paid a quarterly dividend continuously for more than 20 years and averaged annual dividend growth of 19.5% during this time.
The current free-cash-flow payout ratio of 33% has been steady for most of the past decade as well.
This indicates that Watsco has maintained a steady ship though different business cycles and might be a safe consideration even for conservative dividend portfolios. Its stock even gained 4.5% in 2008.
9. Cullen Frost Bankers (CFR) - Get Report
Cullen Frost Bankers is the San Antonio-based holding company for Frost Bank. It's among the 50 largest U.S. banks. Frost Bank has all the things needed to be a full-service commercial and retail bank: branches, ATM's etc. It has been building a loyal consumer franchise since its founding in 1868.
Banking and financial services are among the most highly regulated anywhere. The average bank generates about half its income from net interest income. Since the financial crisis, interest rate spreads have nearly collapsed.
Cullen Frost's exposure to Texas works to its advantage. The economy is one of the fastest growing in the U.S. The bank's deposits, loans and securities holdings are expanding. 
The 4.6% average revenue growth over the past five years outpaces the economy. Steady returns on invested capital and equity shows the company is operating in a nice market. While the energy market has caused some headwinds, conditions will eventually improve.
The current $2.16-per-share dividend offers investors an attractive 3.2% yield. Cullen Frost has raised its dividend more than 20 straight years and recorded 10.4% annual dividend growth over the last two decades.
This company was one of the few banks to continue growing its dividend during the financial crisis, and its stock price managed to gain 2 cents in 2008. That's no mean feat given to what happened to so many stocks that year.
10. Tanger Factory Outlet Centers (SKT) - Get Report
Tanger Factory Outlet Centers is a real estate investment trust and is one of the largest owner/operators of factory outlet retailers. Here is the lineup: 43 upscale outlet shopping centers in 21 U.S. states and Canada, totaling approximately 14.7 million square feet.
The Greensboro, N.C., company has more than 35 years of experience in the outlet industry.
Tanger acts as a landlord generating revenues from retail leases with large brand name companies. Success is dependent on finding the best locations to develop and then connecting with the most appealing customer brands.
Tanger spreads it risks by developing factory outlet locations across a diverse map in the U.S. and parts of Canada. 
The key to growing dividends is raising rents with existing tenants while still maintaining high levels of occupancy. Thus far, Tanger has been successful in both areas as suggested by its strong revenue growth in recent years.
The current $1.30-per-share annual payout offers investors a generous 3.3% yield. However, this is not a particularly high payout for an REIT.
The company has certainly been committed to its dividend though. Tanger has raised its dividend for more than 20 straight years while providing growth in excess of the rate of inflation.
During the last recession, Tanger recorded positive revenue growth each year and saw its stock price lose only 5 cents in 2008.
This article is commentary by an independent contributor. At the time of publication, the author held positions in GIS, OHI, MCD, WM and CHRW.