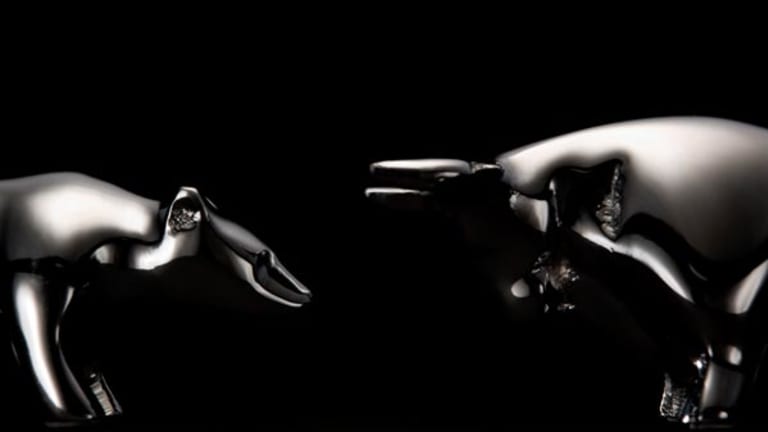 10 Dividend Stocks Increasing Payouts
Procter & Gamble, Qualcomm and Wal-Mart join a roster of companies raising shareholder payouts, increasing their dividend yields.
(Dividend stocks increasing payouts report updated with Hewlett-Packard's secured service contract from NASA, Procter & Gamble's earnings results, and Bank of New York Mellon's acquisition of Talon Asset Management.
NEW YORK (TheStreet) -- Procter & Gamble (PG) - Get Free Report, Qualcomm (QCOM) - Get Free Report and Wal-Mart Stores (WMT) - Get Free Report joined a roster of companies raising their dividends in recent weeks.
Dividend activity has picked up in recent months as companies begin to regain some sense of stability in the economy and visibility of future earnings growth.
The
iShares Dow Jones Select Dividend
(DVY) - Get Free Report
, an exchange-traded fund that tracks the Dow Jones U.S. Select Dividend Index, is up nearly 4% year to date. The
WisdomTree LargeCap Dividend Fund
(DLN) - Get Free Report
ETF is up nearly 5% so far in 2011.
The dividend universe has been out of favor for most retail investors the last few years, Lawrence Glazer, managing partner with Mayflower Advisors, said recently. The pendulum, however, has turned back toward the investment strategy lately as market watchers hedge against inflation and look for rising income streams.
Glazer told
TheStreet
that Europe- and U.S.-based large-cap dividend payers "are back in vogue now, relative to what was working last year." He said that for risk-averse investors trying to generate higher less-volatile returns -- but not necessarily beat the market -- investing in developed dividend payers makes a lot of sense.
Glazer suggested investors consider the "
Dogs of the Dow," the highest-yielding stocks in the
Dow Jones Industrial Average
, namely
Verizon
(VZ) - Get Free Report
,
Johnson & Johnson
(JNJ) - Get Free Report
,
Merck
(MRK) - Get Free Report
and
Kraft Foods
undefined
-- blue chips that will generate higher returns than 10-year Treasury notes and which carry "the best balance sheets in the world."
To capture a proxy for domestic dividend-paying stocks, Glazer suggested considering ETFs like the iShares Dow Jones Select Dividend or
SPDR S&P Dividend
(SDY) - Get Free Report
, and for international dividend payers, the
iShares Dow Jones International Select Dividend Index Fund
(IDV) - Get Free Report
. The latter boasts a higher yield, he said, and "speaks to the idea of getting paid to go outside the U.S. and take on a little more risk." For a long-term sustainable dividend income, Glazer advised to look at an ETF like the
Vanguard Dividend Appreciation
(VIG) - Get Free Report
. Its yield is only around 2%, but "investors need to think about total return and appreciation potential," Glazer said.
Click on for a roundup of 10 dividend stocks increasing their shareholder payouts in recent weeks, ranked by average daily volume....
(Yields are based on April 12 closing prices.)
Oracle
Oracle
(ORCL) - Get Free Report
Company Profile
: Redwood City, Calif.-based Oracle develops, manufactures, markets, distributes and services database and middleware software.
In late March,
Oracle raised its quarterly cash dividend by 20% to 6 cents per share.
The higher payout will be paid on May 4 to shareholders of record as of the close of business on April 13, bringing Oracle's dividend yield to around 0.7%.
Oracle recently forecast a profit that beat analysts' consensus call. That led analysts from Morgan Stanley to boost their price target on the tech stock by $2 to $39. Likewise, Citigroup analysts raised their price target on Oracle to $34, and reiterated a buy rating. JPMorgan Chase analysts raised their price target on Oracle by $2 to $40, setting an overweight rating on the stock.
On April 15 Oracle announced its intention to move OpenOffice.org to "a purely community-based open source project and to no longer offer a commercial version of Open Office."
"Given the breadth of interest in free personal productivity applications and the rapid evolution of personal computing technologies, we believe the OpenOffice.org project would be best managed by an organization focused on serving that broad constituency on a non-commercial basis," said Edward Screven, Oracle's Chief Corporate Architect. "
On April 28 Oracle announced that healthAlliance New Zealand had selected its hardware and software to accommodate its rapid growth.
Hewlett-Packard
Hewlett-Packard
(HPQ) - Get Free Report
Company Profile
: Palo Alto, Calif.-based Hewlett-Packard is a global provider of products, technologies, software, solutions & services to individual consumers, small- and medium-sized businesses and large enterprises, including customers in the government, health and education sectors.
Hewlett-Packard will pay shareholders a 50% larger cash dividend, or 12 cents per share.
The increased dividend will be effective when the board of directors declares the next dividend, likely in May. That will bring Hewlett-Packard's yield to around 1.2%. Hewlett-Packard's previously announced dividend, payable on April 6 to stockholders of record on March 16, will not be increased and will remain at 8 cents per share.
Future dividend increases were not yet determined but the company said it "currently intends for the year-over-year percentage increase to be in the double digits."
On April 19 Hewlett-Packard announced that it appointed a new chief marketing officer, Martin "Marty" Homlish.
On April 28 Hewlett-Packard announced that HP Enterprise Services was chosen for a single-award firm-fixed-price, indefinite delivery/indefinite quantity contract worth up to $2.5 billion over a four-year base period with two three-year option periods by the National Aeronautics and Space Administration (NASA). The modernization is expected to deliver significant productivity gains and cost savings to NASA.
Hewlett-Packard saw its global market share of notebook computers fall 18.5% in the first quarter of 2011, according to IDC data released April 29. Notebook shipments in the first quarter fell by 3.3 million quarter-over-quarter, combining results of HP and
Acer
, the top two vendors in the category.
Meanwhile, competitors including
Dell
(DELL) - Get Free Report
,
Toshiba
,
Lenovo
(LNVGY)
,
Asustek
,
Samsung
and
Apple
(AAPL) - Get Free Report
all enjoyed greater market share in the period.
Sony
undefined
and
Fujitsu
undefined
lost ground along with HP and Acer, the data showed.
Fifth Third Bancorp
Fifth Third Bancorp
(FITB) - Get Free Report
Company Profile
: Cincinnati, Ohio-based Fifth Third Bancorp is a bank holding company which conducts its main lending, deposit gathering, transaction processing and service advisory activities through its banking and non-banking subsidiaries.
Fifth Third Bancorp shareholders will enjoy a 6-cent-per-share quarterly cash dividend, 5 cents or 500% more than its prior payout of a penny per share.
Fifth Third's increased dividend will be paid on April 21 to shareholders of record as of April 1.
That will bring the bank's yield to around 1.8% going forward.
In late March the Federal Reserve released the results of its second round of stress testing, and notified some of the largest banks to increase or restart dividend payments this year.
Fifth Third was among the banks that did not receive any regulatory objection to such dividend increases.
On April 15 analysts at Robert W. Baird issued an upgrade on Fifth Third shares to an outperform rating, from neutral. The firm set a $17 price target on the stock, up a dollar from its prior target.
On April 21 the regional bank returned to year-over-year profitability with first-quarter earnings of $88 million, 10 cents per share.
Excluding the impact of Troubled Asset Relief Program payback, Fifth Third would have earned 27 cents per share, beating consensus estimates by 6 cents.
Fifth Third's net charge-offs in the quarter, or loans written off as uncollectible, fell to $367 million, from $582 million a year ago, indicating the credit market continues to improve.
Qualcomm
Qualcomm
(QCOM) - Get Free Report
Company Profile
: San Diego, Calif.-based Qualcomm designs manufacture and markets digital wireless telecommunications products and services based on its CDMA technology and other technologies.
Qualcomm raised its dividend by 13.2% to 21.5 cents per share, up from its prior payout of 19 cents per share.
The higher dividend will be paid on June 24 to shareholders of record on May 27. That will bring Qualcomm's yield to around 1.6%.
FBR Capital analysts maintained an outperform rating on the stock following the dividend hike, noting that "for QCOM, recent investor concerns about smartphone production cuts at
Samsung
and
LG
(LPL) - Get Free Report
, concerns about a non-
Apple
(AAPL) - Get Free Report
tablet glut, and profit taking weighed on QCOM and drove shares down towards $50. With that wave having passed, the stock seems to be heading higher in the near term."
"Qualcomm's potential baseband socket win in the iPhone 5 would be an upside driver," the analyst added. "Net, smartphone demand should heat up again in
the second half of 2011, with possible share price upside towards $80 over time as we expect chipset and licensing shipments to continue to grow."
After the closing bell on April 20, Qualcomm posted better-than-expected adjusted second-quarter earnings of 86 cents per share, topping expectations for a profit of 80 cents per share. Revenue also came in above expectations at $3.88 billion. Qualcomm raised its full-year financial outlook, attributed to the increasing popularity of smartphones and tablet computers.
"It quells any fears of cellphone weakness similar to Intel's quieting of concerns about PC weakness," noted Williams Financial analyst Cody Acree, referring to a strong forecast from chipmaker
Intel
(INTC) - Get Free Report
the day before.
FBR Capital Markets analyst Craig Berger noted that Qualcomm shares have been under pressure recently, which he attributed to investor worries about order strength from some of its large customers like
LG
(LPL) - Get Free Report
and
Samsung
. Still, he said business from
Apple
(AAPL) - Get Free Report
will drive Qualcomm's results.
On April 27 Qualcomm announced the commercial availability of its Augmented Reality (AR) platform for Android smartphones.
The AR platform provides users with a new form of interactive media, enabling high-performance, interactive 3D experiences on real world images, such as those used in print media (books, magazines, brochures, tickets, signs) and on product packaging.
ThinkEquity analysts initiated coverage of Qualcomm with a buy rating and $75 price target.
The company already has nearly 30 buy or better analyst recommendations. It has four hold ratings and no sell ratings.
Wal-Mart Stores
Wal-Mart Stores
(WMT) - Get Free Report
Company Profile
: Bentonville, Ark.-based Wal-Mart Stores operates Walmart discount stores, supercenters, Neighborhood Markets and Sam's Club locations in the United States.
Wal-Mart Stores raised its dividend by 20.7% to 36.5 cents per share.
The increased payout was made available on April 4 to shareholders of record on March 11. The next paydate will be June 6, to shareholders of record on May 13.
That brings Wal-Mart's yield to around 2.7%.
Wal-Mart's massive scale means that it's able to operate at incredibly tight efficiencies, an attribute that all but guarantees the retailer's spot as a bargain seekers' paradise.
The retailer currently accounts for somewhere in the realm of 10% of total U.S. retail sales, a mind-blowing figure that also speaks to the saturation of the domestic big-box retail market. To keep pace with investors' huge growth appetite, management has set its sights overseas both with acquisitions and with completely new ventures.
>> Retailers With Japan Exposure
In an attempt to better compete with
Amazon.com
(AMZN) - Get Free Report
, FreshDirect,
Sears
(SHLD)
and other home-delivery retailers, Wal-Mart said it is testing home delivery of groceries.
Launched on April 23 in the San Jose, Calif. area, Wal-Mart will deliver food, health-and-beauty products, medicine and other household items for fees beginning at $5.
The home delivery testing will be limited to the San Jose area, Wal-Mart said, and will only expand to other markets if it proves successful with customers there.
Wal-Mart already operates a successful home delivery business through its Asda chain in the U.K., and even transferred an executive from that operation to the U.S. to help with the market testing.
Silver Wheaton
Silver Wheaton
undefined
Company Profile
: Vancouver, Canada-based Silver Wheaton operates as a silver streaming company.
In early March Silver Wheaton initiated its inaugural dividend quarterly cash dividend of 3 cents per share.
The company's first dividend was paid on March 31 to shareholders of record on March 21.
That brings Silver Wheaton's yield to around 0.3%.
Silver prices edged lower in recent trading sessions. On April 11
Bloomberg
reported a $1 million bet by an options trader that the
iShares Silver Trust
(SLV) - Get Free Report
would fall 37% by July.
According to Anthony Neglia, president of Tower Trading, both gold and silver were getting bullied by
Goldman Sachs
(GS) - Get Free Report
. The investment firm issued a note April 11 urging clients to take profits in commodities as the broad rally might not last as high oil prices eat into demand.
Procter & Gamble
Procter & Gamble
(PG) - Get Free Report
Company Profile
: Cincinnati, Ohio-based Procter & Gamble is focused on providing branded consumer packaged goods. It markets its products in more than 180 countries.
Procter & Gamble hiked its dividend by 9% to 52.5 cents per share, up from 48.18 cents, on its common stock and on the Series A and Series B ESOP Convertible Class A Preferred shares.
The higher payout will be available on or after May 16 to shareholders of record at the close of business on April 29. That brings Procter & Gamble's yield to around 3.3%.
Procter & Gamble has been paying a dividend for 121 consecutive years since its incorporation in 1890 and has increased its dividend for 55 consecutive years at an annual compound average rate of approximately 9.5%.
In early April
Procter & Gamble said it would divest its Pringles potato chips brand to
Diamond Foods
(DMND)
for $1.5 billion worth of stock. The move comes as Procter & Gamble looks to more closely focus its business on cosmetics and healthcare products.
P&G shareholders will retain a 57% stake in the new company while Diamond shareholders will hold the rest. Diamond shareholders will also take on $850 million of Pringles debt.
>> Takeover Targets: Consumer Stocks in Play
On April 28 P&G posted an 11% rise in fiscal third-quarter earnings, though results were weaker than expected. The firm said commodity costs continue rise, about triple what it expected at the beginning of 2011, pressuring its outlook.
P&G cut the high end of its full-year forecast.
Staples
Staples
(SPLS)
Company Profile
: Framingham, Mass.-based Staples operates as an office products company. Its three business segments are North American Delivery, North American Retail and International Operations.
Staples increased its dividend by 11.1% to 10 cents per share, up from 9 cents per share.
The higher payout will be available on April 14 to shareholders of record on March 25.
That brings Staples' yield to around 2%.
In mid-March Goldman Sachs analyst lowered their price target on Staples to $23, noting that investor sentiment was weakening in the office retail sector. The firm maintained a neutral rating on Staples shares.
Earlier,
Staples said fiscal-fourth quarter earnings rose 17% as sales increased slightly.
The company said it expects first-quarter sales to increase in the low single-digits from a year earlier, and sees GAAP earnings of 30 cents to 32 cents a share. Analysts surveyed by Thomson Reuters expect Staples to earn 33 cents a share in the first quarter.
Goldcorp
Goldcorp
(GG)
Company Profile
: Vancouver, Canada-based Goldcorp is engaged in the acquisition, exploration, development and operation of precious metal properties. It continues to investigate and negotiate the acquisition of additional precious metal mining properties or interests in such properties.
Goldcorp raised its annual dividend to 40.8 cents per share, an 11% increase.
That followed a doubling of Goldcorp's dividend in October 2010. A monthly dividend of 3.4 cents per share will be payable to shareholders of record as of March 17.
Goldcorp is the only gold producer to pay a monthly dividend. The increase was "driven by increasing cash flows due to growing gold production and a continued strong metals market," the company said.
Gold prices have spiked recently hitting new record highs.
When gold will hit $1,500 "is a good question," said Will Rhind, head of U.S. operations for
ETF Securities
, in early April. "I think that right now with the market the way it is, who knows, it could be a matter of days."
Goldcorp will invest $850 million to put into production its Cerro Negro gold project in Argentina's Santa Cruz Province, Argentina's Planning Ministry said in April.
"This announcement consolidates Argentina as a destination for long-term investment as the Cerro Negro project has a useful life of 20 years," Planning Minister Julio De Vido said in a statement.
Goldcorp said it expects gold production at Cerro Negro to begin in the middle of 2013, producing an average of 550,000 ounces per year over the first five years. Capital expenditures are expected to reach $750 million by the production start date.
On April 19 analysts at JPMorgan Chase raised their price target on Goldcorp by $8 to $68.
Bank of New York Mellon
Bank of New York Mellon
(BK) - Get Free Report
Company Profile
: New York City-based Bank of New York Mellon is a global financial services company, through its subsidiaries is engaged in trust and custody activities, investment management services, banking services and securities-related activities.
On March 22
Bank of New York Mellon announced a 44.4% increase of its quarterly dividend to 13 cents per share, from 9 cents.
The higher dividend will be payable on May 10 to holders of record as of the close of business on April 29.
Bank of New York Mellon also announced it would increase its current share repurchase program to bring the total number of common shares available for repurchase to 47 million shares. The bank plans to repurchase as much as $1.3 billion of its stock through the end of 2011.
CEO Robert Kelly said that following the completion of the Federal Reserve's latest round of stress tests, Bank of New York Mellon's first capital priority will be to reward our shareholders by increasing the dividend and resuming our share repurchase program," adding that the company expects to "exceed the Tier I common Basel III requirement by the end of this year."
On April 19 Bank of New York Mellon posted an 11.8% increase in first-quarter earnings as an improving equities market boosted assets and its fees for managing them. Net income rose to $625 million, or 50 cents per share, lower than expectations for a profit of 56 cents per share.
"The fee-based banks like Bank of New York have real revenue growth at a time when other banks don't," RBC Capital Markets analyst Gerard Cassidy told
Bloomberg
.
Bank of New York Mellon said assets under custody and administration rose 14% last quarter to $25.5 trillion, working to offset softer profits from money funds and fixed-income investments.
On April 28 Bank of New York Mellon said its wealth management arm would acquire Chicago money manager, Talon Asset Management's wealth management business and its more than $800 million in client assets under management, as it continues its expansion across the U.S. and Canada.
Analysts at Morgan Stanley downgraded shares of Bank of New York Mellon to an equal weight rating.
-- Written by Miriam Marcus Reimer in New York.
>To contact the writer of this article, click here:
Miriam Reimer
.
>To follow the writer on Twitter, go to
http://twitter.com/miriamsmarket
.
>To submit a news tip, send an email to:
.
READERS ALSO LIKE:
>> 10 Top Dividend Stocks for 2011
>> 10 Dividend Stocks Increasing Payouts
>> 14 REITs Increasing Dividends Annually
Disclosure: TheStreet's editorial policy prohibits staff editors and reporters from holding positions in any individual stocks.