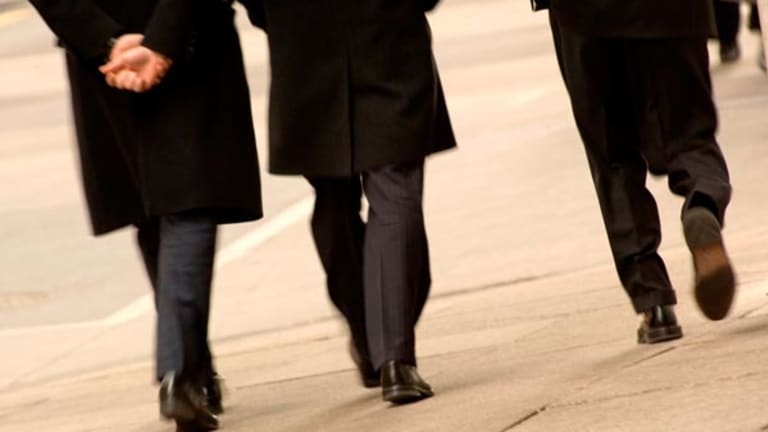 10 Dividend Stocks Increasing Payouts
Comcast, Abbott Laboratories and Coca-Cola join a roster of companies raising shareholder payouts, increasing their dividend yields.
Comcast, Abbott Laboratories and Coca-Cola join a roster of companies raising shareholder payouts, increasing their dividend yields.
(Dividends increasing payouts slideshow updated with news of Home Depot's (HD) - Get Report $1 billion share buyback and Cisco System's (CSCO) - Get Report intent to acquire privately-held newScale.)
NEW YORK (TheStreet) -- Comcast (CMCSA) - Get Report, Abbott Laboratories (ABT) - Get Report and Coca-Cola (KO) - Get Report joined a roster of companies raising their dividends in recent weeks.

Dividend activity has picked up in recent months as companies begin to regain some sense of stability in the economy and visibility of future earnings growth.
>> 10 Top Dividend Stocks for 2011
The
iShares Dow Jones Select Dividend
(DVY) - Get Report
, an exchange-traded fund that tracks the Dow Jones U.S. Select Dividend Index, is up around 3% year to date. The
WisdomTree LargeCap Dividend Fund
(DLN) - Get Report
ETF is up more than 4% so far in 2011.
The dividend universe has been out of favor for most retail investors the last few years, Lawrence Glazer, managing partner with Mayflower Advisors, said recently. The pendulum, however, has turned back toward the investment strategy lately as market watchers hedge against inflation and look for rising income streams.
Glazer told
TheStreet
that Europe- and U.S.-based large-cap dividend payers "are back in vogue now, relative to what was working last year." He said that for risk-averse investors trying to generate higher less-volatile returns -- but not necessarily beat the market -- investing in developed dividend payers makes a lot of sense.
He suggested investors consider the "
Dogs of the Dow," the highest-yielding stocks in the
Dow Jones Industrial Average
, namely
Verizon
(VZ) - Get Report
,
Johnson & Johnson
(JNJ) - Get Report
,
Merck
(MRK) - Get Report
and
Kraft Foods
( KFT) -- blue chips that will generate higher returns than 10-year Treasury notes and which carry "the best balance sheets in the world."
To capture a proxy for domestic dividend-paying stocks, Glazer suggested considering ETFs like the iShares Dow Jones Select Dividend or
SPDR S&P Dividend
(SDY) - Get Report
, and for international dividend payers, the
iShares Dow Jones International Select Dividend Index Fund
(IDV) - Get Report
. The latter boasts a higher yield, he said, and "speaks to the idea of getting paid to go outside the U.S. and take on a little more risk." For a long-term sustainable dividend income, Glazer advised to look at an ETF like the
Vanguard Dividend Appreciation
(VIG) - Get Report
. Its yield is only around 2%, but "investors need to think about total return and appreciation potential," Glazer said.
Here then is a roundup of 10 dividend stocks increasing their shareholder payouts in recent weeks, ranked by average daily volume.
(Yields are based on March 8 closing prices.)
Cisco Systems
Cisco Systems
(CSCO) - Get Report
Company Profile
: San Jose, Calif.-based Cisco Systems designs, manufactures and sells Internet Protocol-based networking and other products related to the communications and information technology industry and provides services associated with these products and their use.
Cisco CEO John Chambers recently reiterated his promise to institute a cash dividend by the end of fiscal 2011 in July, a payout that has alluded shareholders for years while the networking powerhouse repurchased more than a third of its stock under a multi-year buyback program.
Market watchers expect the dividend to yield around 1% to 2%, or around 30 cents annually, according a report in
Barron's
-- though the news outlet suggested Cisco should pay closer to 60 cents, which would give it a payout rate closer to that of technology peer
Intel
(INTC) - Get Report
.
Last month
Cisco's warning of weak consumer and government spending as well as its uberconservative guidance
dismayed Wall Street and sent its stock plummeting.
Cisco beat consensus revenue and EPS estimates of 35 cents on sales of $10.24 billion, citing 37 cents on revenue of $10.4 billion. But the company also posted a lower-than-expected gross margin (62.4% vs. the 63.3% analysts wanted to see) and low year-over-year guidance.
On March 18, Cisco confirmed that that its first ever cash dividend will be 6 cents per share, payable to shareholders on April 20. That will bring Cisco's yield to around 1.3%. "This gives Cisco another class of investors to bring into the stock who are more interested in a dividend payout, rather than high growth," said Avian Securities analyst Catharine Trebnick.
Apple
(AAPL) - Get Report
and
Google
(GOOG) - Get Report
remain among the last large cash-rich technology companies to favor acquisitions and shares repurchases over rewarding shareholders with cash payouts.
On March 29 Cisco announced its intent to acquire privately-held
newScale
. NewScale provides software for IT organizations to quickly deploy cloud services.
Financial terms of the deal were undisclosed, and the acquisition is expected to be completed in the second half of 2011.
Comcast
Comcast
( CMSCA)
Company Profile
: Philadelphia-based Comcast is a provider of cable services, offering a variety of entertainment, information and communications services to residential and commercial customers.
Comcast raised its dividend by 18.4% to 11.25 cents per share, from the 9.5 cents per share it paid shareholders in early January.
The higher dividend will be payable on April 27 to shareholders of record as of the close of business on April 6, bringing Comcast's yield to around 1.8%.
In late February analysts at Morgan Stanley raised their earnings estimates and target price for Comcast. The equity research firm raised its price target on Comcast to $27, and said higher earnings expectations were based on Comcast's signing more subscribers and expected higher video revenue. The firm maintained an equal weight rating on the stock.
Goldman Sachs initiated coverage of Comcast with a buy rating, and sees a 24% share price upside with a $31 price target.
Comcast also said it plans to accelerate its share buyback program, and expects to repurchase the remaining $2.1 billion under its repurchase authorization by the end of 2011.
Abbott Laboratories
Abbott Laboratories
(ABT) - Get Report
Company Profile
: Abbott Park, Ill.-based Abbott Laboratories is engaged in the discovery, development, manufacture and sale of a broad and diversified line of health care products.
Abbott Laboratories increased its dividend by 9.1% to 48 cents per share, up from 44 cents. The move marked the 39th consecutive year Abbott raised its shareholder payout and the 349th consecutive quarterly dividend paid since 1924.
The higher dividend will be paid on May 16 to shareholders of record on April 15, bringing Abbott's yield to around 3.9%.
In February the
Daily News
reported that Abbott Labs, Boston Scientific's Boston Scientific Ceska Republika, Johnson & Johnson, Medtronic's Medtronic Czechia and others won the tender for the supply of coronary stents opened by Hradec Kralove Faculty Hospital, a hospital in the Czech Republic. The contract is valued at just under $1 million.
In an Oakland, Calif. federal court on March 24,
GlaxoSmithKline
(GSK) - Get Report
told a jury that Abbott Labs attempted to squash competition and retain an illegal monopoly over certain HIV drugs when it more than quadrupled the price of its AIDS medicine Norvir in 2003.
Glaxo said the inflated price prevented it from being able to compete fairly with Abbott's Kaletra AIDS medicine, which includes the boosting agent Norvir. Glaxo said it lost $570 in profit on sales of its drug Lexiva, an AIDS drug that used Norvir, because it sold at a far deflated price.
Abbott's attorney, James Hurst, told jurors that Abbott raised the price of 100-milligram tablets of Norvir, from $1.71 to $8.57, because
Bristol Myers Squibb
(BMY) - Get Report
introduced its drug Reyataz, which needed just one Norvir tablet instead of four.
Home Depot
Home Depot
(HD) - Get Report
Company Profile
: Atlanta-based Home Depot is a home improvement retailer. The Home Depot stores sell an assortment of building materials, home improvement and lawn and garden products and provide a number of services.
Home Depot raised its dividend by around 6% to 25 cents per share "as a testament to our confidence in the Company's strategic initiatives and our commitment to returning capital to our shareholders," said CEO Frank Blake. "It is our intent to increase our dividend every year," he added, and "our longer-term targeted dividend payout ratio is 40%."
The dividend will be paid on March 24 to shareholders of record on March 10, marking the 96th consecutive quarter Home Depot has paid a cash dividend. The higher payout will bring Home Depot's yield to around 2.7%.
Home Depot shares have rallied around 15% in the trailing 12 months, a nice change for long-term shareholders of the company, who saw their stakes contract severely in 2007 and 2008 under pressures of the housing market crackup. Now, with a svelte new cost structure and same-store growth underway, Home Depot is rewarding its owners by increasing its dividend payout.
Home Depot's transition from debt-fueled growth story to its current standing actually happened much quicker than most analysts anticipated. That appears to be evidence of management's commitment to staying competitive in a deteriorating sales environment, even if that commitment meant pain in the short-term. The company's expanding margins are evidently a testament to the fact that the turnaround worked, but, that said, the stock's deep discount valuations are a distant memory for most investors.
Home Depot, which acquired 10 stores in China in 2006, has closed all but five of them in the past two years.
On March 24 Home Depot announced two director nominees for election at its annual meeting on June 2. J. Frank Brown, 54, and Ronald L. Sargent, 55, were nominated for election to the board of directors. Brown just completed a term as Dean of international business school INSEAD. Sargent has served as CEO of
Staples
(SPLS)
since 2002.
Separately, the home improvement retailers said it will launch advertisements that include two-dimensional bar codes that smartphone users can scan, using an app connected to their phone's camera, to access product ratings and reviews, how-to-guides and product videos. Customers may also connect directly to a Web page to make purchases.
On March 28 Home Depot announced it would sell a $2 billion debt offering. The retailer said the issue will include 10-year and 30-year components, and is expected to be sold later in the session.
Fitch Ratings assigned a positive BBB+ rating to Home Depot's $1 billion senior unsecured notes due 2021 and $1 billion senior unsecured notes due 2041.
After the closing bell Home Depot then announced it would repurchase $1 billion of outstanding shares through an accelerated share repurchase program with
Barclays Capital
(BCS) - Get Report
.
This share-buyback authorization was in addition to Home Depot's announced plan to buy back $2.5 billion of outstanding shares throughout 2011.
Gap
Gap
(GPS) - Get Report
Company Profile
: San Francisco-based Gap is an international specialty retailer operating retail and outlet stores. The Company sells casual apparel, accessories and personal care products for men, women and children.
Gap raised its quarterly dividend by 12.5% to 11.25 cents per share, payable on or after April 27 to shareholders of record at the close of business on April 6.
That brings Gap's yield going forward to around 2.1%.
In late February Gap beat Wall Street's fourth-quarter expectations and released a 2011 outlook that was above analysts' forecasts.
During the quarter, Gap earned $365 million, or 60 cents a share, compared with a profit of $352 million, or 51 cents, in the year prior. Analysts were calling for a profit of 57 cents a share. Revenue rose nearly 3% to $4.36 billion, while same-store sales were flat.
Looking ahead, Gap foresees 2011 earnings in the range of $1.88 to $1.93 a share, better than the $1.86 predicted by analysts.
Gap operates 130 namesake stores and 29 Banana Republic locations in Japan, and is gearing up to launch its e-commerce site in the country and bring its Old Navy chain to the market.
Wall Street Strategies analyst Brian Sozzi cautioned that, in light of the massive earthquake and tsunami in the country last week, and mounting fears about a nuclear radiation leaks in the region, retailers with exposure in the region could face headwinds.
"It's not the amount of sales in which retailers derive from Japan per se," he noted. "It's the store clustering in close proximity damaged areas."
Gap recently announced it will open a four-story story in Ginza, Japan's posh shopping district.
>> Retailers With Japan Exposure
ConocoPhillips
ConocoPhillips
(COP) - Get Report
Company Profile
: Houston-based ConocoPhillips is an international, integrated energy company organized into six operating segments: Exploration and Production, Midstream, Refining and Marketing, LUKOIL Investment, Chemicals and Emerging Businesses.
ConocoPhillips hiked its dividend by 20% to 66 cents per share. The higher payout was available on March 1 to shareholders of record on Feb. 22, bringing ConocoPhillips' yield to around 3.4%.
The oil company also announced a program to repurchase up to $10 billion worth of its common stock. This plan was in addition to the existing $5 billion program announced on March 24, 2010, under which the company had repurchased around $4 billion of its shares.
ConocoPhillips has been making a stellar run so far in 2011, climbing nearly 15% year-to-date compared with just around half that from the broader market. Shareholders should likely expect the dividend hikes to continue for the foreseeable future.
That's because from a shareholder value standpoint, ConocoPhillips is a habitual top-performer. The company has consistently increased its dividends and funded share buybacks -- two initiatives that plant management's objectives squarely in-line with those of shareholders. Overall, the commodity boom of late has been beneficial to ConocoPhillips, but any gains have been muted by relatively lagging performance in the commodities that COP has exposure to. If crude oil and natural gas play catch up to many of the soft commodities that have rallied lately, this company's margins are likely to expand in kind.
Among ConocoPhillips' biggest shareholders is
Legg Mason Capital Management, headed by storied stock picker Bill Miller. The stock is also one of
Warren Buffett's top holdings, and with a B buy rating, it's one of TheStreet Ratings'
top-rated oil and stocks.
In mid-March, fears of a slowdown in oil demand sent oil futures tumbling following the Japan earthquake, outweighing ongoing concerns about the civil and political unrest in the Middle East. ConocoPhillips said that the earthquake did not change its plans to shutter its Kenai liquefied natural gas plant -- announced in February after contracts with the Tokyo utilities could not be renewed. ConocoPhillips said its plans to end exports to Tokyo Electric and Tokyo Gas this spring remain in place.
Spokesperson Natalie Lowman said the company will closely monitor the situation to consider how it can assist with near-term energy needs in Japan after much of the region's energy infrastructure was damaged in the earthquake and ensuing tsunami and aftershocks. ConocoPhillips did contribute $1 million to the American Red Cross to assist in disaster relief efforts, the company said.
On March 23 ConocPhillips said it will expand its planned sales of older, higher-cost assets by as much as $10 billion over the next two years, intending to use the proceeds for share buybacks.
The plan, announced in late 2009, is to increase returns for shareholders through debt reduction, stock buybacks and double-digit increases in dividends.
ConocoPhillips did not specify which assets it would look to sell, but they could be mature, high-cost projects, possibly in the North Sea and North America.
The planned asset sales will likely cut into ConocoPhillips' oil and gas output in the coming few years, but should results in long term return growth of 2% to 3% annually.
Coca-Cola
Coca-Cola
(KO) - Get Report
Company Profile
: Atlanta-based Coca-Cola is a manufacturer, distributor and marketer of nonalcoholic beverage concentrates and syrups in the world.
Coca-Cola increased its dividend by 6.8% to 47 cents per share, marking the 47th consecutive year the international beverage company raised its shareholder payout. The first dividend is payable April 1 to shareowners of record as of March 15, bringing Coca-Cola's yield to around 2.7%.
In early Feb.
Coca-Cola met Wall Street's earnings expectations with profits that nearly quadrupled last quarter.
The
Dow Jones Industrial Average
component said its fourth-quarter profit soared to $5.77 billion, or $2.46 a share. Excluding $5 billion in gains related to its acquisition of
Coca-Cola Enterprises
(CCE)
, the beverage company's main bottler, adjusted earnings came to 72 cents a share, in line with analysts' estimates. Quarterly revenue rose 40% to $10.49 billion from $7.51 billion, also topping expectations.
S&P beverages analyst Esther Kwon maintained a strong buy on Coca-Cola shares followings the stellar earnings report, maintaining a 12-month price target price of $73. Kwon noted that "we continue to forecast mid single-digit volume growth for the next few years and strong free cash flow generation."
On March 15 Coca-Cola rival
PepsiCo
(PEP) - Get Report
unveiled a new bottle made entirely of plant-based materials, namely switch grass, pine bark and corn husks, among other materials, besting Coca-Cola's current plastic bottle in use, which is made from just 30% plant-based materials. Coca-Cola has said it would be several years before it would be able to launch a commercially viable, 100% plant-based bottle for its beverages.
On March 17
Beverage Digest
released its annual market share data, showing that
Diet Coke overtook Pepsi-Cola as the No. 2-selling soft drink in America.
Regular Coke retained the top spot, selling 1.59 billion cases last year for 17% of market share. Diet Coke claimed the second-place spot, selling 926.9 million cases last year, or about 9.9% of total market share, topping Pepsi-Cola's 891.5 million cases, or 9.5% of market share. Coke, Diet Coke and Pepsi-Cola each sold fewer cases in 2010 than in 2009, but Pepsi-Cola saw the steepest decline. Regular Coke sold 0.5% fewer cases year-over-year, Diet Coke 1% fewer and Pepsi-Cola 4.8% fewer.
That Diet Coke overtook Pepsi-Cola reflects not only Coca-Cola's dominance, but the growing trend toward diet sodas in general. A decade ago just two of the top 10 list were in the diet or sugar-free category, half of what it is today.
Vote: Do You Drink Diet Coke or Pepsi?
On March 23
Goldman Sachs
(GS) - Get Report
analysts raised their estimates on Coca-Cola despite the massive earthquake, tsunami and nuclear crisis in Japan.
The equity research firm now expects Coca-Cola to earn between $3.92 per this year, up 4 cents from its prior estimate, reflecting positive foreign exchange benefits partially offset by 3 cents-per-share lower profits out of Japan.
Goldman pointed out that Japan accounts for 6% of Coca-Cola's volume, 9% of sales and low-teens EBIT. The analysts expect volumes for the first two months of this year to be flat, while in March the line item should fall about 15%.
"We remain buy rated on KO, as we continue to see solid volume momentum, has a relatively moderate cost headwind, and we expect the impact from Japan to be manageable," Goldman noted.
Teva Pharmaceutical Industries
Teva Pharmaceutical Industries
(TEVA) - Get Report
Company Profile
: Israel-based Teva Pharmaceutical Industries is a global pharmaceutical company that develops, produces and markets generic drugs covering all major treatment categories.
Teva raised its dividend by 14% to 0.8 NIS (22.2 cents), from 0.7 NIS (19.5 cents). It was paid on Feb. 28 to shareholders of record on Feb. 14, bringing Teva's yield to around 1.8%.
In Feb. Teva posted a disappointing outlook and fourth-quarter profit.
Teva forecast earnings that will be $4.90 to $5.20 per share this year, less than the $5.29 analysts had been looking for.
Profit in the recent quarter came to $1.25 per share, missing expectations by 3 cents. Excluding one-time costs, earnings rose to $1.14 billion, helped by sales of the Copaxone multiple sclerosis drug. Teva raised prices on the medicine by 10% two times last year, and then again by 15% earlier this year.
Teva faces new competition for the injectable drug, which accounted for around 21% of sales last quarter, after the U.S. government approved an MS pill, Gilenya, manufactured by
Novartis AG
(NVS) - Get Report
.
On March 24 Teva and
Procter & Gamble
(PG) - Get Report
announced a master agreement to create a partnership in the companies' over-the-counter (OTC) medicines.
Under the joint venture, the pair's OTC businesses will be combined in all markets outside North America. The markets included in the joint venture generated sales of more than $1 billion in 2010.
Teva will take global responsibility for manufacturing to supply the joint venture markets and Procter & Gamble's existing North American business.
The deal, expected to close in the fall of 2011, should enable both companies to generate greater value from their existing OTC businesses.
Interpublic Group of Companies
Interpublic Group of Companies
(IPG) - Get Report
Company Profile
: New York City-based Interpublic Group of Companies is an advertising and marketing services company.
Interpublic initiated a quarterly dividend of 6 cents per share, yielding around 1.8%.
The shareholder payout will be available on March 25 to holders of record at the close of business on March 11.
Along with the new dividend, Interpublic also announced a $300 million share repurchase program to boost shareholder value going forward.
"The dividend and share repurchase programs are important milestones for us, which signal confidence in the sustainability of our strong competitive performance," said CEO Michael I. Roth.
Interpublic said in Feb. its fourth-quarter profit soared 50.7%, beating expectations, as market conditions for advertising continued to recover. In the recent quarter Interpublic earned $195 million, or 36 cents per share, on revenue growth of 11.7% to $2.01 billion.
In March Interpublic lost
Microsoft
(MSFT) - Get Report
as a media-buying customer as the tech giant chose to give some of its business to
Publicis Group SA
.
IPG's Universal McCann and Mediabrands will retain Microsoft's ad-buying business in 35 countries outside North America while Publicis' Starcom MediaVest will assume its accounts in the U.S. and Canada.
"We estimate the lost business is worth $50 million in annual revenue to Interpublic Group, or 0.8% of 2010 revenue," Deutsche Bank analysts noted. "While the loss hurts and will likely lead to layoffs in the San Francisco offices, it is far from devastating
in the way that it may have been a number of years ago, and it does not affect our underlying investment thesis."
"With mid-teens EBITDA growth and
more than 30% EPS growth through 2013, we believe that IPG represents the most leveraged way to play the sustained recovery of global advertising and promotion budgets."
Tyco International
Tyco International
(TYC)
Company Profile
: Schaffhausen, Switzerland-based Tyco International is a provider of security products and services, fire protection and detection products and services, valves and controls and other industrial products.
Tyco International raised its annual dividend by 19% to $1 per share, payable on May 25 to shareholders of record on April 29.
That brings Tyco's yield going forward to around 2.2%.
Tyco recently agreed to buy an Australian security business,
Signature Security Group
, from
Oceania Capital Partners Limited
for $171 million Australian Dollars ($172.5 million), plus the cash balance in the business and net of working capital adjustments required to be made at completion.
Tyco said it expects the deal to close in the current fiscal quarter, which ends April 1.
Signature Security is an electronic security services company in both Australia and New Zealand, with three monitoring stations in Sydney, Perth and Auckland, allowing for nationwide coverage.
Tyco International recently elected Dinseh Paliwal, 53, to join its board of directors. Paliwal is CEO, chairman and president of
Harman International
(HAR)
, a manufacturer of audio and infotainment solutions for automotive, consumer and professional markets.
"Dinesh brings a strong engineering and scientific background to our board along with a wealth of global experience especially in emerging markets that are critical to Tyco's future growth and success," said Tyco CEO Ed Breen.
On March 21 Tyco International announced it had signed a definitive agreement to acquire a 75% equity stake in privately-held
KEF Holdings
, based in the United Arab Emirates.
The deal is valued at $300 million, which Tyco agreed to pay in cash. It is expected to close in early summer.
KEF is a fully integrated valve manufacturer, providing steel castings to the oil and gas, chemical, mining and power industries.
-- Written by Miriam Marcus Reimer in New York.
>To contact the writer of this article, click here:
Miriam Reimer
.
>To follow the writer on Twitter, go to
http://twitter.com/miriamsmarket
.
>To submit a news tip, send an email to:
.
READERS ALSO LIKE:
>> 10 Top Dividend Stocks for 2011
>> 10 Dividend Stocks Increasing Payouts
>> 14 REITs Increasing Dividends Annually
Disclosure: TheStreet's editorial policy prohibits staff editors and reporters from holding positions in any individual stocks.