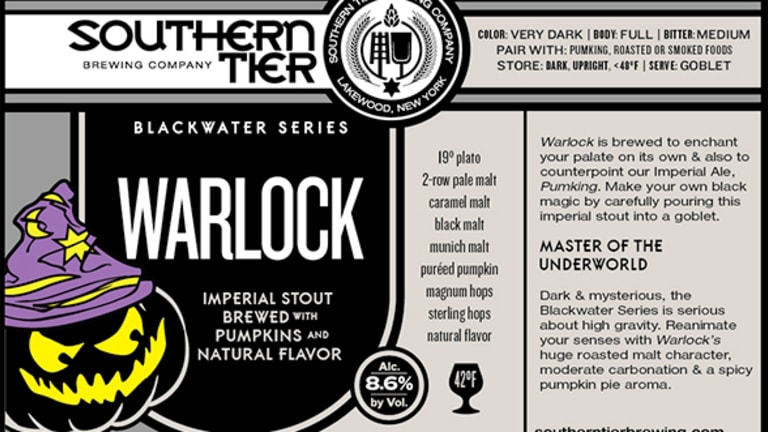 10 Dark Halloween Beers You Shouldn't Be Scared Of
Craft beer has pushed stout and porter into a niche, fueling misconceptions about their "heaviness" and calorie content. These beers should break most of those stereotypes.
Do Halloween beer drinkers even know it's stout and porter season?
If they don't, who can blame them? With the exception of sought-after imperial stouts that send beer geeks into the cold to stand in long lines for a shot at beer's great, white whales, dark stouts and porters are a generally underloved segment of the beer market. According to IRI, stouts and porters combined were just 4.7% of all craft beer sales at bar and restaurants. When you consider that India Pale Ale alone takes a 19.2% stake, pale ales account for 10.6% and even limited-release seasonals fill 4.3% of all pint glasses, dark beers are getting far less respect than they're due.
Why? Because we wrongheadedly think that they'll make us fat quicker than any other beer. Stouts and porters are tarred as "heavy" beers, though their coloration has nothing to do with their caloric content. A typical 12-ounce Guinness draft, for example, clocks in at 128 calories, according to parent company Diageo. By comparison, 12 ounces of Samuel Adams Boston Lager clock in at 175 calories, while an AleSmith IPA packs in 210 calories per 12 ounces.
It isn't the color that gives a beer its calorie count, people: it's the alcohol content. In the brewing process, yeast devours sugar and basically excretes alcohol. The more sugar the yeast has to eat, the more alcohol content your beer will have. However, that added sugar has roughly the same effect as sugar in just about anything else you consumer: it adds caloric content that's increasingly difficult to burn off.
We aren't saying that absolutely no stouts or porters have high caloric content: we're just saying that it isn't typically any more than other beer styles and is certainly on par with what you'd find in a wide range of imperial pale ales. Basically, we're saying there's nothing more to fear from a Halloween porter or stout than their would be from a pumpkin ale, an Oktoberfest lager, a fresh-hop pale ale or any other beer of the season.
Also, don't be afraid if you don't know the difference between a stout and a porter. Nobody does! Arthur Guinness's recipe for Extra Superior Porter eventually became Guinness Stout. Porter didn't really return as a style until the initial U.S. craft beer boom of the late 1980s and early 1990s. Judges at beer competitions insist stouts are darker, use roasted barley and use less water than porters, but look at the Beer Judge Certification Program's style guides for stouts and porters: until you get into the specialized styles for each, the differences are nominal to esoteric.
Stop it. Stouts and porters aren't lard bombs and aren't really tough styles to wrap your mind or palate around. In fact, brewers use a whole bunch of them to push seasonal variety packs that, according to IRI, made up 17% of all supermarket beer sales last year. In an effort to rip the ghoulish disguise off of porters and stouts, we put together ten examples that should be as sweet and welcome at your drinking-age halloween party as a bowl full of good holiday candy:

Buffalo Sweat Oatmeal Cream Stout
Tallgrass Brewing of Manhattan, Kansas
ABV: 5%
O.K., so the name's a little gross, but this 16-ounce can of stout is far more pleasant.
While it's brewed with lactose sugar that typically gives stout a sweet "milk stout" taste, thanks largely to yeast's indifference to it, this particular oatmeal stout leans a lot more heavily on its roasted barley and dark malt. That gives it fresh-from-the-pot cold-brewed coffee flavor that's roasty and rich without being overly bitter.
The tallboy cans are a little scary, but this sweetheart of a low-alcohol stout is nothing to fret over.

Deschutes Brewing Company of Bend, Ore.
ABV: 5.2%
We won't lie to you: when we first moved to Portland, Ore., one of our first stops was at the Deschutes Public House for two items: a half-gallon growler and some Black Butte Porter to fill it. Since then, Deschutes has run an entire ad campaign centered around people's fear of dark beer.
This beer shouldn't be feared, but gleefully embraced. While there's dark, sweet chocolate and carapils malt in there, the wheat, crystal and pale malts let just a small bit of Cascade, Bravo and Tettang hops get through for a slight nip on the finish. Like a chocolate biscuit spritzed with lemon juice, this porter's sweetness gets just a little extra from the hop bitterness. It's a perfect porter for a region in which muted-hop beers are a rarity.

Great Lakes Brewing Company of Cleveland
ABV: 6%
This isn't the last dark beer we're going to feature from the Great Lakes region, but it is one of the first from this area to trickle its way farther into the U.S.
Named after the ore freighter that sank with all 29 crew members aboard in a storm on Lake Superior on Nov. 10, 1975 -- almost exactly 40 years ago -- this beer is purposefully dark. Morose as the Gordon Lightfoot elegizing the original Edmund Fitzgerald, the Great Lakes porter is heavy on the roasted barley and pours its coffee bitterness over a chocolate backbone. It's a bittersweet tribute, but it's worth enjoying when that wintry chill comes a bit too close to fall for comfort.

Double Shot
Tree House Brewing of Monson, Mass.
ABV: 7.6%
This is where it's time for a confession: sometimes New England's breweries of the moment (especially those north of Connecticut and Rhode Island) can be an absolute chore. For reasons we still can't understand, this region that's antisocial on its best days and outright surly the rest of the time loves nothing more than crowding around its anointed breweries, waiting in line for hours at a time and clamoring for beer that's routinely in short supply.
It's really annoying -- especially when there are countless other breweries in the region making excellent beer without the wait or hassle -- but it's become an accepted part of New England beer culture. None of this is Tree House's fault -- and the brewery likely couldn't see this coming when it opened in rural southern central Massachusetts in 2011 -- but it doesn't make it easier to get your hands on this incredibly sweet coffee stout. Honestly, it tastes more like a Riesen, a Werther's Original or any of the other myriad coffee-ish candies typically reserved for the more mature confectionery palate than it does like coffee or chocolate itself, but that isn't exactly unwelcome.
If you're fortunate enough to get your hands on some, guard it carefully at your Halloween party.

Chocolate Stout
Rogue Ales of Newport, Ore.
ABV: 5.8%
Fair warning with any beer that calls itself a chocolate stout or porter: That "chocolate" claim may be more a suggestion than reality. If "chocolate" refers to the chocolate malt the beer is brewed with, there's a good chance that you're still going to get some residual roasted coffee bitterness or even toffee flavoring.
Rogue's Chocolate Stout is not one of those beers. From the whiff of cocoa on the nose to the melted-chocolate flavor inherent throughout, Chocolate Stout impressed us during our first tasting of it at Rogue's Portland brewpub in 2012 and has been consistently sweet and pleasant since. This beer benefits not only from the Dutch chocolate in its brewing process, but rather from being in the same portfolio as the far roastier Shakespeare Oatmeal Stout and the more fiery Double Chocolate Stout. It's the rare chocolate ale that delivers on its promise and serves as a fine confectionery middle ground between more bitter stout and more potent imperials.

Fisherman's Pumpkin Stout
Cape Ann Brewing of Gloucester, Ma.
ABV: 7%
There was no way we weren't sneaking some pumpkin spice into the equation and there was also no way we were going to leave out this favorite right after leaf-peeping season.
So what if the Gloucester brewpub right on the harbor is a bit of a drive from the Halloween festivities in Salem? Who needs the aggravation? Pull up a seat and taste how this dark, chocolatey stout blends in pumpkin, cinnamon, nutmeg and allspice just to remind folks that the trees may be getting a bit bare along Route 128, but there's still plenty of fall left. You'll smell all of that fall spice just before you take a sip, and there's enough heat from that 7% ABV behind it to fight off the coastal chill a bit. Even better? When the days get sideways-rain bleak, however, the brewery also offers an 11% imperial version.

Coffee Milk Stout
Stone Brewing Company of Escondido, Calif.
ABV: 5%
Stone brewmaster Mitch Steele knows his way around bitters and wrote a fairly definitive tome on IPA. Not surprisingly, he and his team were incredibly comfortable using coffee beans in the brewing process last year after brewers including Mikkeller, Sierra Nevada, Sixpoint, Fort George, Narragansett and others were taking a similar approach with their own beers.
However, seeing an opportunity to take a coffee-flavored beer a step beyond standard roasty bitterness, the Stone crew complemented Ryan Brothers Coffee from San Diego with a bit of lactose for additional sweetness. The resulting Coffee Milk Stout is reminiscent of a carton of cold-brewed mocha: just bitter enough to remind you the coffee's there, but sweet enough to enjoy as a near-dessert. With a cappuccino creaminess aided by the lactose and on par with some of this latte-loving nation's morning favorites, Coffee Milk Stout is hitting a sweet spot for beer lovers increasingly bombarded with bitterness.

Warlock
Southern Tier Brewing Company of Lakewood, N.Y.
ABV: 10% ABV
If Southern Tier was a lesser brewery, there'd be lines around the block at New York liquor stores and fanboys wearing wristbands every time Southern Tier released one of the imperial stouts in its Blackwater Series. The Lakewood, N.Y. brewer makes seasonal stouts that taste like coffee, mocha and crème brûlée , but always makes them in adequate amounts so that people can, you know, enjoy the beer.
This beauty debuted just two years ago, but is already serving a purpose as a holiday refresher for its July-released Pumking imperial pumpkin stout. Warlock takes Pumking's pumpkin pie spices and coats them in coffee and dark chocolate flavors, courtesy of its big base of dark malts. The result is a rich, full-bodied beer that smells like pumpkin spice but tastes like an unwrapped Halloween treat.

Liquid Bliss
Terrapin Brewing Company of Athens, Ga.
Alcohol by volume: 6% ABV
Brewers can make their beer taste like a peanut butter cup. They have the ability. They're just either afraid to do it or are afraid of how people will react to beer that doesn't taste exactly like beer.
Georgia breweries have no such qualms. Peanuts are their heritage and birthright, and they'll be damned if some punk kid is going to tell them to keep peanut flavor out of their brittle-tinged molasses brown ales or out of their year-round porters. Terrapin uses the essence of peanut butter to complement local Olive & Sinclair cocoa nibs in this full-bodied chocolate peanut butter porter. With the flavor of peanut butter cups ground into a milkshake, Liquid Bliss is grown-up candy that seems more seasonally appropriate now than it does for large portions of the calendar. It isn't beer heresy: it's heaven.

Modern Times Brewing Company of San Diego
Alcohol by volume: 5.8% ABV
There are no shortage of stouts and porters available in cans. However, if you're looking for one that doesn't pack the punch of an imperial and that's sweet enough to enjoy out of a 16-ounce tallboy at your nearest Halloween party, San Diego's Modern Times has you covered. This 5.8% ABV oatmeal coffee stout derives much of its mocha flavor from its oats and chocolate and coffee malts but takes a whole lot of its coffee character and bitterness from a blend of 75% Ethiopian and 25% Sumatran beans that Modern Times roasts itself. Hey, it can get cold in that sexy [insert profession here] costume. Black House Stout provides all the warmth without taking you out of the party.

Founders Brewing Company of Grand Rapids, Mich.
Alcohol by volume: 8.3% ABV
Founders' stouts basically built this company. The Grand Rapids, Mich., brewery once had to scold merchants last year for gouging prices on its Canadian Breakfast Stout and its KBS bourbon stout still remains a rare treat.
Original-recipe Breakfast Stout, however, is just a tasty milkshake of a beer. Sold in four packs and from October through December -- or a few months shy of its December-February peak a few years back -- Breakfast Stout is smoother, creamier and more pleasant than its alcohol content suggests. The combination of flaked oats, bitter and imported chocolates, and Sumatra and Kona coffee mellows it out and gives it a smooth taste that just induces cravings.
While it isn't as rare as it once was, it's still an absolute gem of a stout that should be cherished by the states lucky enough to be points on the Founders distribution map.
This article is commentary by an independent contributor. At the time of publication, the author held TK positions in the stocks mentioned.