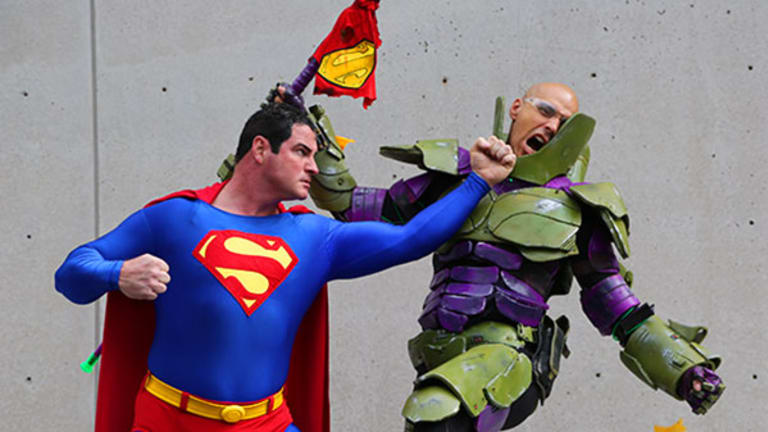 10 Comic Con Must-See Costumes Captured in a New York Minute
Couldn't make it to the Comic Con convention in New York? No worries, we've got you covered. Check out these 10 pictures taken at the 2014 New York Comic Con.
NEW YORK (TheStreet) -- "Pow!" Superman is here to save the day. In fact, that's the intent of several other thousand super heroes who are descending upon on the Jacob K. Javits Convention Center in New York this week for the 7th annual New York Comic Con convention. Or, at least, that's just part of their fantasy intent -- the other is to have fun. Hundreds of thousands of costume characters from across the globe are converging on the Javits Center for the four-day event, which ends Sunday. Convention goers are not only seeking camaraderie, but also access to the latest and greatest offerings from publishers, movie and television studios and toy makers, who market their favorite comic book heroes. Check out these 10 must-see photos from this year's hot-ticket event:
1)  The convention not only attracts a wide breadth of costumed characters, but also comic book enthusiasts who are just as happy wearing traditional street clothes. The event includes attending panels, comic book signings, listening to speakers and perusing the main show floor that is open throughout the day. 
2)  Although some costumes appear simple in nature, others are painstakingly detailed and require hours of preparation and application for the perfect effect.
3) Each costume tells a unique story about both the character and the cosplayer, who is the person wearing the costume.
4)  Groups of cosplayers often create small factions, posing together for photographs, or concocting stories that take conventiongoers away from reality. 
5)  Wearing a mask is one quick way to get into character. Conventiongoers can simply throw on a mask and gain a dramatic effect. 
6)  Yaya Han, who hosts Heroes of Cosplay on the Syfy cable channel, poses at her booth on the New York Comic Con show floor.

7) A continuous interaction between conventiongoers in costume and those who prefer to wear street clothes creates an almost abstract reality inside the Javits Center.
8)  As the day wears on, even highly animated characters need a break from their fantasy world.
9)  Whether the costume was inspired by a famous comic book or a cartoon, each one has its own unique qualities.
10)  If you happen to be in Midtown Manhattan this weekend, don't be surprised if you come across some super heroes looking to save the day. After all, the 2014 New York Comic Con attracted more than 150,000 conventiongoers on its opening day, breaking a record for the largest single day attendance in its history.
-- Written by Adam Leverone in New York