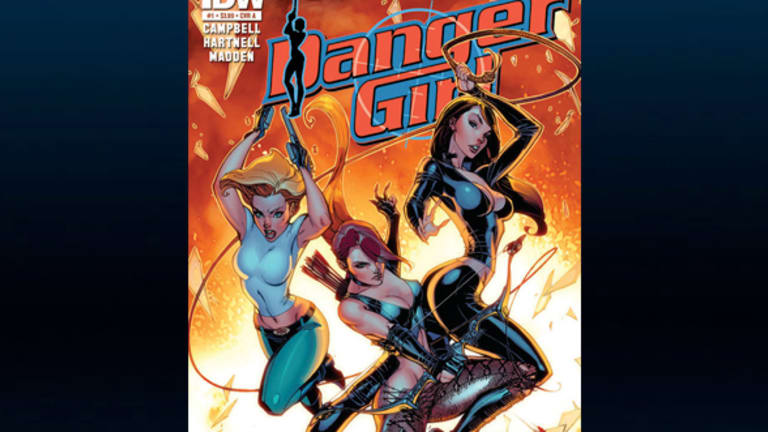 Superhero movies have become so huge that the casting of Spider-Man amount to a crucial decision for Sony (SNE) - Get SONY GROUP CORPORATION SPONSORED ADR Report Pictures. If the studio plays its cards right, momentum from Spider-Man could continue well into the future.
What once was a forgettable movie genre that for decades couldn't match Richard Donner's Superman, Spider-Man has found its stride with big hits for movie studios and broadcasters. For all the recent successes, and a few misses, many more heroes from Disney (DIS) - Get Walt Disney Company Report-owned Marvel, Time Warner's (TWX) DC Comics, and assorted indie publishers could become lucrative franchises.
Now, more than ever, there is a flood of television shows and movies based on comic books on the way.
Supergirl will take to the skies at CBS (CBS) - Get CBS Corporation Class B Report in the fall. Already hitting it big with Daredevil, Netflix (NFLX) - Get Netflix, Inc. (NFLX) Report has four more series in production based on Marvel heroes. Even Powers, based on an indie comic book now published by Marvel, is preparing for its second season on Sony's PlayStation Network.
But there are actually lots of comic books ripe for live-action features yet they have no known projects currently attached to them.
Diehard fans obviously will flock to see their favorite characters on screen, but this genre has mainstream appeal now and represents a huge revenue opportunity for studios including Disney, 21st Century Fox (FOXA) - Get Fox Corporation Class A Report, Time Warner, and Sony. A look at the box office for Avengers: Age of Ultron, $1.37 billion worldwide, shows the audience wants more action heroes.
So here are some untouched, or underused, comic book titles with concepts that are primed for movies or broadcast series. Honorable mention goes to Marvel's Runaways-a series about a band of teenagers whose parents were supervillains-which is an on-again, off-again movie project.
Thunderbolts (Marvel)
After an epic battle to stop a villain who wielded godlike powers, the Avengers, the Fantastic Four, and other legendary heroes all seemed to perish. In a world that lost its classic heroes, a new team emerged to fill the void.
The Thunderbolts presented themselves as just a group of do-gooders out to rescue cats from trees, kiss babies, and stop bad guys. They even had a corny slogan: "Justice, Like Lightning." But the team hid a secret from the public, and when this series debuted in 1997, the plot twist on the last page of the first issue triggered a buying frenzy among readers-leading to extra printings by Marvel to meet demand.
When the Avengers movies finally come to an end, it could be a chance for Marvel to unleash Thunderbolts.
Kingdom Come (DC)
Set in a future after many founders of the Justice League had retired, Kingdom Come was a 1996 miniseries about a disastrous clash of old school ideals versus the vigilante tactics of a new generation of heroes. Depicting the likes of Superman and Batman as jaded and older, a movie adaptation could feature actors such as Michael Keaton returning to roles they were once known for.
If The Expendables franchise has proved anything, it is that action heroes can be older-and their fans love to see them in action again. Kingdom Come could be a love letter to fans who stuck with superhero movies through the years even after fiascos such as 1997's Batman & Robin.
Concrete (Dark Horse Comics)
An Eisner Award­-winning series about a speechwriter whose brain gets forcibly and permanently transplanted into a massive, concrete-like body. Unlike the tales of similarly rocky hero Thing in Fantastic Four, this story takes place in a more realistic setting, with the exception of the main character. Concrete may have a powerful, oversized, durable body, but that makes the rest of the world more fragile in his hands.
The transformation does, however, open him up to exploring ideas and adventures he never considered in his prior life.
Astro City (Vertigo Comics/DC)
A gritty, anthology series that features life in a city filled with heroes, villains, and the everyday folks who get caught up in it all. It is easy to spot characters meant to be homages or parodies of mainstream heroes such as Captain America or Superman, but Astro City also goes inside the heads of people who turn to a life of crime. Less like Metropolis, and more like Sin City with superpowers.
The series has been around since 1995, changing publishers several times, and now is in the hands of Vertigo, an imprint of DC Comics. There have been a few stalled attempts to turn Astro City into a movie. Given its many short dynamic stories, a television series might be a better fit.
Birds of Prey (DC)
After a bullet shot by the Joker paralyzes her from the waist down, Barbara Gordon retired from her career as Batgirl, but not heroics. In Birds of Prey, launched in 1999, she leads a popular team of heroines primarily comprised of Black Canary, Huntress, and Lady Blackhawk. In its latest company-wide reboot, DC undid Barbara's paralysis but for most of the series' she proved that losing the use of her legs would not stop her from being a hero.
Birds of Prey had a short-lived television series in 2002 on The WB, however the show relied way too much on nods to Batman, who was barely connected to the comic book.
Birds of Prey needs another go focusing on Barbara and her team-without the unnecessary Batman baggage.
Ghost (Dark Horse Comics)
Elisa Cameron's adventures begin in what appears to be her afterlife. Still able to affect the living world, this pistol-packing spirit first appeared in 1993 fighting crime and demons while trying to figure out what put her in this limbo.
Put her in a television series akin to The CW's Supernatural that dives into Elisa's mystery past and pits her against the dark forces that threaten the people she cares about.
Doom 2099 (Marvel)
Victor Von Doom has been the constant thorn in the side to the Fantastic Four, tried to conquer the world countless times, but in 1992 he became an antihero in strange future. The longtime villain, Doom, finds himself in the year 2099 unsure why or how he got there. He discovers that in his absence his home nation has been seized by another tyrant, which forces Doom to become a freedom fighter-while retaining his dark edge and desire to rule.
Doom has been the key villain in every live-action Fantastic Four movie released so far by Fox, and is set to fill that role again in the reboot due this August. Maybe it is time to break out this character on his own to become the great conqueror he often dreamed of.
Danger Girl (IDW Publishing)
A team of globetrotting, freelance secret agents fronted by Abbey Chase, the crew of Danger Girl is brash, fiercely independent, but they get the job done.
Spy movies, from James Bond to Mission Impossible, continue to be huge. Combine their intrigue with even more over-the-top action born from comics and you have the ingredients for a new blockbuster franchise.
The Danger Girl series debuted in 1998, yet has not been turned into the movie series it screams to become-though there has been talk over the years. Clearly there is an audience for new spy movies, as Fox plans a sequel to last year's Kingsman: The Secret Service, which was loosely adapted from a comic book series. It is about time Danger Girl's satirical take on spies saw some action in theaters. 
The Authority (Wildstorm/DC)
For anyone who thinks the Avengers or the Justice League fight with kid gloves on, the Authority plays by a much starker set of rules.
Formed from the ashes of a secretive team called Stormwatch, the Authority will do whatever it takes to make the world better. That includes flagrantly ignoring governments and laws in order to stop corrupt leaders. Some of their more notorious outings are not for the squeamish. First appearing in 1993 from independent publisher Wildstorm, the brand is now part of DC Comics.
Time Warner is still building its slate of movies about mainstream heroes such as Batman, Wonder Woman, and Superman, but it is experimenting with other content such as the Suicide Squad movie in production. The Authority maybe the counterculture team the genre will need if the audience gets tired of uncomplicated do-gooders.
10. Zatanna (DC)
Don't let the top hat and stage magician costume deceive you. Zatanna Zatara wields vast and powerful magic that can turn the world inside out. She has been a resourceful member of the Justice League, bringing a mystical talent to the team that Superman cannot punch his way out of. (He is vulnerable to magic, not just kryptonite).
Moreover, with Marvel developing a movie about its resident sorcerer, Doctor Strange, it would make sense for DC to put the audience under the spell of Zatanna. Pulling rabbits out of a top hat is child's play for a woman who can erase or alter people's memories just by speaking the right words.