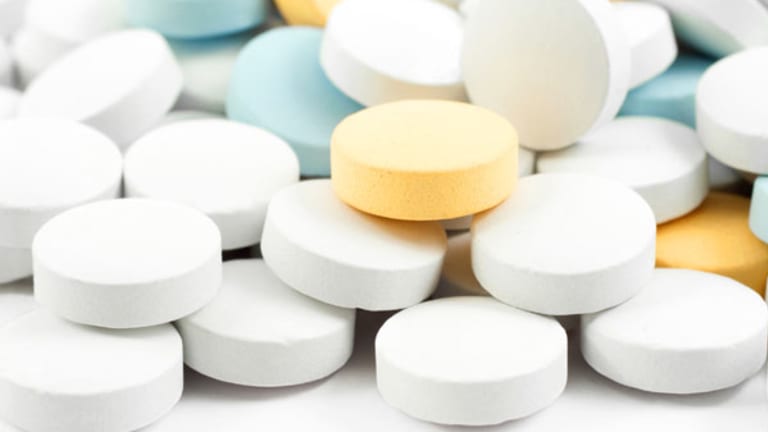 10 Cheap Biotech Stocks That Could Soar
These high-risk, high-reward biotech stocks have the potential for big gains if they can overcome significant challenges.
BOSTON (
) -- Let's say you just sold some stocks for big gains and feel like risking a portion of those profits to reinvest in relatively cheap biotech stocks with big upside potential.
You want the chance to double or triple your money if things go right, but you're not afraid to lose all or most of your investment if they don't. High risk, high return is the name of this game.
Which biotech stocks might you gamble on for the possibility of a big payday?
The following are capsule summaries for
, all of which have the potential to double or triple in value, but don't expect those gains to come overnight.
These biotech stocks are cheap, which for this exercise means market capitalizations of $300 million or less and stock prices under $10 a share. But these stocks are also risky, which means they're developing drugs based on unproven technology or which otherwise have significant challenges ahead that need to be overcome.
YM BioSciences
( YMI)
An enterprise value of $220 million significantly undervalues YM BioSciences if the experimental myelofibrosis drug
CYT387 can effectively reduce anemia
(and shrink enlarged spleens) without causing too many harmful side effects.
Consider that
Incyte
(INCY)
is valued at more than $2 billion based on the potential of a similar, perhaps inferior myelofibrosis drug currently under FDA review.
Getting investors to buy into the YM BioSciences' bull story -- and perhaps push the stock's valuation closer to Incyte's -- is going to require a lot more clinical data on CYT387. The first step on that road may come in December when full results from a phase II study of CYT387 are presented at the American Society of Hematology's annual meeting.
Neptune Technologies and Bioresources
(NEPT)
If swallowing medicinal-grade fish oil pills lowers blood levels of harmful lipids, raises good cholesterol while not elevating levels of bad cholesterol, then pills filled with krill oil -- derived from crushing those tiny, shrimp-like crustaceans that whales eat by the ton -- might be just as good if not better.
Neptune admirers see the company as the next
Amarin
(AMRN)
, which investors have bid up to great heights based on the blockbuster potential of AMR101, a new medicinal-grade fish oil, or Ethyl EPA, pill that will soon be filed with U.S. regulators.
Neptune is developing a pharmaceutical-grade krill oil pill. A small study showed krill oil to be superior to fish oil in lowering lipids and bad cholesterol but it was published in an alternative medicine journal in 2004 so basically, no one believes the results. Neptune is planning to conduct a new phase II study of its krill oil pill with results expected next year.
On top of that, Neptune operates a profitable nutraceutical business that sells a consumer formulation of krill oil, with revenue of $16.7 million in its last fiscal year. Neptune is also partnering with food companies to have krill oil added as a nutritional ingredient.
Celsion
(CLSN)
Celsion is developing a procedure to deliver high doses of chemotherapy directly to the site of cancer using tiny, heat-sensitive spheres of fat containing a payload of the chemotherapy drug doxorubicin. When injected into the body,
Thermodox accumulates at the site of the tumor
, and when the tumor site is heated to about 107 degrees using radio waves (radiofrequency thermal ablation, or RFA), the Thermodox spheres melt, bathing the tumor and adjacent tissue in high levels of doxorubicin.
Celsion is conducting a phase III study in which 600 patients with hepatocellular carcinoma, also known as primary liver cancer, are being treated with Thermodox plus RFA or RFA alone. An interim analysis is expected in the third quarter.
A paucity of early-stage Thermodox data exists to help predict whether the phase III study will succeed. A phase I study conducted at two hospitals enrolled 24 patients with either primary liver cancer or cancer originating in other parts of the body that had spread, or metastasized, in the liver. At the 50 mg dose of Thermodox -- the dose being used in the phase III study -- time to tumor progression reached 185 days. However, only one patient with primary liver cancer was treated.
Aastrom Biosciences
undefined
Aastrom is developing a personalized, or patient specific, stem cell therapy for the treatment of critical limb ischemia. Patients with chronic CLI have obstructed arteries and reduced blood flow in the arms and legs, which can lead to open wounds and amputation in the most severe cases.
Mixed results from a phase II study and delays in negotiating the design of twin phase III studies with the U.S. Food and Drug Administration have weighed on Aastroms' stock price. Aastrom is a long-term story but last week's FDA approval of
Fibrocell Sciences'
(FCSC)
personalized cellular therapy for face wrinkles demonstrates that regulators are ready and willing to tackle stem cell therapeutics.
Cyclacel Pharmaceuticals
(CYCC)
Cyclacel Pharmaceuticals is conducting a phase III study of sapacitabine in elderly patients with newly diagnosed acute myelogenous leukemia (AML) -- a patient population that has proven to be very challenging for drug makers. Patients will be randomized to receive either sapacitabine, a pill, or an active control treatment. The primary endpoint of the study is overall survival.
A single-arm, phase II study of sapacitabine in a similar elderly AML patient population resulted in a one-year survival rate of 30% and an overall response rate of 35%, including a complete remission rate of 25%.
Celldex Therapeutics
(CLDX)
Small phase II studies have shown promising efficacy from Celldex's cancer immunotherapy "vaccine" CDX-110 in patients with glioblastoma, an aggressive form of brain cancer. What's needed next is a large, well-designed phase III study of CDX-110 in patients with glioblastoma that can more conclusively demonstrate the drug's ability to help patients live longer.
And therein lies the risk in Celldex.
Pfizer
(PFE)
gave up on Celldex and CDX-110, returning rights to the drug and forcing the company to design and fund a phase III study on its own. This study is expected to begin later this year but the wait for data will be long.
Also pay attention to Celldex's second pipeline drug, CDX-011, which is being tested in a 120-patient, randomized, controlled phase IIb clinical trial in advanced breast cancer. (The study will enroll a large number of women with so-called "triple negative" disease, which is very difficult to treat.) Celldex expects enrollment to be complete by the end of the year, which should yield results in 2012.
Derma Sciences
(DSCI)
Derma Sciences is developing a wound-healing drug for the treatment of diabetic foot ulcers. Data from a randomized, controlled phase II study showed that after 24 weeks, 73% of patients with diabetic foot ulcers treated with daily topical applications of DSC127 had complete wound healing compared to 46% of patients treated with a placebo or standard of care. The 27% improvement in wound healing favoring DSC127 over placebo at 24 weeks was more pronounced than was reported about the drug's wound-healing effect at 12 weeks.
Executives with Derma Sciences say they will meet with the U.S. Food and Drug Administration this fall to discuss the results from the phase II study of the wound-healing drug DSC127 and set the design for pivotal phase III studies which could begin in the first quarter of next year.
Shire
( SHPGY) paid $750 million to acquire
Advanced BioHealing
, makers of an artificial skin used to heal diabetic foot ulcers. Derma Sciences' DSC127, if approved, has the potential to be more effective and easier to use than Dermagraft, the wound-healing product acquired by Shire in the Advanced BioHealing deal.
GTx
(GTXI)
GTx management has a lot of experience in the prostate cancer field. Unfortunately, the company's collective know-how hasn't prevented a series of damaging drug development blow-ups from occurring.
But GTx is persistent, so the company is now focused on capesaris, an experimental testosterone deprivation therapy for prostate cancer patients. A phase IIb study comparing daily, oral capesaris to an every-three-month injection of Lupron was started this month, with results possible at the end of the year or early in 2012. GTx is developing capesaris to have equivalent efficacy to Lupron, the current standard of care for hormone-dependent prostate cancer patients, but with a better tolerability and side effect profile.
If the capesaris data from the phase IIb study are positive, a pivotal phase III study could start in the middle of 2012.
Repros Therapeutics
(RPRX)
Repros is another company that has spent ample time bathing in the deep end of the drug-development failure pool. Its latest shot at redemption is Androxal, an oral drug designed to restore normal levels of testosterone and luteinizing hormones in men suffering from secondary hypogonadism. A pill that could boost testosterone would have significant advantages over testosterone cream and gel formulations currently in use.
A phase IIb study of Androxal in men with low morning testosterone began earlier this year with results expected before year's end.
Athersys
(ATHX)
A proper list of high risk-high reward biotech stocks must include at least one stem-cell company, so take a look at Athersys, which is developing an "off the shelf" stem cell-derived therapy for cardiovascular disease.
Heart attack patients treated with Athersys' Multistem have demonstrated positive improvements in heart function, according to data from a phase I study. These early hints at efficacy have been maintained in longer-term follow-up, so the next step for Athersys will be to run a larger, phase II study beginning later this year.
>>To see these stocks in action, visit the
10 Cheap Biotech Stocks That Could Soar
portfolio on Stockpickr.
--
Written by Adam Feuerstein in Boston
.
>To contact the writer of this article, click here:
Adam Feuerstein
.
>To follow the writer on Twitter, go to
http://twitter.com/adamfeuerstein
.
>To submit a news tip, send an email to:
.
Adam Feuerstein writes regularly for TheStreet. In keeping with company editorial policy, he doesn't own or short individual stocks, although he owns stock in TheStreet. He also doesn't invest in hedge funds or other private investment partnerships. Feuerstein appreciates your feedback;
to send him an email.