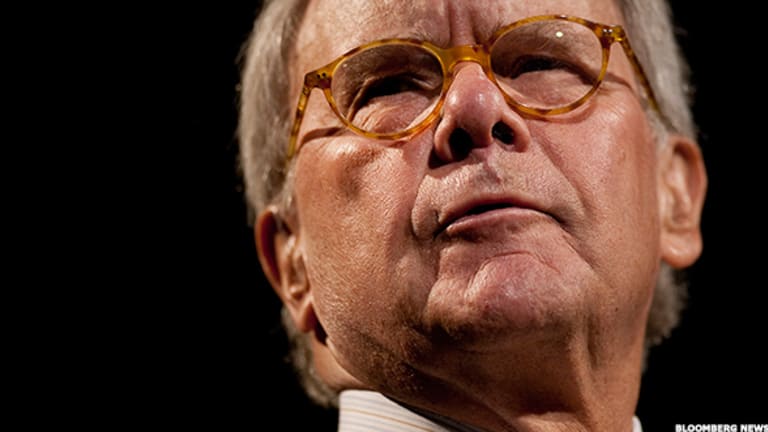 10 Celebrities Who are Rich, Famous and Also Weed Smokers
The lifestyles of the rich and famous can often entail a lot of pot, and these 10 celebrities have probably celebrated a 420 or two.
NEW YORK (TheStreet) -- Stop the presses! A lot of celebrities smoke pot.
The Marijuana Policy Project (MPP) has released its third annual list of the 50 most influential marijuana users, and apparently, the lifestyles of the rich and famous can often entail some toking up.
Some celebs are pretty out in the open about their pot-smoking habits. Miley Cyrus, a self-professed stoner, celebrated her 19th birthday with a Bob Marley cake. Whoopi Goldberg penned a column about how much she loves weed, especially her vape pen, which she calls Sippy and said is a "she."
But with others, the idea that they've ever tried marijuana may take you a second to wrap your head around. Take Supreme Court Justice Clarence Thomas, who smoked while in college. Back then he was apparently less concerned about that whole abiding-by-federal-law thing.
Curious about who else has smoked marijuana? Here are 10 celebrities who have probably celebrated a 4/20 or two. To give you added perspective on just how rich these "rich and famous" are, we've listed their net worth, according to CelebrityNetWorth.com. 
1. Tom Brokaw -- $70 Million
Barbara Walters has a knack for getting confessions out of people, including seasoned journalist Tom Brokaw.
In a 2008 interview on Walters' Sirius SIRI radio show, Brokaw fessed up to smoking pot. "What I did was experiment with a little marijuana like a lot of other people and walked away," he said.
2. George Clooney -- $250 Million
When in Rome... or, in George Clooney's case, when in Amsterdam.
The actor went on location to Amsterdam when shooting Ocean's Twelve and according to the owner of a local cannabis café was no stranger there. He reportedly visits the store a few times a year.
3. Matt Damon - $90 Million
Matt Damon has some fun parents -- they were the ones who introduced him to weed.
"The first time I smoked pot was at home with my mother and stepfather," he said in an interview on BBC's Johnny Vaughn Tonight. "They were like, 'if you are going to do this, we'd rather you do this with us.'"
Perhaps he also hit up that same cannabis store as Clooney while filming Ocean's Twelve.
4. Robert Downey Jr. -- $220 Million
Robert Downey Jr. told Rolling Stonein 2010 that he began smoking marijuana at age eight. And it went downhill from there.
Downey has had a well-documented struggle with drugs, alcohol and addiction. In the last 1990s and early 2000s, he was arrested on numerous occasions for drug charges including cocaine, heroin and marijuana. "It's like I've got a shotgun in my mouth, with my finger on the trigger, and I like the taste of the gun metal," he told a judge in 1999.
The actor has been sober since 2003.
5. Jennifer Lawrence -- $60 Million
After picking up an Oscar for her role in the film Silver Linings Playbook in 2013, Jennifer Lawrence headed to Hawaii. And while there, paparazzi caught images of the actress unwinding with a friend over wine and what the New York Daily Newscalled a "suspicious-looking cigarette."
Her Hunger Games costar Josh Hutcherson was also spotted doing the same.
If Lawrence and Hutcherson were smoking pot, Woody Harrelson, who also appears in the Hunger Games films, was probably just fine with it. He was picked up in 1996 and charged with marijuana possession after planting hemp seeds as part of a crusade to legalize the plant (the charges were eventually dismissed). He is also on the advisory board of NORML, a nonprofit lobbying organization working to legalize marijuana.
6. Rush Limbaugh -- $400 Million
Conservative radio host and political commentator Rush Limbaugh has gotten pretty heavy into the hard stuff -- he admitted to a prescription pain medication in 2003 and was arrested on drug charges in 2006. But he's experimented with softer drugs, too.
In a 1993 interview with Playboy, Limbaugh admitted to smoking pot and, unlike one of his favorite attack targets, Bill Clinton, inhaling. He said it took him not one but two tries to decide he didn't like it.
7. Katy Perry -- $200 Million
Believe it or not, Katy Perry did not smoke weed while putting together her halftime spectacular for the 2015 Super Bowl (maybe the left shark did). She says she doesn't really like it.
Speaking on the Elvis Duran radio show, Perry revealed she's smoked in the past but isn't a big fan. "Weed doesn't agree with me... I turn into more of a weirdo than I actually am!"
A 2014 GQarticle describes what happens when Perry was set up near known marijuana aficionado and fellow songstress Rihanna at the American Music Awards. "Everyone is high!" Perry said. "The weed -- I'm not friends with it. I can't do that stuff. I'd be like in the corner: 'Are you trying to kill me?!'"
8. Brad Pitt -- $240 Million
Brad Pitt was feeling down and out in the late '90s and did a bit of self-medication with pot.
"I got really sick of myself at the end of the 1990s: I was hiding out from the celebrity thing; I was smoking way too much dope; I was sitting on the couch and just turning into a doughnut; and I really got irritated with myself," he said in a 2012 interview with The Hollywood Reporter.
He's since "pretty much" given up the habit. "I just quit. I stopped grass then -- I mean, pretty much -- and decided to get off the couch," he said.
Pitt's former and current wives have smoked marijuana, too.
Jennifer Aniston toldRolling Stone that she "once in a while" enjoys pot. "There is nothing wrong with that. Everything in moderation. I wouldn't call myself a pot-head," she said.
Angelina Jolie has said she's done "every drug possible," including cocaine, heroin, ecstasy and LSD. The one she likes the least is marijuana. "I felt silly and giggly and I hate feeling like that," she said.
9. Martha Stewart -- $300 Million
The jig was up on Martha Stewart's wholesome image when she went to jail in 2004, but sketchy stock trading isn't the only illegal thing she's done in her lifetime.
In a 2013 interview with Andy Cohen on Watch What Happens Live, she told an anecdote about seeing two people getting high on the street, criticizing them for what she called sloppy joints. "Of course I know how to roll a joint," she said.
And she shares those probably perfectly rolled joints with some pretty impressive people -- including Snoop Dogg. Comedian Jeff Ross said he got high with the two at the Comedy Central Roast of Justin Bieber. Snoop has also appeared on Stewart's cooking program -- making, of all things, brownies.
10. Justin Timberlake -- $200 Million
Justin Timberlake's best self may be his high self -- at least if you go by what he told Playboy back in 2011.
"The only thing pot does for me is it gets me to stop thinking," he said. "Sometimes I have a brain that needs to be turned off. Some people are just better high."
The pop singer turned actor also talked candidly about his affinity for the green stuff at SXSW in 2013. "Sorry, I'm on drugs," he told a Reverbreporter. "I'm just being serious."
In a separate interview at the same festival, he seems to have implied he's dipped his toes in some more hallucinogenic substances as well.
This article is commentary by an independent contributor. At the time of publication, the author held no positions in the stocks mentioned.