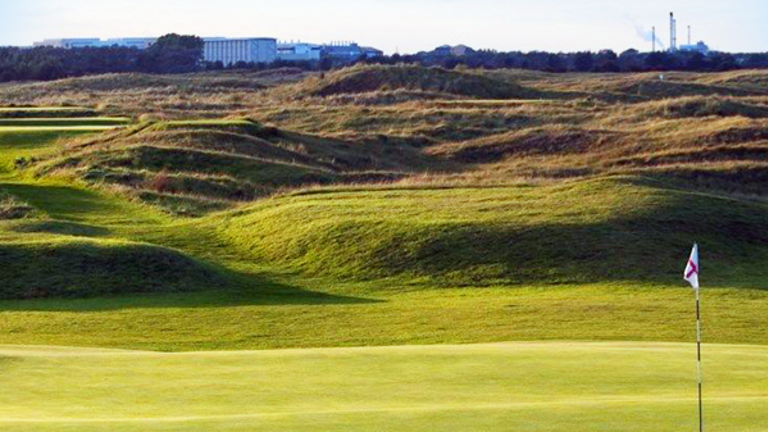 Trump Has a British Open Golf Course You Can Play at for $400
Four.
You call it the British Open, the actual British call it the Open Championship, but you can play its courses no matter what you call it.
First played in 1860, the British Open is golf's oldest major tournament and its most welcoming. Consider that the Masters, U.S. Open and PGA Tournament have been held on hundreds of occasions, but seldom on courses you can actually play. The fact that the U.S. favors private, members-only courses limits the number of other publicly playable major-tournament sites to less than a dozen.
Meanwhile, the British Open has been held at only 14 locations in its 146 years. The last time it added a new course to the rotation was 1977. Those courses generally welcome foreign players, largely because they need the greens fees to survive, but also because they're a boon to tourism. In some cases, the courses are the cornerstones of resorts and are banking on players from overseas coming in and playing numerous rounds.
This year's installment at the Royal Birkdale Golf Club in Southport, England, takes place at a club that's relatively new to the circuit. The Royal Birkdale hosted its first Open in 1954, making it the second-newest venue to do so. However, with the post-Brexit British pound sinking to a more favorable exchange rate with the dollar, greens fees that once topped $400 are now $266 on weekdays and $304 on weekends. If you can hold out for less-favorable weather in the fall, those prices drop to $201 and $246, respectively.
We won't feature the Royal Birkdale this year, as just about everyone remotely interested in the British Open has already booked tee times before and after the event. However, with every other course that's hosted the Open welcoming paying customers, we've come up with ten courses that are among the best of the bunch. At some of these clubs, golf is just a portion of the proceedings. Pack your clubs and a decent dinner jacket: the roots of golf history and culture await.
The Old Course, St. Andrews
Location: St. Andrews, Scotland
Dating back to the 1400s, the Old Course is considered the birthplace of golf and the sport's most hallowed ground. Tiger Woods shot 19 under par here to win the 2000 British Open, setting a record no one has ever come close to beating. That said, this is also one of the most easily accessible courses in the world. It's booked in advance, but there are still tee times available during the November and December low season for $113 in green fees. That increases to $225 during the favored summer months, but even those coveted tee times aren't impossible to get. About half of all starting times are drawn daily for a chance to play the next day. If you call ahead or show up in person the day before you want to play with your name, that of your home club and your certified handicap, you'll be entered into the drawing. Your best bet, however, may be to come alone the morning you want to play. The folks at St. Andrews will hook you up with the first available group with a vacancy.
The Old Course, Royal Troon Golf Club
Location: Troon, Scotland
The current design of the Troon's Old Course dates back to 1923 and is considered the most difficult in the Open rotation. The sea views and punishing finish are a lure for golfers worldwide, but getting on the course itself isn't easy. It's only open to visitors on Mondays, Tuesdays and Thursdays, with green fees ranging from $250 per round in the cold months to upwards of $300 in the high season. That doesn't include the extra $45 to $51 you have to pay to play the secondary "Portland" course, which is mandatory if you want to play the Old Course. That's a whole lot to part with just to struggle on that 577-hard sixth hole, but the honor is worth the humiliation.
Prestwick Golf Club
Location: Prestwick, Scotland
Welcome to the birthplace of the Open. The first was played here in 1860, but the club hasn't hosted another since 1925. It's still beloved by PGA pros and remains one of the best bargains of the former Open venues. Though out of the Open rotation, Prestwick charges $219 per round on a summer weekday (or $302 for a whole day) and $251 on the weekend. If you only have one round to spare, the $245 "Prestwick" experience includes an 18-hole round and a tie-and-jacket lunch. If you aren't swayed by a meal, just wait until the fall and winter low season and play a whole day of golf for $150.
Muirfield
Location: Gullane, Scotland
The home of the Honourable Company of Edinburgh Golfers was founded in 1744, but bounced around a bit before landing here in 1891. It is "one of the oldest golf clubs in the world," but it's been revised a bit more than some of its older contemporaries. In the early 2010s, Muirfield changed 15 holes, added and moved bunkers and extended greens in an effort to keep the PGA happy. The course Tom Watson tamed with a 13-under-par performance in 1980 is gone, but you can play this one this winter for $142 a round or wait until summer when the price rises to $400 for two rounds. That latter option is best with a $40 jacket-and-tie lunch that's bookended with booze, but book ahead. Muirfield is only open to visitors on Tuesdays and Thursdays and tends to book up a year or more in advance.
Dunluce Links at the Royal Portrush Golf Club
Location: Portrush, Northern Ireland
In 1951, it was home to the only Open ever played in Northern Ireland. However, in 2019, it'll be pressed into duty again. The club's Dunluce Links are by no means easy and are untouchable for anyone with more than an 18 (for men) or 24 (for women) handicap. Considering that even stuffy, particular Troon sets its handicaps at 20 and 30, that's really thinning the herd. Also, despite hosting just one open in its existence, the $245 cost of a summer round exceeds that of St. Andrews. However, the $103 additional round on Tuesdays, Thursdays and Sundays is eminently reasonable. Fair warning to folks eyeballing that $77 winter greens fee, though: this course is often snow-covered that that time of year, so book at your own peril.
Royal St. George's Golf Club
Location: Sandwich, England
For a club that's about to host another Open in 2020, the Royal St. George's isn't all that tough a ticket. August and September book up quickly, but the rest of the summer is available for $244 per 18 holes or $296 per 36. Any spring or fall dates before or after those are available for just $54 for 18 holes or $206 for 36. A group of 12 pays slightly more for a round of 18, but gets a bacon sandwich and coffee when they arrive and a three-course jacket-and-tie lunch on the way out. Whether you're envisioning this club's first open in 1894 or the -13 that Greg Norman shot at the Open in 1993, this home of 13 Opens is incredibly accommodating... unless you're a marginal golfer. The club maintains a strict maximum handicap of 18 for both men and women, which means it has no patience for casual golfers.
Alisa Course, Turnberry
Location: South Ayrshire, Scotland
By Open standards, Turnberry is -- how should we say this politely? -- new money. It was built in 1902, took a backseat to British air forces in World War I and World War II, had its main course redesigned in 1951, wasn't added to the Open rotation until 1977 and has spent much of the 21st Century being passed around by various leisure companies. Starwood owned it until 2008, when Dubai World's Leisurecorp bought it and kept Starwood on as a manager. In 2014, now-President Donald Trump bought it and renamed it Trump Turnberry. Considering Trump's contentious relationship with Scottish locals after other golf projects, Trump family ownership of the facility is controversial at best. A dramatic redesign of Turnberry's fabled Alisa course, which has hosted four Opens, and a huge hike in green fees -- from an already lofty $322 to $354 last year to $445 to $488 this year -- haven't helped. The Open isn't slated to come back here again anytime soon, and we can't blame it. With all of the grand and ancient golf courses Scotland has to offer, why pay double the price to play at a gilded, glorified wedding venue?
Championship course at Carnoustie Golf Links
Location: Carnoustie, Scotland
Though golf in Carnoustie dates back to the 1500s, these links opened in 1842 and have been a municipal treasure ever since. However, a redesign by golfer James Braid first brought the Open here in 1931. Carnoustie's hosted the event seven times and gets the honor again in 2018. That might put a crimp on tee times next year, but this course hasn't let its history or success go to its head. Greens fees for the championship course hold at $225. However, a foursome can get on the course in April or October for less than $125 apiece, while a package that includes rounds on Carnoustie's two other courses goes for $283... essentially giving you two more rounds of golf for less than $60. You also don't have to be Padraig Harrington and his -7 in 2007 to play here: the maximum handicap is a very forgiving 28 for men and 36 for women.
Royal Liverpool Golf Club
Location: Hoylake, England
The club just hosted an Open in 2014. Tiger Woods shot -18 here in 2006. Thus, the $238 summer weekday singles fee and $277 weekend fee aren't exactly out of nowhere. Visitors are typically limited to Wednesdays and Fridays (though some Monday and Tuesday slots are available), but lunch is included from 12:30 to 2 p.m., with bar snacks offered throughout the day. With the summer's stiff winds and fast, dry greens playing havoc with your score, you'll need some consolation.
Musselburgh Links
Location: Musselburgh, Scotland
Golf has been played here since the 17th Century, but the Open hasn't returned since 1889. Though Musselburgh once hosted six Opens, it's now a fairly humble municipal course that tailors its playing schedule to the parking needs of the nearby Musselburgh Racecourse horse racing track. That's made it easily the most populist of the former Open courses: greens fees start at just $19, or $20 if you want to play on the weekend. Located just outside of Edinburgh and less than a half hour from Muirfield, Musselburgh is a cost-efficient course for those more keen on soaking in golf's history than facing its more modern challenges.
More of What's Trending on TheStreet:
Former Apple Exec: 'It's Sad to See Apple Slipping to the Position of Follower'