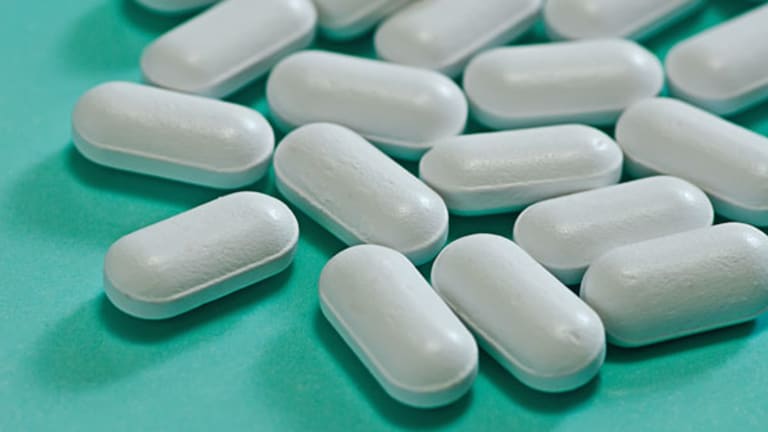 10 Biotech Stocks On the Line
Here are ten biotech and drug companies facing upcoming, potentially stock-moving events.
BOSTON (TheStreet) --Shares of InterMune (ITMN) are up almost 180% since last Friday. For investors who owned the drug company's stock last week, that means their investment more than doubled in value in just four trading sessions.
Only in biotech can such volatility generate huge windfalls for investors -- those armed with a simple calendar of stock-moving events.
FDA advisory panels (in the case of
), drug approval decision dates and clinical trial results move biotech stocks -- a lot. Keeping close tabs on these stock-moving events is an essential task for every successful biotech investor.
Not all biotech stocks rocket like InterMune. Some crash to earth like
Medivation
(MDVN)
, which lost 70% of its value after the failure of pivotal phase III drug study. But even here, investors who knew approximately when the
were to be released could have booked profits in advance or used options to hedge their investment and cushion the blow from a bad outcome.
Either way, investors caught unaware by the timing of biotech events either miss a moneymaking opportunity or get blindsided by a blowup.
Here are ten biotech and drug companies with stock-moving events in the next few months. Some of these stocks might be the next InterMune; others might end up more like Medivation. Either way, it pays to keep a biotech events calendar handy.
Company:
Affymax
(AFFY)
Drug/indication: Hematide for anemia due to chronic kidney disease
Estimated timing: Second quarter
Hematide is a once-monthly injectable drug designed to treat anemia in patients with chronic kidney disease. The drug's development, including four, large phase III studies, represents a significant competitive threat to Amgen's bedrock anemia drug franchise.
Company:
Allos Therapeutics
( ALTH)
Drug/indication: Folotyn in non-small cell lung cancer.
Estimated timing: First or second quarter.
Allos is conducting this phase II study to demonstrate the feasibility of using Folotyn to treat certain patients with non-small cell lung cancer. Folotyn was recently launched commercially as a treatment for peripheral T-cell lymphoma, a relatively small blood cancer indication. The study in non-small cell lung cancer is important because it potentially expands Folotyn's development to larger, solid tumor cancer indications.
Companies:
Amylin Pharmaceuticals
( AMLN) and
Alkermes
(ALKS)
Drug/indication: Exenatide once weekly for diabetes
Approval decision date: March 12
A potential billion-dollar drug, Exenatide once weekly is a long-acting version of Exenatide, a once-daily injectable diabetes drug marketed by Amylin and
Eli Lilly
(LLY)
. Exenatide once weekly was developed with Alkermes' long-acting drug delivery technology, and the company will receive royalties on the drug's sales.
Company:
Cell Therapeutics
(CTIC)
Drug/indication: Pixantrone for non-Hodgkin's lymphoma
FDA advisory panel: March 22
Pixantrone finally gets its day in front of a panel of FDA-picked cancer experts after the original Feb. 10 panel meeting was cancelled due to severe winter weather. Following the panel's vote to recommend pixantrone's approval (or not), the FDA is expected to make the final approval decision on April 23.
Company:
Delcath Systems
(DCTH)
Drug/indication: Percutaneous Hepatic Perfusion (PHP) for cancer-related liver metastases.
Estimated timing: Second quarter
PHP is a system that lets doctors isolate the liver from the rest of the blood supply so that tumors in the liver can be treated with high doses of chemotherapy without causing significant toxicity in the rest of the body. The first phase III study of the PHP system uses the chemotherapy drug melphalan to treat patients with certain forms of skin cancer that has spread to the liver.
Company:
Dendreon
(DNDN)
Drug/indication: Provenge for prostate cancer
Approval decision date: May 1
The FDA has given no public indication that it plans to hold an advisory panel meeting to review the Provenge application. (Contrary to recent published reports.) A similar panel meeting was held in 2007, which voted to recommend the drug's approval.
Company:
GenVec
(GNVC)
Drug/indication: TNFerade for pancreatic cancer
Estimated timing: End of first quarter/early second quarter
GenVec is conducting a second interim analysis of a pivotal phase III study comparing the effect on overall survival of TNFerade plus the standard of care versus standard of care alone in patients with pancreatic cancer.
Company:
Mannkind
(MNKD)
Drug/indication: Afrezza for diabetes
Approval decision date: Unknown
The Jan. 16 FDA approval decision date for Afrezza was extended because inspections at an insulin manufacturing facility were not yet completed, according to Mannkind. How long FDA will take to complete its inspection and issue an approval decision for Afrezza, an inhaled insulin device, is not known. In January, Mannkind executives expressed confidence that FDA would be able to complete its review within weeks, but that timeline is already past due.
Company:
Somaxon Pharmaceuticals
( SOMX)
Drug/indication: Silenor for insomnia
Approval decision date: March 21
FDA issued a complete response letter for Silenor last December. Somaxon met with the FDA, submitted additional information about the drug's effect in non-elderly patients, and now says the agency has all the data it needs to review the drug and issue an approval decision.
Company:
Vertex Pharmaceuticals
(VRTX)
Drug/indication: Telaprevir for hepatitis C.
Estimated timing: Second quarter
Telaprevir is the first -- and so far, most potent -- in a new class of drugs that works directly against the virus that causes hepatitis C. Vertex and partner
Johnson & Johnson
(JNJ)
are running a series of phase III studies of telaprevir in newly diagnosed and treatment-resistant Hep C patients, with the goal of filing for the drug's approval in the second half of 2010.
-- Reported by Adam Feuerstein in Boston.
Follow Adam Feuerstein on
Adam Feuerstein writes regularly for TheStreet.com. In keeping with TSC's editorial policy, he doesn't own or short individual stocks, although he owns stock in TheStreet.com. He also doesn't invest in hedge funds or other private investment partnerships. Feuerstein appreciates your feedback;
to send him an email.