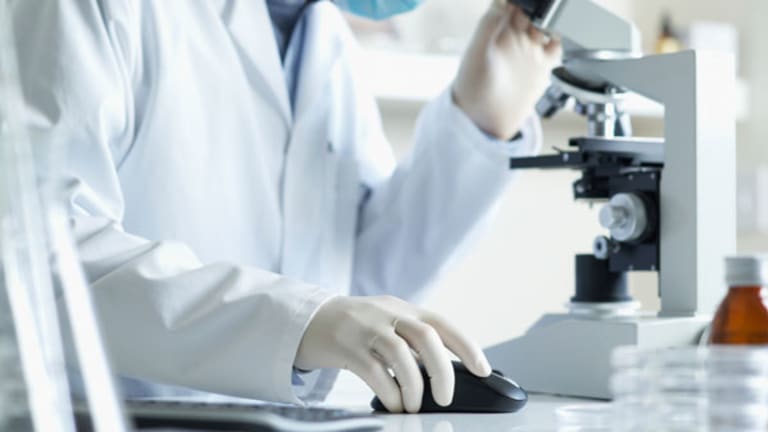 10 Biotech Stocks on Clinical Trials Watch
News of clinical trial results can make or break a drug. Here are ten companies expected to announce important results in coming months.
BOSTON (TheStreet) --The most exciting binary events in biotech typically revolve around the release of results from important clinical trials -- closely watched experiments that determine whether an experimental drug, after years in development, will be a big hit or a terrible failure. Here are ten companies, in alphabetical order, expected to announce results from stock-moving clinical trials within the next six months.
Company:
Affymax
(AFFY)
Drug: Hematide for anemia due to chronic kidney disease.
Estimated timing: Second quarter.
Hematide is a once-monthly injectable drug designed to treat anemia in patients with chronic kidney disease. The drug's development, including four, large phase III studies, represents a significant competitive threat to Amgen's bedrock anemia drug franchise.
Company:
Allos Therapeutics
( ALTH)
Drug: Folotyn in non-small cell lung cancer.
Estimated timing: First or second quarter.
Allos is conducting this phase II study to demonstrate the feasibility of using Folotyn to treat certain patients with non-small cell lung cancer. Folotyn was recently launched commercially as a treatment for peripheral T-cell lymphoma, a relatively small blood cancer indication. The study in non-small cell lung cancer is important because it could potentially expand Folotyn's development to larger, solid tumor cancer indications.
Company:
Amgen
(AMGN) - Get Amgen Inc. Report
Drug: Denosumab for prevention of cancer-related bone damage.
Estimated timing: First quarter.
While Amgen awaits the completion of the FDA's review of Prolia (denosumab) in osteoporosis, the company is moving ahead with late-stage studies of the drug in cancer. The next phase III study to report will investigate denosumab's ability to slow or prevent bone loss in patients undergoing treatment for prostate cancer. Similar studies in breast cancer and other solid tumors were reported last year.
Company:
Delcath Systems
(DCTH)
Drug: Percutaneous Hepatic Perfusion (PHP) for cancer-related liver metastases.
Estimated timing: Second quarter.
PHP is a system that lets doctors isolate the liver from the rest of the blood supply, allowing tumors in the liver to be treated with high doses of chemotherapy without causing significant toxicity in the rest of the body. The first phase III study of the PHP system uses the chemotherapy drug melphalan to treat patients with certain forms of skin cancer that has spread to the liver.
Company:
GenVec
(GNVC)
Drug: TNFerade for pancreatic cancer.
Estimated timing: End of first quarter/early second quarter.
GenVec is conducting a second interim analysis of a pivotal phase III study comparing the effect on overall survival of TNFerade plus the standard of care versus standard of care alone in patients with pancreatic cancer.
Company:
Isis Pharmaceuticals
Drug: Mipomersen for heterozygous familial hypercholesterolemia (FH).
Estimated timing: First quarter.
Mipomersen is an injectable drug that blocks a protein responsible for delivering LDL cholesterol throughout the body. This phase III study is the second in which Isis is seeking to show that mipomersen can significantly reduce blood cholesterol in patients with a rare genetic disorder that afflicts them with extremely high and dangerous levels of cholesterol.
Genzyme
( GENZ) is Isis' partner on mipomersen.
Company:
Medivation
(MDVN)
Drug: Dimebon for Alzheimer's disease.
Estimated Timing: March.
The phase III study of Dimebon in patients with mild to moderate Alzheimer's disease is shaping up to be one of the
in biotech this year. Current Alzheimer's drugs are only moderately effective, so Dimebon has the potential to be a billion dollar-plus blockbuster if it can duplicate the positive results from an earlier, phase II study.
Pfizer
(PFE) - Get Pfizer Inc. Report
is Medivation's partner on Dimebon.
Company:
Novelos Therapeutics
(NVLT.OB)
Drug: NOV-002 for non-small cell lung cancer.
Estimated timing: First quarter.
Novelos is seeking to establish a new standard of care in lung cancer treatment with this phase III study that pits NOV-002 (an old Russian cancer drug) plus chemotherapy against chemotherapy alone in patients with advanced, non-small cell lung cancer.
Company:
Optimer Pharmaceuticals
(OPTR)
Drug: Fidaxomicin (OPT-80) for clostridium difficile infection.
Estimated timing: First quarter.
In its first phase III study released in 2009, fidaxomicin outperformed vancomycin, the current standard of care for patients infected with the clostridium difficile bacteria. Optimer is hoping that the second phase III study yields the same positive results, which will allow the company to seek the drug's marketing approval.
Company:
Vertex Pharmaceuticals
(VRTX) - Get Vertex Pharmaceuticals Incorporated Report
Drug: Telaprevir for hepatitis C.
Estimated timing: Second quarter.
Telaprevir is the first -- and so far, most potent -- in a new class of drugs that works directly against the virus that causes hepatitis C. Vertex and partner
Johnson & Johnson
(JNJ) - Get Johnson & Johnson Report
are running a series of phase III studies of telaprevir in newly diagnosed and treatment-resistant Hep C patients, with the goal of filing for the drug's approval in the second half of 2010.
Adam Feuerstein writes regularly for TheStreet.com. In keeping with TSC's editorial policy, he doesn't own or short individual stocks, although he owns stock in TheStreet.com. He also doesn't invest in hedge funds or other private investment partnerships. Feuerstein appreciates your feedback;
to send him an email.