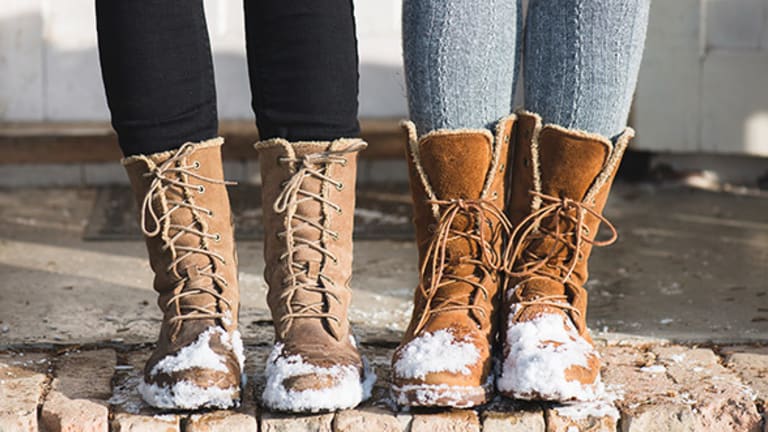 10 Best Winter Boots for Women
Not sure which boots best suit your bundled up style? Consider some of our favorites for this season.
Ah, fall. The foliage is exquisite and the weather brisk, but it's almost gone. Like the Starks of Winterfell on Game of Thrones know all too well, winter is coming. Any minute now we'll be struck with colder weather, too much snow and other extreme conditions that make it a necessity to make sure to keep our feet warm and well-protected.
The Fall 2015 Fashion Week runways were all about boots. From thigh high to ankle skimming, boots were furry, patched together, shiny or embellished, boots were the "it" accessory in all shapes and sizes.
Not sure which boots best suit your bundled up style? Consider some of our favorites for this season.
Warm and Waterproof
Here's the thing about winter. It's cold. It can be really, really (really) cold. I know that I seem to be stating the obvious, but most winter mornings I seem to try to bargain with the powers that be to make things a little toastier. Since that doesn't seem to happen during icy winter months, I might just rely on Columbia women's Minx Mid II OH Tweed cold weather boot to help me through the grey months ahead. These adorable boots tick all the comfy cozy boxes- quilting, tweed, faux fur and lace ups that ensure a snug fit all day. And they make a really cute version for your mini me as well.

Get the Columbia women's Minx Mid II OH Tweed on Amazon
Another option - these Kamik Porto Insulated winter boots look like cozy but cute sleeping bags for your feet. Perfect for days when Mother Nature is determined to make the commute to work seem endless. Tired of looking at cute kitten videos all day? Kamik also makes sugar sweet boots for toddlers.

Get the Kamik Porto Insulated boots on Amazon
If those boots don't check all of the boxes, the Hi-Tec St Moritz Lite 200 WP II could be a great option for adults and children alike. Available in an array of colors, the faux fur fleece lined boot, made with specially trademarked insulation, traps heat ensuring warm feet for hours. No need to fear treading through snow or even walking on wet ground; these highly rated boots are stain resistant too. Hi-Tec's Junior version is just as durable, making it the perfect addition to the arsenal of winter gear stock-piled for the long-anticipated snow day.
Get the Hi-Tec St Moritz Lite 200 WP II on Amazon

Sleek and Chic
Well now, Sorel women's Joan of Arctic wedge booties, you are a sassy little temptress, combining a comfortable wedge with a ton of style. Available in several key neutral shades, these aren't just for show, they're also lined with micro fleece for added warmth and feature arch support for long days trudging through the snow.

Get Sorel women's Joan of Arctic wedge booties on Amazon

Weekend Wonderful
Full disclosure, I'm not sure that I've taken off my own pair of Teva De La Vina ankle boots since I got them. They're ridiculously comfortable and so, so flattering. They're also completely waterproof making these the perfect boots for all seasons (and especially for when you really want to be home in your beat up slippers, but have to face the world for a while).

Get the Teva De La Vina ankle boots on Amazon
Sweater Weather
I'm not sure how some women manage to run around all winter long wearing only a light jacket and scarf. For me, it's all about bundling up. If your love of sweaters extends from head to toe, you'll be a fan of Aetrex Kara which offers a slight twist on traditional riding boots. These babies come to the ankle, have two adjustable buckles and lovely knit fabric that hugs your ankles and keeps feet warm.

Get the Aetrex Kara on Amazon

Slightly Southwest
If you prefer the idea of cowboy inspired boots more than the traditional styling, you can probably stop searching right now. Latigo Party women's boots combine unexpected detailing like crocheted trim and a graduated shape, with rugged textured leather and a wooden heel. These would look great with a floral skirt and sweater combo or a pair of cords.

Get the Latigo Party women's boots on Amazon

Buckle Up
Wish you could stay home under a quilt all day? Well, if that isn't an option, you can at least look good while braving the elements. These cute Sporto Molly all weather boots have chic detailing including quilting and a buckle.

Get the Sporto Molly on Amazon

Biker Babe
Full disclosure, the only biking I do is on my pink cruiser bicycle that I've nicknamed Barbie. But that doesn't mean that I don't sometimes wonder what it would be like to be riding around on the back of a motorcycle. The nice thing about mixing up your boots style is that you can quite literally try on different lifestyles for size. In case you didn't know it, Harley-Davidson has a line of fashion meets function boots that include these cool and extremely comfortable Halsey Engineer boots. Not sure if you're ready for full leathers and the biking life? Pair with a feminine skirt or floppy felt fedora.

Get the Halsey Engineer boots on Amazon

Bling it On
And finally, because despite the cold days ahead, there are still fun nights in your future, Nakona black and silver boots by Nina are a playful take on the sweater boots so popular this season. Sequin detailing gives the illusion of a really sparkly pair of legwarmers. Though with a 4" heel, chances are good that you won't be trudging through the snow in these boots.

Get the Nakona boots by Nina on Amazon

-- Written by Rachel C. Weingarten

Disclosure: TheStreet has advertisers and partnerships; we may get a share of the revenue from your purchase.