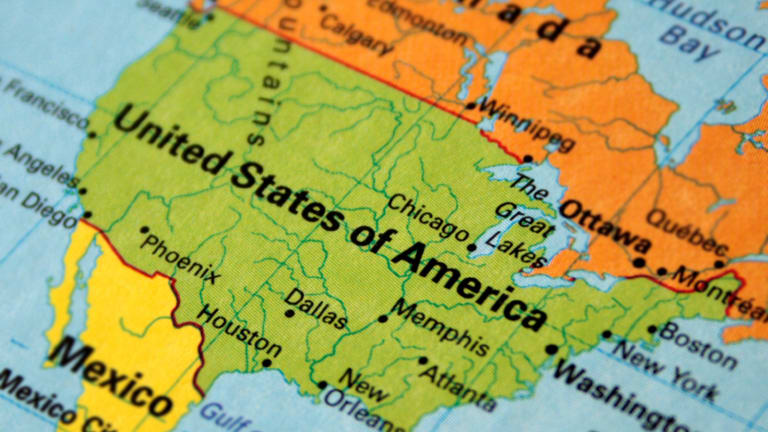 10 Best States to Retire -- and Florida Isn't on the List
Thinking of retiring? Don't head to Florida. It didn't make the list of the top 10 places to retire. But some of the states that did may surprise you.
NEW YORK (TheStreet) -- Ready to hit the golden years and looking for the best states to retire that help you preserve and grow your nest egg? Well, don't head to Florida.
Instead, you may want to check out Wisconsin, Idaho and Arkansas to name a few such states, according to a recently released list by GOBankingRates.
"With this study, we wanted to take a comprehensive look at the costs that affect those in retirement and find the states that will offer low-cost of living and the opportunity to grow wealth. Our study considered key cost factors for retirees that similar state-by-state studies have failed to consider," said Elyssa Kirkham, editor with GOBankingRate.
Here's a look at the 10 top states that offer retirees the best bang for their buck and help them retire with more money in the bank based on three main criteria: Taxes to be paid, daily living costs and healthcare.
No. 10Arkansas
Arkansas has an abundance of recreational areas, but not taxes. The state doesn't ding its residents and seniors with Social Security income tax, nor estate or inheritance taxes. However, Arkansas' combined sales tax the second highest in the nation at roughly 9%. As for healthcare costs, individual insurance premiums are fairly cheap, averaging $184 per month. Medicare coverage is also "decent."
The state, unfortunately, has fewer dentists per capita than other states. The daily living costs are fairly forgiving, with Arkansas' average home listing price one of the lowest in the nation at $211,000.
No. 9Utah
Utah isn't only home to the Great Salt Lake, but also a government that does not impose estate or inheritance taxes.
Property taxes are also below the national average. But seniors face a 5% Social Security income tax and the states residents have to pony up approximately 6.7% more when making purchases to cover sales tax. One area seniors make out especially well is with healthcare. Utah ranked No. 2 on the healthcare component of the Best 10 states for seniors to retire in.
The state had the lowest individual insurance premiums, averaging $158 per month, and it had better-than-average Medicare payouts. Housing, which is part of the daily living area, is pretty pricey with the average  home listing for more than $500,000.  
No. 8 Michigan
Michigan is known for Detroit, aka Motor City, but seniors may not know it also has a reputation for a high median property tax rate. Healthcare, however, provides a bit of a break. Individual insurance premiums average a low $204 per month.
But seniors who are looking for the biggest bang on Medicare payouts may be disappointed with Michigan, which on average are low. The daily living costs, as well as housing costs, are on the low end. For example, the average listing price to buy a home is $225,398.  
No. 7 South Dakota
Seniors visiting Mount Rushmore may ultimately want to move there. South Dakota offers low tax rates for seniors, such as, no income tax, nor Social Security income tax, or estate tax and inheritance taxes. The median property tax of 1.28% is higher than the average, but not in the top 15 for the nation.
As for healthcare, South Dakota ranks in the top 20th percentile for Medicare payouts, however, it has fewer dentists and primary care physicians than other parts of the country. South Dakota has a higher-than-average cost of living and also doesn't benefit seniors when it comes to helping them grow their money. The state ranks in the bottom 20th percentile for interest rates paid to deposit account holders.
No. 6 Alaska
Seniors looking to get away from it all, including taxes, may want to consider Alaska. The state scored the best tax situation for seniors in the GOBankingRates survey. Alaska does not tax its residents on Social Security income, nor estate or inheritances, as well as income. The average sales tax, 1.76%, was also among the lowest charged within any of the states. 
Healthcare, however, can be expensive. Individual insurance premiums average a hefty $345 per mont, making it the fifth most expensive nationwide. Medicare payouts, a bright spot, had the highest payouts compared to other states in the nation. The daily cost of living in Alaska can be expensive. Its cost-of-living index figure ranked as the fourth most expensive place to live in the nation. Home values also were higher than the nation's average.
Seniors who like to sock away savings will enjoy deposit interest rates that are among the highest in the U.S.
No. 5 Wyoming
Wyoming has wide open spaces and a wide selection of non-taxable perks for seniors. Folks who move to Wyoming don't have to worry about paying Social Security income taxes, or estate and inheritance taxes. nor income taxes. Property and sales taxes are also low too. Healthcare premiums can be a little pricey in Wyoming, where the average monthly premium can be upwards of $300 per month. Medicare payouts, however, are above average. 
Housing is expensive in Wyoming, with the average price listing on Trulia at about $415,000. 

No. 4 Wisconsin
Wisconsin doesn't ding residents with a social security income tax, nor an estate or inheritance tax. And perhaps even more impressive is this state has one of the lowest sales tax rates in the nation. The median property tax, however, is considered the fourth worst in the nation. As for healthcare, Wisconsin residents will find healthcare insurance coverage is pervasive throughout the state.
Daily living expenses are relatively low in Wisconsin, and the average listing price of homes rank in the bottom third percentile.   

No. 3 Idaho
Seniors can take advantage of Idaho's policy of no Social Security income tax, as well as no estate or inheritance tax. Sales taxes and property taxes are also low compared to other states. Monthly individual insurance premiums also rank among the 10 least expensive in the nation. But Medicare payouts are only considered average.
An affordable lifestyle is easier to find in Idaho, where the cost-of-living index score is among the lowest in the nation. Additionally, local deposit interest rates are higher than average.  
No. 2 Delaware
Delaware offers a sweet deal that seniors will benefit from that includes no sales tax, nor Social Security income tax or inheritance tax. However, the state does charge a 16% estate tax that can take a bite out of a senior's budget. Property taxes are a low 0.43% of the value of a home, pushing the state to No. 4 in the nation with the lowest median property tax.
For healthcare, the average monthly individual healthcare premiums are on the pricey side of the spectrum but Medicare payouts are among the highest in the nation.
Living in Delaware, however, can be an expensive place based on daily living expenses. The average listing price for homes, as well as the cost-of-living index, are both higher than the national average.
No. 1 New Hampshire
New Hampshire is virtually a tax-free haven. There is no Social Security income tax, nor estate and inheritance taxes, as well as no income or sales tax. However, when it comes to the median property tax, New Hampshire charges the second highest level of property tax. Medicare payouts tend to be better than the average, but individual monthly healthcare premiums also tend to cost more. 
Seniors, unfortunately, face higher than average prices for homes and return rates on their interest-bearing deposit accounts that are less than stellar.
This article is commentary by an independent contributor. At the time of publication, the author held no positions in the stocks mentioned.