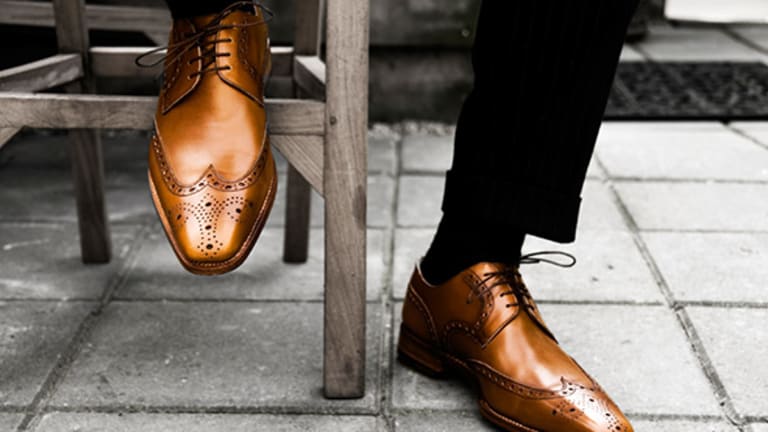 10 Best Men's Shoes for Commuting to Work
Good commuter shoes strike that perfect balance between style and comfort.
If you're one of the thousands of men who have a work commute that involves more than just driving in your car, you know how important it is to have a great pair of shoes. Good commuter shoes strike that perfect balance between style and comfort and have soles that grip the ground so that your walk to the office doesn't become a ride to the hospital due to a slip.

Here are our picks of the ten best commuter friendly shoes for men.
Icebug Men's ANIMA3 BUGrip
If you jog or walk to work instead of riding public transportation, you'd be hard-pressed to find a better shoe for your commute than these.
You will, of course, have to change once you get into the office -- unless you have the luxury of actually wearing sneakers to work.  Although these kicks might not let you get ahead in the boardroom, they will let you blow by other runners and fast walkers, thanks to the carbide studs poking out of the bottom that give you superior traction on all surfaces -- especially icy ones.
Even though the Icebug Men's ANIMA3 BUGrip is extremely light, they'll also do a good job of keeping your feet dry as they are water resistant.

Buy the Icebug Men's ANIMA3 BUGrip now

KEEN Men's Austin Slip-On Loafer
With their easy-on style, you won't have a problem slipping into these loafers and getting to work on time. You just might have a problem staying put at your desk when there's a whole urban jungle outside to explore.
The leather uppers allow for maximum support and sturdiness while the midsole is firm but flexible enough to mold to your foot. They also incorporate a superior mesh lining to keep your feet fresh and airy throughout the day.
KEEN footwear focuses on strength, ingenuity, and performance. With the subtle stylings of the Austin Slip-On Loafers, you can benefit from these elements of design whether you're giving the big presentation or decide to call in sick and head for the trails. Unlike some other business shoes though, these do skew toward the more rugged and casual side of the spectrum, so they'd be better at a tech startup than in a Fortune 500 boardroom.
Buy the Austin Slip-On Loafers now

Skechers Performance Slip-On Walking Shoe
This lightweight offering from Skechers has a sole featuring individual round foam pillars that make it extremely flexible.
It also makes walking in this shoe feel a bit like you're walking on marshmallows, so it's hard to find another option that is so comfortable.
The shoe is extremely lightweight and has Skechers' "Goga Mat" lining inside which is sort of a yoga mat for your feet. While it's not a very dressy shoe, the black style is also unobtrusive, so you should be able to get away wearing it with everything but a suit.

Buy the Skechers Performance Slip-On Walking Shoe now
Dunham by New Balance
New Balance has long been known to make extremely comfortable sneakers -- especially for people with foot problems. Their Dunham line delivers all that comfort in a much more stylish package, like the classic look of this Oxford.
The shoe has ABZORB cushioning in both the heel and forefoot. This foam and rubber material developed by New Balance provides excellent shock absorption. Plus, the shoe is waterproof, so getting to work on those rainy days won't be an issue.
Rounding out this oxford -- that looks just as good with jeans as it does with slacks -- is a fiberglass stability shank in the midsole that provides arch support and leads to a gait as smooth as you'll feel wearing these smart shoes.

Buy the Dunham by New Balance oxford now
Cole Haan Zerogrand Wing Ox
Cole Haan has teamed up with the masters of durability at Mountain Hardwear to create an impressive footwear line.
The tread on these hard-working shoes could hold its own against the tires on the SUV stuck at the light, as you hop a pothole on your way into the office. The shoes provide a high degree of flexibility and stability to your stride. Plus, these high-quality suede Cole Haan Zerogrand shoes are so light, that the only thing you may question is whether you even remembered to put them on in the first place.
The bold design and pillow-top comfort land your feet perfectly between stylish form and rugged resilience.

Buy the Cole Haan Zerogrand shoes now
Timberland Men's Richmont PT Oxford
For when you know you'll be on your feet for most of the workday, these Timberland Men's Richmont PT Oxford shoes are like adult-styled sneakers that can dress up or down and take you from the board meeting to casual Friday to happy hour.
With the toughness you expect from Timberland and the comfort you need for the commute to work, these plain-toe oxfords sport water-resistant uppers, super-breathable foam insoles, and a sleek profile to boot.
Your ankles will thank you for the extra padding around the collar of these kicks; your soles will appreciate the weight-distribution of the patented footbed; and the planet will thank you for shopping from Timberland's Earthkeepers® product line.

Buy the Timberland Men's Richmont PT Oxford shoes now

MBT Men's Kabisa 5 Oxford, $160.74-209.09
Due to their huge curved soles, MBT shoes take a bit of time getting used to. But once you adjust to them, you just might find them the most comfortable shoes you've owned.
"MBT" stands for Masai Barefoot Technology and their shoes are designed to mimic the feeling of walking barefoot in sand. The company says that this creates a minor instability in your gait that leads to stronger muscles and better posture, while relieving pressure on your joints and reducing pain. Many wearers agree.
While many MBT shoes can look clunky, this MBT Men's Kabisa 5 Oxford, is business friendly thanks to its modest design.
Buy the MBT Men's Kabisa 5 Oxford now
Merrell Men's Jungle Moc
The list of comfort-delivering features on this slip-on work shoe from Merrell is certainly impressive. The heel has an added air cushion; the arch is molded with nylon for stability; the upper is low-maintenance suede; and, let's not forget about the patented sole technology, which could get you into a cubicle on top of an ice-covered mountain without much concern for traction along your way.
This footwear company made its name getting customers from A to B if A was in the Alps, and B was in Belize. To say that these Merrell Men's Jungle Moc shoes can get you from your third-story walk-up to a high-rise downtown is a safe bet, and a stylish one at that.

Buy the Merrell Men's Jungle Moc shoes now
Rockport Men's Truwalk Zero Wingtip Oxford
This unlikely shoe combines the classic look of a wingtip shoe upper with a sneaker-like sole. The result is a quirky pairing that will definitely get you noticed on casual Fridays or any day in a more relaxed office setting.
The shoe is extraordinarily light and features Rockport's unique flexible sole that incorporates Adidas adiPRENE technology. This allows the sole to flex with your foot, while cushioning your heel and delivering energy to the forefoot where it helps propel your next step.
The Rockport Men's Truwalk Zero Wingtip Oxford is also designed to mimic your natural walking motion, so it excels at letting you feel like you're almost wearing nothing at all on your feet.
Buy the  Rockport Men's Truwalk Zero Wingtip Oxford now
ECCO Men's Seattle Apron-Toe Derby Shoe
Traction, cushion, breathability and water resistance are all top-notch here. They've even melted the sole of the shoe onto the leather upper to reduce any chance of water getting through as you trudge to work in wetter conditions.
The sophistication of these ECCO Seattle Apron-Toe shoes goes beyond appearance. The leather lining helps to keep you cool by absorbing moisture during a long, stressful day with the boss. The lightweight outsole is tough on traction for sure footing, while keeping you light on your feet.
A padded collar and classic tie finish up this office standard, leaving you little need for anything else in your closet to get you from Monday morning to Saturday night.
Buy the ECCO Seattle Apron-Toe shoes now

-- Written by Michael Franco
Disclosure: TheStreet has advertisers and partnerships; we may get a share of the revenue from your purchase.