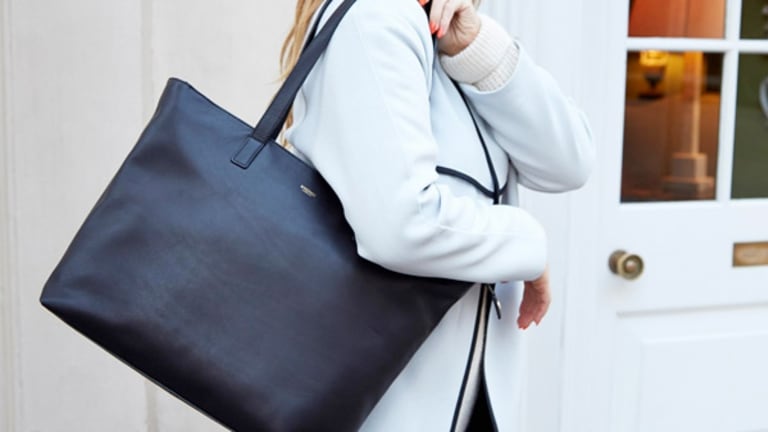 Publish date:
10 Best Laptop Bags for Women
In the market for a new laptop bag but unsure where you should spend your hard-earned cash? We've got you covered, with these 10 best laptop bags for women.
In the market for a new laptop bag but unsure where you should spend your hard-earned cash? We've got you covered, with these 10 best laptop bags for women.
Traveling light and stylishly for daily business can be challenging, especially when business means working with a mobile office. Your style translates into your brand and when it comes to working with clients or colleagues, having the right accessories, such as a briefcase or laptop bag is key to making the right impression. Not all bags are created equal and each style is distinctive.
For women, the choices are endless and narrowing down the search can be time consuming, which isn't ideal for the busy executive. Instead of spending precious hours looking for the right bag, we did the legwork and found the 10 best laptop bags for women. These bags are not only ideal for utility, but will support your personal peerless style.
KNOMO Maddox Leather Zip Tote
Designed with elegant, supple full grain leather, the KNOMO Maddox leather zip tote provides a roomy interior that will hold a 15-inch laptop with ease. The zipped enclosure keeps your technology and paperwork secure, while the durable shoulder straps are designed for comfort and functionality.  For added ease, the designers took outerwear, such as wearing a heavy coat, into consideration when creating the shoulder straps so this tote works extremely well with any fashion ensemble.
The KNOMO Maddox's streamlined, sleek exterior is available in six fashionable colors including black, red, espresso, green, navy and sage. Although designed for fashion, this tote provides the highest level of internal functionality. Store paperwork and folders inside the hidden slip pocket or compartmentalize accessories and tools in one of the five interior pockets and two exterior pockets.  
Stylish gold-finished hardware adds a sophisticated touch and additional flare to this bag. Heralded as a beautifully well-designed laptop tote, the KNOMO Maddox is surprisingly lightweight and ideal for the busy executive.  Dimensions include a 10.5-inch shoulder drop, 12.5 inches high and 14.5 inches wide.
Royce Leather RFID Blocking Saffiano

The RFID Blocking Saffiano leather travel carryall laptop bag will stand the test of time as the style and quality of this bag will easily become a business staple. Crafted from Saffiano cowhide leather, the bag accommodates up to a 15-inch laptop or tablet. Included is a zippered large pocket, hidden inside the bag, along with two pen loops, three slots designed to hold credit or business cards, as well as an exterior zipped pocket for quick and easy access to materials.
One important feature is the RFID (radio frequency ID or identification) blocking technology, designed to reduce identity theft. A small electronic chip is inserted inside the bag, designed to prevent your sensitive information from being lifted while inside your laptop bag.

Buy Royce Leather RFID Blocking Saffiano now

Claire Chase Back Pack

Designed from 100% imported leather, this stylish laptop backpack can accommodate a full-sized laptop computer, along with a smattering of your tools from your trade. Many professionals can fit a 17-inch laptop along with several binders, so this bag is all about utility. Because the bag can hold a large number of items, the carrying straps are soft and supple to avoid having them dig into the carrier's shoulders. Sophisticated but also casual, this backpack is designed for the busy professional on-the-go.
Available in several colors including saddle, distressed brown, cafe and black, the Claire Chase backpack features five ample exterior zippered side pockets, a large zippered front pocket as well as a magnetic snap enclosure.
Buy the Clair Chase Back Pack now

Hedgren Kayla

Although utility and durability are two main features of the Hedgren Kayla bag, Chanel-esque, classic style stands out upon the first impression. The quilted look, along with the silver-charmed zipper and "H" Hedgren style make this bag a show stopper and one to be reckoned with in the boardroom or your next client meeting.
Created using 40% nylon and 60% polyester, this waterproof bag can withstand life's little spills and messes. The zippered main compartment holds up to a 15-inch laptop, along with folders, pens and your trusty planner. The interior is lined with 100% polyester Hedgren red lining, along with adjustable and removable shoulder straps. Available in traditional black, as well as mouse grey and new bull red.
McKlein Winnetka
Offered in a variety of dazzling colors, the McKlein Winnetka bag is crafted from fine Italian leather and has a removable sleeve to hold your laptop. Choose from an array of fun colors including red, black, aqua blue, orange, pink and green. The bag's hardware compliments the color of your choosing, adding a unique element to this laptop bag. The 12-inch shoulder drop creates more of a stylish purse design, but still fits a 15.4-inch laptop with ease. The front organizer area allows for quick and easy access to pens, cards, DVDs, glasses, etc.
The delicate zipped bag provides protective benefits, preventing anything stored inside the bag from slipping out. This bag is also substantive, which commands attention and makes a serious business statement. Ideal pairing with any business suit, dress and even complements evening wear for some occasions.

Buy the McKlein Winnetka briefcase now

Hedgren Yucca

Created for both utility and style, the Hedgren Yucca laptop bag for women features durable fabric, top zipper enclosure and a fully lined interior. Ideal for the busy executive or graduate student, this tote can hold a 15.6-inch laptop and at least four A4-sized documents.
Durable and water repellant, the tote is adorned with genuine cow leather trim, 100% polyester lining and organizational pockets include a phone, pen and open pocket. This tote has a soft leather handle, which makes the bag easy to carry and transport. Comes with gold hardware and is available in ermine off white and a natural flare.
Buy the Hedgren Yucca tote now

Le Donne Laptop Tote

Available in red, black, tan, cafe and gray, the Le Donne leather women's laptop tote is designed for stability and style. The sturdy construction features metal feet to protect the bottom of your bag, a top zipper enclosure and 11-inch shoulder strap. The bag holds up to a 15.4-inch laptop, along with cell phone pocket, two pen holders and two business card holders. The bag's hardware is subtle and sophisticated, making this bag a perfect match for any outfit or occasion.
Handcrafted from Vacquetta cowhide, the Le Donne tote includes a double padded laptop sleeve and double handles, which makes this bag a preferred business companion.

Buy the Le Donne laptop tote now

Kate Spade Kennedy Park Calista

Any Kate Spade bag instantly becomes a business professional's best friend, but the Kennedy Park Calista is a laptop bag that transcends the typical, everyday bag. Designed from nylon with smooth leather trim, the exterior is built for style but also resilience. The bag's interior is crafted from capital Kate Jacquard lining and adorned with 14-karat light gold plated hardware. Don't forget about the trademark Kate Spade New York license plate embedded at the top of the bag.
Accommodates a 13-inch laptop, held safely inside the bag with a zipper enclosure. Bag has two straps for carrying--shoulder straps and a cross body strap for a comfortable fit. Available in black.

Buy the Kate Spade New York Kennedy Park Calista now

Royce Leather Vaquetta

The Vaquetta triple compartment laptop briefcase is designed from handcrafted Columbia Vaquetta leather and contains three primary compartments designed to hold a variety of the busy professional's tools from the trade. The front compartment is designed for quick and easy access to keys, glasses, business cards or pens.
Contains a TSA lock and room for up to a 13-inch laptop, along with a clasp enclosure. The bag's black exterior is designed to wear and burnish over time to become a fabulous patina. Smart and simple, but loaded with style and utility, the Vaquetta bag has both a carrying handle and a cross body strap. Brushed nickel accessories and a large open pocket in the back can hold the morning newspaper.

Buy the Royce Leather Vaquetta now

McKlein USA W Series Glen Ellyn

Prefer a bag on wheels? The McKlein USA W Series Glen Ellyn leather bag is a detachable-wheeled women's 15.4-inch laptop bag. Both fashionable but ideal for women with plenty to carry to the job, the McKlein bag is created from Italian leather and has a patented removable wheel handle system that makes travel a snap.
Retractable handles allow for easy stowing in an overhead airplane compartment, which makes the McKlein bag perfect for the busy professional. This bag can hold its own thanks to a smart exterior, front organization section and front zipper pocket. The front organizer holds easy to access materials, while the middle compartment contains a file divider for documents. Available in red, black, blue, green, orange and pink; the wheeled case fits quickly and easily in place when you are ready to travel.

Buy the McKlein USA W Series Glen Ellyn now

-- Written by Gina Ragusa
Disclosure: TheStreet has advertisers and partnerships; we may get a share of the revenue from your purchase.