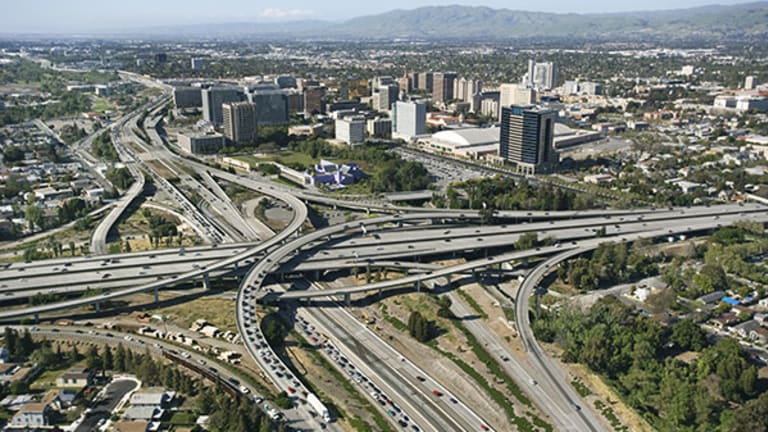 10 Best Growth Cities for Tech Jobs
Best metro areas for the tech industry's job hunters are cities far from Silicon Valley, with top two in the South.
NEW YORK (TheStreet) -- Silicon Valley is the traditional mecca for aspiring technology professionals, but job seekers who want to settle down in one of tomorrow's tech capitals should look to the South, the Northeast and other cities in the West, according to the latest report from online job board and researcher ZipRecruiter.
While the two highest-ranking metropolitan areas on the list are in the South, four others are scattered throughout the West. The list also includes cities that were economically dependent on heavy industry for much of the last century but are now trying to reinvent themselves as centers of technological innovation.
Characteristics common to all the cities on the list include a low cost of living, colleges and universities that act as research hubs, and a robust entry-level workforce, according to ZipRecruiter. 
Many include areas of the city specifically earmarked for technology companies, such as Eugene-Springfield's "Silicon Forest" in Oregon.
The list was compiled by analyzing the tech industry and jobs available in each of the metropolitan areas with positive job growth.
Looking for the next center of the technology industry? See which city was named No. 1.
10. Eugene-Springfield, OR
Total population: 351,715
Number of open information technology jobs: 3,000
Types of companies that operate there: Hardware, renewable energy
Top 5 Tech Jobs: 
Programmer Analyst
Senior QA Analyst
Network and Systems Engineer
IT Services Manager
Application Software Developer
9. Nashville-Davidson-Murfreesboro, TN
Total population: 1,792,649
Number of open information technology jobs: 20,430
Types of companies that operate there: Healthcare firms that need employees in STEM fields
Top 5 Tech Jobs:  
Senior Programmer Analyst
Information Security Engineer
Systems Administrator
IT Manager
iOS Developer
8. Manchester-Nashua, NH
Total population: 403,895
Number of open information technology jobs: 2,700
Top 5 Tech Jobs: 
Ui Software Engineer
Systems Architect
Java Developer
Senior IT Project Manager
Sharepoint Administrator
7. Boise City-Nampa, ID
Total population: 650,288
Number of open information technology jobs: 8,180
Types of companies that operate there: Computer (Hewlett Packard (HPQ) ) and software (Microsoft (MSFT) )
Top 5 Tech Jobs: 
Application Engineer
Filmware Engineer
Software Engineer
Mobile Software Developer
Net Software Engineer
6. Indianapolis-Carmel, IN
Total population: 852,866
Number of open information technology jobs: 28,370
Types of companies that operate there: Software, security technology
Top 5 Tech Jobs: 
Senior Java Developer
Infrastructure Architect
Java Developer
Operations Manager
Net Developer 
5. Hartford, CT
Total population: 1,211,280
Number of open information technology jobs: 20,920
Types of companies that operate there: Aerospace and defense (United Technologies (UTX) )
Top 5 Tech Jobs: 
Applications Engineer
Systems Analyst
Infrastructure Engineer
Java Developer
Data Architect
4. Fort Collins-Loveland, CO
Total population: 310,487
Number of open information technology jobs: 5,590
Types of companies that operate there: Chipmakers (Intel (INTC) ) and computer (Hewlett-Packard (HPQ) )
Top 5 Tech Jobs: 
Software QA
SQL Server Database Developer
Application Software Developer
Test Engineer
Lead Systems Programmer
3. Provo-Orem, UT
Total population: 551,891
Number of open information technology jobs: 8,570
Top 5 Tech Jobs: 
Technical Support
Python Developer
Field Technician
Software Engineer
Net Developer
2. Raleigh-Cary, NC
Total population: 1,242,974
Number of open information technology jobs: 28,510
Companies that operate there: Networking equipment (Cisco Systems (CSCO) )
Top 5 Tech Jobs: 
Infrastructure Architect
Design Engineer
Tooling Engineer
Java Developer
SQL Developer
1. Austin-Round Rock, TX
Total population: 1,943,299
Number of open information technology jobs: 50,920
Companies that operate there: Computer (IBM (IBM) , Dell (DELL) ), Internet (Google (GOOG) (GOOGL) , Facebook (FB) , eBay (EBAY) ) and chipmakers (Intel (INTC) )  
Top 5 Tech Jobs: 
Java Developer
Development Analyst
Technical Writer
Software Engineer
Network Administrator