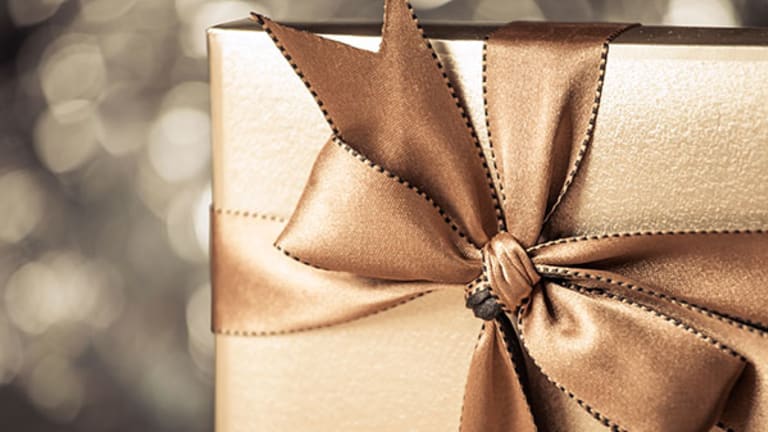 10 Best Gift Ideas for Executives
We've curated a selection of everything from espresso makers and chef's knives to high tech drones and smart watches.
One of the biggest challenges of gift shopping for executives is striking a balance between form, functionality and usability. Couple this with the added task of trying to find something that your favorite execs might not buy for themselves.
To help narrow down the seemingly endless choices you have for gifts, we've curated a selection of everything from espresso makers and chef's knives to high tech drones and smart watches.
iHome iB73 Bluetooth Wireless Headphones
This is the perfect gift for the exec who spends a good amount of time at the gym. The earpieces are connected together by a flat cable that runs behind the head, making it easy for the user to move from one exercise machine to the next.
iHome's iB73 bluetooth wireless headphones has a built-in microphone and 4.0 Bluetooth wireless capability so the person exercising can listen to audio -- or take calls -- from a mobile device that is up to 30 feet away. It is also sweat-proof and provides up to 10 hours of listening time before it needs to be recharged.
The iB73's volume, play/pause and track controls are all on the in-line remote control on the right earpiece. Although this pair is convenient and lightweight, the quality of the sound is not sacrificed.  The iB73 is designed for those who enjoy music with booming bass, and it comes with detachable ear cushions in different sizes to ensure the best fit.
A few extras: this gift comes with a USB charging cable and travel pouch.

Get the iHome iB73 Bluetooth Wireless Headphones on Amazon now
Nat Geo CompressLite Packaway Jacket
Packaway jackets are a great gift for the executive on the go. Whether it's for someone who spends a lot of time waiting on an outdoor platform for the next train, or for someone sitting in the stands watching a football game, this jacket, available for both men and women, will help protect the wearer from the wind and rain.
The CompressLite jacket has insulation properties that are comparable to natural down (it uses ClimaPlus fill). It is designed to provide waterproof protection in even the rainiest conditions -- keeping the wearer cozy and dry during any outdoor adventure.
A hood with elasticated bound face facilitates a warm, dry head, and zipped pockets help secure important stuff. It's lightweight and designed to fold-up and be tucked away in its own pouch when not in use.
Craghoppers has partnered with National Geographic to produce these jackets that are designed to protect active consumers in all weather.
Get the Nat Geo CompressLite Packaway Jacket for Men on Amazon now
Get the Nat Geo CompressLite Packaway Jacket for Women on Amazon now

Mr. Coffee Cafe Barista
Coffee lovers will certainly enjoy the Mr. Coffee Cafe Barista, which makes it easy to make a tasty espresso drink - without leaving the office.
This compact 3-in-1 machine facilitates brewing coffeehouse-style beverages in a home or office. It's got a relatively small 8" x 10" footprint, so it can be set-up practically anywhere.
With Mr. Coffee's easy-to-use system, friends, colleagues and customers will think they're with a professional barista. This semi-automatic espresso, cappuccino and latte maker includes an automatic milk frother, and a one-touch control panel.
A recipe book included with the coffee maker allows users to conjure up everything from perfect shots of espresso and traditional cappuccinos to raspberry cappuccinos and choco-nutty lattes.
Get the Mr. Coffee Cafe Barista on Amazon now

Achaval-Ferrer Wine Gift Set
Is the executive on your list a wine-lover? Don't just send him a bottle, make it two bottles of premium wine from Achaval-Ferrer.
The Finca Altamira 2012 and Finca Bella Vista 2012 are the top of the line for this Argentine winemaker. Both have been highly ranked by Wine Spectator and Wine Advocate/Robert Parker.  
The Finca Altamira 2012 ($140) received 93 points from Wine Spectator and 94 points from Wine Advocate/Robert Parker; the Finca Bella Vista 2012 ($140) received 92 points from Wine Spectator and 93 points from Wine Advocate/Robert Parker.
Send your favorite exec this gift box, and if you're lucky, the next BYOB dinner will be on him.



Rosewood Chef's Knife
Whether you're giving a gift to a gourmet cook or a weekend kitchen warrior, a chef's knife with rosewood handle will make a nice addition to anyone's kitchen toolset.
Victorinox, which makes the inimitable Swiss Army Knife, produces this line of kitchen knives - combining functionality with aesthetics.
The 8-inch chef's knife was specially designed for the 130-year anniversary of Victorinox. It's a straight edge knife that will please everyone, from professional chefs to everyday cooking enthusiasts.
All of the knives in the Victorinox Rosewood collection are made from high quality chrome-molybdenum steel, and feature ergonomic, rosewood handles.  
Get Victorinox Rosewood Forged Chef's Knife on Amazon now

Pebble Time Smartwatch
Another great gift for the exec is a smartwatch. One possibility to consider is the Pebble, a cross-platform Bluetooth device that works with both Android and iOS. It's got a nifty magnetic charger and is available in different styles and colors.
The Pebble comes preloaded with eight watch faces and there are even more options online. It also includes an onboard music controller and the ability to read text messages on the go.
It displays email, SMS, Caller ID, and other notifications from right on the wearer's wrist. The Pebble also vibrates when an incoming call comes in, and displays the number or name of the caller.

Get the Pebble Time Smartwatch on Amazon now

Amazon Echo

Amazon, Google, Apple, and many other companies are scrambling to dominate the "Internet of Things," with control modules for managing connected devices.
The Amazon Echo, which weighs less than two pounds, is an aesthetically designed black cylinder that can probably live comfortably in just about any environment.
The Echo will easily connect a home network via phone, tablet or desktop apps. In an addition to Bluetooth, it features a built-in speaker for 360-degree immersive sound.
The Echo connects to Alexa, a cloud-based voice service, to provide information, answer questions, play music, read the news, check sports scores or the weather.  
For more on the Amazon Echo, check out Chris Ciaccia's Amazon Echo Review -- Is This the Future of Computing?
Get the Amazon Echo on Amazon now

Kilburn Bluetooth Speaker
Marshall Headphones, which started more than 50-years-ago in small drum shop in the UK, brings stage-quality sound to sound to the average audiophile.
The Kilburn, Marshall's Bluetooth speaker, seems to have been created at the intersection of retro and modern tech. While it looks like a desktop version of a concert amplifier from the 1960s, it delivers well-balanced highs and lows. And it's got a small enough footprint to fit on a bookshelf or elsewhere in the office of a hippie-turned-corporate-exec.
Plus, it's fun to use. It has analog knobs for fine-tuning, and even comes with its own version of a guitar strap for easy portability.
In addition to Bluetooth, the Kilburn has a 3.5 mm input jack and rechargeable battery that should provide about 20 hours of rock and roll before needing to be refueled.
Get the Kilburn Bluetooth Speaker on Amazon now

LG SMART TV
The convergence of traditional televisions and desktop PCs is continuing with a new generation of connected TVs. The LG Smart TV is one of these hybrid devices, available in sizes ranging from 43 to 65 inches.
LG is one of the leaders in connected TV technology. The Smart TV facilitates access to a wide range of premium and standard online content, from Netflix to YouTube. The LG's home dashboard can be customized for most-used apps, so less time is spent navigating and more is spent enjoying.
The Smart TV also includes Ultra HD and 4K Streaming. A feature called "Smart Share" facilitates streaming from any device or even and external hard drive.  
Get the LG SMART TV on Amazon now

The Solo Drone
On the tech front, one of the companies leading the unmanned aerial vehicle, known as the "drone," revolution is 3D Robotics. The company's Solo features twin Linux computers that provide enough on-board processing power to enable full control of GoPro cameras and live-streaming HD video.
This Solo is not your everyday lightweight drone. It's bigger and heavier than many of the consumer drones on the market. And its estimated flight time is up to 25 minutes without a payload, or up to 20 minutes with a GoPro attached.   
The Solo also features lots of auto-navigation features, including GPS. Using the built-in software, the user can program the drone for flyovers, and for both still photos and video.
"I have never flown/owned a quadcopter before, and all I can say is this has been amazing," says one reviewer on Amazon. "I had the chance to take it to Mexico on vacation and got some amazing footage."  


Get the Solo Drone on Amazon now

-  Written by Greg Sandler
Disclosure: TheStreet has advertisers and partnerships; we may get a share of the revenue from your purchase.