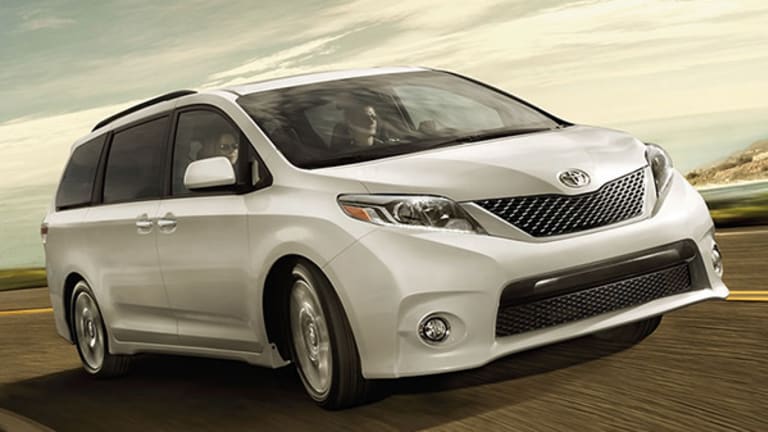 Publish date:
10 Best Fuel-Efficient Family Cars For 2016
The family car comes in all shapes and sizes this year, but mileage is still a key purchase factor: Even with gas at $1.70 per gallon.
The family car comes in all shapes and sizes this year, but mileage is still a key purchase factor: Even with gas at $1.70 per gallon.
What makes a family car?
Is it cargo space for everybody's stuff? Is it room for half of a lacrosse team? Is it child-quieting amenities and distractions? Or is it just an affordable car that doesn't suck down gas. For U.S. families, it's all of those things and more.
Each year, automotive publications release their list of best family cars in an attempt to define what the term "family car" means that year. Kelley Blue Book needs 15 vehicles to illustrate its ideas about family transportation. Edmunds typically consults Parents magazine to help thin its own list to ten vehicles, as it did last year. Each list is dotted with crossovers, minivans, mid-sized sedans, three-row SUVs and pickups that offer as diverse a mix as U.S. families drive each day.
"For two weeks' time we drove, lived-with, folded-down-seats-of, paired-phones-to and installed-baby-seats-in each and every one of the contenders," says Jack R. Nerad, executive editorial director and executive market analyst of Kelley Blue Book's KBB.com. "We loaded cargo, contorted ourselves into third rows, watched movies on rear-seat screens, toted rowing teams to marinas – in short, we did everything that you and your family might do with a vehicle day-to-day. And we did all this with a certain sense of what a family needs and wants, since many of our testers are simultaneously parents of kids ranging from mid-twenties to newborn."
However, even with gas prices nationwide averaging less than $1.70 per gallon, according to AAA, there's still plenty of reason for families to give fuel efficiency some serious consideration. The Environmental Protection Agency says vehicle fuel efficiency standards have to reach a combined 54.5 miles per gallon by 2025 for entire corporate fleets. However, the average fuel economy (window-sticker value) of new vehicles sold in 2015 was 25.3 mpg, according to the University of Michigan Transportation Research Institute. That's still less than halfway to the EPA and Department of Transportation's goal that they set back in 2012, though it beats the roughly 19 miles per gallon that the Department of Transportation measured for the same pool of vehicles in 1995.
We thumbed through the KBB and Edmunds list and found the ten most fuel-efficient vehicles of the bunch. They're surprisingly roomy, for fuel sippers:

10. 2016 Toyota Sienna
Starting price: $28,850
Miles per gallon: 18 city, 25 highway, 21.5 combined
Maximum cargo space: 150 cubic feet
If you're going to play the minivan game in 2016, you have two strategies at your disposal: Cram the giant box with tech toys or fill it with people.
Toyota's decided to take the latter route with the Sienna and use an upright folding seat in the second row to squeeze in as many as eight passengers. The entire second row slides up to allow third-row access and the second and third rows can fold away if there's a need for extra storage. That 39 cubic feet of cargo space behind the third row can expand to as much as 150 cubic feet with the seats away.
With power sliding doors, keyless entry, power liftgate in the back, second, row climate controls, a sliding center console, panoramic moon roof, backup cameras and Entune entertainment and information system all available, the Sienna is only giving families more to love by raising the stakes on its rival Honda Odyssey.

9. 2016 Toyota Highlander
Starting price: $29,990
Miles per gallon: 20 city, 25 highway, 22.5 combined
Maximum cargo space: 83.7 cubic feet
This Camry-based crossover helped kill the lumbering conventional SUV when it was introduced little more than a decade ago and continues to trim the fat, especially in hybrid form. That mileage complements features like a panoramic moonroof, power liftgate, three-zone climate control and backup camera without sacrificing the Highlander's storage space or three rows of seating.
The 27.5 inches of legroom in the third row is generous, even if the inch of headroom isn't. However, the 31.5 inches of legroom in the second row is near-miraculous, while the 42 inches of legroom up front is among the best available on this list. Having a backup camera, Toyota's Entune touchscreen audio system, Apple's Siri eyes-free voice controls and Bluetooth all standard also helps.

8. 2016 Subaru Outback
Starting price: $24,995
Miles per gallon: 25 city, 33 highway, 29 combined
Maximum cargo space: 73.3 cubic feet
This is not the wagon it once was, but certain features never change
The newer models look more like larger SUVs than lacrosse wagons, but the standard all-wheel drive that routinely draws fans from wet and snowy locations remains. The Outback's combined 28 miles per gallon aren't great, but aren't terrible, while its more than 35 cubic feet of cargo space with the seats up gets the job done. Subaru's added Bluetooth connectivity to all its models and beefed up the options on its pricier trims, which means rearview cameras, power liftgate, voice-activated GPS and X-Mode engine control that provides additional traction on inclines and wet roads.

7. 2016 Honda CR-V
Starting price: $23,745
Miles per gallon: 26 city, 33 highway, 29.5 combined
Maximum cargo space: 71 cubic feet
This is the go-to family crossover in the United States and a perennial Top 10 best-seller not only for its price, but what that price affords.
After the popular crossover's 2012 overhaul, it's only made that transition easier by adding a leather interior, moonroof, Pandora-connected information display, heated seats and rearview windows and navigation system with controls mounted on the steering wheel. It's also trimmed fuel efficiency while leaving all 70 cubic feet of cargo space untouched. It gives cash-strapped families a whole lot for their money, which may explain why so many continue to shell out for it.
"Whether you're carrying a lot of people, a lot of their stuff, or a lot of both, your family car needs to get it all where you need to go," says Brandy Schaffels, automotive industry analyst and chief editor of automotive site AskPatty.com. "Young families need room for strollers and car seats, others need room for their kids' backpacks and sports gear."

6. 2016 Hyundai Sonata
Starting price: $21,750
Miles per gallon: 25 city, 38 highway, 31.5 combined
Maximum cargo space: 16.3 cubic feet
It's been a long time since the term "family car" referred to – you know – a car.
The Sonata can't fit a scout troop or the midfield and defense of a youth soccer team, but for a family of four, there's 106.1 cubic feet of cabin space that's among the roomiest in its class. There's 35.6 inches or rear leg room, and the back seat bench can seat three adults comfortably and three kids with room to spare.
Throw in the Blue Link telematics system, backup camera, touchscreen audio, steering wheel mounted controls, Bluetooth and optional dual-zone automatic climate control, and you're getting a lot of sweet perks for less than $25,000. Our favorite? The hands-free "smart" trunk opener fob that automatically unlocks the trunk if the person with the key stands behind the car for more than three seconds.

5. 2016 Honda Accord
Starting price: $22,104
Miles per gallon: 27 city, 37 highway, 32 combined
Maximum cargo space: 15.8 cubic feet
With every facelift, the Accord turns into a better deal.
Back in 2013, Honda's goal was to make the Accord less of a Point A-to-Point B snooze fest by adding standard an 8-inch LCD display for its information, communication and app-based entertainment system, a single angle backup camera, dual zone climate control, a lane-drift detector, a power moon roof and alloy wheels. Other new options include a three-angle backup cam, enhanced safety sensors, LED running lights and adaptive cruise control.
The one element that remained intact, however, was the Accord's combined 32 miles per gallon. Though the Detroit makeovers haven't helped the Accord, this year's facelift should help it maintain its position as one of only two cars among the Top 5 vehicles sold in the U.S. The country that loves it a Ford F-Series, a Chevy Silverado and a Dodge Ram also loves an Accord.

4. 2016 Chevrolet Malibu
Starting price: $21,525
Miles per gallon: 27 city, 37 highway, 32 combined
Maximum cargo volume: 15.8 cubic feet
It just made sense to connect a car that was already pretty well hooked up. General Motors made a big point of overhauling the Malibu in 2013 by packing its base model with an AM-FM stereo with iPod/USB and auxiliary input jacks, Bluetooth with hands-free streaming of audio from compatible devices, OnStar and Sirius-XM Satellite Radio. Everything above that base model also received a large touch-screen display using Chevrolet's MyLink information and entertainment system, Pandora Internet Radio playback and Sirius-XM Travel Link navigation..
The combined 32 miles per gallon is better than the highway mileage of some midsize competitors and an improvement from 27.5 in 2012, but the facelift it received for 2016 makes the Malibu's exterior just as stylish as its two-tone interior.

3. 2016 Mazda3
MSRP: $18,545
Miles per gallon: 30 city, 40 highway, 35 combined
Maximum cargo space: 47.1 cubic feet
The Mazda3 contains a striking amount of power in an extremely small space. A 2-liter engine gives this little hatch 155 horsepower, which basically dusts most vehicles in its class while still putting up nearly 36 miles per gallon of fuel efficiency. Meanwhile, even this vehicle's lesser trims come with standard Bluetooth, six-speaker audio and the Mazda Connect system with 7-inch full color touchscreen, multi-function Commander control, voice command, HD Radio, Pandora, auto text and voice reply and E911 emergency notification. The 12 cubic feet of trunk space isn't great, but it works out just fine if you travel light.

2. 2016 Honda Fit
Starting price: $15,890
Miles per gallon equivalent: 33 city, 41 highway, 37 combined
Maximum cargo space: 52.7 cubic feet
One of the subcompacts that started the class's renaissance, the colorful and convenient Fit got a complete revamp that makes it an incredibly worthy tailgate vehicle despite its size. Its cargo space with the seats down actually decreased from 57.3 cubic feet last year, but the seats get a little more modular, to the point that the from passenger seat folds back to serve as a footrest for a passenger in the back who wants to sleep for this leg of the trip. Blind-spot cameras, a multi-angle rearview camera, touchscreen audio system, Bluetooth connectivity, an app suite, leather-trimmed and heated seats, a moonroof and satellite navigation all make for a pleasant, comfortable ride for both driver and passenger.

1. 2016 Volkswagen e-Golf
MSRP: $21,495 after incentives
Miles per gallon equivalent: 126 city, 105 highway, 115.5 combined
Electric charge range: 83 miles
Maximum cargo space: 52.7 cubic feet
Edmunds really liked the turbo diesel version, but Volkswagen's fudging of its emissions figues was problematic. The e-Golf has no such baggage.
Standard features including an electrically heated windshield, full LED headlights with LED Daytime Running Lights, rearview camera, Media Device Interface (MDI) with iPod cable, navigation system with 5.8" touchscreen with proximity sensors and voice control, Volkswagen Car-Net connected car features with e-Golf functions, keyless access with push-button start and heated front seats just blend in seamlessly. The 115-horsepower engine can be sluggish for those used to a little more high-octane German engineering, but a four-hour "slow" charge and a 30-minute direct-current quick charge compensate for that lack of pep.
This article is commentary by an independent contributor. At the time of publication, the author held no positions in the stocks mentioned.