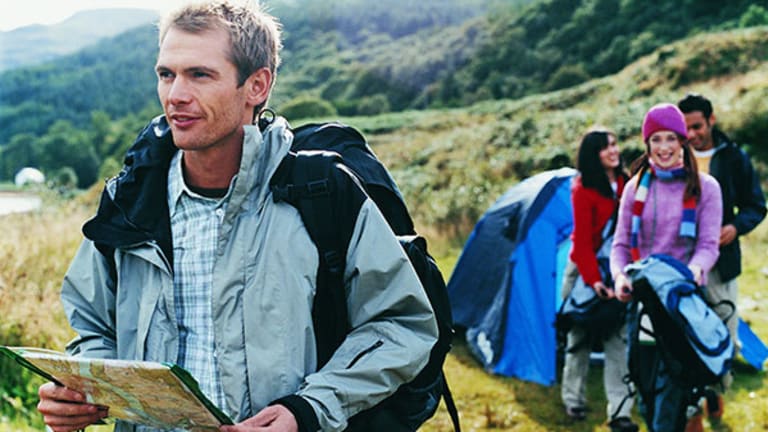 10 Best Fitness Gifts for Outdoorsy Types
Veterans of the outdoors, these fitness people likely have a good idea of what types of items will help them brave the cold and bear the heat.
Do your outdoorsy friends and family a favor, and pick them out some gear that specifically caters to their needs. Veterans of the outdoors, these fitness people likely have a good idea of what types of items will help them brave the cold and bear the heat.
Surprise them with an item they didn't know they needed, or go with gift you know they will be sure to use. Either way, not all sporting goods are created equal, so we've picked the top-rated products for the trailblazers in your life.
Fox River Mammoth Ski Socks
No one welcomes a good pair of socks more wholeheartedly than a person who spends long cold days on their feet. Athletes get extra benefits from a pair catered to their activities.
In the winter, socks should be warm but still breathable. Tall socks are often preferred because they keep snow out and provide a comfortable base layer under boots.
The compression zones and partial cushioning on this pair make them particularly well suited for skiers, but they are a fine choice for any similar cold-weather diversion.
Buy the Fox River Mammoth Ski Socks for $6.80 - $14.95 on Amazon.
Camelback Fourteener 20 Hydration Pack
Winter sports require a lot of gear. Emergency supplies, food, water, and an extra layer - it adds up fast! This hydration backpack stows the whole stash.
The tube-and-valve water system provides hands-free sipping. Being able to hydrate without taking off gloves or putting down poles is a big deal in frigid temperatures, so this pack can really help a weekend warrior get the most out of their excursions.
Women might prefer the comparable Aventura 18 model, with more female-friendly dimensions.
Buy the Camelback Fourteener 20 Hydration Pack for $92.99 - $188.10 on Amazon.
Hydro Flask Insulated Stainless Steel Water Bottle
A beverage container that keeps hot drinks hot and cold drinks cold is a gift that keeps on giving. Unlike a full sized hydration pack, which might get only occasional use, a water bottle that does double duty can be used daily all year long.
The stainless steel doesn't retain odors or flavors like some other materials, so it is extra versatile. Its matte finish and durability appeal to rugged types.
Hydro Flasks are available in a rainbow of colors, sizes, and with different mouthpieces, so there is one for every outdoorsperson on your list.
Buy the Hydro Flask Insulated Stainless Steel Water Bottle for $20.87 on Amazon.
Merit Waterproof iPhone Case
Active people use their phones for much more than calling and texting. Smartphones multitask as GPS equipment, fitness trackers, cameras, and more.
As a result, these little devices are exposed to big-time wear and tear, especially outside. Protect your friend's investment by gifting them a shockproof, waterproof case that keeps out dirt and dust.
We like this Merit case because it maintains aspects of the phone's usability (like touch screen sensitivity, sound quality, and charger compatibility) better than its bulkier competitors.
Buy the Merit Waterproof iPhone Case for $35.99 on Amazon.
Lezyne Port-A-Shop
The Lezyne Port-A-Shop toolkit is a well-curated array of basic bicycle tools in an attractive case. Its portability and organization make it the perfect emergency repair kit.
Your favorite cyclist can keep the whole thing in an accessible place, or keep a few select tools in their bike bag.
Having the right maintenance gear means they'll never be uncomfortable, or worse, stranded, if their bike gets damaged on a long ride.
Buy the Lezyne Port-A-Shop, $109.50 on Amazon.
Nomadix Universal Towel, $54.99
Paradoxically, a quality microfiber towel is both practical and luxurious. Minimalists appreciate its versatility for camping, traveling, water sports, and sweat wicking. Gear heads relish this pick's thin fabric, softness, and surprising absorbency.
The quick-dry material deters bacterial growth and odor, a big plus for gym goers and hikers that pack their dirty towels up again and again.
The many patterns are extremely fashion-forward, so this utilitarian gift will be a memorable one as well.
Buy the Nomadix Universal Towel for $54.99 on Amazon.
Kahtoola Microspikes
Foot trails considered tame in the summer are often hazards in the winter. Unfortunately, popular trails become dangerous quickly. High traffic packs snow down and creates a dense, slippery surface.
Removable shoe spikes -- also known as crampons or snow treads -- are a game changer in these situations. They turn normal footwear into all-terrain vehicles.
These well-reviewed Microspikes are best for walking, hiking, or running. They could be a great choice for a dog owner that needs to exercise their pet through the elements.
Buy the Kahtoola Microspikes for $47.96 - $69.95 on Amazon.
Casio Men's Pathfinder Triple Sensor Watch
Watches are classic gifts, but when you're shopping for someone who loves the outdoors, no ordinary fashion model will do. You'll want to buy something as connected to the outdoors as he is.
Enter this Casio model. It's got an altimeter, barometer, compass and thermometer built in, and it's water resistant as well as resistant to temperatures down to 14 degree Fahrenheit. It's also solar powered, which makes it an eco-friendly option that deepens its connection to nature.
If the person you're shopping for is an outdoorswoman instead of an outdoorsman, consider this watch from Suunto. It also has an altimeter, compass and barometer, with the added bonus of a heart rate monitor. But it's not as chunky as the Casio, so it would be better for slimmer writs.
Buy the Casio Men's Pathfinder Triple Sensor Watch for $187.50 on Amazon.
Manduka PRO Yoga Mat
You don't need to be a committed yogi to benefit from doing yoga. In fact, many athletes practice yoga as a complement to their main sport. This premium Manduka yoga mat has been a perennial favorite amongst devotees and hobbyists alike.
The price may seem relatively high, but it's one of the thickest, most dense, longest-lasting mats available -- which makes it perfect for those who like to get their downward dogs on in the great outdoors. Many users report wearing out lesser mats much more quickly.
It's not just for yoga, either. It provides excellent padding for any kind of floor exercise, like stretching, sit-ups, or other calisthenics -- or it could even serve as an under-sleeping-bag mat for camping or a seat for an outdoor picnic.
Buy the Manduka PRO Yoga Mat for $98 on Amazon.
Ridge Merino Wool Inversion Midweight Bottom
In cold weather, base layers are essential. A pair of tights is the best option for wearing underneath outdoor fitness apparel, but performance is key. Uncomfortable, bulky options can be more trouble than they're worth.
Merino wool is soft, odor-resistant, and moisture regulating. It works like a high-tech fabric, but is natural, sustainable, and biodegradable.
This pair costs a fraction of some higher price point options, but it features many of the same construction details, such as flatlocked seams and a non-digging recycled polyester waistband. Available for women and men.
Buy the Ridge Merino Wool Inversion Midweight Bottom for $49.95 on Amazon.
By Michael Franco
Disclosure: TheStreet has advertisers and partnerships; we may get a share of the revenue from your purchase.