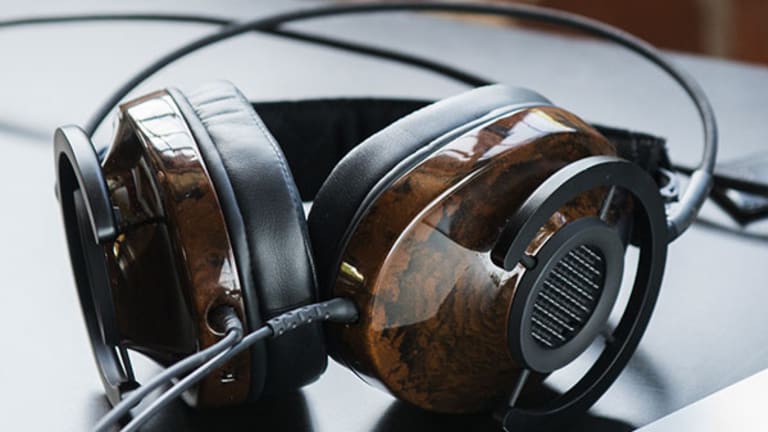 10 Best Back-to-School Audio Gear for 2015
Great-sounding earphones, headphones and digital portables that are easy on the wallet too.
NEW YORK (TheStreet) -- Portable audio devices have come a long way since the original Sonyundefined Walkman cassette devices first introduced in 1979 or even Apple's (AAPL) - Get Free Report hard-drive-based iPod introduced in 2001.
Today's devices are based on solid-state memory storage and can deal with all sorts of music files from the MP3s/AACs of previous years up to and including high-resolution music files that are becoming more and more popular today.
Same for headphones. For years headphones were large, bulky items. They were nicknamed "cans" because that's what they looked and felt like when you wore them. There's a broad array of choices ranges from in-ear products selling for less than $10 to super-high-end designs selling for thousands.
We've zeroed in on ten of the more affordable portable audio products that offer not only great sound but also the most "bang-for-the-buck" - always a concern for cost-conscious music lovers.
Panasonic RP-HJE120
You probably didn't know think you could find good sounding earphones selling for less than ten dollars, but you can. Panasonic's (PCRFY) RP-HJE120 in-ear speakers retail for only $9.99 if you buy directly from Panasonic.
These come in eight different designer colors (some made to match Apple's 5th-generation iPod touch) and offer 3 different sizes of "soft earpads" in the package to assure a good fit. The RP-HJE120s sound much better and clearer than the ubiquitous white ear plugs that come with some digital music players.
As you might expect, the RP-HJE120's are a very popular item - especially so on Amazon.com where they sell for just over $6.
Trinity Hyperion
The next recommended step-up in price is the new Trinity Hyperion in-ear monitors. 
These are beautiful - made with an all-aluminum outer shell, sharp multi-braid cabling and a 24k gold, standard-sized, 3.5mm jack. According to audio experts who have spent time with the Hyperions have an "easy-to-listen-to balance" especially at moderate levels.
U.K.-based Trinity offers the Hyperion online for $46.84. Amazon.com should have them back in stock soon.
Grado SR60e
Brooklyn N.Y.-based Grado Labs manufacturers, among other things, an impressive live of headphones up to, and including, the new, limited-edition GH1 made with wood from one maple tree in Sunset Park.
But, for the back-to-school season we'll be discussing the least-expensive of the Grado's offerings - the SR60e. They offer we-ll balanced sound and are easy to wear for extended listening sessions.
I've owned a pair of the original SR60 on-ear headphones for years and years. They've held-up very well, are still comfortable and still sound great. The SR60 headphones will set you back $60.
Fiio X1
Fiio makes a line of great-sounding, high-resolution, portable digital music players. The X1 is its most affordable model.
The X1 can handle many types of digital music files including APE/FLAC/ALAC/WMA and WAV as well as MP3 files purchased from on-line music services. Its interface, while basic, is easy to understand and master and the sound quality is terrific.
The X1 retails for only $99.99 but has no built-in storage. You will need to also get a microSD card to store your files.
Sennheiser Momentum (2nd Gen)
Sennheiser's newly improved Momentum is a semi-closed, on-ear design that looks, and sounds, much more expensive than it really is.
The faux-leather trim, adjustable headband and the use of lightweight materials make this an especially easy, mid-priced choice. The new design, putting a speaker inside each ear cup, only adds to the package.
The second-generation Momentum retails for $229.95.
Apple iPod touch
Apple's (AAPL) - Get Free Report latest iPod touch is, in many respects, an iPhone without the phone.
With its almost high-definition, 4-inch touch screen (1136 by 640 pixels), Apple A8 processor, iOS 8, iSight camera, super-fast Wi-Fi and Bluetooth 4.1 connectivity, the iPod Touch is more of a tiny tablet than just a digital music device.
Prices start at $199 for a 16 GB model and go up to $399 for 128 GB of storage.
Sony NWZ-A17
Sony'sNWZ-A17 produces a large amount of high-resolution audio goodness, despite its $299.99 price point.
When we tested the A17 we thought the amazingly compact device, with 64 GB of on-board storage (plus a microSD card slot) looked and sounded great.
The only faults we could find were it doesn't come with an A/C adapter or headphones plus doesn't play DSD files - the current high-end audio favorite. Still, it's highly recommended.
Etymotic Research ER4
Etymotic Research is known for creating headphones and other devices that won't kill your ears. The ER4 MicroPro earphones are one fine example.
Over the years, Etymotic has developed a system utilizing auditory research and medical diagnostics to help create great-sounding, safer-to-use, in-ear earphones. Developed over 20 years, the ER4s are used by sound engineers, audiophiles and musicians. They sell for $299.
Etymotic is serious about audio quality as well as audio safety. The company boasts a line of products including the MusicPro Electronic earplugs that automatically change the in-ear sound levels as concert music levels increase.
Astell & Kern AK Jr
Astell & Kern's$500 AK Jr. is positioned at the bottom end of its product line.
It looks like it was sculpted from a solid block of metal and sounds amazing when it plays any and all of your digital music files from MP3s to DSDs. The proprietary operating system and the 3.1-inch touchscreen worked flawlessly, there's 64 GB of built-in storage (a microSD card slot too) and the rechargeable battery was good for nearly a day of high-resolution listening.
You get a good dose of what more expensive A&K players sound like. Those devices range in price as high as $3,500.
Audioquest NightHawk
Audioquest has been branching-out from just offering super-high-end audio cables. They also make the terrific, $150 DragonFly USB digital-to-analog converter as well as the tiny, new $50 JitterBug USB data/power noise filter. Both are terrific products.
But, the new NightHawk headphones are something very, very special. Using unique materials such as an in-house created liquid wood, sophisticated speaker design and even 3D-printed parts Audioquest's first headphones are also very comfortable to wear for long listening sessions. Plus, the sound is balanced, detailed but never harsh.
NightHawk retails for $600 and should be compared to other superior headphone designs which are double and triple the asking price.
Disclosure: TheStreet may get a share of the revenue from affiliate partners included in this article.