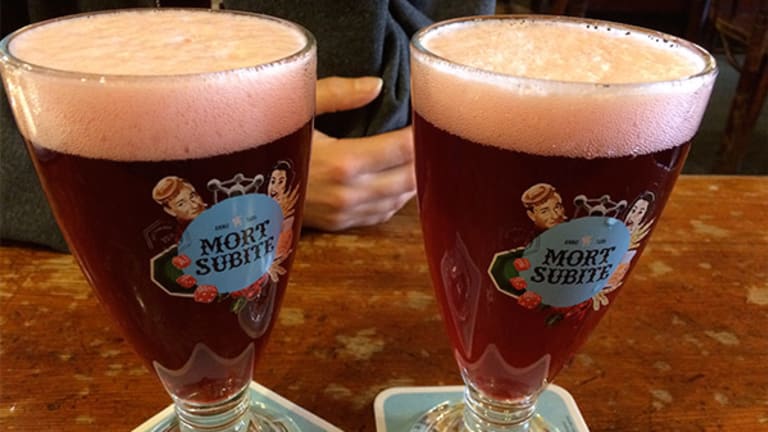 10 Belgian Beers That Are Worth Traveling For
Belgian beer is in no short supply in the U.S. as craft brewers frequently emulate its styles. But some of it is only found, and best enjoyed, at the source.
Visiting Belgium as a beer lover isn't just a vacation: It's a pilgrimage.
I've written about the beer industry for TheStreet for roughly six years, but I've seldom had the opportunity to do so from the European birthplaces of some of the most beloved U.S. styles. Though I've had the pleasure of sipping England's "real ale" out of the casks of London pubs, savoring Czech pilsner in Prague's beer halls, it all predated my tenure here. While I had the pleasure of witnessing U.S. craft beer win over taprooms in Amsterdam and Barcelona, it didn't hold the same weight of history as walking into an old Bavarian brewery that's hewed to Reinheitsgebot beer purity laws for 500 years.
However, being able to enjoy the breweries, taprooms and beer-reliant restaurants of Belgium with my wife without viewing it all through the lens of U.S. craft beer is liberating. We've told you before that without Belgian brewer Pierre Celis, who revived the Hoegaarden brewery and its lemony, spicy witbier style, U.S. beer drinkers wouldn't have Blue Moon Belgian White from MillerCoors, Anheuser-Busch InBev's Shock Top or Allagash White to sip during long summers. We've also mentioned that without Jeff Lebesch's European bike trips and a long stop inside Bruge beer hall t'Brugs Beertje in 1989, his partner Kim Jordan and he may never have founded Fort Collins, Colo.'s New Belgium Brewing Company or expanded it to Asheville, N.C. We've even showed you how a trip to Belgium inspired Pfriem Family Brewers to not only build a brewery, but to name their son after the Belgian town that is home to Browerij St. Bernardus.
But taking the train from Amsterdam and its expanding thirst for U.S. craft beer to Brussels, which is too concerned with hundreds of Belgian beers to give U.S. craft anything but a passing thought, was eye-opening. Beyond some offerings from Denver's Crooked Stave at the Moeder Lambic taproom and aging bottles of Rogue and Sierra Nevada at the Beer Mania bottle shop, U.S. craft beer wasn't part of the discussion, nor should it have been. Beer has been been brewed there in various forms since the 12th Century. Brasserie de Rochefort -- one of seven Belgian breweries run by Trappist monks -- brewed its first beers in 1595. The lambic style of spontaneously fermented beers dates back more than five centuries. Even Anheuser-Busch InBev, which has a headquarters in Leuven, still produces Leffe beer that traces back to an abbey established in the 12th Century.
To brew Belgian styles like a sour Flanders Red or Flemish Brown, a crisp Saison or a potent Tripel is to brew without the boundaries imposed by the Reinheitsgebot's edict that limits beer ingredients to water, hops and barley (even yeast was a late addition). If you want sour cherries, peach, raspberry, currant, lemon or apricot in your beer, you're welcome to add it. If you want to infuse it with yeast and bacteria before aging it in oak barrels, go ahead. If you want to throw spices like pepper or coriander into the mix, feel free.
Our time in Belgium wasn't the most opportune. We arrived a couple weeks after the March 22 terror attacks that killed more than 30 people, shut down Zaventem Airport, left the Maelbeek metro station silent and draped in memorials.  The city felt empty as camo-clad military personnel with submachine guns parked Unimog personnel carriers outside transit stations and various other points of interest. However, in the pubs and breweries of Brussels and Bruges, locals told us time and again over beers how glad they were that people were still coming to their cities and how strange it felt to have 60% to 80% of those who'd visited just a year earlier absent.
With fellow visitors hard to come by, it was the locals and business owners themselves who welcomed us and showed us what they felt was the best their city and country had to offer. As a result, our experience with beer in Belgium was likely much different than if we'd been wedged into large tour groups and packed tap houses. We came home with a suitcase full of beer, hundreds of pictures and a new appreciation for a beer culture that we'd only been able to appreciate at a distance or second-hand. The following ten beers serve as some of the highlights of what we were able to enjoy along the way:
10. Mort Subite Kriek
Kobbegem, Belgium
This isn't going to be the last lambic on this list, but it's an incredibly fun first.
While roaming the area around the ornate 19th-century Galleries Royale St. Hubert shopping arcade just beyond Brussels's Gran Place, we happened upon A La Mort Subite. This pub dates back to 1928, and the Art Nouveau facade, glass and columns indicate it hadn't changed much since. At the time it first opened, employees of the bank across the street would play a dice game inside on their lunch break until it was time to go back in. Their last roll of the afternoon gave the pub its "sudden death" nickname, but it also lent its name to a family of lambics that's still cooled in the bacteria-laden air of Kobbegem today.
In the Pajottenland region between the Dender and Senne rivers just west of Brussels, the Mort Subite brewery picks up much of the same wild yeast -- including the ever-important brettanomyces -- during the brewing process that Brussels brewers do. However, that little bit of distance makes Mort Subite's sour cherry lambic seem just a bit sweeter and more aromatic than those produced closer to Brussels capital region. More importantly, it was tart and refreshing without being syrupy sweet.
Through a series of acquisitions, a large share of Mort Subite is now owned by Heineken. However, with the Atomium from Expo '58 on its label and its Brussels pub going into its fourth generation of family ownership, Mort Subite isn't getting the Amstel treatment any time soon.
9. Viven Master IPA
Browerij Van Viven/Proefbrouwerij
Lochristi, Belgium
We didn't say that Belgium had absolutely no use for U.S. craft-style beers. It just wants to make them its own way.
While we were at Bierbrasserie Cambrinus, a sprawling pub with hundreds of beers and a menu including sliced chicken in Oud Bruin Flemish brown ale (my dinner for the evening), a U.S. expat from Germany seated beside me ordered this. He'd been drinking blonde ales for much of the night and, to his surprise, this was just a more aromatic, bitter, stronger version of what he'd been drinking.
The Viven brand has had a confusing and meandering history since first appearing in 1999. The original brewer named the brand after a neighborhood in his hometown of Damme, which is not where these beers are brewed at all. The beers were then named after historic buildings in that neighborhood, further complicating matters.
In 2010, the folks at Proefbrowerij -- or Pilot Brewery -- put an end to all of that, stripped the names off of the bottles and rebuilt everything but the brand's name. Looking to add traits of Flemish northern Belgium to non-Flemish beer recipes, they took a mix of German Merkur hops, New Zealand Nelson Sauvin hops and U.S. citra hops and used it to create what's essentially a more citrusy, tropical Belgian Tripel. Its 8% alcohol by volume is certainly more Tripel than straight India Pale Ale, but the use of strong flavor and aroma hops at the end of the brewing process definitely give it the character of a U.S. IPA.
The folks at Viven don't need U.S. craft brewers showing them how to brew. They seem to be able to apply the best elements of U.S. beers to traditional Belgian styles just fine.
8. Eerwaarde Pater
Izegem, Belgium
Beer has a place in Belgian cooking that it just doesn't in U.S. restaurants that aren't brewpubs.
At Nuetnigenough, a self-described "Brasserie for greedy gluttons" just below Brussels's Gran Place, dishes include rabbit in Brouwerij-Brasserie Cantillon's Gueuze lambic, traditional Belgian beef stew in Rochefort Trappist abbey ale and -- our first of two meals there -- blood sausage in Orval beer sauce. For those unfamiliar with Orval, the monks of Abbaye Notre-Dame d'Orval have been brewing it since the 1600s, but began brewing regularly in 1931 to support the monastery and its charitable interests.
Its 6.2% ABV near-blonde beer sells for roughly $6 a bottle here thanks to the efforts of importer Merchant du Vin, but it can be had for as little as $3.50 in Brussels and is far more ubiquitous than it is in the states. That said, it is not necessarily the beer to pair with a meal cooked in Orval.
The owner of Nuetnigenough pointed me toward Eewaarde Pater -- Reverend Father -- instead, and it was the right choice. The beef and broth-heavy sauce was much darker than the inclusion of Orval had let on, and this 9% ABV dark abbey beer -- contract-brewed by another brewer, Brouwerij Alvinne -- was a far better complement. Rich with caramel, chocolate and toffee-flavored roasted malt bitterness, Eewaarde Pater has heft that balanced the Orval and accentuated the beef almost perfectly.
After spending the next few days combing the beer shops of Brussels for it, to no avail, we returned to the restaurant for a second dinner, and I struck a deal with the owner. I gave her a bottle of Pfriem Family Brewing's IPA that I'd packed along with other Oregon beers for just such an occasion, and she gave me a bottle of Eewaarde Pater immediately after I'd finished my rabbit in Cantillon. It was a great deal but also an excellent lesson in both beer pairing and global trade.
7. Brugse Zot Blonde
Bruges, Belgium
After a morning at Old St. John's Hospital going over the medieval facilities, learning how ancient optometrists needled the eyes of their patients and learning how Flanders hanged, burned and otherwise slaughtered the women it believed to be witches, we needed some air.
We took a stroll by one of the city's canals, turned a corner beneath an abandoned horse bridge and suddenly smelled malted barley boiling. To anyone who's ever brewed beer, the unmistakable scent of wort -- the liquid produced by boiling malt over high heat -- is all too familiar. In this case, the scent led us down a few cobblestone turns, into a square and in front of Browerij De Halve Maan -- the makers of Brugse Zot.
I'd had their blonde ale with a plate of mussels the night before and loved the lacing on the glass, the slight hint of spice in the beer and the cloudy golden glow of it. When we entered the alleyway entrance into a courtyard overlooked by malt silos, old filtering equipment and windows onto the modern brewery, we decided to pay a visit. What we found was the most comprehensive beer museum we'd visit during our entire stay.
Though brewing in Bruges dates back to 1564, Henri Maes and his family began this brewery's current run in 1865. The museum has preserved just about each step of the way: This includes the malt house and hop kiln installed in 1867, the rooftop coolship ventilated cooler from the turn of the 20th Century, the fermentation and storage tanks installed after World War II and the modern brewery just completed in 2014. The tour's halfway point takes you through the coolship to the roof, which not only has a great view of Bruges, but of the bottling facility across town and the pipeline that the city is allowing De Halve Maan to build from the brewery to that bottling plant.
Keep in mind that the entire center of Bruges is a UNESCO World Heritage Site, but a beer pipeline is being placed beneath the cobbles anyway. That's how important beer is to this place.
6. Cantillon Zwanse 2013
Brussels, Belgium
Cantillon has been making its lambic beers since 1900 and is incredibly open about the process during tours of its Anderlecht neighborhood brewery.
They show you the open fermentation tank where the wort sits, the coolship where the air cools beer and infuses it with bacteria from vents outside, the barrels where spontaneous fermentation takes place (and where beer foams out of the plugs and onto your shoes) and the bottle fillers and barrel haulers they still use to this day. Also, the brewers won't hide the fact that they think carbonation exists to kill flavor in beer and that the Expo held in Brussels in '58 was designed to draw Americans in to drink beer and have a look at the uranium being mined from the problematic Belgian colony in Congo.
Even all of that is a less startling revelation than the fact that 375-milliliter bottles of its gueuze, kriek and framboise lambics that sell in the U.S. for upwards of $13 a bottle can be purchased in a three pack for less than $12. Oh, and those bottles of Zwanse dark beers whose recipes change from year to year and are sold on "Zwanse Day" here in the states for upwards of $75? Yeah, the current year's edition can be had for about $12. We ordered the 2013, which is more of a dark abbey Tripel blended with 10% lambic, from the front bar and were told we could only order a full bottle at roughly $15.
This was not an issue. We rested the bottle and its basket on our table and informed folks at the tables around us that we had some 2013 Zwanse that we couldn't possible finish all of. As a result, we were able to trade a glass with a gentleman from Canada by way of Edinburgh for a glass of his Fou'Founne apricot lambic. We swapped another glass with a woman from Brussels and her boyfriend from Australia and received some Rose de Gambrinus framboise lambic in return. About an hour and a half later, we went out separate way with bottles drained. It was a splurge, certainly, but the 2013 Zwanse was enjoyable as both a beer and a commodity. It was a rare treat to have access to it at a fairly affordable price and without standing in line for hours and pressing against the masses.
Cantillon considers its bottles "social" sizes, and that seemed an apt description on this occasion.
5. De Zwarte Zwaan
Bruges, Belgium
As we've seen before on this list, sometimes great beer and great pubs just manage to dovetail.
After riding out two midweek days when it was closed, we finally got into Bruges beer pub t' Brugs Beertje the moment it opened. Since opening the pub in 1983 (in a building dating back to 1632), Daisy Claeys and her more than 300 Belgian beers have served as a muse for the brewing classes.
As mentioned earlier, New Belgium's founder was inspired by a visit here and a chat with Claeys in 1989. In 2001, Eli No¿ dropped in here and was inspired to not only learn more about beer, but to found the t' Brugs Bierinstituut to teach others about Belgian beers and the brewing arts as well. The institute's tasting sessions introduce novices to the brewing process and teach them the differences in the aroma, flavor and character of beers made through various fermentation processes. Want to know what makes an ale, lager, lambic or Flemish brown look and taste the way it does? That's the kind of education the institute is pitching.
While we can't vouch for the quality of the courses, we'll certainly go to bat for one of the beer the institute produces. De Zwarte Zwaan -- "Black Swan," with a label featuring said creature paddling its way to the swan nesting area just outside the Beguinage convent, where a nun on the entrance bridge offers it a beer -- is true to its name. Jet black and layered with chocolate and coffee aroma, De Zwarte Zwaan benefits from healthy doses of chocolate and black malts that also give it some slight coffee bitterness. The institute claims it uses Bourbon vanilla from Madagascar to cut the bitterness a bit, and it shows. I wasn't expecting to drink a full-bodied, 8% ABV stout during my time in Belgium, but De Zwarte Zwaan ended up being one of the best illustrations of the style I've tasted.
4. Delirium Nocturnum
Melle, Belgium
About a block over from Brussels's Gran Place is a cobbled street laden with hanging lanterns and lined with restaurants featuring laminated menus with photos of the food. We would call it a tourist trap outright were it not for some of the gems located within.
At the end of a small alleyway just off of that street sits the Delirium Cafe, a sprawling complex of bars and pubs dedicated to Brouwerij Huyghe's Delirium beers. Though the brewery dates back to 1906, the Delirium brand didn't debut until the 1988 introduction of the 8.5% ABV Delirium Tremens pale ale. Today, there are roughly half a dozen beers in the Delirium lineup -- all of which were on tap at the cafe.
However, the cafe's vaunted 3,000-beer menu was nowhere to be found among the booths fashioned from copper brewing kettles and old keg delivery carts. We were told the expansive beer menu was in a downstairs pub, but a UEFA Champions League soccer match featuring Paris Saint-Germain and Manchester City and Belgium's minimum legal drinking age of 16 already made our corner of the pub resemble the first pub scene from Hot Fuzz. Instead, we hunkered down, broke out a bar game (can't recommend Quirkle enough) and took advantage of the plentiful, readily available pints of Delirium Nocturnum. A dark, caramel-laden 8.5% ABV strong ale, Nocturnum is a toffee nightcap of a beer whose impact is greatly lessened by Belgium's standard 25-centiliter serving size.
You can find Nocturnum in the states (and fairly easily at numerous Delirium Cafe locations around the globe, but it's best enjoyed on the cheap while attempting to drown out surrounding chaos.
3. Tripel van De Garre
Bruges, Belgium
In the heart of Bruge's tourist district between its Belfry tower and its Burg Square is a small strip of tourist shops selling lace, Christmas decor, chocolates and the best waffle's you'll find outside of a Brussels sugar waffle truck.
Tucked amid that corridor of commerce is a small gray archway leading to a cobblestone alley and, to the right, a small door. Through that portal are three floors of creaking, medieval beer hall known as Stamniee de Garre -- a pub named after the street it's facing.
There are about six beers on tap and more than 100 others on its beer list. However, if you're fortunate enough to get a seat beneath its tilted timbers -- and during any other year we would have had to climb two stories to find available tables -- your first sip should be of the house Tripel. Served on a paper doily with a ramekin of Trappist cheese cubes, the Tripel van De Garre is a tough customer at 11.5% ABV. However, the foam lacing on the glass and the easy sips of a pale strong ale that's clearly benefitted from the local yeast and bacteria make this great choice for recapping the day's events and plotting the next adventure.
On the days we visited, the voices in the bar were near even mix of British English and Flemish. Yes, there are tourists here, but with a stout house Tripel, a solid beer list and a staff that seemingly doesn't mind if you never vacate your table, Staminee De Garre is far from a trap.
2. Rodenbach
Roseclare, Belgium
Without Rodenbach, my path to Belgium would have been far longer and more meandering.
In 2007, I met up with friends from college at the Publick House in Brookline, Mass., and was asked what I knew about sour beers. The answer was absolutely nothing. The first beer my homebrewer friend put in front of me was Duchesse de Bourgogne, a tart Flanders red ale from Brouwerij Verhaege in the West Flanders village of Vichte. The next was Rodenbach Grand Cru, a similar Flanders red brewed in Roseclare that, at 6% ABV, had a bit more tartness and bite to it.
Through those beers, I found my path to gueuze, kriek and other lambics and, from there, to Belgian strong ales. I was discouraged to hear that I wouldn't get to see the Verhaege facilities during my time in Belgium but was highly encouraged by our first dinner in Brussels at Chez Leon -- which featured Rodenbach on the menu for less than 3 euro (or $3.40) per glass. I'd find it throughout my trip for $2.80 or less and continued to be dumbfounded that Palm, the company that's brewed Rodenbach since 1998, would let it go for roughly the price of Anheuser-Busch InBev's Belgian Budweiser equivalent, Jupiler.
Though Rodenbach's Bruges brewery was 12-years gone by the time I arrived and the Roseclare brewery proved just out of reach, having Rodenbach's namesake beer and its Grand Cru serve as baseline beers in rail stations and tourist-trap restaurants for the remainder of the trip was like holding a security blanket. If you still aren't sold on sour beers or are scared to give them a shot, consider Rodenbach a nice, safe set of training wheels.
1. Westvleteren 12
Trappist Abbey of Saint Sixtus
Vleteren, Belgium
Whalez, bro... whalez.
As much as I harp on the beer geeks who go hunting for beer's "white whales" -- rare, limited releases that compel fans to wait in line for hours, pay exorbitant sums for and pay even more if they skip the line and purchase them in more duplicitous bottle shops -- I've been curious about this one for years.
The same friend who gave my first Rodenbach also called the Trappist Abbey of Saint Sixtus in Vleteren, Belgium to reserve beer for his trip there, trekked to the monastery with a friend and then divided a case of the dark, 10.2% ABV Westvleteren 12 between them. Back in 2012, the Shelton Brothers distribution firm in the U.S. sold nearly 8,000 gift packs of six Westvleteren 12 bottles and two glasses for $85 apiece (or roughly $14 per bottle, minus the cost of the glassware).
I'd made no provisions to go to Vleteren on this trip -- mostly because it wasn't close to our destinations and Trappist brewing facilities offer no tours and feature only cafes that serve their beers -- but a Brussels bottle shop intervened. Though the Trappists frown on reselling their beer, the shop in question was willing to part with a bottle for roughly the per-bottle cost of those imported to the states four years ago. I can't wholeheartedly recommend this course of action, nor do I feel particularly great about it, but I've grown tired of hearing Westvleteren 12 referred to as one of the best beers in the world and having absolutely no point of comparison.
The monks are understandably protective of their beer -- considering it funds their monastery and charitable works -- and offer perhaps the most plausible explanation for beer scarcity on the planet. That said, even U.S. beers that have ridden scarcity to extraordinary success eventually have to be placed against similar beers on a level playing field. This was the only way I could level that playing field for Westvleteren 12 without either killing a day at the monastery or being laden with a full case of it that had to make it back to Portland somehow.
Thus, there's now a gray-market bottle of Westvleteren 12 cellaring in my basement. If it holds up to it's reputation, I vow to make it up to the monks in the future. I don't want that strike against me, especially given the Trappists' hard line to a higher authority.
This article is commentary by an independent contributor. At the time of publication, the author held no positions in the stocks mentioned.