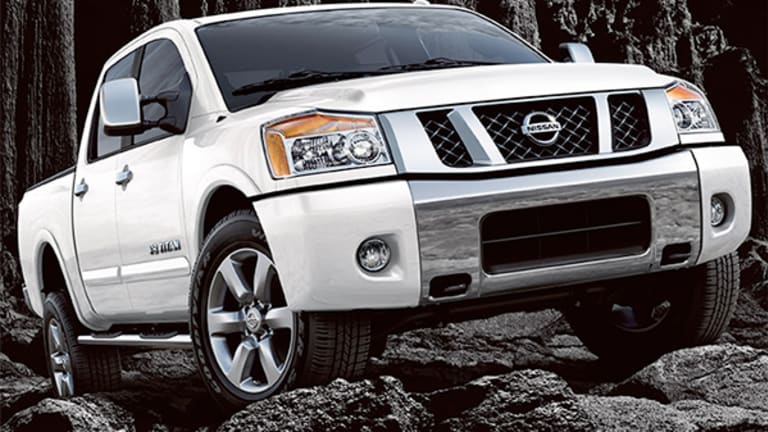 10 Average Automobiles With Absolutely Awful Gas Mileage
Average mileage is on the rise, but hulking gas guzzlers still find their way onto U.S. roads. Contrary to popular belief, they aren't all playthings for the rich.
NEW YORK (MainStreet) – The gas guzzler isn't dead: It's just part of an increasingly niche market.
Vehicle fuel efficiency standards are creeping their way toward a combined 54.5 miles per gallon by 2025, and that's dragging even the dinosaurs of the road into the modern era. The most efficient versions of the Ford Mustang, Chevrolet Camaro and Dodge Challenger all get 30 miles per gallon on the highway. Tesla considers its Model S a performance car, and it doesn't use a drop of fuel to cover its 270-mile radius.
The Environmental Protection Agency found that cars and light trucks built during the 2013 model year got an average of 24.1 miles to the gallon. That's still less than halfway to the EPA and Department of Transportation's goal set back in 2012, but it beats the roughly 19 miles per gallon that the Department of Transportation measured for the same pool of vehicles in 1995. It's also closing in on double the average mileage of the light-duty vehicles on U.S. roads in 1980.
The EPA just loves to poke at the least-efficient cars sold in this country and laugh at their sorry mileage. The problem is that the average U.S. car buyer isn't picking up a Bentley Mulsanne (13 mpg), Ferrari FF (also 13 mpg) or a Bugatti Veyron (10 mpg). In fact, Bentley and Ferrari combined have accounted for fewer than 600 of the more than 1.1 million cars sold in the U.S. through February, according to MotorIntelligence.
In truth, automakers including General Motors (and its 18.4% share of the U.S. market), Chrysler (12.7%), Toyota (14.3%) and Nissan (9.4%) all make similarly low-mileage vehicles that are far more accessible to U.S. car buyers. Those fuel hogs still come at a premium, but loyal buyers keep making the tradeoff for performance and durability.
"There are two different kinds of drivers out there: the ones who love the environment and brag about their fuel economy, and the ones who love performance and brag about their horsepower," says Brandy Schaffels, automotive industry analyst and chief editor of automotive site AskPatty.com. "Sadly, you can't get both in the same car, and sometimes consumers have to choose whether their wallet or their exhaust note is more important."
Those coveted fuel-inefficent cars aren't all luxury or commercial vehicles, either. In an attempt to avoid picking on luxury vehicles specifically and to get a more representative sample, we capped the price of the vehicles in our field at $65,000 and eliminated cargo vans such as the Ford Transit and the GMC Savana/Chevrolet Express. As a result, we came up with 10 vehicles that are a mix of speed, brawn and outdated technology.
It's by no means a comprehensive list. Mike Muzio, Kelley Blue Book's managing editor for video, notes the lack of the Ford F-150 among the low-mileage crop — and he makes a valid point. Even after its 2015 overhaul, its base model gets only a combined 20 miles per gallon, with its 5.0-liter V8 version getting a scant 18 mpg. Even that 18 mpg is a few miles too far for most of the vehicles on our list, though.
The following are the least fuel-efficient vehicles you can buy for $65,000 or less, and not one of them can travel 18 miles without sucking down a gallon of gas:
10. Nissan Xterra
Starting price: $26,660
EPA combined city and highway mileage: 19 mpg
Even that 19 mpg is being generous, as a four-wheel-drive version takes that number down to 16 mpg. This old-school truck-platform SUV hasn't received an update since 2009 and is being discontinued after 2015 after a slump in sales. The standard midsize SUV saw sales increase 30% over the past two months from the same period in 2014, but the 139,000 sold are still a fraction of the 590,000 car-based crossover SUVs sold during the same period. Nissan has no plans to replace the Xterra or produce another SUV for off-roaders (who basically justified the Xterra's existence). A look at the 30 mpg combined mileage of Nissan's Rogue crossover provides at least some explanation.
9. Dodge Challenger SRT Hellcat
Starting price: $59,995
EPA combined city and highway mileage: 17.5
With 707 horsepower produced by its 6.2-liter supercharged Hemi V8 engine, you know exactly why this car has such appeal. But even if you knocked nearly $14,000 off the price and went with the 485-horsepower SRT, you're going to get negligibly better mileage at best. Chrysler's Street Racing Technology wing has one mission: To create the brawniest version of every vehicle from the Chrysler 300 to the Dodge Viper that it possibly can. That the Hellcat isn't higher on this list is a testament to a Chrysler team that also manages to get 300-plus horsepower and roughly 30 miles to the gallon on the highway out of the base model's V6 engine.
8. Ford Expedition EL 4WD
Starting price: $46,750
EPA combined city and highway mileage: 16
Yes, these behemoths still exist. The GMC Yukon K1500, the all-wheel-drive Dodge Durango and other large SUVs are not only still belching their way down U.S. roads and breaking hearts in wide-open states such as Texas, but sales of them year-to-date have actually increased 58% from a year ago. You can thank economic recovery and that downturn in fuel prices from a few weeks ago, but there are still a whole lot of drivers who love themselves a big, durable SUV (albeit with a surprisingly thirsty 3.5-liter V6). That said, they really aren't for everybody. The 41,557 large SUVs of all brands sold this year through February are about equal to the number of Toyota RAV4s sold during that same period.
7. Jeep Grand Cherokee SRT 4WD
Starting price: $64,595
EPA combined city and highway mileage: 16
We told you people liked a big SUV. How much, you ask? A basic, 4x2 Grand Cherokee is half the price of the Cherokee SRT and puts up 21 mpg combined from its 3.6-liter V6 engine. The 4x4 base model doesn't decrease the mileage or increase the price that much at all. The same can't be said for the SRT: the performance grocery getter. With a 5.4-liter V8 hemi and hot red paint job, the Cherokee SRT is basically the suburban street racer for the folks who don't want to admit that their fastest days are behind them.
"The Jeep Grand Cherokee SRT8 is an excellent all-around vehicle," says Karl Brauer, senior analyst for Kelley Blue Book. "It offers capable off-road performance while being among the best performance vehicles you can buy. It's also loaded with high-tech and luxury features."
6. Ram 1500 Sport 4WD
Starting price: $38,725
EPA combined city and highway mileage: 15 mpg
Even the standard 1500's 19.5 mpg would be a dream for this 5.7-liter V8 hemi-powered beast. But U.S. drivers and workers love a big, durable pickup. Sales of pickup trucks are up 17% this year and, so far in 2015, pickups account for the three top-selling vehicles in the country. The Ram trails only the Ford F-Series and Chevrolet Silverado, but managed to leap over the Toyota Camry in overall sales. Fuel economy may be a concern for pickup producers as even market-leading Ford tries to drop its F-Series' mileage, but it isn't a deal breaker for buyers.
5. Toyota Tundra 4WD
Starting price: $32,179
EPA combined city and highway mileage: 15 mpg
Even the less-loved pickups can still make fans look beyond mileage for power and durability. Granted, this bruising version of the Tundra comes with a 5.7-liter V8 engine generating 381 horsepower, but even a standard two-wheel-drive version only does slightly better at 15.5 mpg. The Tundra got a "refresh" in 2014, but hasn't received a generational overhaul since 2007, which could account for that mid-2000s mileage and the huge discrepancy (100,000 to 750,000) in sales between it and the Ford F-Series last year.
4. Toyota Sequoia
Starting price: $47,620
EPA combined city and highway mileage: 15 mpg
Sticking the Tundra's 5.7-liter, 381-horsepower V8 in a honking-big SUV is just going to yield the same results with less bed space. Built on the same platform as the Tundra, the Sequoia is yet another large SUV riding the small wave of buyers still clamoring for vehicles like it. Toyota tweaks the interior technology every few years or so, but the Sequoia has gone fundamentally unchanged since 2007. All of the above has contributed to a dramatic decrease in the Sequoia's popularity, with just 11,000 selling in the U.S. in 2014 compared with 70,000 at the vehicle's peak in 2002.
3. Chevrolet Camaro ZL1
Starting price: $55,505
EPA combined city and highway mileage: 15 miles per gallon
Again, the base model V6 will get you 30 mpg and 300 horsepower. It just won't get you a whole lot of respect in the circles that revere the Camaro and pony cars like it. This particular version's 6.2-liter supercharged V8 engine cranks out 580 horsepower and basically consumes gas the way a competitive eater downs hot dogs. It's not there to consumer in moderation: It's there to put on a show. You can trim down to the 420-horsepower V8 if you like, but it will up you only to 19 mpg.
2. Nissan Armada 4WD
Starting price: $44,355
EPA combined city and highway mileage: 14.5 miles per gallon
The Armada and the pickup truck it's based on, the Titan, haven't had a serious upgrade since their debut in 2003. In their minds, George W. Bush is still president, the truck-based SUV still rules the American road and Sean Paul is still blaring out of every CD player in the country. Oh, and it's perfectly acceptable for the fuel-"efficient" two-wheel-drive version of this SUV to get a combined 15.5 miles per gallon. There's a new Armada coming in 2016, but most of the drivers from this vehicles heyday have since cashed in their giant, fuel-slurping clunkers.
1. Nissan Titan Pro-4X
Starting price: $38,170
Combined city and highway mileage: 14.5 miles per gallon
It's as if Nissan forgot pickups were vehicles U.S. drivers liked. The company has gone back and forth over redesigning this full-size pickup since it was released in 2013 and watched U.S. sales sputter from 85,945 in 2005 to just 12,527 last year — with roughly a quarter of those sales taking place in Texas alone. The fully updated 2016 Titan will be made solely in the U.S. for North American buyers and will have a 5.0-liter, 310-horsepower V8 Cummins engine that truck owners will love, but the current Titan's terrible gas mileage is just one of the many features that have made U.S. buyers indifferent to it.
"The 2016 Nissan Titan was just unveiled at the Detroit Auto Show," Kelley Blue Book's Muzio says. "If someone plans to buy a 2015 they better get one hell of a deal on it."
- Written by Jason Notte in Portland, Ore.
To follow the writer on Twitter, go to http://twitter.com/notteham.
This article is commentary by an independent contributor. At the time of publication, the author held TK positions in the stocks mentioned.