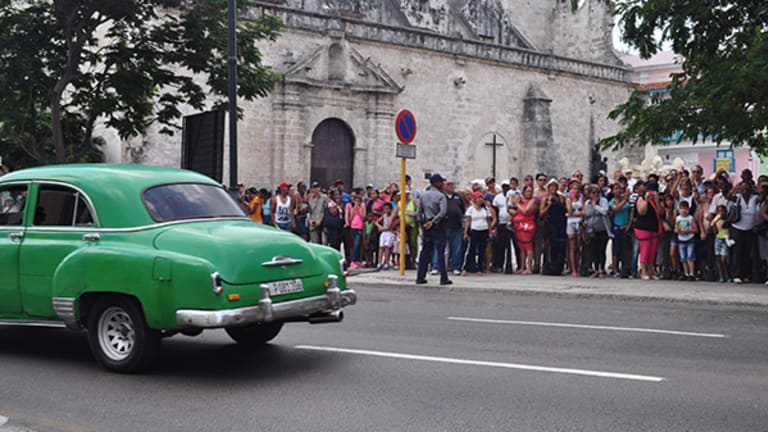 10 Airbnb Spots You Can Book in Cuba Right Now
While U.S. citizens are only allowed to travel to Cuba for a specific purpose, there are already vacation rentals available to them.
It's taking U.S. relations with Cuba a while to thaw, but the U.S. travel industry's interest in the island has warmed considerably within the last year.
More than a year after the U.S. renewed diplomatic relations with Cuba for the first time in roughly half a century, the State Department points to increased travel between the two countries as a sign of progress. However, while the U.S. has approved exports to Cuba -- with FedEx snagging the first U.S. cargo service to the island nation, Cuba has yet to accept them.
Also, though 700,000 U.S. citizens visited Cuba last year and Starwood opened the first of its three proposed Cuba hotels -- Four Points Havana -- their presence is already driving up room rates. Cuba is already flexing its ban on foreign labor to bring in workers from India to complete hotels and placate a tourism market that grew 17% last year and has ballooned another 11% so far in 2016.
Altogether, Cuba brings in nearly $3 billion in revenue from tourism alone. Once a cheap holiday for Canadians and Europeans, Cuba is expecting new five-star hotels in Havana and a flood of new traveler cash from U.S. tourists coming in aboard the eight U.S. airlines approved for flights into the capital city. U.S. tourism to Cuba is still technically prohibited, but a "people to people" loophole has made provisions for educational trips and humanitarian projects.
With hotel prices topping $600 a night in some instances, one would think this would be a great opportunity for Cuban homeowners and online vacation rental companies. That has yet to be the case. We contacted two of the largest vacation rental firms -- Trip Advisor Vacation Rentals and HomeAway -- and were given either vague responses or told that "we do not have inventory in Cuba at this time." We imagine that it's tough to get anything established for U.S. travelers when it's only been a technically legal possibility since March, but Airbnb managed to find a way.
The site managed to amass more than 300 excellent listings in Cuba, with prices ranging from $10 a night for a shared room to $2,500 per night to stay aboard a yacht. We thumbed through listings for September and found ten spots U.S. tourists might consider staying if they can manage a trip:
This article is commentary by an independent contributor. At the time of publication, the author held no positions in the stocks mentioned.