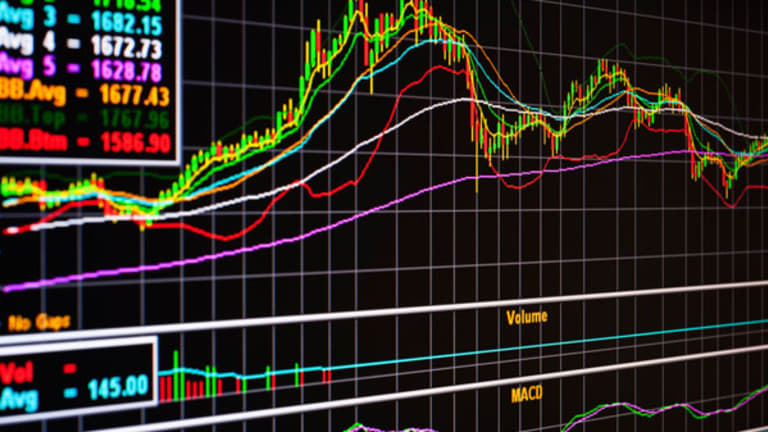 Stocks Tudor Investment Is Buying in 2010
Follow in the footsteps of Tudor Investment's best minds by examining what stocks the firm bought in the last quarter.
BALTIMORE (Stockpickr) -- Imagine watching a trader at work as he predicts one of the biggest crashes in stock market history -- a crash during which that prescient trader triples his money while the rest of the market holds on for dear life.
That's more or less what happened in 1987, when present-day billionaire investor Paul Tudor Jones opened his firm,
, to a documentary crew back in 1987. Ultimately, Jones delivered returns to his investors of 125% net of fees that year.
The film that resulted,
TRADER: The Documentary
, has been studied tirelessly by traders hoping to replicate Jones' successes in the market. After all, the Tennessee native built a firm from the ground up that currently manages more than a billion dollars, while building a fortune that
Forbes
estimated at $3.2 billion in 2010.
But it might be harder to find a copy of the movie than you'd think. In the 1990s, Jones requested that the movie be removed from circulation, though copies can still be found online for investors who know where to look.
While the film is harder to find these days, there are other ways to follow in the footsteps of Tudor Investment's best minds. Here's a look at the
stocks the firm bought in the last quarter
.
More on Stockpickr SAC Capital's 2010 Buy List Bill Miller's Buys in 2010 Stocks Brian Rogers Is Buying

CNinsure
(CISG)
is a Chinese financial services intermediary that has nearly 400 branches spread throughout the People's Republic. The company brokers insurance policies and mortgages for Chinese businesses and consumers -- a market that's underserved in both categories right now. Tudor Investment bought a $36.6 million stake in the firm in the last quarter.
Unlike the rest of the broad market this year, the insurance industry is enjoying mid single-digit gains in 2010, the result of strong financial performance and pared down risk appetites this year. But CNinsure has managed to do even better. The firm is sitting atop nearly 18% gains this year, after tumbling in the months following the firm's poorly timed 2007 IPO. But CNinsure's on track to impress investors in the coming years thanks to margins comparable with those of its peers in the West and a customer base that's not even close to saturated.
Over the course of the last few years, CNinsure has been quietly expanding its business lines, adding mortgage brokerage to its repertoire. While it'll likely prove to be a profitable and relatively risk-free decision, the company needs to ensure that its further expansion doesn't happen at the cost of added balance sheet risk.
Who Owns CNinsure? Robert Karr

Another firm that Tudor Investment added to its portfolio in the latest quarter is Wall Street whipping boy
BP
. The beleaguered oil giant has seen its shares get shellacked this year in the wake of the Deepwater Horizon oil spill. Prices are down 40% since January. But that huge price decline has sparked some contrarian interest in the company.
With CEO Tony Hayward set to relinquish his position to Bob Dudley next month, BP is on track to project a new image to investors as well as those impacted by the spill in the Gulf. The changes needed by BP are twofold: First, the company needs to repair the reputation tarnished by flippant remarks made by Hayward and company in the wake of the spill, and second, BP needs to get a handle on the financial constraints it now faces as a result of the spill.
The company is addressing the first change by bringing in Dudley, and it's addressing the second by planning a $25 billion to $30 billion asset sale to cover the cost of the Gulf cleanup. Selling off performing assets will undoubtedly impact BP's income statement in the near-term, and investors will need to weigh whether the firm's discount justifies that right now.
More on BP Bruce Berkowitz's Portfolio 5 Oil Comeback Stocks

Illinois Tool Works
(ITW) - Get Illinois Tool Works Inc. Report
is in a significantly better position. The diversified industrial manufacturer creates equipment for a bevy of industries, from food service to automotive manufacturing.
While ITW had been hurting from a major contraction in capital spending among manufacturing firms in the last couple of years, the company is enjoying huge growth in 2010 as firms start to invest in equipment once again. While ITW maintains an under-the-radar presence, the firm is an excellent example of a boring stock with exciting business fundamentals. Even though ITW's products won't be the next iPhone, they generate double-digit net margins and double-digit top-line growth.
This $21 billion firm is one to watch in 2010. Tudor Investment added ITW to its portfolio last quarter -- but the company isn't Tudor's only turnaround stock.
More on Illinois Tool Works 16 Hindenburg-Proof Defensive Stocks 20 Dividend Stocks Increasing Payouts

General Dynamics
(GD) - Get General Dynamics Corporation Report
is another. The firm may be best-known for its defense contracting business, but business has been hit hard of late in the once-lucrative business aviation line. But as companies start to invest in private jet fleets once again in 2010, General Dynamics is finally starting to see its aviation offerings start to stabilize.
General Dynamics is one of the largest defense contractors out there. Manufacturing tanks, aircraft, submarines and the like, the firm's defense revenue isn't likely to drop off any time soon, even if most analysts expect defense spending to contract in the next few years. An impressive balance sheet and strong margins will keep the company attracting investors as its aviation business continues to slowly improve.
Who Owns General Dyamics? Tom Gayner Acropolis Investment

To see the rest of Tudor Investment Corp's plays check out the
on Stockpickr.
RELATED LINKS:
>>Rocket Stocks: Dollar General, Campbell Soup
>>Breakout Stocks: Eldorado Gold, Silver Wheaton
>>How to Play a Stock Market Crash
Follow Stockpickr on
and become a fan on
Facebook.
At the time of publication, author had no positions in stocks mentioned.
Jonas Elmerraji is the editor and portfolio manager of the Rhino Stock Report, a free investment advisory that returned 15% in 2008. He is a contributor to numerous financial outlets, including Forbes and Investopedia, and has been featured in Investor's Business Daily, in Consumer's Digest and on MSNBC.com.