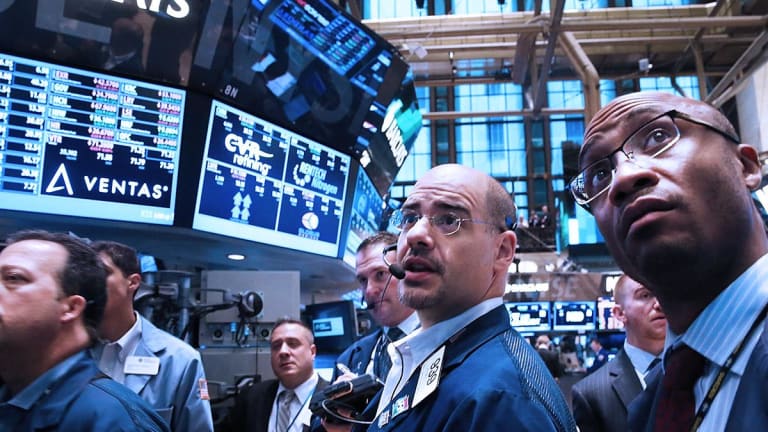 Stocks End Higher, Shrugging Off Brexit and Boeing Concerns
Stocks ended higher Wednesday as Wall Street looks past uncertainty about Brexit and worries about Boeing after the United States became the latest country to ground the 737 Max 8.
Here Are 3 Hot Things to Know About Stocks Right Now
Wall Street Overview
Stocks ended higher Wednesday amid uncertainty about Brexit and as the United States joined Canada, Hong Kong and the European Union and other  authorities grounding Boeing's (BA) - Get The Boeing Company Report  737 MAX 8 jet following Sunday's deadly Ethiopian Airlines crash.  
Following a brief uptick Wednesday, shares of Boeing turned lower after Canada's Transport Minister said he would restrict the use of 737 MAX 8 and MAX 9 jets based on new information that links the aircraft's deadly crash in Ethiopia and Indonesia. A short time later, U.S. President Donald Trump ordered the immediate grounding of the 737 MAX 8 and MAX 9 planes, saying "the safety of the American people, all people, is our paramount concern."
Boeing rallied by the end of the day, ending up slightly to $377.50 after earlier dipping as low as $363.33. 
The Dow Jones Industrial Average ended up 148.2 points, or 0.58%, to 25,702, the S&P 500 rose 0.69% and the Nasdaq was up 0.69%.
The U.S. Labor Department said the producer price index rose 0.1% in February, following January's drop of 0.1%, and missed economists' call for a 0.2% increase. Core PPI, which takes out volatile food and energy costs, dropped 0.1%. Meanwhile, orders for durable goods rose 0.4% in January. If transportation is removed, orders slipped 0.1% due to a decline in bookings for new cars and trucks.

Alec Young, Managing Director, Global Markets Research at FTSE Russell, stressed the importance of context when viewing economic data.
"There's been a lot of sensitivity around how much is growth slowing in the U.S., how much is weaker international growth affecting the U.S.," he said. "So, in that context (Tuesday's) numbers were generally stronger than expected, so it's not surprising to see the market rally, and that the rally is being led by cyclical sectors."
"The durable goods numbers were largely positive as the headline figure showed surprise growth in January, and the upward revision to the December was a nice surprise too," said David Madden, a market analyst at CMC Markets UK. "The report that strips out transport was a mixed bag, given the January figure missed forecasts, but the previous report was given an upward revision. The cooling both of PPI and core PPI suggests that underlying demand is cooling, and that suggests that inflation is likely to remain soft."
The Commerce Department said that construction spending rose 1.3% in January following two months of declines, the biggest gain since spending was up 1.7% in April. Spending on residential projects fell 0.3% in January, the sixth consecutive monthly decline.
U.K. lawmakers voted narrowly in favor of an amendment that would remove the risk of a so-called "no deal" Brexit under any circumstance, but the non-binding decision that has increased pressure on Prime Minister Theresa May to either extend the March 29 deadline or seek alternative plans.
Facebook (FB) - Get Meta Platforms Inc. Report and Instagram users around the world reported outages on Wednesday afternoon. Outage maps showed difficulties being reported in the U.S., Mexico, South America and Europe.
Oaktree Capital (OAK) - Get Oaktree Capital Group, LLC Class A Report shares surged 12.5% to $49.29 after the global investment management firm said it sold nearly two-thirds of its business to Brookfield Asset Management (BAM) - Get Brookfield Asset Management Inc. Report in a cash-and-stock deal valued at $4.8 billion. Brookfield was down nearly 1% at $46.41.
Roku (ROKU) - Get Roku Inc. Report dropped 14.1% to $60.74 after the stock was downgraded to sell from hold by analysts at Loop Capital, who left the price target unchanged at $45. 
Aurora Cannabis (ACB) - Get Aurora Cannabis Inc. Reportclimbed after it named billionaire activist investor Nelson Peltz as a strategic adviser. Peltz will advise the company on its global acquisition strategy and potential business partnership, Aurora Cannabis said, and will be granted options to purchase around 20% of the company's shares at C$10.34 each ($7.74). Shares were up 13.8% to $9.06. 
**
A Special Invitation:Do you want to learn more about planning for and living retirement from the nation's top experts, including Ed Slott and Robert Powell, the editor of TheStreet's Retirement Daily? Want to learn how to create tax-efficient income in retirement and how to manage and mitigate all the risks you'll face in retirement? Then sign up to attend TheStreet's Retirement Strategies Symposium on April 6 in New York City. For a limited time, you can attend this extraordinary symposium for $149 - a cost savings of $50 off the general admission price of $199.
You can see the full day's agenda, learn about the guest speakers and sign up HERE for this special event.