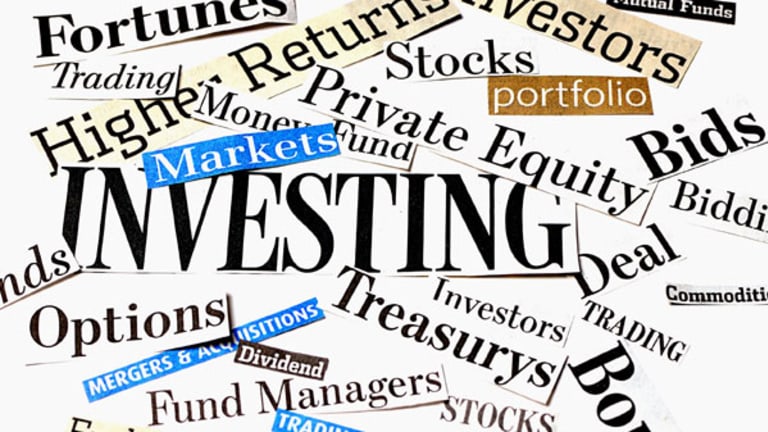 Stocks to Play the Social Networking Bubble
These social networking stocks that could be poised to trade substantially higher now that the sector is in focus.
WINDERMERE, Fla. (Stockpickr) -- The Internet boom is back! I almost can't believe my eyes.
The much-anticipated IPO for
LinkedIn
(LNKD)
hit the market yesterday, and investors bid the stock up in a frenzy. LinkedIn operates an online professional network designed to help members find jobs, connect with other professionals and locate business opportunities. The site has grown to reach 90 million users in some 200 countries since its launch in 2003.
Shares of LinkedIn skyrocketed as high as $122.70 a share yesterday, over 150%, as the stock began trading on the New York Stock Exchange and were recently changing hands at around $102 a share, giving the company an unbelievable market cap of over $8 billion. To put things into perspective, companies with a similar market cap include
Walter Energy
(WLT)
,
Hormel Foods
(HRL) - Get Hormel Foods Corporation (HRL) Report
,
Electronic Arts
( ERTS) and
Harley-Davidson
(HOG) - Get Harley-Davidson, Inc. (HOG) Report
. The big difference here is that these companies actually make billions in profits.
In 2010, LinkedIn doubled revenue to $243 million, and net income was $15.4 million, compared with a loss of $4 million a year earlier. For the first quarter in 2011, revenue doubled to $94 million, and net income jumped 14% to $2.1 million from the same period a year ago. The company has said it doesn't expect to be profitable in 2011 because it plans on investing its IPO proceeds in future growth initiatives.
Related:
Debt-Free Stocks That Could Get Squeezed Higher
LinkedIn's initial IPO price was set to be $45 a share, which was bullish for the business-oriented networker since it was at the top end of the range between $42 and $45 a share. This was well above the previous IPO pricing range of $32 to $35. The market blew the doors off this one, pricing the stock over $80 a share once it initially started trading. This demonstrates that there is big demand on Wall Street for pure-play social networking stocks.
It also shows that animal spirits are back in the markets for Internet stocks at any valuation, considering that shares of LinkedIn are now trading at over 500 times earnings. This is troubling, but as traders there are going to be lots of opportunities that come our way based off of the action in LinkedIn today.
Here are a number of
social networking stocks that could be poised to trade substantially higher
now that the sector is in focus.
Before I get into some of my picks that could be great traders off of the animal spirits in LinkedIn, let me just say these are trading ideas only. I have no idea if a new Internet bubble will even develop for social networking and Internet-related stocks, or how long it will last if it does develop. That said, learn the lessons of the past: Stocks trend both ways. Have stops ready, and don't marry your positions.
WebMediaBrands
One stock that could benefit big off of the social networking boom we're seeing with LinkedIn is Internet media company
WebMediaBrands
( WEBM), which provides content, education, trade shows and online job board services for media and business professionals. WebMediaBrands operates in a very similar space to LinkedIn. So far in 2011, this stock has traded pretty much flat, but shares rose as much as 13% yesterday on heavy volume.
WebMediaBrands has a market cap that pales in comparison with LinkedIn's, at only $61.91 million. The company just made an interesting $14 million acquisition of Inside Network, a research provider and blog network for social and mobile app developers. Clearly it sees the growth opportunities in social networking. Inside Network's properties include the blogs Inside Facebook, Inside Social Games and Inside Mobile Apps.
From a technical standpoint, watch for shares of WebMediaBrands to break out over $1.89 to $1.97 a share on
. If you see volume on any future breakout that tops the three-month average volume of 259,000 shares, then look to buy this stock. You could also buy now on any pullback and anticipate the breakout with a tight stop.
Renren
One company that could benefit big if traders want to push up the valuations of social networking stocks is
Renren
(RENN) - Get Renren Inc. Sponsored ADR Class A Report
, a social networking Internet platform in China that's often called the Facebook of China. This company recently came public with its IPO, but the market hasn't been as nice to them as LinkedIn. So far in 2011, this stock has dropped around 20%.
I can't even imagine where this stock might trade if and when the U.S. Facebook actually goes public. Some think Facebook deserves a valuation that's north of $50 billion. Renren's market cap currently is only $5.6 billion. And the best part is that the stock is now a beaten-down social networking play since shares have been hammered lower since its IPO.
Traders are getting a great chance to get into Renren here since the stock has dropped from $24 a share to its current price at around $14. What's even better, the stock is now trading just a few points off its
of $12 a share. If the social networking boom is going to kick off big, then one could buy this stock here with a stop just below $12 on any pullback.
Chinese Social Networking Stocks
A few more Chinese social networking stocks you might want to take a look at are
Yoku.com
(YOKU)
,
Sina
(SINA) - Get SINA Corp. Report
and
Perfect World
(PWRD)
. Sina is probably the purest play and best-of-breed of this group since it operates what many call the Twitter of China.
Jiayuan.com International
Another social networking stock play based out of China is
Jiayuan.com International
(DATE)
, which operates an online dating platform in China. This stock has been performing strongly since its recent IPO, with shares up around 15% so far in 2011.
Everyone knows the population in China is huge, at well over 1 billion people. That leaves huge room for growth for companies such as Renren and Jiayuan.com. Of course, that growth will not materialize if management doesn't figure out creative ways to monetize its properties. Since Jiayuan.com is the largest online dating platform in China, management has one heck of an opportunity to execute. It also doesn't hurt that the company is off to a great start, with 43.7% of the market share of the total amount of money spent in China's online dating market in 2010.
The company's management has also made some smart moves by partnering with some of China's most popular dating shows. At $14.50 a share (the stock is up over 20% so far today), its market cap is somewhere north of $500 million -- plenty of room for upside if the company can deliver strong growth in the Chinese online dating market.
From a technical standpoint, shares of Jiayuan.com have started to break out above the initial IPO high of $11.62 a share. One could be a buyer of this stock on any weakness and simply stop out of the trade if it moves back below that breakout level of $11.62, or dump the stock if it drops below its next significant resistance level at $11.39. This stock could have tremendous upside, so keep this name on your radar.
Quepasa
Another social networking stock play is
Quepasa
(QPSA)
, which owns and operates Quepasa.com, a social networking and gaming platform for the Latino community. So far in 2011, this stock has been absolutely hammered down around 35%.
Quepasa has a market cap of only $120.30 million and a forward price-to-earnings ratio of 35.64. This stock could go up tremendously from here and still not have a market cap that's in line with many other social networking stocks.
The company just reported first-quarter results on May 11. Revenue came in at $2.2 million, which represented an increase of 600% over the $322,000 it reported in the first quarter of 2010. User membership also grew by over 70,000 new members daily on average for the first quarter, to a total of 6.4 million registered users. This brings their total registered membership to $33.6 million as of March 31. It looks like Quepasa is starting to show strong signs of growth. This company could benefit big going forward off of the growing income levels and rising middle class in Latin America.
From a technical standpoint, this stock soared big yesterday on huge volume of 4.4 million shares which is well above its three-month average volume of 829,000. I would wait for a nice pullback before jumping into this name, and then I would add to the position once it takes out $8.90 and $9.64, which are near-term overhead resistance levels.
Two Social Networking Stocks in India
Two more social networking stocks based in India that traders can play to take advantage of this potential booming valuation bubble are
Sify Technologies
(SIFY) - Get Sify Technologies Limited Sponsored ADR Report
and
Rediff.com
(REDF)
. Both of these stocks are already up over 100% so far in 2011, so more gains could be in store if traders want to run the entire complex.
Established Giants
One final way to play the social networking boom is with established giants such as
Google
(GOOG) - Get Alphabet Inc. Class C Report
and
Apple
(AAPL) - Get Apple Inc. (AAPL) Report
. Both Google and Apple are cheap and heavily tied to the social networking dynamic. Apple trades at a forward price-to-earnings of 11 and Google at 13.49. Both companies sell handsets and software that consumers use to access all of the leading social networking platforms. I would even go as far as to call Apple's iPad the ultimate social networking device when you consider all of the social networking apps and websites that can be pulled up with ease using this gadget.
The more popular social networking becomes, the more sales Apple and Google should see for their smartphone and mobile Internet devices.
To see more social networking stocks such as
Local.com
(LOCM)
,
Travelzoo
and
Ku6 Media
(KUTV)
, check out the
Hot Social Networking Stock Plays
portfolio on Stockpickr
-- Written by Roberto Pedone in Winderemere, Fla.
RELATED LINKS:
>>8 Stocks With Recent Dividend Increases
>>6 Stocks With Big Insider Activity
Follow Stockpickr on
and become a fan on
Facebook.
At the time of publication, author had no positions in stocks mentioned.
Roberto Pedone, based out of Windermere, Fla., is an independent trader who focuses on stocks, options, futures, commodities and currencies. He is also an outside contributor to Beconequity.com and maintains the website Maddmoney.net, which he sold to Blue Wave Advisors in 2008. Roberto studied International Business at The Milwaukee School of Engineering, and he spent a year overseas studying business in Lubeck, Germany.