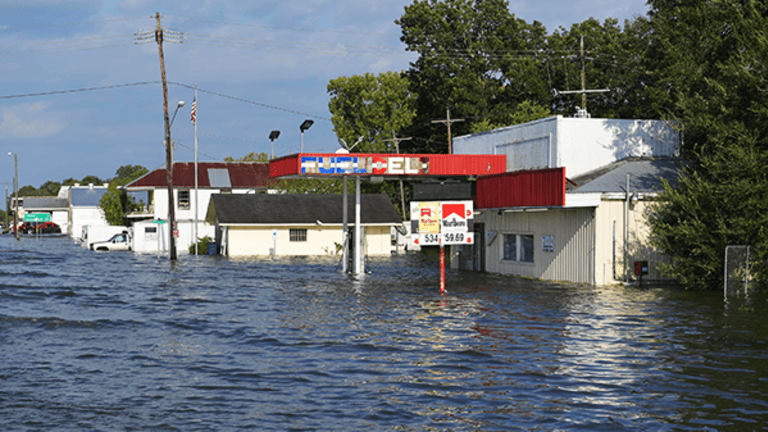 Rebuilding Efforts From Hurricanes Harvey and Irma Make These 6 Stocks Must Buys
Hurricanes Harvey and Irma destroys lots of homes and autos. Look for everyone from insulation-maker Owens Corning to car-radio service SiriusXM to benefit.
Florida and Texas residents will spend billions of dollars recovering from Hurricanes Harvey and Irma, and stocks expert Stephen "Sarge" Guilfoyle sees a half-dozen or so names as great plays on the restoration efforts.
"People need timber, they need roofing material, they need insulation," Guilfoyle said during TheStreet's latest monthly Trading Strategies roundtable discussion with some of our top columnists. "I think it's not too late [to invest] because many [hurricane victims] probably haven't even ordered these materials yet."
Guilfoyle's top picks for hurricane-recovery plays include:
Conglomerates with Building-Supply Divisions. The expert likes Honeywell International (HON) and United Technologies (UTX) , two diversified companies with divisions that make building supplies. Guilfoyle noted that United Technologies has recently been trading at about $110 a share -- down some $10 from a recent peak -- "so you can actually buy UTX probably at a decent price."
Auto Stocks. The market watcher said car-related plays should do well as consumers replace vehicles damaged by floodwaters. "How many cars do they need to buy in Texas now?" Guilfoyle asked. "This is probably going to be good for the auto companies." His favorite automotive play is satellite-radio giant SiriusXM (SIRI) , which most subscribers use with their car radios.
Valero Energy Corp. (VLO) . Guilfoyle bought shares of this Texas-based oil refiner ahead of Hurricane Harvey and said he "got lucky" when the firm weathered the storm fairly well. "Valero actually happened to be the one that came through with I think the least amount of damage when Hurricane Harvey hit Texas, which is kind of like 'Bubba Gump shrimp boat' success."
You can watch a full replay of the roundtable here. Or, read the latest investing recommendations from some of our top columnists below:
More of What's Trending on TheStreet:
The Stunning Apple iPhone X Screen Will Trigger a Global Problem in This Market
Employees of TheStreet are restricted from trading individual securities.