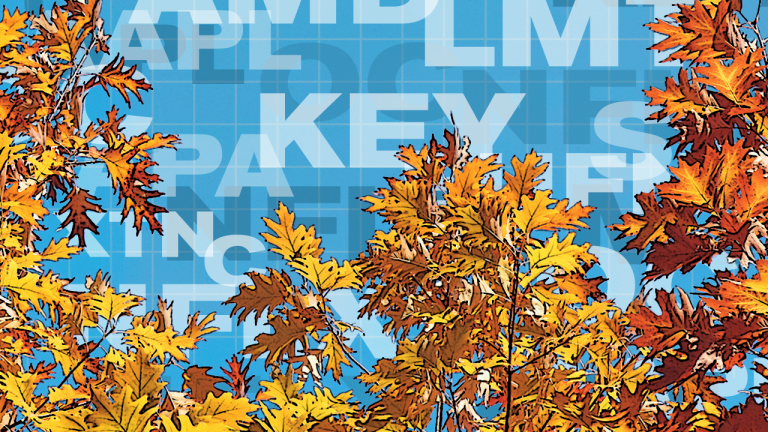 Apple, Netflix and Two Dozen Other Names That Look Good for November
From Apache to Wal-Mart, here are the stocks Stephen 'Sarge' Guilfoyle likes.
When you own a home in the Northeast, these precious few weeks autumn between mowing lawns and shoveling snow are like a little slice of heaven. All you have to worry about are the World Series, college football -- and, oh yeah, setting your portfolio up for year's end. Let's check that last point out.
We certainly have our share of things to watch this year -- tax reform, Catalonia, a possible new Federal Reserve chair and interest rates that seem to want to go higher but sure are sticky. And did I mention North Korea, Iran or Washington?
Fortunately, there can also be a chase for performance towards the end of any good year (like this one), When that happens, you can sometimes make a buck by piggy-backing on an irrational move or two. Just obey your price targets, because the ride eventually ends.
Here's how I'm positioned in the market's key sectors as November begins:
The Banks
Third-quarter earnings came in pretty good for many banks. Rising interest rates and a steeper yield curve would also be our allies here, but the 10-year U.S. Treasury yield is having trouble hanging on to 2.4% and the two-year/10-year spread is still stuck around 0.80. That's not going to get it done for banks.
Still, I remain long Citigroup (C) , which has been good to me -- and which I still consider the best value in the space. I also remain long KeyCorp (KEY) , which has performed moderately well for me. (I consider KEY to be expendable, but I don't have a better idea in the regional-bank space right now.)
I also recently added the iShares MSCI Europe Financials ETF (EUFN) to my portfolio increase my exposure to European financials. That's performed well overall, but ran sideways in October as European Central Bank chief Mario Draghi disappointed markets.
I've also accumulated the SPDR S&P Bank ETF (KBE) as way to increase exposure to the underperformers in the small- to mid-sized banking space.
Consumer Stocks
I've stayed long on Walt Disney Co. (DIS) , but it no longer interests me all that much. The stock has run sideways for months now and I continue to sell covered calls in some size against my long position.
This strategy has raised some nice revenue for me over the past few months, but perhaps the ringing bell here is that I have yet to be called away on any of my shares. Hmm.
Elsewhere, I failed to add to my first tranche of Hasbro (HAS) in October and instead decided to sell the position at the first sign of trouble. But another name I did hang onto that's seen its fair share of trouble is General Electric (GE) . I still think that I'll sell GE at $28 ... at least someday. For now, the reality is that markets are pricing in a dividend cut:
We should know a lot more by a Nov. 13 analyst meeting -- and a couple of days after that, I'll probably either be flat the name or a lot longer.
I'm currently at 40% of what I'd view as a full long position on GE, but I've reduced my net entry point to less than $24 through the sale of General Electric options that expire after the November get-together. By the way, I have a very high opinion of new CEO John Flannery, which is why I haven't just cut and run on the stock. It's kind of like rooting for the Cleveland Browns because the head coach impresses you.
Defense Stocks
This has been one of my favorite sectors all year, but I actually lightened up on it a great deal recently.
The sector had a rather rough month in September, so I took profits in Lockheed Martin (LMT) and went home. I have an idea where I want to buy my shares back, but that spot is still lower than the $308.16 price LMT closed at on Tuesday.
Elsewhere in the sector, Kratos Defense (KTOS) is a name that I've long pounded the table on, but I took my stake down to "house money" when KTOS failed to hold the $13 level. (The stock closed Tuesday at $12.04.)
Kratos' earnings and cash flow remain negative, but I've maintained some exposure just in case there's a takeover by someone like Northrop Grumman (NOC) , although I've heard nothing to that effect.
Meanwhile, I've stayed the course on Raytheon (RTN) , as I still like the defense space going forward and didn't want to underweight the group. Oh, and by the way, the shares of II-VI Inc. (IIVI) that I bought last month are a fantastic investment, as the chart below shows. I owe this one to one of my Twitter pals:
Energy
Yes, I still like Apache Corp. (APA) . Thank you for asking.
But unlike many APA stockholders, my average purchase price was low. I've been able to sell shares above $45 and buy them back below $40. Earnings are due on Thursday before the bell, and I'm cautiously optimistic that the firm might just beat analysts' low expectations.
Elsewhere, Schlumberger (SLB) remains a best-in-class name. Yes, I've taken it on the chin in this one and haven't traded it as well as I have APA. But for some reason, I have faith that this one will turn out OK.
By the way, the shares of Valero (VLO) that I bought in response to Hurricane Harvey hitting Houston's refining infrastructure have absolutely helped me absorb my losses across the rest of the energy space this year:
Speaking of hurricanes, I took my profits on wood giant Weyerhauser (WY) , another name I bought in light of the recent storms. However, I've stayed long on building-materials maker Owens-Corning (OC) and equipment-rental firm United Rentals (URI) . Both names have been absolutely stellar for me, and URI is also a good "Trump Stock" if you want to play that game.
The FAANGs (and Tesla)
I got myself long Alphabet (GOOGL) , then got myself long some more. Then the stock went higher and I was up a lot.
But then I got a crazy idea in my head a few seconds before the bell last Thursday to short Amazon (AMZN) -- you know, as something of a hedge. Oh, sure it was.
Well, it took me about a microsecond to realize that I had a problem. My initial sale was at $975, then I shorted more in after-hours trading at $1,054. Then I bought it all back at $1,046. Then, I sold half of my GOOGL stake to pay for it all.
You've just got to laugh. But hey, at least I'm still long GOOGL -- and at least I had an asset to pair-off with my AMZN trade.
Elsewhere among the FAAANGs, I remain long Apple (AAPL) . That name has been great of late and I really loaded up when it sold off about six weeks ago.
Oh, and my ship finally came in when Tesla (TSLA) sold off. And by "ship coming in," I mean that I made some lunch money (barely) instead of getting my face ripped off. I'm now flat the name.
And last but not least, I bought some Netflix (NFLX) amid that stock's post-earnings dip. I'm up small on the name, but am not feeling it.
Retail
I remain long Walmart (WMT) and Kohl's (KSS) here. I'm ridiculously proud of the way WMT has taken the bull by the horns and put up an honest and well-thought-out fight against the beast that is Amazon. However, I've taken some money off in KSS.
Meanwhile, I did recently "rent" some shares of Target (TGT) for a few weeks. The trade worked out, but I sold the shares when they reached my target price (pardon the pun). I favor WMT over TGT, and I like what they're both doing with Alphabet.
Technology
Remember when I told you that I sold Nvidia (NVDA) at the $180 resistance level? Oops!
Well, I chased that one (something I don't normally do) and bought my shares back at $186. This kind of reminds me of the scene in Apocalypse Now where they get out of the boat to go find mangoes and get attacked by a tiger. As one soldier says afterward: "Never get out of the boat."
Regular readers know how I feel about the semiconductors. They're my favorite piece of the whole pie. Why? The cloud, machine learning, big data, gaming, block-chain, autonomous driving, artificial intelligence, cyber security and smart phones.
I told you last month that Lam Research (LRCX) was my new all-time-favorite stock. It still is. I still love Intel (INTC) , too. This group has a way of cleansing my P/L.
Now, it's true that I'm still long a few shares of struggling Advanced Micro Devices  (AMD) and Seagate Technology (STX) , but not enough to make them a problem. And besides, Seagate has actually been interesting of late.
What about The Cloud? Well, Oracle (ORCL) has come back nicely and made eating some puts last month much more palatable for me. So, I remain long on the name.
And as for gaming, I still have faith in Activision Blizzard (ATVI) , although I must admit to some impatience here.
Transports
Those who follow what I write know I'm long CSX (CSX) . It turns out that was the wrong railroad to own, but at least I'm not down on the name.
However, I already sold my airline stocks when they hit my price targets, and all of the sudden I was underweight the transports just as we were seeing back-to-back quarters of 3% U.S. annualized economic growth. That's not very smart.
So, I purchased the SPDR S&P Transportation ETF (XTN) as way to quickly gain broad exposure to the transport space. That'll give me some time to make some longer-term decisions about the sector.
One smart move I made early last month was to get long FedEx Corp. (FDX) . That's a great firm, and the trade has gone the right way so far.
However, I need to get a few more FDX shares under my belt, as I only own what I'd consider about a fifth of a position right now. If FedEx dips, I'll get more aggressive in building up my stake.
More of What's Trending on TheStreet:
At the time of publication, Guilfoyle was long AAPL, AMD, APA, ATVI, C, CSX, EUFN, DIS, FDX, GE, GOOGL, IIVI, INTC, KBE, KEY, KSS, KTOS, LRCX, NFLX, NVDA, OC, ORCL, RTN, SLB, STX, URI, VLO, WMT and XTN, although positions may change at any time.