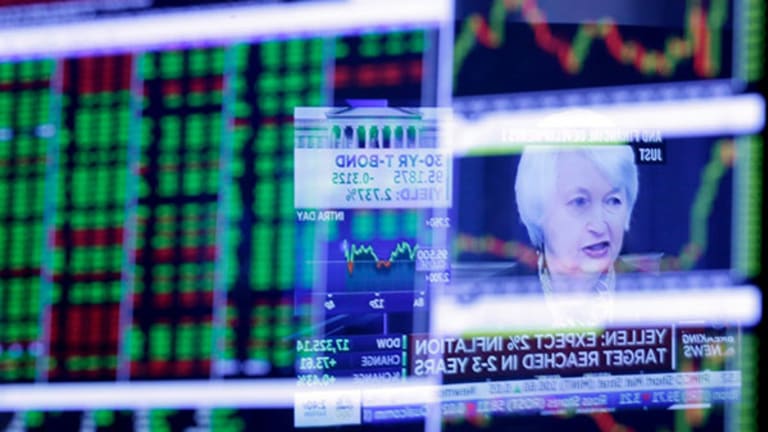 Stocks Seem Too Bullish for a Bearish Economy -- Doug Kass
S&P 500 seems overvalued as U.S. economic figures weaken.
A version of this commentary originally appeared on Real Money Pro at 8:05 a.m. ET on Tuesday, March 29. Click here to learn about this dynamic market information service for active traders.
The S&P 500 remains well above my fair-market-value estimate, even though the Atlanta Federal Reserve has slashed its estimate for U.S. real gross domestic product's first-quarter growth rate to just 0.6%.
That's down from a 1.4% forecast issued only four days earlier. Atlanta Fed economists wrote that in the wake of Monday morning's release of unimpressive February U.S. personal-income-and-outlays data, "[our] forecast for first-quarter real consumer-spending growth fell from 2.5% to 1.8%.
"The forecast for the contribution of net exports to first-quarter real GDP growth [also] declined from -0.26 percentage points to -0.52 percentage points following yesterday morning's advance report on international trade in goods from the U.S. Census Bureau," the economists added.
It's important to note how quickly the Atlanta Fed cuts its GDP forecast. Just a month ago, the bank was estimating first-quarter real GDP growth at 2.5%, in part because personal spending was expected to grow 3.3% during the period.
But I believe that even the group's reduced GDP forecast might still be too high. After all, it assumes a still-generous 1.8% consumption-growth rate for the first quarter even though January/February consumption came in at just 1.3%.
Meanwhile, a thoughtful Bloomberg Intelligence study yesterday outlined a disappointing U.S. corporate-profit and capital-spending picture. Bloomberg economists Carl Riccadonna, Yelena Shulyatyeva and Richard Yamarone noted that U.S. corporate profits fell 7.8% in the fourth quarter -- the biggest decline since a 9.2% pullback in 2011's first period. They added:
"Profits have declined in four of the last five quarters, and are now down 11.5% in year-on-year terms. This is the worst drop since the Great Recession.

Plunging profits are a troubling development, because they can foreshadow a loss of 'animal spirits' in the private sector, which can ultimately result in recession. When profits contract, it is often an early warning of recession ...

This should serve as a stark reminder to policymakers that the economy remains vulnerable to shocks, even though inflation pressures are building and the labor market is close to full employment. A slow-growing economy with weak corporate profit growth may be able to avoid recession, but it likely cannot handle -- nor does it need -- significant tightening of monetary policy."

-- Plunge in U.S. Corporate Profits Is An Economic Warning Sign, Bloomberg Intelligence (March 28, 2016)
I believe the chasm between Wall Street's buoyant stock prices and our softening U.S. real economy is widening, while the market's overvaluation is growing. The S&P 500 closed yesterday at 2,028, some 8% above my 1,860 fair-market-value calculation.
But I continue to see a 30% chance of a "garden variety" recession and a 15% possibility of a deeper recession.
That's partly why I made a long of the ProShares UltraShort S&P 500 ETF (SDS) - Get ProShares UltraShort S&P500 Report -- an S&P 500 inverse play -- my "Long Trade of the Week" yesterday for the second time in recent weeks. It also explains why I added to my net-short market exposure yesterday as well.
At the time of publication, Kass was long SDS and short SPY, although positions may change at any time.