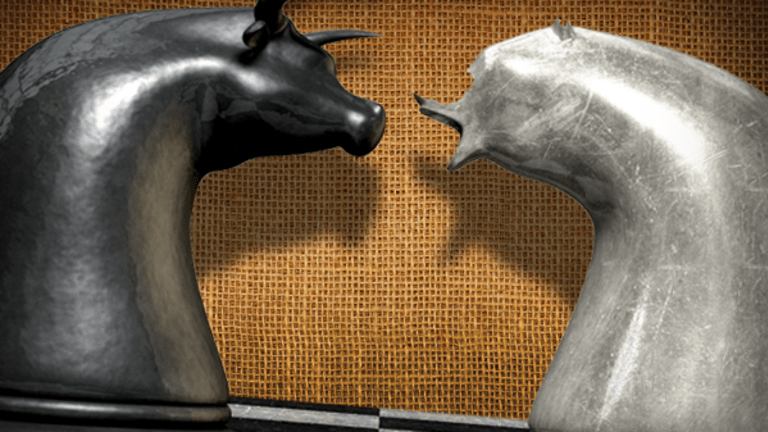 Hurricane Irma Exposes Rising Fear in the Stock Market's Near-Term Future
There's a growing risk in the stock market as retail investors flood the market and as the economy looks to battle through Hurricane Harvey and Hurricane Irma.
With the Wall Street A-team back in the saddle after spending the last few weeks soaking up the sun as summer came to a close, we started the short market week on softer footing. Aside from the market move lower, we saw this reflected in CNN Money's Fear & Greed Index, which is again back in "fear" territory, falling from its "greed" reading a month ago.
We're also seeing another contra-indicator rear its head, namely the continued month-over-month rise in TD Ameritrade's (AMTD) - Get TD Ameritrade Holding Corporation Report  Investor Movement Index (IMX). For those unfamiliar with this, it's a behavior-based index created by TD Ameritrade that aggregates Main Street investor positions and activity to measure what investors are actually doing and how they are positioned in the markets. The higher the reading, the more bullish retail investors are. In August, the IMX hit 7.45, up from 7.09 in July, to hit an all-time high.
While TD Ameritrade opted to put a rosy spin on the data, saying, "Our clients' decision to continue buying reflects the resiliency of the markets," institutional investors likely see this continued surge higher as a warning sign. Here's why: Historically speaking, retail investors have been late to the stock market party. Not fashionably late, but really late, which means they tend to enter in at or near when things start to go awry. Not a hardcore piece of data like the monthly ISM data, but one the A-team of investors and Wall Street traders are likely to consider as they roll up their sleeves and revisit the last few weeks of data.
There is much to consider as we move deeper into one of the most tumultuous months for stocks. Not only are forecasts for Hurricane Harvey estimating the damage to be $75 billion to $95 billion, but we are seeing some potential hamstring of relief tied to the debt-ceiling debate in Washington. We're also bracing for Hurricane Irma, which has been upgraded to a Category 5 hurricane and is widely believed to be one of the most powerful Atlantic hurricanes ever. These back-to-back storms will hit the economy in a meaningful way, and we expect to see third-quarter GDP forecasts drop as Irma's effect winds down. We're already hearing from companies about the impact of the two hurricanes -- retailers and restaurants are being affected, and we'll see that in next week's August retail sales as well as the eventual September data.
CLICK HERE FOR ALL OF THESTREET'S COVERAGE OF HURRICANE IRMA
We won't have to wait quite that long to hear from companies. Citing unprecedented storms in its second-largest hub, geopolitical tensions in the Korean Peninsula and higher fuel costs, United Continental (UAL) - Get United Airlines Holdings, Inc. Report  lowered its third-quarter pre-tax margin guidance to 8%-10% from 12.5%-14.5% and cut its unit revenue guidance to down 3%-5% from -1% to +1%. Tuesday, cruise company Carnival Corp. (CCL) - Get Carnival Corporation Report  and Disney Cruise Line (DIS) - Get Walt Disney Company Report  joined Royal Caribbean (RCL) - Get Royal Caribbean Cruises Ltd. Report  and Norwegian Cruise Line (NCLH) - Get Norwegian Cruise Line Holdings Ltd. Report  in canceling upcoming sailings out of Florida as Irma bears down on the state. We expect to hear more on the retail and restaurant fronts in the coming days, and it goes without saying these storms are likely going to wallop insurance companies.
As these and other similar announcements are made, we expect investors will start to fine-tune their earnings expectations, likely pushing out revenue and EPS growth from the third quarter and early fourth quarter to late fourth quarter and the first half of 2018 as rebuilding efforts are felt.
We take the recent struggle with bank stocks as a sign the Fed is likely to look at the near-term economic dip and hold off boosting interest rates. Adding some confirmation to that view, Federal Reserve Governor Lael Brainard argued this week the economic effects of Harvey "raise uncertainties about the economic outlook for the remainder of the year" and argued for "a wait-and-see approach" before raising rates again.
So what does this mean for us here at Stocks Under $10? Odds are it will be a few days of "shoot first and ask questions later." In times such as these, it pays to be patient and ask how a likely temporary slowdown will affect the demand drivers for the companies in the portfolio. We would suggest you do the same for any other stocks you may own. Will there be a reversal in the shift to food that is good for you? A disruption maybe, but we see that trend righting itself once any and all supply disruptions are sorted out. Will there be a reversal in mobile payment adoption? Nope. And so on.
We're inclined to be patient and ride out the one-two of Irma and next-in-line Jose to be had over the coming days, letting the market digest any and all economic as well as revenue and EPS expectations to be had. Should existing positons pull back more than warranted, we've got the firepower to step in and be opportunistic. The same goes for those companies that have little geographic exposure to Harvey, Irma and Jose, but still see their stock prices get hit should the market trade off in the coming days.
(This commentary was sent to subscribers of the Stocks Under $10 portfolio, co-managed by Chris Versace and Stephen Guilfoyle, at 11:42 a.m. ET Wednesday.Click hereto learn about this portfolio.)
More of What's Trending on TheStreet:
Hurricane Irma Set to Take Aim at South Florida
At the time of publication, Versace had no positions in the stocks mentioned.