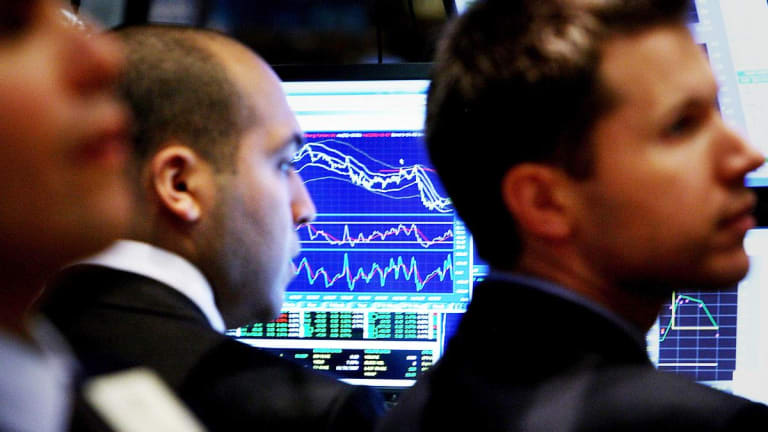 Stocks End Higher, Markets Stage Partial Rebound From Trade-War Selloff
Stocks shook off Monday's bruising U.S.-China trade war selloff to end in positive territory.
Here Are 3 Hot Things to Know About Stocks Right Now
Stocks ended up Tuesday following President Trump's statement that upcoming trade talks with China were going to be "very successful." 
Trump said China's next move in the trade war will be a rate cut and he pushed the Federal Reserve to follow suit.
Wall Street Overview
Stocks ended higher Tuesday following President Trump's statement that upcoming talks with China were going to be "very successful." 
Speaking with reporters Tuesday on the White House South Lawn, Trump dismissed the trade hostilities between the world's two largest economies as "a little squabble" and said "the U.S. has a very good dialog with China." 
The Dow Jones Industrial Average, saw its best day since April 12, ending up 207 points, or 0.82%, to 25,532, the S&P 500 climbed 0.80%, and the Nasdaq advanced 1.14%.
This was in sharp contrast to Monday's trading, when the Dow and S&P 500 suffered their worst days since early January, while the Nasdaq had its biggest single-day loss of the year after China announced plans to raise tariffs on $60 billion worth of U.S. imports, beginning on June 1. The move came after the U.S. increased tariffs on $200 billion worth of Chinese products to 25% from 10% last week.
Trump told reporters Tuesday that a meeting with China's President, Xi Jinping, at next month's G-20 summit in Japan would be "very fruitful," adding later that "I have a feeling it's going to be very successful."
"We're not totally dismissing the possibility of a prolonged trade war, but we think cooler heads will eventually prevail," said John Lynch, chief investment strategist, LPL Financial. "We may have to tolerate more volatility in the near term while President Trump and Chinese President Xi pursue a new path to compromise, and tariffs may remain in place for a while so President Trump can show he's playing hardball, while China can show it is willing to walk away."
Thomas Prusa, professor of economics and chair at Rutgers University, said "Trump's trade policy with respect to China is not just economically poorly designed but politically naive."
"Trump's decision to 'go it alone' in policy discussions with China has greatly weakened his hands," Prusa said. "Given that he has levied tariffs primarily on intermediate goods, Trump's tariffs are is now saddling U.S. businesses with a large tax."
Trump, who insisted he was in a "fantastic position" in the escalating trade dispute, tweeted Tuesday morning that China's next move in the trade war will be a rate cut and he pushed the Federal Reserve to follow suit.
"If the Federal Reserve ever did a 'match,' " Trump wrote, "it would be game over, we win! In any event, China wants a deal!"
Meanwhile, the office of the U.S. Trade Representative has taken the first steps in applying higher tariffs on roughly $300 billion of Chinese imports, according to the Washington Post. China said Monday it raised tariffs on U.S. liquid natural gas to 25%.
In economic news, the Labor Department said import prices increased 0.2% last month after an unrevised 0.6% increase in March. Economists had forecast import prices would climb 0.7% in April. In the 12 months through April, import prices fell 0.2% after edging up 0.1% in March.
Shares of Walmart rose slightly to $100.29 after the retail giant said it will launch a free, next-day delivery service to challenge its online rival Amazon, which advanced nearly 1% to $1,840.12.
Take-Two Interactive Software (TTWO)  rose 3.5% to $103.55 after video game maker reported positive revenue numbers but also disappointing earnings guidance.
Shares of Coca-Cola (KO)  gained 1.3% to $48.69 after analysts at Morgan Stanley upgraded the consumer staples giant to overweight from equal weight.
Tencent Music Entertainment Group (TME)  slid after the China-focused online music-streaming service revealed first-quarter earnings that beat estimates but also said that Guomin Xie, a board member and co-president, resigned for personal reasons, effective June 6. Shares tumbled 6.2% to $15.
Bayer AG (BAYRY)  dropped 2.3% to $15.54 after a jury in California awarded more than $2 billion to a pair of plaintiffs who said the chemicals group's Roundup weed killer caused them to contract cancer. 
Amazon is a holding in Jim Cramer's Action Alerts PLUS member club. Want to be alerted before Jim Cramer buys or sells AMZN? Learn more now.