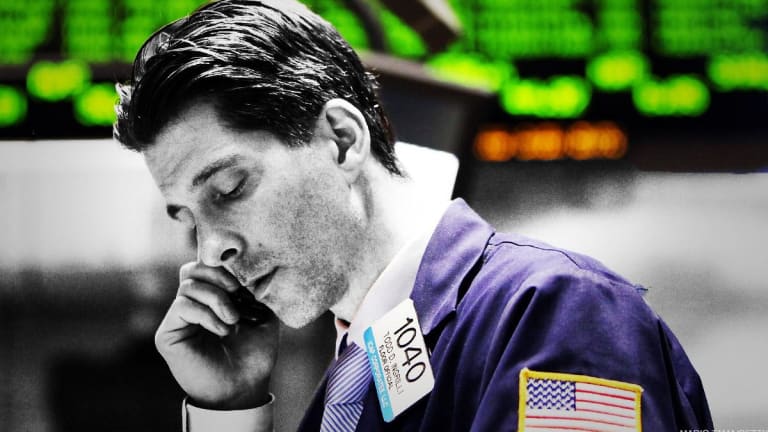 Stocks Soar, Nasdaq Hits Record Close Following Strong Jobs Report
The Nasdaq hits a record close as lowest jobless rate in nearly 50 years helps put aside investors' concerns about U.S. economy's strength.
Here Are 3 Hot Things to Know About Stocks Right Now
The Nasdaq reached a record close as a positive April jobs report muted concerns about interest rates.

Amazon.com (AMZN) rose after Warren Buffett said Berkshire Hathaway (BRK.A) (BRK.B) has been buying shares of the online retailing giant.

Newell Brands (NWL) reported better-than-expected first-quarter results on the back of stronger sales of its household products and streamlined costs.
Wall Street Overview
Stocks ended up and the Nasdaq reached a record close Friday as a glowing April jobs report helped put aside investors' concerns about the U.S. economy's strength.
The Dow Jones Industrial Average, which rose as much as 227 points, closed up 197.16, or 0.75%, at 26,504.95, while the S&P 500 advanced 0.96% to 2,945.64 and the Nasdaq climbed 1.6% to a record closing high of 8,164. The Russell 2000 index of small-cap stocks surged nearly 2% to 1,614.02
Markets rose after the U.S. Labor Department reported that America's employers hired at a faster-than-expected pace in April as the economy continued to strengthen following the slowdown late last year. Labor said that nonfarm payrolls rose by 263,000 during the month, beating the 181,000 gain that experts had forecast on average.
"This report soothes those concerns by making it clear the economy doesn't need any monetary stimulus at the moment," said Alec Young, managing director of global markets research at FTSE Russell.
Mike Loewengart, vice president of investment strategy at E-Trade Financial Corp., called the numbers "another loud and clear signal that the economy is in really good shape. Jobs -- check. Wages -- check. Earnings -- check. And tame inflation -- check. We're getting to a point where it's hard to find something to be concerned about."
However, the expert added there's still no excuse for complacency. "As we enter the back nine of earnings season, traders will likely turn their attention to potential trade resolutions coming out of Washington next week," Loewengart said. "And despite the murmurings of positivity on that front, there are more than a few questions marks [still] in the air."
Vice President Mike Pence said in an interview with CNBC that he believes the Federal Reserve should cut its benchmark interest rate to protect U.S. economic growth given current low inflation.
"I think it might be time for us to consider lowering interest rates," Pence said. "We just don't see any inflation in this economy at all."
Among individual stocks of note:
Amazon.com (AMZN)  rose 3.2% to $1,962.46 after mega-investor Warren Buffett disclosed that his Berkshire Hathaway (BRK.A) (BRK.B)   has been buying shares of the online retailing giant. 
Boeing Co. (BA)   added 0.2% to $376.59 even though The Wall Street Journal quoted unnamed sources as saying that the airplane firm limited its own pilots' role in final-stage development of a 737 MAX flight-control system suspected of playing a role in two fatal crashes. The Journal said that decision represented a departure from Boeing's longstanding practice of seeking in-house pilots' detailed input. The paper said that as a result, test pilots involved in the MAX's development never received detailed briefings about how fast or steeply the plane's questionable automated system could push down the craft's nose.
Newell Brands (NWL)  , which makes Rubbermaid containers and other household and baby products, rose 13.5% to $16.63. The stock soared after Newell reported better-than-expected first-quarter results on the back of streamlined costs and stronger household products sales. 
Weight Watchers parent WW International  (WW)  surged 13.1% to $22.96 after the company posted a narrower first-quarter loss and boosted its outlook for the rest of 2019.
Iconic burger-and-fries chain Shake Shack (SHAK) reported higher revenue and sales and raised its guidance for 2019's remainder. Share rose at the open, but pulled back shortly after 10 a.m. to $60.20, down 4.3% on the day.
Amazon is a holding in Jim Cramer's Action Alerts PLUS club for investors. Want to be alerted before Jim Cramer buys or sells AMZN? Learn more now.