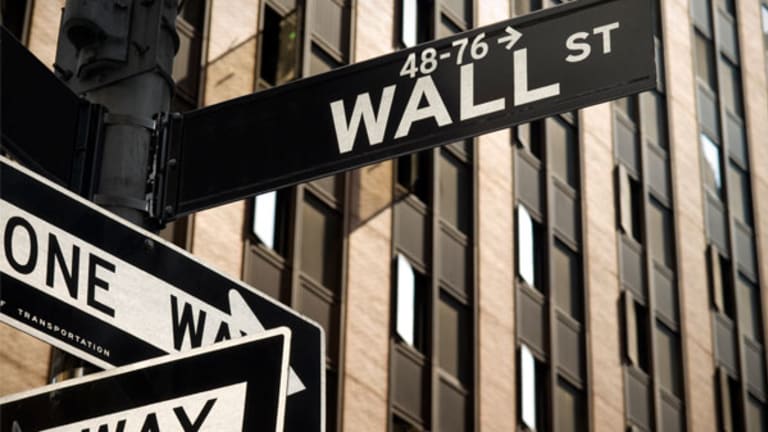 Stocks for the Next M&A Wave
Good acquisition targets are thin on the ground, but here are a few to consider.
Among the many discussions around Chez Melvin the past week, in addition to the baseball races, earnings reports and the probability and outcomes of quantitative easing, has been the possibility of a takeover wave developing in the second half of the year.
One would have expected more merger-and-acquisition activity in the past two years, given the lack of growth opportunities and low interest rates. It has never developed, in spite of enormous amounts of cash on corporate balance sheets. Sectors such as banking, energy and real estate that normally would have seen substantial consolidation as asset prices declined have been relatively quiet.
Some say that this will change in the second half of the year. As we are seeing this earnings season, it is getting tougher to generate substantial sales growth, and cost-cutting the way to profits is getting more and more difficult. Buying revenue and profits makes sense only if you have cash and an attractively priced stock to use as currency. The low borrowing costs should make many companies attractive to financial buyers such as private-equity firms, many of whom are awash in cash right now.
Others, including myself, believe that the lack of clarity regarding regulations, taxes and the election will keep a lid on activity on takeover activity. Until you know the rules and costs, it makes no sense for strategic or financial buyers to get heavily involved in M&A.
There is always a chance, if not a probability, that my view of the situation is wrong. With that in mind, I thought it might be instructive to look at companies that qualify as takeover candidates, according to the various metrics used by potential buyers.
Buyers are looking for companies which are not overly levered and which produce cash to drive earnings. The simplest screen to run is to look for companies that trade at low price-to-free-cash-flow multiples and have reasonable debt levels.
The first observation from running the screen this morning is that there simply are not a lot of qualifying companies. My initial screen returned just 115 potential takeover targets on the basis of free cash flow and debt levels. If I throw out the financial sector, very few companies that produce goods and services would qualify as financially attractive takeover candidates.
FreightCar America
(RAIL) - Get Free Report
is one interesting company that shows up on the list. Right now, the company is trading at just 3.3x the cash produced by the business. The company manufactures, sells and leases railcars for hauling commodities such as coal, iron and steel. The company also makes car carriers used to transport automobiles by train to the marketplace.
Rail traffic has been sluggish this year, and it looks as though far less grain will be shipped in the late summer and early fall as well. This naturally makes railroads less enthusiastic about ordering new freight cars. The company has no debt and about half the share price in cash, so it should be able to navigate the turbulent waters of a weak economy. With a market cap of just $223 million, it would be an interesting target for a patient buyer who believes in the future of U.S. economy.
A few tech companies on the list appear to be reasonable takeover candidates. Semiconductor capital equipment company
Kulicke & Soffa
(KLIC) - Get Free Report
trades at just 4.2x free cash flow and has more than 40% of the share price in net cash. The data-storage concern
STEC
(STEC)
trades for less than 5x free cash and has more than half the share price in cash right now. Computer peripherals and consumer electronics distributor
Tech Data
(TECD) - Get Free Report
has more than 20% of its stock price in cash and fetches 4x free cash flow. Technology is usually one of the more active sectors for merger activity, so it is worth doing more investigation on these stocks.Keep in mind that this all raw screen output. If any of these stocks catch your eyes, you need to do the homework and make sure the stocks are really attractive candidates with solid financials. Screening is just a starting point.The best reason for a strategic acquisition is to buy revenue and earnings growth for a reasonable price. Tomorrow we will look for companies that can help achieve that goal for potential buyers.
At the time of publication, Melvin had no positions in stocks mentioned.
Tim Melvin is a writer from Stevensville, Maryland, who spent 20 years a stockbroker, the last 15 as a Vice President of Investments with a regional firm in the Mid Atlantic area. Under no circumstances does the information in this column represent a recommendation to buy or sell stocks. Melvin appreciates your feedback;
to send him an email.