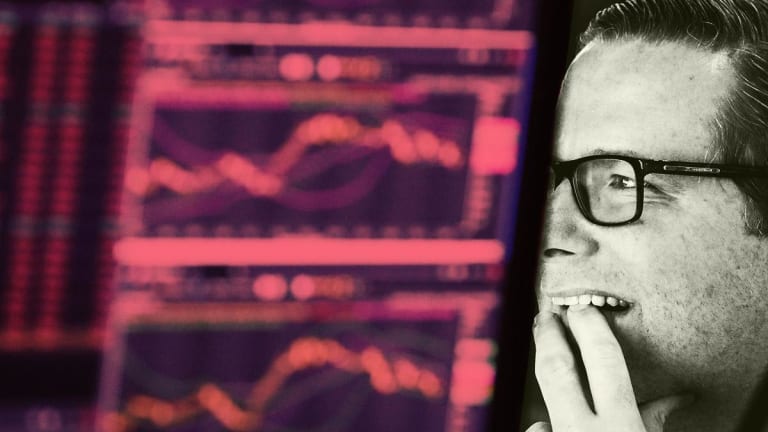 Stocks Close Down as Wall Street Worries About a U.S. Recession Remain
Stocks fall Wednesday as investors weigh a narrowing of the U.S. trade deficit against worries about a recession in the U.S. and possible delays in U.S.-China trade talks.
Here Are 3 Hot Things to Know About Stocks Right Now
The Dow Jones Industrial Average declined after the U.S. trade deficit fell more than expected but Wall Street's worries about a U.S. recession remained.
Lennar Corp. (LEN)  climbed 3.9% even after the homebuilder reported weaker-than-expected first-quarter earnings.
Wall Street Overview
Stocks closed down Wednesday as investors weighed a narrowing of the U.S. trade deficit against worries about a recession in the U.S. and possible delays in U.S.-China trade talks.
The Dow Jones Industrial Average was down 32 points, or 0.13%, to 25,626, the S&P 500 fell 0.46% and the Nasdaq was down 0.63%.
The U.S. international trade deficit shrank faster than expected in January, falling from a December level that was the biggest in a decade and had sparked questions about whether President Donald Trump's policies were working.
The U.S. imported $51.1 billion more than it exported, for an $8.8 billion decline in the overall trade deficit compared with December's level, the Census Bureau said Wednesday in a report.
"Stock performance is caught in a tug-of-war that's left equities increasingly range bound and volatile," said Alec Young, managing director of Global Markets Research, FTSE Russell. "Downside has been limited by increasingly dovish central bank guidance while upside is capped by plunging bond yields, curve inversion jitters and mounting evidence of weaker global growth."
U.S. Treasury bond yields continued to suggest difficult economic times - the yield on the 10-year Treasury bond was lower than the three-month Treasury bill, a condition known as an inverted yield curve. Yields fell on Wednesday after Stephen Moore, who is expected to be nominated to the Federal Reserve Board of Governors, called for the central bank to cut rates by half a percentage point in an interview with The New York Times. Meanwhile, Robert Kaplan, president of the Dallas Fed, told The Wall Street Journal it was too soon to contemplate a rate cut.
At last check, the three-month bill was yielding 2.437% vs. a yield of 2.374% for the 10-year note.
Brad McMillan, chief investment officer for Commonwealth Financial Network, noted that "typically, an inversion lasts for several months and then un-inverts, at which point we have a recession in a couple of months. Right now, we are at the start of that process, which usually lasts at least six months and often a year or more."
"In other words, yes, a recession is probably coming, but 2020 looks more likely than 2019," he said.
A new round of U.S.-China trade talks were scheduled to begin Thursday and observers said an actual deal may not be reached until late May or June. Charles Dallara, Partners Group chairman of the Americas, told CNBC that he would be surprised if there were not more fits and starts in the negotiations given the complexity of the issues being discussed.
Lennar Corp. (LEN)  climbed 3.9% to $51.67 even after reporting weaker-than-expected first-quarter earnings. The second-largest U.S. homebuilder's bottom line was hit by slow housing starts even as mortgage rates eased. Rival homebuilder KB Home  (KBH)  climbed 2.8% to $24.75 after beating first-quarter earnings estimates. 
Apple  (AAPL)   ended up nearly 1% to $188.47 after the U.S. International Trade Commission ruled against banning imports of some of its iPhones related to a patent dispute with Qualcomm (QCOM)  , which as down 1.9% to $56.91
Chip stocks continue to suffer following Samsung's profit warning on Monday. Shares of Micron Technology (MU) closed down 2.7% to $39.23.
Apple is a holding in Jim Cramer's Action Alerts PLUS member club. Want to be alerted before Jim Cramer buys or sells AAPL? Learn more now.
Healthcare company Centene (CNC) slipped on news it would acquire rival WellCare Health Plans (WCG) in a deal valued at $17.3 billion.  The companies expect to complete the merger in the first half of 2020. The combined entity would have about 22 million members across all 50 U.S. states. Centene was down 5% to $52.10, while WellCare soared 12.4% to $259.97.
Shares of Boeing Inc. (BA) were up 1% to $374.21 after the aircraft manufacturer announced fixes to its troubled 737 Max 8 aircraft, which was involved in two fatal crashes. Congress held hearings Wednesday regarding the Federal Aviation Administration's oversight and approval process of the 737 Max. Secretary of Transportation Elaine Chao told the appropriations subcommittee that she asked the Department's Inspector General to "initiate an audit to compile a detailed factual history of the activities that resulted in the certification of the Boeing 737 Max 8" involved in the crash of Ethiopian Airlines Flight 302. 
A passenger-less 737 Max had to make an emergency landing Tuesday in Florida. Southwest Airlines (LUV) said pilots flying the aircraft to storage facility in California were forced to make an emergency landing in Orlando, where the plane departed, after experiencing engine trouble shortly after take-off. Southwest said the difficulties were not related to the plane's MCAS flight software system.
 Separately, Southwest Airlines (LUV)  declined after it cut its first-quarter revenue expectations due to the grounding of the company's fleet of Boeing's (BA) 737 MAX airliners, a drop in the number of leisure travelers and higher fuel prices. Southwest rose 2.2% to $49.80 a share. Boeing was down nearly 1% to $337.73.
**
How Much Money Will I Need to Retire?
Want to learn about retirement planning from some of the nation's top experts? Join TheStreet's Robert "Mr. Retirement" Powell live in New York on April 6 for our Retirement Strategies Symposium. For a limited time, tickets are available for $99 for this full-day event. Check out the agenda, learn about the speakers and sign up here.